Capacity Planning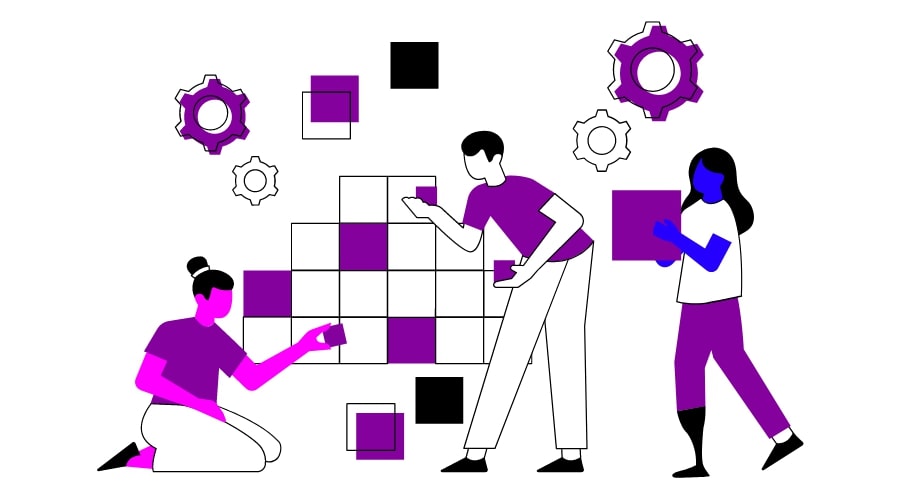 Capacity planning, an essential manufacturing component, describes matching production capacity with sales volume.
Except for manufacturing, this discipline applies to virtually every endeavor that faces constraints in meeting demand. It includes service industries, commercial and retail sales, IT, government agencies, and many more.
You can use capacity planning in short, medium, and long-term strategic and operational planning.
In most organizations, formal capacity planning occurs only once a year. This approach isn't best suited.
The sheer complexity of the iterative process that considers sales demand, production capacity, and material sourcing mean that a capacity planning exercise could take several weeks.
Due to the importance and complexity of the concept, many companies are turning to high-level analytical solutions to learn what capacity planning is and how to optimize capacity planning decisions.
What Is Capacity Planning?
Capacity planning is the process of defining a production line's, service department's, or function's capacity to achieve a designated demand over a given period. It involves actions needed to adjust the system's capabilities to fulfill customer needs.
First, the intensity and pattern of demand are determined. Capacity planning is a comprehensive study of projected weekly, monthly, and yearly sales demand, known as the demand forecast. At the same time, the organizations set up the manufacturing capability.
Firstly, management sets adequate capacity by factoring in downtime, servicing, legal, and other limitations. The actual total is then determined using the available workforce and the worked shift numbers.
Rough cut capacity planning is a method that suits overall demand to production capabilities. Production capacity would be equal to demand in a romantic situation, reducing inventory costs.
Nevertheless, this is rarely an option due to inventory and production timescales. So in practice, most organizations carry a certain inventory level to create a buffer zone between production capability and peak sales demand.
The medium-term capacity plan and the yearly budget are typically aligned.
The short-term capacity plan that focuses on meeting urgent production needs over the following time frame: a week, month, or quarter supplement the medium-term capacity plan.
A long-term capacity plan also focuses on providing future capacity as part of the organization's strategic planning process.
What Are the Objectives of Capacity Planning?
The following are the primary goals of project management capacity planning:
Determine the IT capacity required to fulfill current and predicted workloads.
Create and follow a capacity management plan.
Ensure to perform the objectives timely and within budget.
Constantly monitor capabilities to meet service level management.
Aid in the diagnosis and resolution of incidents
Examine the impact of capacity variability and initiate appropriate measures to improve performance where it is most cost-effective.
Capacity Planning Comes in Types
The three different types of capacity planning ensure that you have sufficient, but not much, of three primary resources in the long and short term. You should plan ahead of time, whether it's weeks, months, or even a year.
Product Capacity Planning:
A product capacity plan will ensure good products or additives to complete your tasks. Flowers, vases, and greeting cards are examples of what a florist might sell.
The plan would include things like chlorine required to do the job for a pool maintenance company.
Workforce Capacity Planning:
A workforce capacity plan will ensure that you have sufficient team members and accessible work hours to accomplish jobs. This type of planning would also help you communicate business operations, resources, and workforce requirements to relevant stakeholders.
Determine when you need to employ more people, and determine how far ahead of time you have to begin recruiting depending on the length of your onboarding.
Tool Capacity Planning:
Planning your tool capacity ensures that you have adequate tools to finish jobs. It involves any trucks, assembly line components, or machinery required to manufacture and deliver your product.
Capacity-planning Strategies
The following are the main capacity planning strategies that an organization can employ:
Lead Strategy:
Lead strategy is among the most aggressive capacity planning stances and techniques. It is a strategy in which a firm envisions an increase in demand and hence tends to increase its production capacity ahead of time.
The management employs the lead strategy as an essential tool to attract customers away from rival companies' products and toward its own, particularly during periods of high demand. It also tries to keep stockout costs as low as possible.
The Lead strategy has several advantages, which is why it is popular among businesses.
Lag Strategy:
This strategy differs slightly from the previous one. The organization responds to the cry of high demand by increasing its manufacturing capacity after the entity has begun operating at total capacity.
It does not boost output based on assumptions because it requires facts and figures before acting.
The advantages of the Lag Strategy are as follows:
The company does not have any extra inventory.
There is a low risk of overproduction.
Companies can avoid massive unnecessary investments.
The drawback is that the company does not keep any extra inventory in unexpectedly high demand.
When the company distributes the extra inventory, demand has decreased, or customers have already become loyal to another brand.
Match Strategy:
The match strategy is moderate because it combines the Lead and Lag strategies. It does not presume and predict very high demand and begin construction appropriately, nor does it sit idle until the relatively high order arrives at your door.
Instead, the Match Strategy makes minor adjustments in response to changing market conditions. It is, without a doubt, challenging to achieve, but the risk is shallow in comparison.
Adjustment Strategy:
Adjustment strategy entails reducing or increasing capacity based on consumer demand in small increments.
Companies can use the strategy in case of unpredictable demands.
The Role of Capacity Planning
Reduced Resource Costs:
Capacity planning is a method that assists an organization in effectively meeting future resource needs. It allows you to see how each works to make possible changes to future assignments based on the team's availability and skills.
Capacity planning assists a business entity in making resource management decisions to minimize resource costs.
Information:
A capacity planning method aids in collecting digital information on a routine basis, which is helpful to the company's growth.
Cost-monitoring:
With the help of capacity planning, an organization can easily monitor costs during recessions and growths because it takes into account production supplies and schedules, facilities, and personnel.
The planning process enables the organization to create a viable budget, allocate financial resources where needed, and develop shipping schedules for finished products and supply delivery schedules.
Guarantees Accessibility:
The capacity planning report indicates whether or not you have the capacity to handle new projects. Is it necessary to outsource, or are your resources sufficient, which is a crucial question that one can answer using this method?
Actual products, such as an umbrella or a raincoat, have seasonal demand. You can use capacity planning to meet the anticipated demand if you sell these items.
Capacity planning would even facilitate you in recognizing the downward slide so that you can halt it as desired.
Managing Skills Inventory:
Capacity planning involves the team's skills inventory, and it notifies which member has the required skills for a specific job. It is now simple to allocate resources as needed.
What Is the Process of Capacity Planning?
Measure:
First, you must determine how much capacity you have and how it compares to the workload of your project.
How To Calculate Capacity:
Determine how many total hours you'll need to work on projects each week.
Multiply your employee count by the number of hours they work per week. (Most full-time employees in the United States work 40 hours per week.)
Calculate your utilization rate (the number of hours an employee will spend working on things in a week) to allow non-project tasks and unforeseen events.
Compare the demand for your project with your available work capacity.
Analyze:
You can make good decisions given the numbers you see since you've calculated your capacity.
Monitor:
When it comes to implementing demand, you probably depend on estimates if you're just getting started with capacity planning. It would help track employee time to know how much time your projects consume.
By requiring employees to measure the time at the project level, you can see where your staff members spend their time every day.
It will also aid in the detection of bottlenecks. For instance, one project may include time-consuming but tiresome tasks that deplete your budget but add little overall value.
What Are the Factors Influencing Team Capacity Planning?
At the most fundamental level, demand and accessibility influence capacity planning. Companies have to consider three other factors when it comes to team projects.
Project Schedule:
The project schedule specifies what resources are needed when needed and in what quantities.
Human Resource Factors:
Remuneration, training, and retention of employees within an organization directly impact capacity planning.
External Factors:
Government policies, labor laws, and budget cycles can impact capacity planning.
Production Capacity Planning Issues
Irrespective of strategy, there are five production capacity planning issues to be informed of that can impact production regardless of the organization's size and complexity.
Data Collection
Traditional manufacturing has long relied on siloed data to plan capacity. Separate, unrelated systems necessitated manual data reconciliation before consumption, which added time. They caused data to become out of date before being used.
Capacity planning relies on demand forecasts, supply chain, warehouse management, and many other areas. Hence a disconnected system would depend on Excel spreadsheets and human capability to identify and monitor patterns.
Data Quality
Most operations collect capacity information in documents and information, which one must aggregate before consuming the information manually. After that, planners add supply and demand data and create a formula that shows additional capacity.
Whether any of the multiple data inputs are incorrect or outdated, or if they exist in different formats (for example, other units of measurement), one must be standardized again. One should do it before using them for planning purposes. Since the data sources are not related, any new iterations must go through the identical procedure.
Formulas And Calculations
Planners employ numerous formulas and calculations when developing a capacity plan. It involves things like availability of materials, load by work center, alternate sourcing, attribute-based planning rules, and much more.
Spreadsheets have long been the "ready" tool for planners to calculate these elements, and precise estimations are critical. If there are data entry discrepancies or incorrect data, the plan may be inaccurate.
In addition to obtaining a lag based on the time required to assemble the data, new data and modifications must be input into several sources.
Planning Level
In addition to the apparent challenges, companies use capacity planning frequently at various levels. Companies use rough-cut planning at the master schedule level, and you can also use it for short-term planning of one to two months.
Aggregate planning employs a 2- to 18-month planning window to provide a more comprehensive view that allows a company to meet the demand in the long run. It also helps to smooth out supply chain issues and gives them time to consider production cost reductions.
When used for different decision-making tasks, each level necessitates more significant amounts of data and more extended periods.
As a result, the hurdles of data collection, quality of data, and formulas and estimations are multiplied in difficulty, opening the door to errors associated with those challenges.
Communication
With so many "working parts," but few of them interrelated, any breakdown or disparity in communication jeopardizes the capacity plan's authenticity. It is indeed the case for supplier communication, which they frequently do via email or fax.
It is also true internally, where siloed systems for purchasing may not interact with those for production or scheduling. It minimizes collaboration and leaves planners vulnerable to being caught off guard by new information, missing data, or mistakes in existing data.
The Best Resource Capacity Planning Tools
We've already learned about capacity planning, and we also learned about the process and the different types of capacity planning.
Now, let's look at some tools to help with this process. We'll look at five tools, ranging from simple to complex. While some tools are accessible, enterprise tools can cost several thousand dollars.
Toggl Plan — Easy Project, Task, and People Management:
Toggl plan is a straightforward project management and execution tool. It does, however, aid in team capacity planning and work schedule.
It aids in the management of team resources by utilizing the team timeline view.
The companies display the following information in the team timeline view:
A high-level overview of who is working on what across projects. This way, you can determine which team members are overworked.
Estimated task workloads can assist in identifying overworked and underworked team members.
Team member vacation and travel plans, so you can plan around their absence.
You can also zoom in on a week, month, quarter, or year. It simplifies goal-based capacity planning — whether short, medium, or long term.
Furthermore, Toggle Plan's project schedule makes it simple to create a timeline. Companies assign the team members according to the plan timeline schedule. These tasks are then automatically synced with the team timeframe.
Pricing:
Toggl Plan is a straightforward project management application that includes project planning, task management, and people management.
It provides a free plan with unlimited project plans for individual customers. Paid plans for teams begin at $9 per month per user, including a 14-day free trial period.
Spreadsheets (e.g., Microsoft Excel, Google Sheets, or OpenOffice Calc):
Spreadsheets are incredibly versatile capacity planning tools. A spreadsheet can assist you in keeping track of capacity and forecasting demand. You can design your layout or use one of the numerous templates available on the web.
Even so, it can be challenging to keep spreadsheets up to date and error-free. Sharing spreadsheets makes the updating process even more difficult.
Pros:
The vast majority of teams already use spreadsheets.
There are numerous templates available on the internet. As a result, you don't have to begin from scratch.
Cons:
Maintaining sheets and tracking changes can quickly turn into a nightmare.
It is nearly impossible to work across teams.
Pricing:
Your office suite contains spreadsheet software. There is no need to pay for it. Your spreadsheet software's price is determined by the office suite you use.
Team — A collaborative online calendar for teams:
The team is a collaborative calendar for teams.
You can organize work by people, places, and occasions on color-coded sub-calendars.
Nevertheless, if you have a large team or work on multiple projects, Teamup can quickly become cluttered. Furthermore, there is no way to zoom in or out to get a brief review of an individual's capability.
Pros:
You can use a calendar view to schedule team meetings and events.
Color-coded plan sub-calendars aid in visual management.
Cons:
There is no way to get a long-term or short-term picture of work capacity.
Because most office suites include a calendar app, you may not need to purchase a separate team calendar.
Pricing:
The free plan only allows for eight sub-calendars, and the premium plans begin at $8 per month.
2Plan — Free and open source project management software:
2Plan is available as an open project management software. Like most open-source tools, it lacks the user interface and experience that allows your team to get up and dash.
Toggl Plan, on the other hand, has features that are similar to 2Plan.
It does, however, include primitive time tracking features. However, it is not a hosted solution, which implies you'll be responsible for downloading, installing, and maintaining the software on your own.
Pros:
It is open-source and free.
It includes a desktop version for single users.
Cons:
Awful user experience. It means you'll have to devote more time to training your team.
You will be responsible for the tool's installation and upkeep.
Pricing:
2Plan is an open-source capacity planning software that is free to use.
Savior — Enterprise resource planning software:
Savior is a capacity planning tool for large businesses with formal operational efficiency improvement programs.
It includes all of the features necessary for optimizing resource utilization. As a result, small and medium-sized teams may find the customer experience and pricing daunting.
Pros:
It is a complete resource management software.
It is the best option for business users.
Cons:
For small/medium tools, the user interface can be intimidating.
Onboarding necessitates formal education in resource management.
Pricing:
Savior's pricing is not public because it is an enterprise tool.
Conclusion
Capacity planning assists your team in completing projects by locating the appropriate resources at the proper time.
We investigated capacity planning and how to carry it out. In addition, we investigated the various types and strategies to manage resource capacity.
We also examined the factors that influence it. Capacity planning software can make this process easier for you. We hope you found this article helpful.