13 Best Capacity Planning Tools In 2023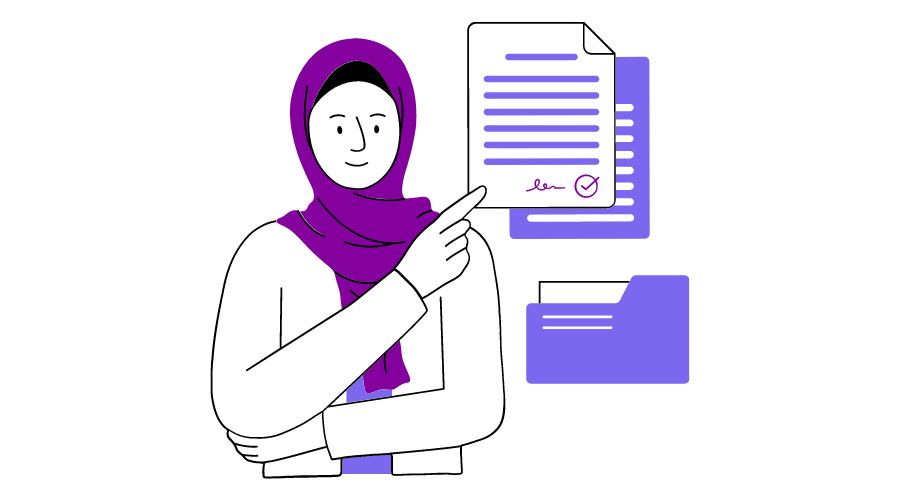 Are you tired of the constant struggle to manage your resources effectively? Do you find yourself overwhelmed with the complex task of capacity planning? Look no further! We have the ultimate solution for you. Introducing the only capacity planning tools you'll ever need, available in free and paid options.
Whether you're a small business owner or part of a large enterprise, these tools simplify your capacity planning process and optimize your resource allocation.
Say goodbye to spreadsheets and manual calculations, and embrace the power of automation.
With our comprehensive suite of capacity planning tools, you can effortlessly forecast demand, analyze workloads, and identify potential bottlenecks. Gain valuable insights into your resource utilization and make data-driven decisions to maximize efficiency.
Don't let resource constraints hold you back. Unlock your organization's full potential with our top-quality capacity planning tools.
The 13 Best Capacity Planning Tools
Chisel, developed by product managers for product managers, is the pioneering unified platform that enables the creation of roadmaps, the collection of customer feedback, and fostering of internal team alignment, all within a single app.
With Chisel, you can conduct product management according to your preferences. It empowers product managers to create agile roadmaps with comprehensive scoring for efficient prioritization and timely delivery of the right products.
Chisel Features
Introducing Chisel's Roadmaps pillar: Your solution for efficient resource allocation and future product planning. Our tools simplify the complexities of product development, enabling you to make informed decisions.
The "Treeview" tool allows you to add and organize your product's features and components effortlessly. With scoring capabilities and the ability to assign them to specific releases, you gain a comprehensive roadmap overview. Additionally, this tool looks at upcoming tasks, ensuring nothing gets overlooked.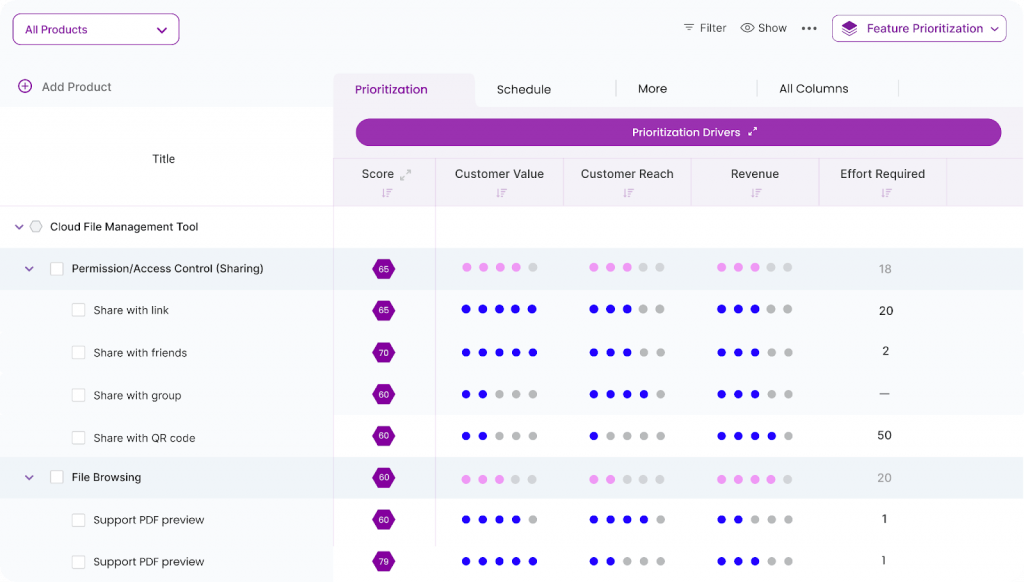 Experience streamlined planning with the "Release view" tool. Visualize your features in a card style, neatly organized by release cycles. Effortlessly move features between releases, adapting your plans with ease and flexibility.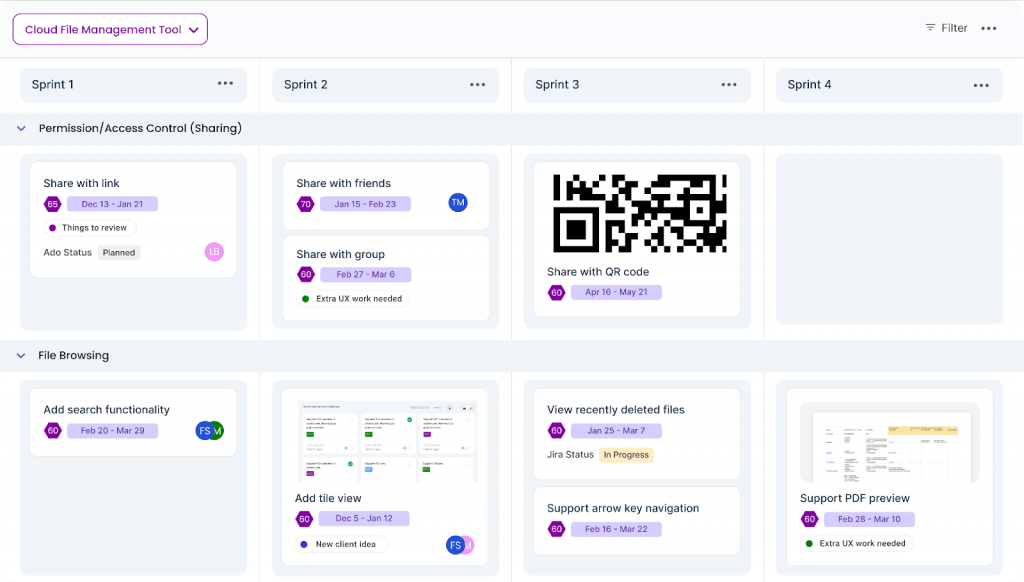 Chisel offers a feature that allows users to add various dependencies required to work on a feature. This functionality assists in tracking the progress of different tasks. It helps identify which aspects are complete and which ones require attention. Using the feature dependency tool, users can establish dependencies between two features, with one potentially blocking or being dependent on the other.
To facilitate effective communication and collaboration, Chisel supports the use of labels. These labels serve multiple purposes, such as grabbing team members' attention, conveying important information, and noting any questions or concerns. Labels enhance clarity and organization within the platform, enabling teams to stay informed and address critical matters efficiently.
Product managers often rely on creating a product roadmap report. This report serves as a document that provides a high-level overview of the company's plans for the upcoming weeks, months, or even years. Its primary purpose is to communicate these plans to various stakeholders within the company, ensuring they are well-informed about the organization's initiatives and direction.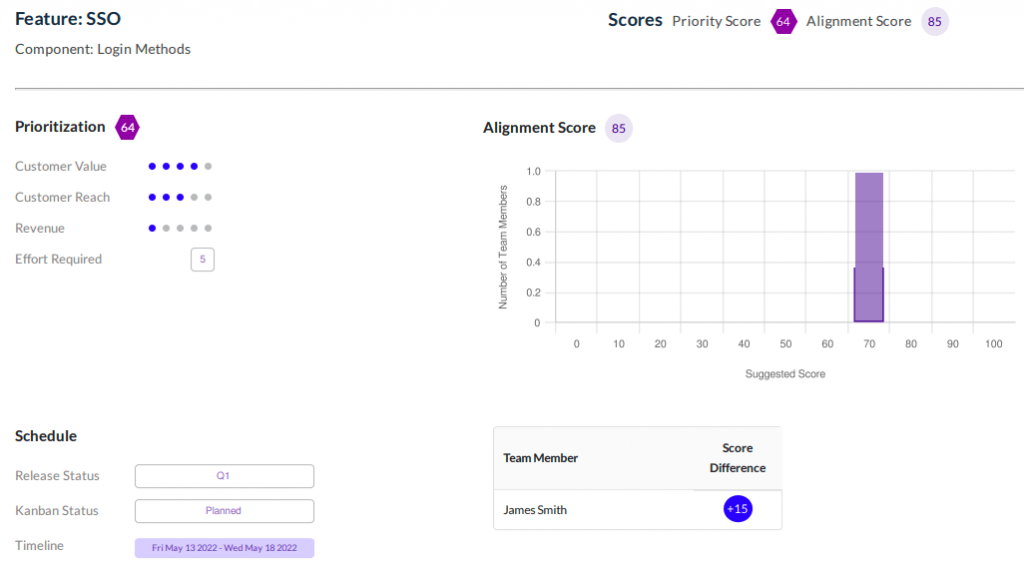 Additionally, marketing teams can leverage roadmap reports to communicate company goals, strategies, and plans to customers. These reports serve as a means to align marketing efforts with the overall company direction and provide transparency to customers regarding the organization's future endeavors.
One positive aspect of Chisel is the "Timeline view." This feature presents a calendar-like display showcasing the features or tasks you have worked on during specific periods. The Timeline view offers a high-level overview of allocating and utilizing time within the team or organization.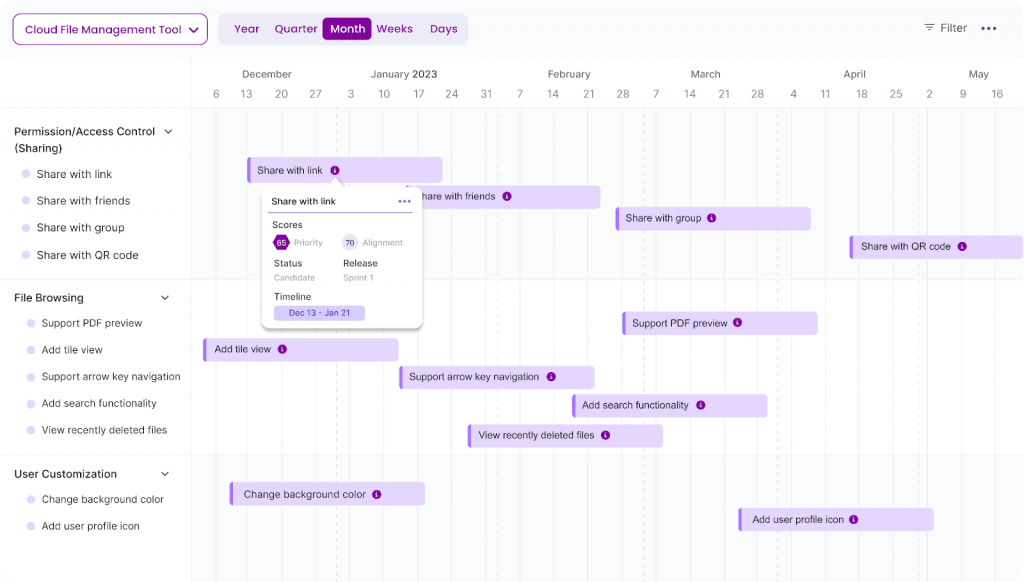 Using the Timeline view, users can quickly see which features or tasks were in focus during different periods. It provides valuable insights into allocating time and resources, allowing for a better understanding of work patterns and priorities.
Chisel Pricing
Essential Plan: Free Forever version
Premium Version: $49 per month per user, billed annually
Enterprise Plan: Need to contact sales
Chisel Customer Reviews
Chisel proudly claims the prestigious honor of "High Performer for Fall 2023," and it's an accolade well-earned. Boasting an impressive overall rating of 4.9 out of 5, Chisel has received resounding praise in various key areas, such as user-friendliness, top-notch support quality, and a breeze of setup process.
Sign up for Chisel's Free Forever Version here.
Toggl is an online time-tracking tool that enables businesses to measure the duration spent on projects or tasks. It provides valuable insights to identify areas for improving efficiency and to understand overall business profitability better.
Toggl also serves as an excellent capacity planning tool, aiding teams in making strategic business decisions related to hiring, workflow management, and identifying potential growth and improvement areas.
Toggl Features
Toggl aims to empower project managers by optimizing resource utilization and workforce management while ensuring a healthy balance that avoids overworking or placing excessive stress on resources.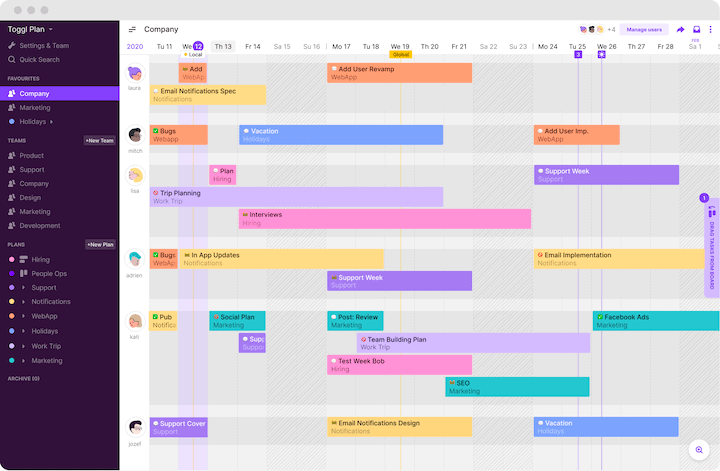 Furthermore, Toggle Plan's Project timeline feature effortlessly enables the creation of project schedules. Assigning tasks to team members is done directly on the timeline schedule of the plan. These assigned tasks automatically synchronize with the team timeline.
With the help of this capacity planning tool, calendars, and projects can be shared with clients in a customizable manner while also catering to the needs of remote teams. It offers flexibility in creating tasks with varying levels of detail, and its drag-and-drop timeline feature facilitates visual roadmaps for specific projects and resource management.
However, it needs comprehensive dashboards and reporting tools, potentially limiting the depth of insights you can gain. In terms of cost-effectiveness, it is considered one of the less economical options than alternatives on the list.
Toggl Pricing
Free trial for 14 days is available.
Team plan: $8 per user per month, billed annually
Business plan: $13.35 per user per month, billed annually
Toggl Customer Reviews
It has an overall 4.6 out of 5 customer rating on G2.
Resource Guru is a resource management software designed to assist in identifying instances where human resources get overloaded due to high demand but limited availability. It serves as a fast and flexible solution for scheduling people and projects.
Resource Guru Features
Resource Guru gives you a clear overview of your team's availability so you can assess their capacity. The green bars show how available your team is, so you can identify under-capacity situations before they become problems.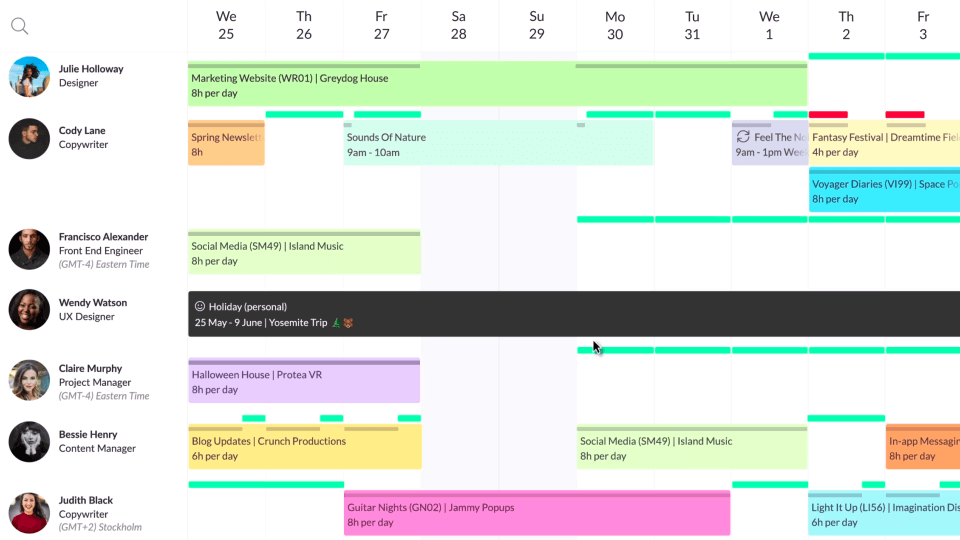 The waiting list feature in this capacity planning tool highlights instances of under-capacity, so you can proactively address potential issues. You can filter and customize your view to see capacity based on skills, departments, locations, and more for the upcoming days, weeks, or months.
It helps you make informed decisions based on data. You can see if your team can take on new projects if you have enough designers for the workload, which teams are nearing capacity limits, and if you need to hire more staff or freelancers.
Resource Guru also provides insightful reports that show utilization over any desired period. These reports give you valuable data to make accurate staffing and resource allocation decisions.
The ease of use with great UI is one of the best upsides of Resource Guru.
However, Resource Guru does not offer a free version, so users must subscribe to a paid plan to access its features. There is also room for better third-party integrations.
Resource Guru Pricing
30-day free trial, no credit card needed.
Grasshopper: $4.16 per user per month, billed annually
Blackbelt: $6.65 per user per month, billed annually
Master: $10 per user per month, billed annually
Resource Guru Customer Reviews
Resource Guru has an overall 4.7 out of 5 rating on G2.
Saviom is a trailblazer and industry leader in delivering advanced resource management software and workforce planning solutions. With a significant lead over its competitors, Saviom empowers organizations to establish an optimized workforce, lower resourcing costs across the entire enterprise, and safeguard their business against market volatility.
Saviom Features
Saviom's capacity planning tool helps businesses manage their resources more effectively. It consolidates all resource demands in a centralized platform, eliminates information silos, and gives businesses a clear overview of their resource needs.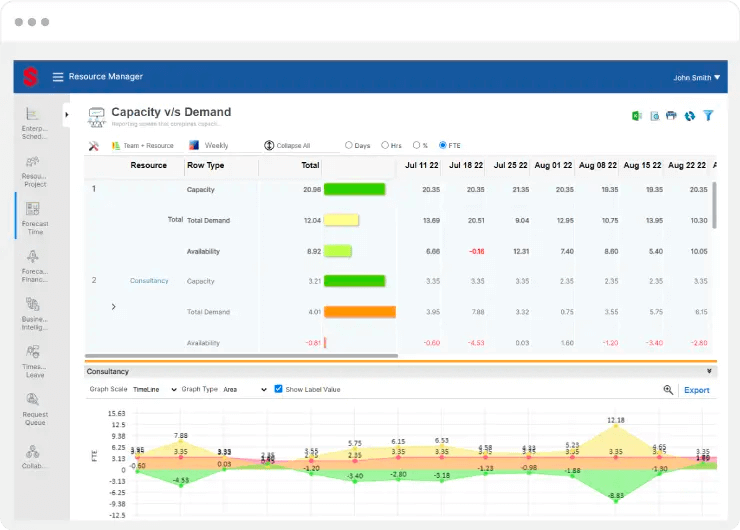 Saviom's key features includes resource demand management, forecasting capacity versus demand, utilization foresight, pipeline management, bench management, and project financial forecasting. These features help businesses optimize resource utilization, minimize hiring and firing cycles, and make informed decisions about resource allocation.
Resource demand management ensures businesses have a 360-degree visibility of their project and non-project demands. This information can get used to plan for future work and ensure that the right resources are available when needed.
Forecasting capacity versus demand helps businesses identify skill gaps and resource shortages or excesses in advance. This information can get used to create proactive capacity plans and avoid cost escalations due to last-minute hiring activities.
Utilization foresight helps businesses optimize resource utilization by identifying non-billable resources that could mobilize toward billable or strategic work. This feature can also track resource utilization over time and identify areas where resources are being underutilized.
Project financial forecasting helps businesses estimate the financial impact of their resource decisions. This information can help you make informed decisions about resource allocation and to ensure that projects are profitable.
Saviom stands out due to its adaptability to changing circumstances. It offers features allowing users to adjust timelines, retrain employees, and expand their workforce when necessary.
UI could be way better and given a modern touch. Savion also does not offer any free plan.
Saviom Pricing
You need to contact sales
Saviom Customer Reviews
Saviom has an overall 4.2 out of 5 rating on GetApp.
ClickUp is the ultimate productivity platform for teams of all sizes, providing comprehensive project management, smarter collaboration, and consolidating work from various apps into a centralized hub.
With its extensive range of customizable features, ClickUp emerges as the ideal capacity planning software, empowering users to oversee workloads, effectively manage resources, and enhance overall productivity efficiently.
ClickUp Features
ClickUp is a versatile project management system you can use as a capacity planning tool. It helps managers assess their capacity to deliver projects on schedule and handle new work effectively.
The resource management features allow you to project timelines and budgets, allocate resources to tasks, and mitigate human resource shortages. The tool's dashboards provide insights into skill gaps and inefficient resource scheduling practices so that you can improve your capacity planning process.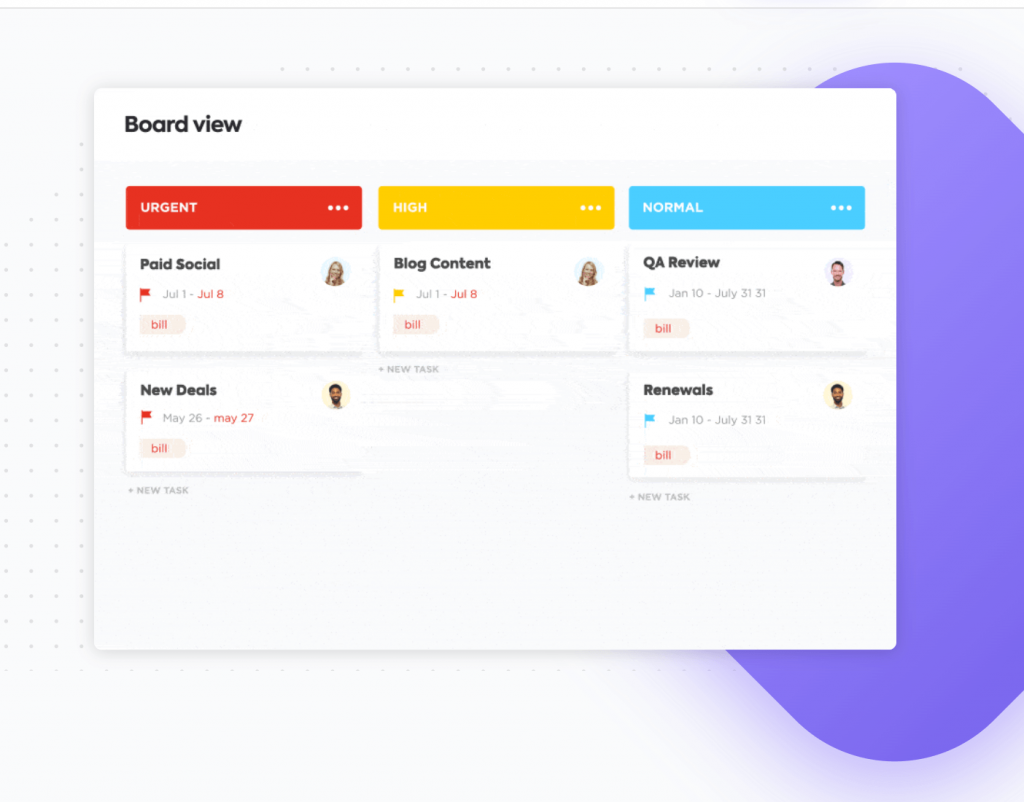 It also offers additional functionalities such as Whiteboards, which facilitate brainstorming, development, and execution of ideas on a visual and actionable canvas directly linked to your ClickUp workflow. The software also provides over 100 automation options to streamline daily actions across ClickUp, enhancing productivity and efficiency.
ClickUp Views offer diverse ways to manage tasks, projects, and workflows. These flexible views enable you to visualize and organize your work effectively.
ClickUp also provides flexible time-tracking capabilities across devices and browser windows. It includes features such as a global timer, time estimates, due dates, start dates, billable time tracking, time reports, and more.
ClickUp distinguishes itself from competitors through its extensive template library, offering a wide selection of options.
ClickUp may have limited capabilities in identifying bottlenecks within projects or workflows. It can make it challenging for users to pinpoint and address areas causing delays or hindering productivity.
ClickUp Pricing
Free Forever Plan is available
Unlimited Plan: $5 per user, per month billed annually
Business Plan: $12 per user per month, billed annually
Enterprise: Contact ClickUp
ClickUp Customer Reviews
ClickUp has an overall 4.7 out of 5 rating on GetApp.
Kantata (formerly Mavenlink) is a full-featured project management software that offers resource management and optimization. It can access data from all of your systems, giving you a holistic view of your resources and helping you make better decisions about allocating them.
Kantata Features
A critical feature of Kantata is its ability to explore the impacts of capacity planning decisions on revenue, margins, and timelines. The software provides valuable insights into these decisions' financial and timeline implications, supporting strategic decision-making.
Kantata also offers optimized resource recommendations, taking into account skill sets, availability, and project requirements. This feature maximizes resource utilization by suggesting the best allocation strategies.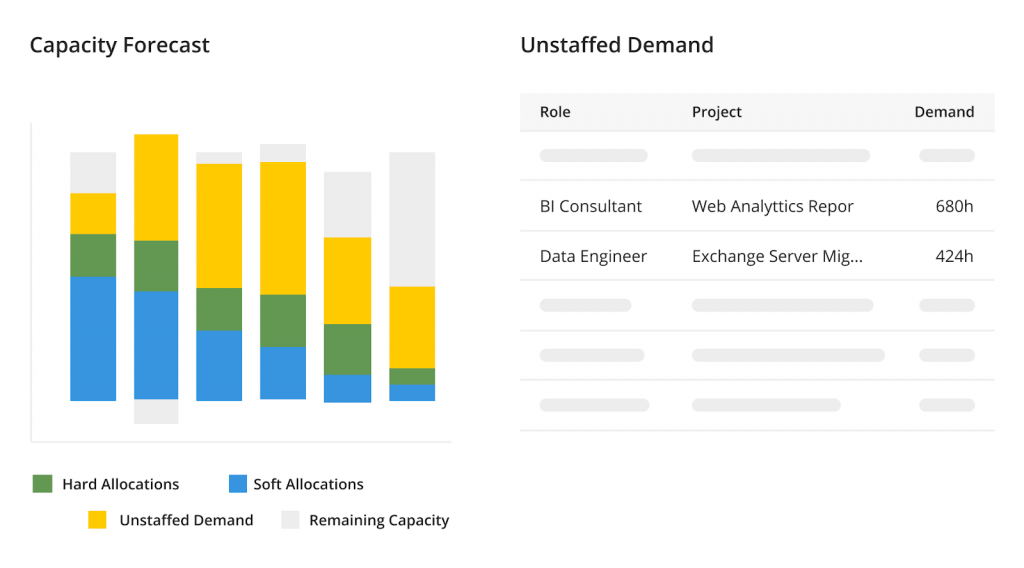 Kantata supports efficient task scheduling and management, enabling teams to allocate resources effectively and track progress. The software also allows for the customization of fields, dashboards, reports, and templates, allowing businesses to tailor the platform to their specific needs and gain valuable insights into resource allocation and project performance.
Timesheet management features are also included in Kantata, facilitating accurate tracking of resource utilization and project hours. The software's filtered search functionality enhances productivity and efficiency by providing quick access to relevant information.
Additionally, Kantata provides capabilities for employee scheduling, management, and project planning features to support comprehensive capacity planning.
The software's capacity management and advanced forecasting module utilize advanced algorithms to accurately predict project timelines and resource demands, making it unique.
Users may take time to get acquainted with the interface. Also, the integrations could be better.
Kantata Pricing
Need to contact sales
Kantata Customer Reviews
Kantata has an overall 4.2 out of 5 rating on GetApp.
Float is a resource capacity planning tool that helps teams to improve their coordination and efficiency.
Float Features
It allows you to assign titles and roles to teams and team members so that everyone involved in a project understands their responsibilities. You can also set default work hours and customize individual availability, facilitating coordination.
Float also includes a forecasting system that predicts resourcing needs in advance. It helps you proactively identify skills or resource gaps before hiring or contracting the necessary resources. The software's intuitive dashboards provide real-time views of team schedules so that you can promptly anticipate and resolve scheduling and allocation issues.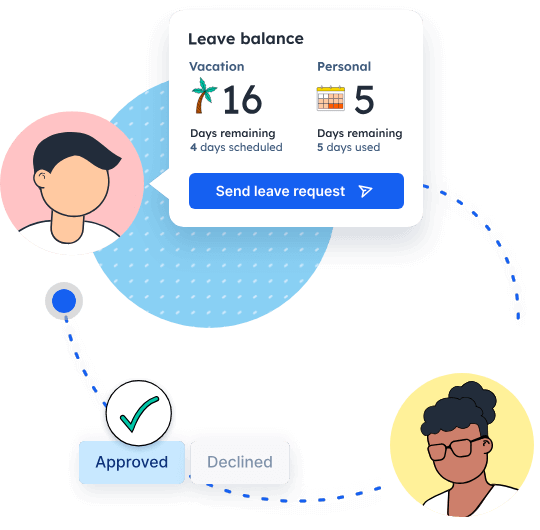 Float also offers robust reporting and analytics capabilities. You can generate customizable reports on capacity, utilization, and project timelines. This information can predict capacity accurately and track spending. Budgets, actual costs, and utilization rates can get monitored in real-time.
You can set budgets based on time or fees and use forecasting features to predict your capacity and spending. Comparisons between scheduled and logged hours can help you to monitor spending based on actual hours worked. It provides a comprehensive understanding of project costs, which can help you make informed decisions.
In addition, Float allows you to predict spending based on logged hours and the remaining budget. It also provides insights into the time spent on billable and non-billable tasks. This information can help you plan future projects for optimal profitability.
The software is highly intuitive and very easy to use, making it stand out from the rest.
A potential drawback of using Float is its inability to integrate with Microsoft Project, a widely used project management software. It means that users who rely heavily on Microsoft Project for their project planning and scheduling may find it inconvenient or limiting to switch to Float.
Float Pricing
Starter Plan: $6 per user per month, billed annually
Pro Plan: $10 per user per month, billed annually
Enterprise Plan: Contact sales
Float Customer Reviews
Float has an overall 4.2 out of 5 rating on GetApp.
Meisterplan is a people-centric portfolio management solution that consistently empowers organizations to create outcome-oriented portfolios. It offers a highly visual platform that enables project portfolio and resource managers to make data-driven decisions at the portfolio level.
With Meisterplan, users can effectively allocate resources, determine optimal timing and priorities, and manage capacities for projects.
Meisterplan Features
It provides a highly visual platform that makes it easy to see how resources are used and identify potential problems.
One of the critical features of Meisterplan is the team planner, which allows you to assign tasks to employees based on their skill sets without overbooking or overworking them. The team planner also includes a heatmap showing resource availability and utilization to identify potential bottlenecks quickly.
Meisterplan also offers flexible resource allocations, so you can easily adjust your resources. You can allocate resources by role, skill, or availability and specify how much time or FTE each resource will get allocated.
The software also provides customizable allocation view options, so you can see your resources in a way that makes sense for your organization. You can view your resources by week, month, or quarter and choose to view them in grid or flexible mode.
Meisterplan also facilitates coordination among various stakeholders and teams. It includes features such as portfolio stimulation and demand prioritization, which can help you ensure that all of your projects align with your overall business goals.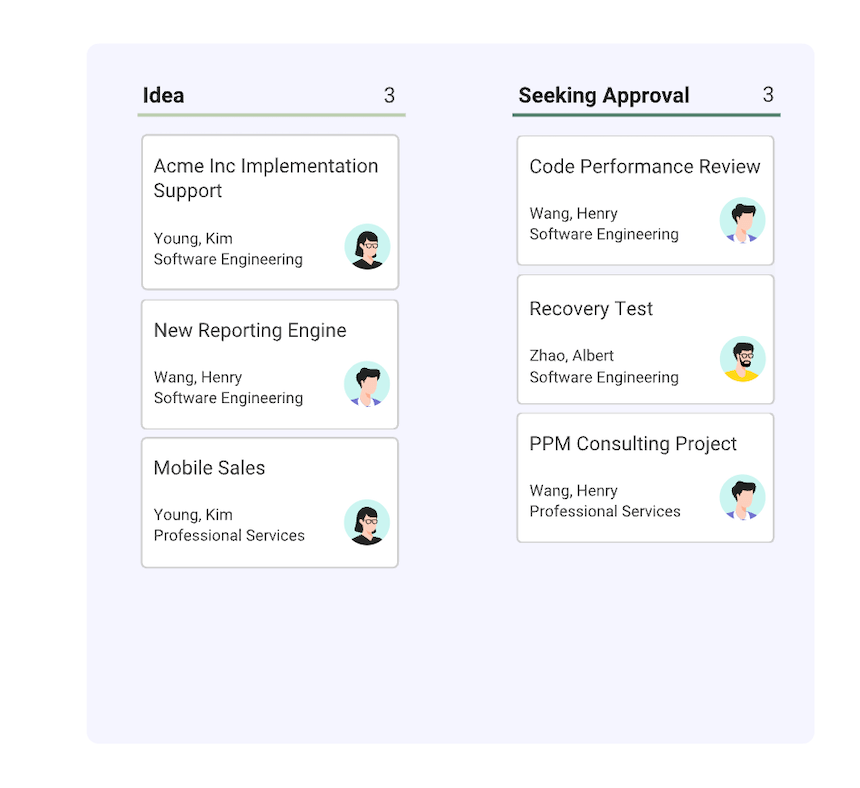 Meisterplan's resource management capabilities allow you to work with realistic capacity and demand data. It means you can anticipate and prevent resource constraints and bottlenecks before they happen.
The software focuses on customer solutions delivery, product development, agile development, corporate IT, and business transformation.
Key benefits of Meisterplan include:
Reliable forecasting support for agile teams
Assistance in customer projects considering factors like availability, dependencies, and critical milestones
Support in increasing profit margins through realistic planning efforts to improve project completion
The software has a steep learning curve primarily due to its enterprise-level functions and features. Users may require more time and effort to become proficient in utilizing the software to its full potential.
Meisterplan Pricing
Basic Plan: $7335.63 per year, unlimited users
Pro Plan: $9780.84 + 4890.42( one-time onboarding fee) per year, unlimited users
Premium Plan: $32168.10 per year, unlimited users
Meisterplan Customer Reviews
Meisterplan has an overall 4.8 out of 5 customer rating on G2.
Runn is a cutting-edge resource management platform that offers real-time insights, integrated time tracking, and robust forecasting capabilities. It simplifies team coordination by providing visibility into project plans, time allocation, and overall business health, ensuring everyone is aligned and working harmoniously.
Runn Features
Runn is a capacity planning tool that helps you to schedule your projects efficiently. The platform's calendar provides real-time access to your resources so that you can see the involvement of each team member.
Runn makes it easy to maintain a balanced workload over time. You can have a comprehensive overview of your entire resource pool in the short and long term. It allows you to visualize the impact of each project on your team and identify utilization trends within your plans.
Runn is flexible and allows you to customize work hours for each team member. You can specify individual availability based on work days and hours to adapt to the modern work environment and maximize your team's productivity.
Runn also helps you to manage your team effectively by organizing and filtering important details using tags, skills, and locations. It provides a limitless array of possibilities to streamline your resource management process.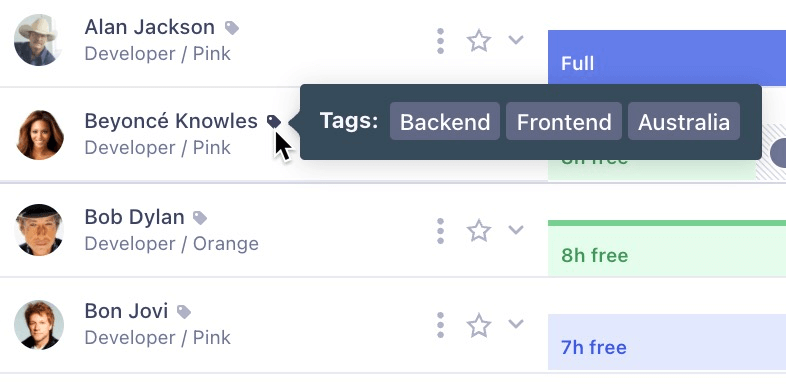 Finding the perfect individuals for your projects is easy with Runn's powerful search tool. You can easily filter your team based on roles, skills, teams, tags, and more.
With Runn, you can say goodbye to resource clashes and unreliable planning. You can balance workloads with confidence, knowing that nobody will be overbooked. To ensure optimal resource allocation, you can plan around existing allocations, scheduled time off, and holidays.
One of Runn's standout features is its capacity forecasting capability. This feature empowers you to assess whether your team possesses the necessary skills and resources to undertake specific projects and evaluate how new work would affect your team's workload.
Runn, it does have a few downsides. No matter if a person is accessible or otherwise occupied, the color of a project refers to the color assigned to the project phase.
It can be confusing and make it difficult to see at a glance how resources are getting used. Runn has extensive modeling and planning features. It implies that it can be a bit overwhelming for teams that are not yet familiar with capacity planning or forecasting.
Runn Pricing
Free Plan is available
Pro Plan: $8 per user per month, billed annually
Enterprise Plan: Need to contact sales
Runn Customer Reviews
Runn has an overall 4.5 out of 5 customer ratings on G2.
monday.com is a versatile work platform designed to enhance team communication, provide an overview of ongoing projects, available resources, and projected timelines all in one place.
Monday.com Features
monday.com also acts as a great capacity planning tool as it offers a wide range of modules and integrations. Therefore, you can choose the ones that are right for your organization. It allows you to create customized management software tailored to your specific needs.
The visual interface makes it easy to create project roadmaps and assign resources to tasks. It helps you ensure that your projects are on track and your team is working efficiently.
The capacity planning tools by monday.com allow you to assess your team's current and future capacity. You can also automate workflows to save time and improve efficiency.
The time projection feature helps you to estimate project completion time based on available resources. This information can accurately price your work and ensure that you are making a profit.
monday.com's task progression column makes it easy to track the progress of tasks. It helps project managers to identify if additional capacity is necessary to meet deadlines.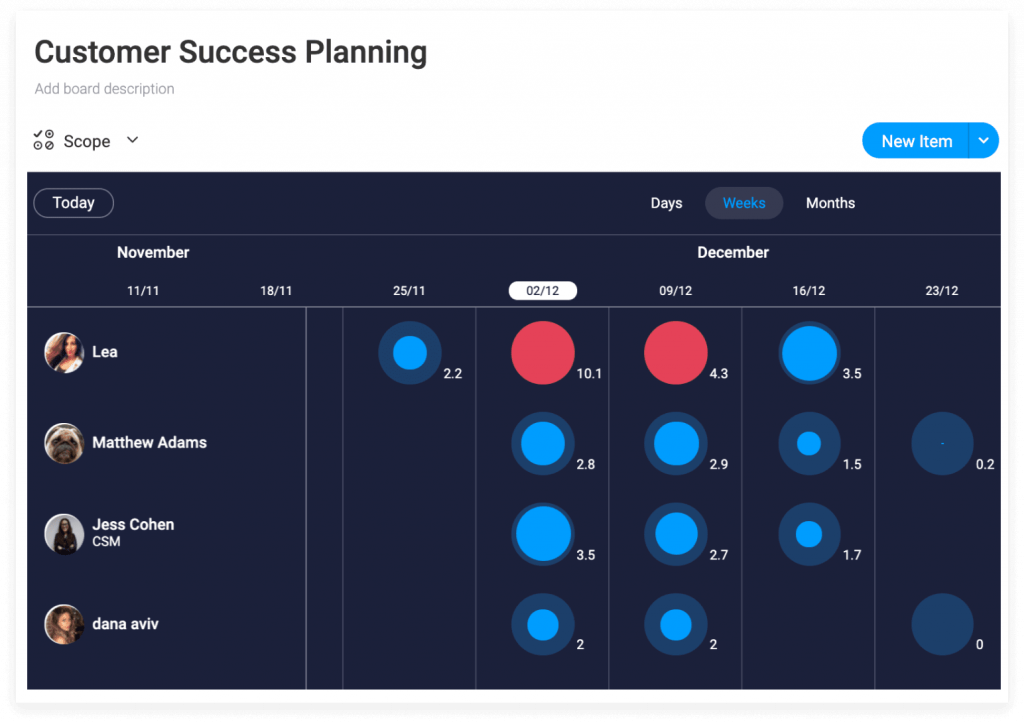 One of the standout features of monday.com is the workload view, which provides a comprehensive overview of how your team's work gets distributed. With a glance, you can identify team members who are over capacity and effectively assign tasks.
Some users may find it challenging to track time spent on individual tasks and determine the overall cost associated with all tasks related to a specific client.
Monday.com Pricing
Individual: No charge.
Basic: $8 per month, payable yearly, per member.
Standard: $10 per month per member, payable yearly.
Pro: $16 per month per member, payable annually.
Enterprise: Contact Sales.
Monday.com Customer Reviews
It has an impressive rating of 4.7 out of 5 rating on G2.
Forecast is an advanced platform powered by AI, providing high-quality capacity planning capabilities for businesses to anticipate future resource requirements and optimize project staffing. It is a comprehensive suite solution designed to assist professional services organizations in streamlining operations and improving financial management through intelligent project automation.
Forecast Features
Forecast is a powerful resource forecasting and capacity planning tool that helps businesses avoid workforce shortages and unnecessary hiring. The platform provides real-time visibility into resource workload and capacity and continuous insights at both project and portfolio levels.
Forecast's user-friendly and visually appealing interface makes getting a real-time overview of your resources' workload and capacity easy. It helps you plan and adjust workloads effortlessly to prevent bottlenecks. By setting healthy work standards, you can improve delivery speed and save on resourcing costs by hiring only when necessary.
Forecast's reporting and analytical tools, enhanced with business intelligence capabilities, offer continuous insights at project and portfolio levels. It allows you to make better decisions about resource allocation and ensure that your projects are completed on time and within budget.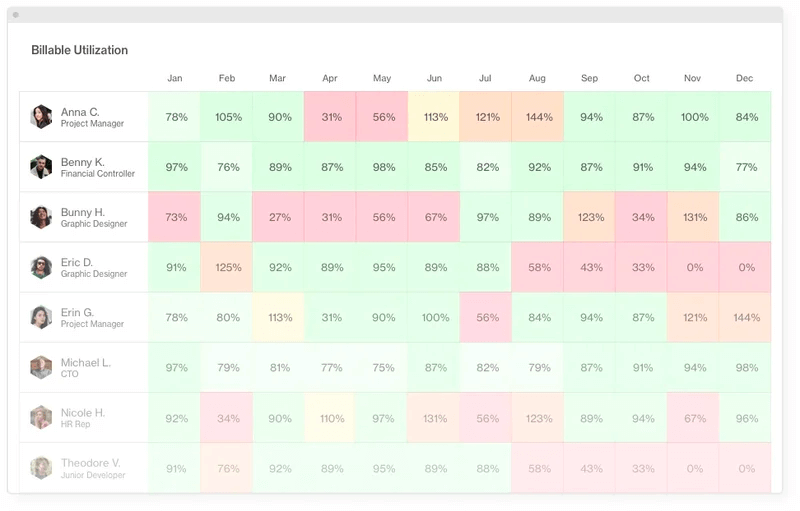 Forecast allows you to assess potential projects through placeholders and tentative bookings. It helps you forecast demand based on win probability to make confident decisions about which projects to pursue.
Forecast automatically calculates utilization on a company-wide level, providing valuable insights into how employees utilize their available time. It helps you to monitor over or under-allocations and make adjustments as needed.
Forecast generates reports tailored to your business and processes, offering a more accurate picture of success within your company. Using planned and actual data, Forecast provides real-time insights into project progress, enabling you to spend less time collecting data and more time taking action.
One of the standout features of Forecast is its auto-scheduling capability, which simplifies task assignment by considering employee availability.
While Forecast offers resource management and scheduling capabilities, it may fall short in robust collaboration features.
Forecast Pricing
Light Plan: $29 per seat per month with a minimum of 10 seats, billed annually
To get pricing details of their Pro and Plus Plan, you need to contact them directly.
Forecast Customer Reviews
Forecast has an overall 4.2 out of 5 customer rating on G2.
Productive is a comprehensive project management tool for agencies and professional service businesses. It offers a range of integrated features, including a Sales Pipeline, Resource Planning, and robust Project Management capabilities. With Productive, you can streamline your workflow from start to finish, ensuring efficient project execution and optimal resource utilization.
Productive.io Features
Productive's resource planning module helps you optimize team members' time and manage workload capacities effectively. You can easily visualize team members' workload and availability, so you can assign tasks and distribute work efficiently. The software also allows you to group employees by skill sets and departments, which can help you improve resource allocation.
Productive's time-tracking tool seamlessly gets integrated with capacity planning functionality. It means that when employees log the time they spend on tasks and projects, that data automatically gets used to improve scheduling accuracy.
You can also use past project data to forecast future work requirements, estimate task completion time ranges, and explore what-if scenarios.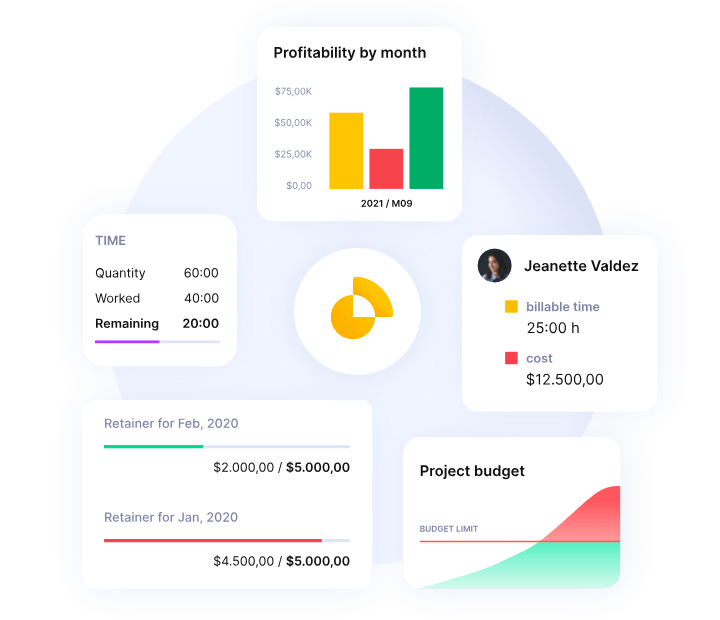 Productive also offers budgeting and financial planning features. These features align with capacity and workload planning tools to ensure your projects stay within budget.
Additionally, Productive offers project management, document management, billing, and reporting tools. Custom fields enable you to categorize resources by team, skill, seniority, and more. You can filter the Views by project, client, or other parameters, simplifying high-level planning.
One standout advantage of the platform is its frequent updates and continuous improvements. The platform becomes better with each update, offering enhanced features and functionalities.
Due to the application's complexity, learning to use all the available features can be challenging. The abundance of features may require significant time and effort to grasp and utilize effectively and fully.
Productive.io Pricing
Essential Plan: $17 per month, billed yearly
Professional Plan: $24 per month, billed yearly
Ultimate Plan: $32 per month, billed yearly
Enterprise Plan: Contact Sales
Productive.io Customer Reviews
Productive has an average of 4.6 out of 5 customer rating on G2.
Teamdeck is a resource planning, time tracking, and leave management tool that helps teams effectively plan and measure their work.
Teamdeck Features
Resource Utilization View feature provides a central view of the current tasks and workload of each employee, team, and department. It helps you make informed decisions about resource allocation and task prioritization.
Teamdeck can notify users about changes or potential bottlenecks in resource capacity. It ensures that work planning decisions depend on up-to-date information.
This capacity planning tool can track the amount of time spent on specific tasks. It will help you monitor employee productivity, identify available capacity, and determine resource allocation.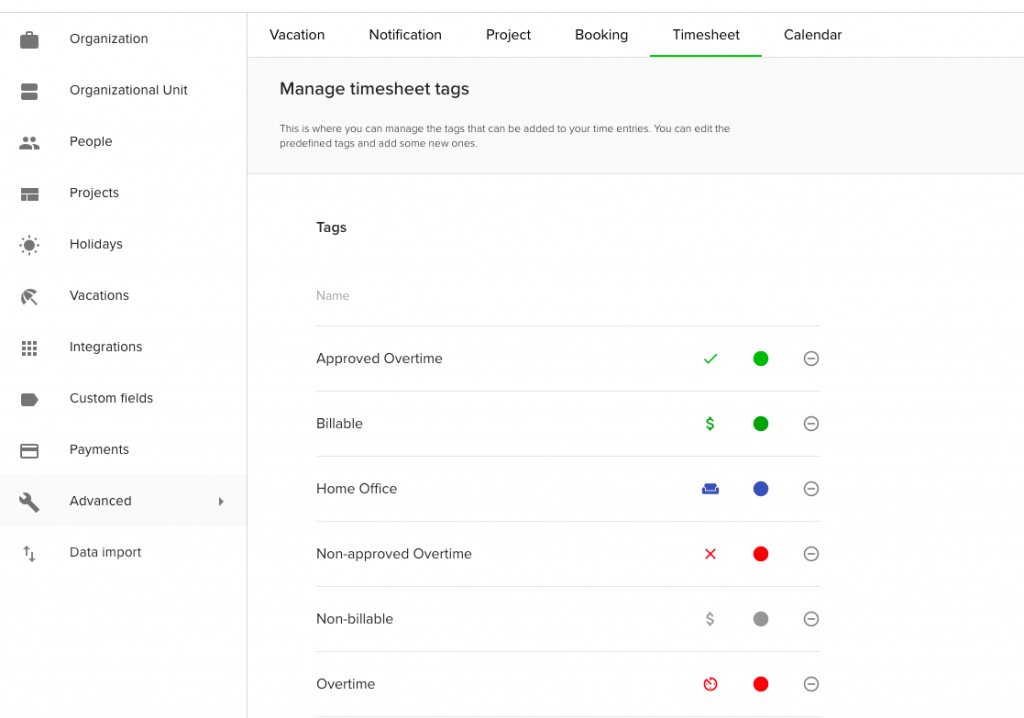 It can track the progress of ongoing projects. It can get used to prioritize tasks, allocate resources, and ensure that projects stay on track.
It can provide valuable information for optimization purposes. It will enable you to identify areas for improvement and optimize processes.
One of the standout features of Teamdeck is the Team Specification feature. This feature provides detailed information about the individuals assigned to a specific project. It includes their availability, company position, and competencies or skills.
One area of concern for some users is the user experience (UX) of Teamup, which they find challenging to navigate. Users have reported difficulties finding their way around the platform, which can impede their ability to utilize its features effectively.
Teamdeck Pricing
Basic Resource Plan: $0.9 per month, billed annually
Team Member Plan: $3.60 per month, billed annually
Teamdeck Customer Reviews
Teamdeck has 4.4 out of 5 rating on G2.
The Capacity Planning Tools Comparison Table
Tool
Feature
Pricing
Overall Rating
Chisel
Roadmaps, feature prioritization, customer feedback, team alignment, dependency management
Free forever plan
Premium plan ($49/month/user)
Enterprise plan
4.9/5
Toggl
Time tracking, project management, reporting
Team plan ($8/month/user), and Business plan
4.6/5
Resource Guru
Resource planning, time tracking, forecasting
Grasshopper ($4.16 per user per month)
Blackbelt and Master Plan
4.7/5
Saviom
Resource demand management, forecasting capacity versus demand, utilization foresight, pipeline management, bench management, and project financial forecasting
Need to contact sales
4.2/5
ClickUp
Project management, task management, time tracking, and reporting
Free plan
Unlimited plan ($9/month/user)
Business plan and Enterprise plan
4.7/5
Kantata
Resource management, forecasting, task scheduling, timesheet management, and project planning
Need to contact sales
4.2/5
Float
Resource availability, scheduling, reporting
Starter plan ($6 per user per month)
Pro plan and Enterprise Plan
4.2/5
Meisterplan
Resource management, portfolio management, and scheduling
Basic Plan ($7335.63 per year)
Pro Plan, and Premium Plan
4.8/5
Runn
Resource capacity planning, forecasting, time tracking
Free plan
Pro plan ($8 user per month), and Enterprise plan
4.5/5
Monday.com
Visual interface, project roadmaps, task assignment, time projection, workload view
Individual plan
Basic plan ($8 per month per user )
Standard plan, Pro plan and Enterprise plan
4.7/5
Forecast
Resource forecasting, real-time visibility, reporting and analytics, auto-scheduling
Light Plan ($29 per seat, per month with a minimum of 10 seats)
Pro plan and Plus plan
4.2/5
Productive
Resource planning module, time tracking tool, budgeting and financial planning features
Essential Plan ($17 per month)
Professional Plan, Ultimate Plan, and Enterprise Plan
4.6/5
Teamdeck
Resource planning, time tracking, and leave management
Basic Resource plan ($0.9 per month) and Team Member plan
4.4/5
Make Better Decisions About Your Resources
When it comes to choosing the right capacity planning tools for your business, Chisel stands out as the ideal choice.
Chisel provides a comprehensive solution for strategic business decisions. With features like timeline management, resource planning, RICE prioritization framework, 24/7 customer support, and seamless integrations, it's the ultimate tool.
What sets Chisel apart is its affordability, providing all these powerful features at a minimal cost compared to other options. Moreover, real product managers have created the top notc. Therefore, you can comprehend the efficiency of this top notch software. Many of these features are also available for free, allowing you to enjoy the benefits without any financial burden.
By signing up for Chisel, you can access many flexible features, feature roadmaps, advanced prioritization tools, and more. Don't miss out on the opportunity to optimize your resource allocation and forecast your future success.
Join Chisel today and unlock the full potential of your business.
Sign up Free Forever Version here.
FAQs
Q: What is the best tool for capacity planning?
A: Chisel is the best capacity planning tool because it offers a myriad of features, including roadmaps, feature prioritization, customer feedback, team alignment, and dependency management.
Q: What are some of the key features to look for in a capacity planning tool?
A: Look for features like resource monitoring, predictive analytics, scalability, real-time data, reporting and visualization, alerting, and integration with other IT management tools. These features enable effective capacity planning and management.
Q: How can capacity planning tools help me improve my operational efficiency?
A: Capacity planning tools can enhance operational efficiency by providing insights into resource utilization, predicting future capacity needs, avoiding resource bottlenecks, optimizing infrastructure investments, and ensuring that your systems run smoothly with minimal downtime. This proactive approach minimizes operational disruptions and increases overall efficiency.