What Is a Junior Product Manager? Definition and Guide
June 14, 2023
Max 8min read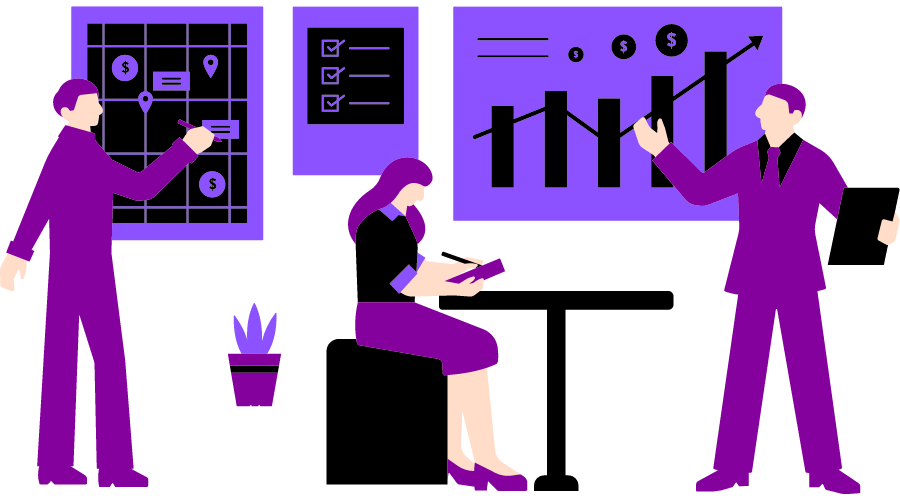 In rapidly evolving product development, an important role takes center stage—the Junior Product Manager. This position holds great potential, as it is responsible for driving innovation and bridging the gap between customers, engineers, and stakeholders. But what exactly does it entail?
The Junior Product Manager serves as a critical link in the product lifecycle, actively contributing to the planning, development, and execution of products that meet the market's ever-changing demands.
With a sharp focus on emerging trends, this individual navigate the dynamic landscape of consumer needs and desires, shaping the future of a company's offerings. However, their responsibilities go beyond conducting market research and competitive analysis.
The Junior Product Manager also collaborates with cross-functional teams, skillfully maneuvering through the intricacies of project management.
They possess a unique combination of analytical prowess and creative thinking, constantly seeking opportunities. It is to optimize product performance and enhance the overall user experience.
If you're curious to delve deeper into the world of a Junior Product Manager, continue reading as we uncover this dynamic role's intricacies and best practices.
What Is a Junior Product Manager
Junior product managers are entry-level professionals who work with senior product managers to develop, launch, and manage products or services. They usually have less experience and responsibility than their senior colleagues. Nevertheless, they are crucial to the entire process of product management.
Depending on the company, a junior product manager may have different duties, but generally speaking, they consist of:
Market Research: Conducting market research to understand customer needs, market trends, and competitive landscape. It involves analyzing data, conducting surveys or interviews, and gathering insights to inform product decisions.
Requirement Gathering: Collaborating with stakeholders, customers, and internal teams to gather product requirements. It involves understanding user needs, translating them into actionable product features, and documenting them clearly and concisely.
Project Management: Assisting in project management activities, such as coordinating timelines, tracking progress, and ensuring timely delivery of product milestones. It may involve using project management tools and methodologies to keep projects on track.
Communication and Collaboration: Facilitating effective communication and collaboration among cross-functional teams. It includes meeting, providing updates, and ensuring alignment among different teams to achieve product goals.
To be a successful junior product manager, you'll need a combination of skills and experience. These include:
Product Knowledge: Successful junior product managers need a deep understanding of the company's products, target market, and industry trends. They should be able to analyze data, interpret market research findings, and make data-driven decisions.
Project Management Abilities: Junior product managers should also possess basic project management skills. This includes the ability to track progress, manage timelines, and ensure successful product launches.
Technical Aptitude: Junior product managers should have a basic understanding of technology, software development processes and familiarity with relevant tools and platforms.
Adaptability and Learning Mindset: Junior product managers should be open to learning, adapting to changing circumstances, and continuously improving their product management skills.
Here are some additional skills and experiences that are helpful for junior product managers:
Customer empathy: The ability to understand and empathize with customers is essential for product managers. This includes being able to identify customer needs, pain points, and desires.
Collaboration skills: Junior product managers work with a variety of stakeholders, including engineers, designers, and marketing professionals. They need to collaborate effectively with these stakeholders to bring products to market.
Problem-solving skills: Product managers are constantly faced with problems. They need to identify problems, develop solutions, and execute those solutions.
Communication skills: Junior product managers need to communicate effectively with many audiences, including customers, stakeholders, and executives. They need to clearly articulate product vision, goals, and strategy.
The Day-to-Day Life of a Junior Product Manager
The day-to-day life of a junior product manager can vary depending on the company, product, and stage of development. However, below is a broad description of what a typical day can entail:
Planning and Prioritization
Review and prioritize tasks based on project goals, timelines, and stakeholder feedback.
Update project management tools like task boards or project trackers.
Collaboration and Meetings
Engage in cross-functional collaboration with design, engineering, marketing, and other teams.
Meet to discuss product updates, gather feedback, and align on the next steps.
Participate in brainstorming sessions, provide product features input, and resolve issues.
Market Research and Analysis
Conduct market research to gain insights into customer needs, industry trends, and competitor offerings.
Analyze data and reports to inform product decisions and identify potential opportunities for improvement.
Requirement Gathering and Documentation
Collaborate with stakeholders to gather and document product requirements.
Create user stories, feature specifications, and wireframes.
Ensure clear and concise communication of requirements to the development team.
Testing and QA
Work closely with quality assurance (QA) teams to test product features, identify bugs or usability issues, and provide feedback for improvement.
Conduct user testing or gather user feedback to validate product hypotheses.
Product Launch and Monitoring
Support the product launch process by coordinating activities, preparing marketing materials, and monitoring the product's performance post-launch.
The challenges of being a junior product manager can include:
Limited Experience
As a junior product manager, you may have less experience and knowledge than more senior professionals.
This can make it challenging to navigate complex product management tasks and make critical decisions.
It is important to be open to learning and asking for help.
You can also find mentors or other experienced product managers who can help you grow your skills.
Balancing Priorities
As a junior product manager, you may be responsible for a myriad of tasks and projects.
It can be hard to balance all of these priorities and ensure that everything gets done on time.
It is important to establish clear goals and priorities, and to communicate these to your team.
You should also be willing to delegate tasks and to let go of some control.
Communication and Alignment
As a junior product manager, you will need to communicate effectively with people from various fields, as we discussed earlier. This can be challenging, as each group has different needs and priorities.
You should be clear and concise in your communication and listen to feedback from others.
You should also be ready to compromise and find solutions that work for everyone.
The rewards of the job include:
Learning and Growth: Being a junior product manager offers valuable learning opportunities and growth potential. You get to work closely with experienced professionals. Additionally, you will get to learn about the product lifecycle and develop a versatile skill set.
Impact and Ownership: Contributing to developing and launching successful products can be advantageous. Seeing your ideas come to life and positively impact users can provide a sense of fulfillment.
To make the most of your time as a junior product manager, consider the following:
Be Curious and Learn: Seek opportunities to learn and expand your knowledge. Stay updated with industry trends, attend webinars or workshops, and engage in self-study to deepen your understanding of product management concepts and best practices.
Build Relationships: Foster strong relationships with cross-functional teams, stakeholders, and mentors. Collaborate effectively, seek feedback, and learn from experienced professionals.
Take Initiative: Look for opportunities to take ownership of projects or tasks. Proactively seek new challenges and propose innovative ideas to enhance the product or process.
Develop Your Skills: Identify improvement areas and actively develop the skills necessary for a successful product manager. It can include honing your analytical abilities, enhancing communication skills, and gaining technical proficiency.
Embrace Feedback: Embrace feedback as a means to grow and improve. Actively seek input from stakeholders, team members, and users to understand areas of strength and areas that need development.
How to Get a Job as a Junior Product Manager
To get a job as a junior product manager, consider the following steps:
Gain Relevant Skills and Experience: While entry-level positions like junior product managers may require little experience, acquiring relevant skills and knowledge can give you a competitive edge. Consider taking courses, participating in internships, or working on personal projects. The goal is to develop your understanding of product management principles, market research, and project management.
Networking: Build connections in the industry by attending product management events. You can also join professional communities and engage with industry experts on platforms like LinkedIn. Networking can provide job leads, insights into companies, and potential referrals.
Job Search Platforms: Utilize job search platforms, both general and niche-specific, to find junior product manager openings. Websites like LinkedIn, Indeed, Glassdoor, and AngelList often list product management roles. Additionally, go ahead and explore specialized product management job boards or websites dedicated to tech startups.
Company Websites and Career Pages: Check out the careers sections of the businesses you wish to work for. On their websites, many companies list any open positions that may interest you, or they offer ways for you to submit your CV.
Leverage Your Personal Network: Inform your friends, colleagues, and mentors about your job search. They may have connections or insights about relevant job opportunities or can refer you to open positions within their networks.
Making your resume stand out:
Tailor Your Resume: Personalize your resume to highlight relevant skills, experiences, and achievements related to product management. Focus on key responsibilities and projects, demonstrating your understanding of the product development lifecycle and ability to collaborate with cross-functional teams.
Quantify Your Achievements: Use numbers and metrics to quantify your accomplishments whenever possible. For example, mention the number of users impacted by a product you worked on. You can also mention the percentage increase in revenue due to a feature you implemented or the success of a product launch regarding customer adoption.
Showcase Your Skills: Highlight your analytical skills, communication abilities, leadership qualities, and technical proficiencies. Be specific about the tools, methodologies, and frameworks you are familiar with, such as Agile/Scrum, wireframing tools, or data analytics platforms.
Include Relevant Projects: If you have personal or academic projects related to product management, include them in your resume. Describe the problem you solved, the approach you took, and the results achieved.
FAQs
The main difference between junior and product managers is their level of experience, responsibility, and seniority within the organization. Junior product managers are typically entry-level. However, product managers are more experienced and are often more responsible for driving product strategy, leading cross-functional teams, and making critical decisions. Junior product managers often work under the guidance of product managers and assist with various tasks related to product development. In contrast, product managers take on a more leadership role in shaping and executing product strategies.
The time to become a junior product manager can vary depending on educational background, relevant work experience, and individual skill development. Generally, it can take several years to build the necessary skills and expertise to qualify for a junior product manager role. This timeline can get influenced by factors like the industry's complexity, the competition level, and individual career progression. Gaining experience through internships, entry-level positions, or relevant educational programs can expedite the path to becoming a junior product manager.