Product Marketing Manager: Job Description and Salary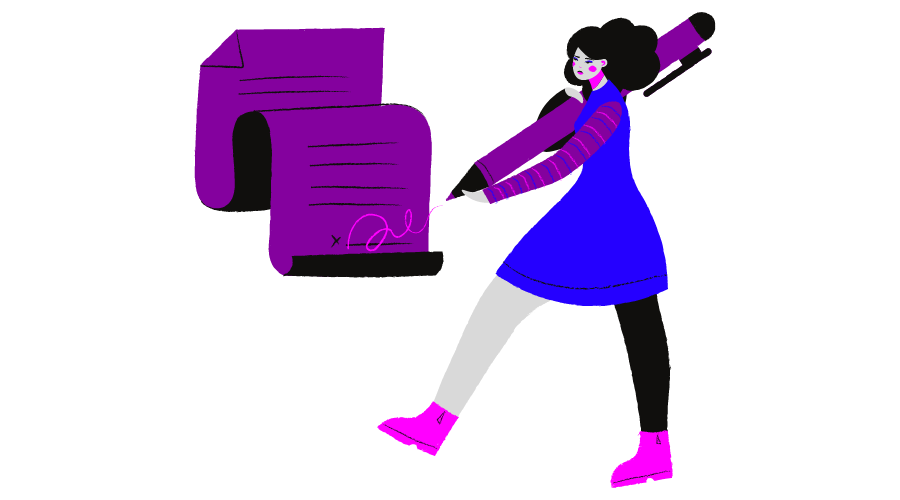 Let's say, you have a product ready to be delivered to the target audience. Yet, you don't know how to go about the product's marketing, message, and positioning. Don't worry; we are here for you.
Product marketer does precisely all of this and more. They market the product and make the target customers aware of its launch.
Product marketing combines all three aspects of a business: sales, marketing, and product.
A product marketing team aims to understand the market needs and wants. However, it mainly focuses on the target audience's requirements and the relationship between the company and the customer.
They are responsible for bringing new and unique products to the market and spiking their sales and revenue.
Successful product marketing leads an organization to fulfill its business goals. A good combination of market research and working across teams is a secret to a solid product marketing approach.
What Is the Job Description of a Product Marketing Manager?
A typical job description of a product marketing manager looks something like this:
Requirements
A company may want someone with a degree in a particular product or service that they offer. Often, they require candidates with at least a bachelor's degree. Some product marketing managers also have an MBA or a diploma and training certifications.
Typically, to work as a product marketing manager, you must have previous experience as a brand manager or a similar role.
You must write a compelling copy for the target market/audience.
You should be ready to talk, walk with the product in mind, and spread the word to attract the relevant audience.
You must be creative, have an open mind, and have an eye for details.
It would be best to be techno-savvy and learn the trends to incorporate them into the marketing strategy.
You must have successfully launched a product before, with the factors of positioning and messaging in place.
An excellent public speaker with a confident personality to speak in front of a larger audience.
You must be capable of mentoring the teams at every step of the way.
Empathy is a must-have skill since you'll be working with a broader range of people across the organization. Different departments have members with varied ideas and personalities.
You will also have to ensure you know the competitor's product. Empathy toward the competitors, customers, and team members will set you apart and make you a good leader as well.
Responsibilities
To work hand-in-hand with other departments such as sales, marketing, engineering, and more.
To study the product, the market, and the channels to market the product.
To research the product, market, competitors, and target audience thoroughly.
To support and train the sales team by introducing them to the new tools available, to attract the customers.
What Are the Other Job Responsibilities of a Product Marketer?
You'll often find a product marketer working with sales and marketing teams with product managers.
So, where exactly do they lie? What department or group do they belong to? Or do they even have one?
An effective product marketer is required to bring a higher revenue and to cut short the sales cycle.
Not just that, but good product marketing goes hand in hand with the skills and competencies a product marketer has.
Work Before the Product Launch:
A product marketing manager plans and researches the target market thoroughly before the product launch. Such practice helps them become well-accustomed to the product launch.
The product marketing managers use market research and competition analysis tools to decide different marketing strategies. Expertise with such tools helps develop the company's strategies to launch the product successfully.
Joining Hands With the Marketing Communications Team:
The sales and marketing communication team can convince the target audience to demand your product. With the help of various techniques and tools, a product marketing manager can help the marketing communication team and bring sales.
Many startups and established companies expect all of these skills plus a lot more from a product marketing manager. This role may require skills that go way beyond the ones mentioned here, along with multi-tasking abilities.
After the Product Launch:
The duty of the product marketer does not end after the product launches in the market.
In fact, it has just begun.
The product marketing manager looks after the sales and creates demand. Overall, they handle this to ensure that the product is successful.
What Is a Product Marketing Manager Salary?
Product marketing managers' jobs will be most popular and demanding in tech hubs such as San Franciso, Bangalore, and London.
The salary factor also depends on the company you will be working with.
If you work with a startup, you may need to settle for an average salary, but you can expect an increase in a well-established company.
Your salary as a product marketing manager will be higher than a traditional marketer. Still, it also depends on the experience and the level of expertise you bring to the table.
On average, a salary that a product marketing manager can expect is $114,000. This number was an estimate by the 2020 reports. As you proceed with the role, considering your expertise, experience, and other factors, your salary can increase to $181,000.
What Are Some Common Interview Questions To Prepare?
Tell us about the product marketing campaigns across any organization that blew your mind.
What was your role in the last organization and what type of marketing strategies did you use, and were they successful? If not, how did you deal with that?
How would you use social media to campaign for one of our products? Define in detail the steps you'd take to help the product reach a wider audience.
This is a product we are planning to launch. What is the plan you would choose, and note down specific strategies you'll want to implement?
After significant experience as a product marketing manager, you can also work as a product manager or director of marketing and research.
What Are Some of the Common Tools Used by Product Marketers Daily?
With a job stretched across teams, a product marketing manager has a lot on their plate.
From talking to customers, keeping track of the success, and planning launch strategies, having a tool that supports these tasks goes a long way.
Following are some of the standard tools product marketing managers and teams use to focus on the tasks.
Email:
Marketers use email to communicate with customers and other stakeholders.
It is one of the most effective strategies and tools to be used because of its accessibility and vast resources.
Product marketers can quickly reach marketing teams and understand the target audience's response with email marketing tools. These teams often use various effective marketing tools in order to complete various business tasks, in particular, the Findymail plugin when there's a need to find the relevant mail.
Product Management Tool:
Product managers and product marketing managers can use this tool to collaborate with other teams.
You can add features and different user experiences with the help of these teams. This tool can become a safe space for everyone to come together, prioritize, and give their product input.
You can try out Chisel's free forever version today to get help with the same.
Customer Tools:
Once you launch the product, the next thing to do is wait for the customer to reply to the product. Here is where the need to have a customer service tool comes in.
This tool can help you identify the issues with the product, understand what the customers are saying, and what their experience with the product has been.
Digital Asset Management Tool (DAM):
Digital asset management tools help the product marketing teams to create different assets.
You can use these assets, such as illustrations and logos, for marketing campaigns and product launches.
What Does a Product Marketing Manager Do?
A product marketer's job includes creating awareness and demand for a product.
That includes:
Conducting Market research
Managing the marketing plan
Supporting launch
Developing your brand identity and positioning strategy
Generating leads
Driving sales
Determining product price points
Crafting effective messages that resonate with your target market.
At the heart of the product marketing role is the product's positioning in the market.
Product Marketing vs. Marketing
Looking at the above factors that distinguish traditional marketing from product marketing, you may wonder, how different is it?
The marketing teams work to showcase the brand image and the company in an excellent light.
On the other hand, product marketing managers look after the positioning and messaging of the products.
They work together with all teams to achieve customer satisfaction.
Future of Product Marketing
Flexibility is the most crucial aspect that sets product marketing managers apart.
Product marketing managers are flexible and have to remain so.
They mold themselves into every team and make them a part of the team.
It helps them understand the core issues and build a solution to make the product successful eventually.
The growth of this field will only go upward for various reasons. Some of which are as follows:
The job of a product marketer is flexible and diverse. They enjoy crafting compelling stories, being the key person in an organization, designing the products, helping in sales, and conducting market research.
Most companies will hire a product marketing manager in the future mainly because of these reasons. They would want someone capable of handling diverse roles and making a difference in the product functions.
There is a broader scope of progressing and advancing in your career in the product marketing manager's job role.
You may reach a senior product marketing manager, different specialists such as marketing, product, security, monitoring, developer, and many more.
Wrapping Up
The need for a product marketing manager arises when a company wants to launch a new product or update an existing one.
Product Marketers carve out the exact path for the launch and the measures to take after the launch.
Yes, a role like this demands much of your efforts, talent, and skills. But above all, you need an open mind, observation, and strong communication skills to succeed in the market.
We live in a competitive world with many resources available at your disposal. As a product marketing manager, strategizing and making the best of what the company has is essential to wear.