Product Manager: Roles and Responsibilities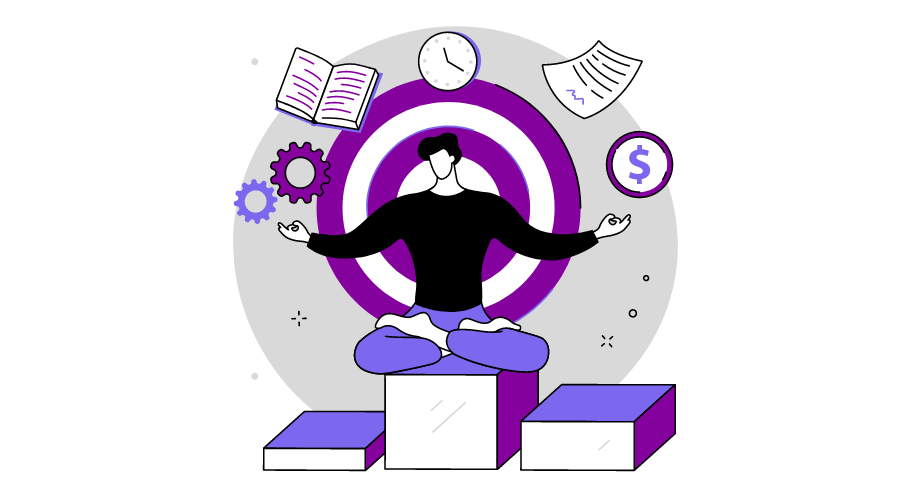 A product manager plays a central role in creating and designing products in any organization.
Whether manufacturing products or making software applications, it's important to understand product managers duties.
The ultimate goal of a product manager is to satisfy the customer by accomplishing the product manager's tasks at hand.
The responsibilities and activities we have listed in these roles represent this goal.
However, we cannot talk about product managers without mentioning the primary app they use to manage their project tasks.

Chisel is the best software for product managers to create roadmaps, collect customer feedback, and build team alignment.
This article will cover the product manager roles and responsibilities, what skills a product manager has, and their different roles in an organization.
What Are the Product Manager Roles and Responsibilities?
Product managers are responsible for determining the product mission and defining a product strategy.
They develop a feature roadmap that meets company goals and user needs.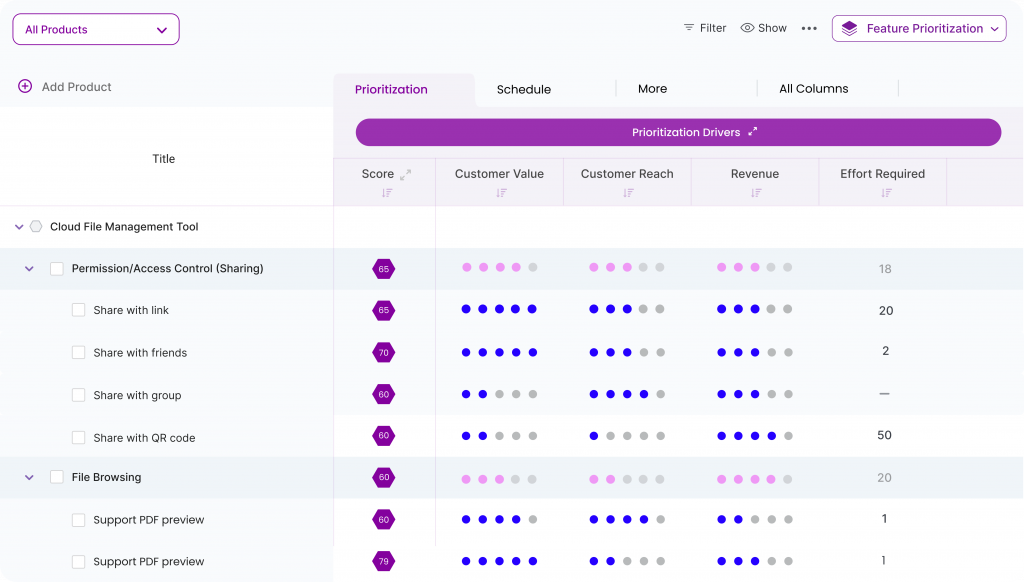 Product managers play a critical role, especially in technology companies, to guide every step of a product's lifecycle.
Product manager responsibilities are multitudinous in nature.
Another product manager task is to lead cross-disciplinary teams to drive the research of user and market needs. They also design and develop products to meet these needs.
They lead the development of pricing and marketing strategy and finally launch these products to delight customers.
They are also instrumental in building alignment within the team during the planning, execution, and launch phases.
This role requires strong business acumen, a deep understanding of UX design, and technical expertise.
Moreover, great people skills such as collaboration and communication go a long way.
An organization hires a product manager who either already has a product or has a vision for a product.
In some cases, companies may employ product managers to conceptualize a product from scratch, as with many startups.
Demand for product managers is increasing globally, and so are the product manager's responsibilities. Likewise, in the US, their roles are expanding.
Despite the pandemic when the work culture went virtual, product managers have succeeded in the remote environment.
In other words, earlier, the product manager roles were geared only towards the management and user experience of a product.
However, it has now shifted towards all-encompassing end-to-end product line management to make them a market success.
What Is the Product Manager's Role in Agile?
As the name suggests, agile refers to the flexibility and adaptability of the work environment, customers, and products.
In agile, the product manager's responsibility is to interact with the audiences and stakeholders to decide where the product is going.
One of the product manager's tasks is to interact with and understand the customers' pain points constantly.
You can do this by visiting customer sites and experiencing the customers' day-to-day life. This can give the product manager a first-hand experience of customers' daily challenges.
Challenges:
Like any other job, the role of a product manager in agile also has its challenges.
One of them is deciding which requirement is necessary. Teams such as sales, marketing, product development, and so on will determine what features to build.
But a product manager in agile who has interacted with customers has the upper hand in everything. It is because they have dealt with the target audiences.
Another challenge that the product manager in agile has to face is not balancing between strategic and tactical activities.
Strategic activities include building a product roadmap while keeping the overall business goal in mind.
Tactical activities include demonstrating the product to the sales and marketing teams. These activities are more technical-based.
Product managers in agile spend more time focusing on the tactical rather than the strategic moves.
Bringing a balance to these two activities can do wonders.
What Are the Product Manager Roles and Responsibilities in Scrum?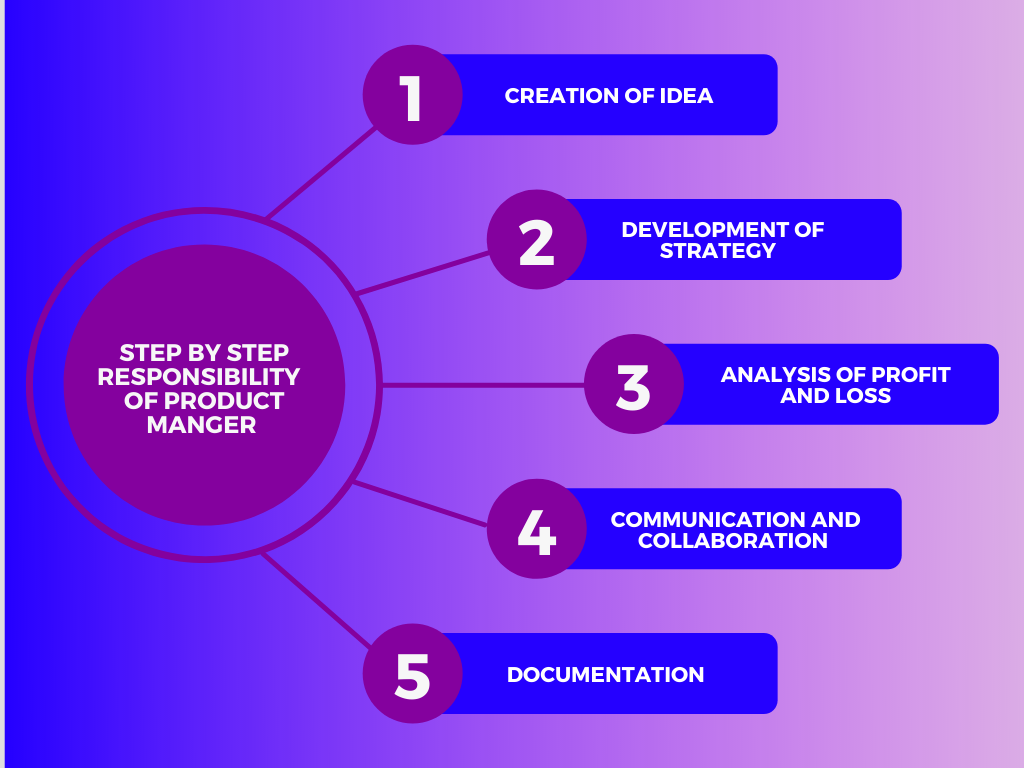 In Scrum, there is a specific period within which you need to complete the tasks. This timeframe is known as sprints. Sprints can range from one week to a month.
A scrum comes with its roles and concepts that take the entire product development process to the next level.
Product managers are a vital part of scrum teams and exist for the sole purpose of seeing projects through to completion.
They facilitate communication between teams and stakeholders.
They ensure that projects remain in the scope initially outlined by the product management team and manage all arising issues.
What Are the Roles of an Associate Manager?
Suppose you want to know more about what is part of the role of product management. In that case, the best way to begin is by working in an associate product manager role.
Being a product manager requires you to have experience, skills, and knowledge of products, customers, and everything in between.
And to get to that level, working as an associate product manager will help you big time.
An associate product manager's roles and responsibilities include assisting under the leadership of the product manager.
The associate product manager also gathers data, interacts with customers and stakeholders, helps with requirements, and many more.
The associate product manager tasks are similar to the product management roles and responsibilities. Some of them are described below:
Conducting market research to gather quantitative data.
Conducting customer research.
Collecting requirements based on the overall goals set.
Collaborating with the stakeholders.
Developing the features for the product.
Developing strategies for the product.
The associate product manager roles vary from company to company.
As an associate product manager, you may work with product managers and help them with the sprints.
In some organizations, you may work directly with a product team.
An associate product manager doesn't have giant responsibilities such as building a full-fledged product. They are given small roles, such as updating the features of the existing product.
What Are the Roles of a Junior Product Manager?
When you want to get into the product manager role, the best place to start is working in the junior product manager role.
Even though the junior product manager role is an entry-level position, they derive a lot of learning.
The junior product manager roles and responsibilities will not differ from that of product manager tasks.
Skills needed for the junior product manager roles are:
An open mind to learn
Ability to make decisions on their own
Having a vision and ability to look at the bigger picture
Creativity, flexibility, and innovative
What Are the Roles of a Senior Manager?
People in senior product manager roles guide the engineering, sales, and marketing teams. They also lead the product managers.
The senior product manager also works with the technical product manager and other managers in a senior position.
Apart from being good at tech and finance, the senior product manager must be well-versed in market research. They should understand the product well and collaborate with other stakeholders.
Following are the roles and responsibilities of a senior product manager.
Working Hand in Hand With Teams
The senior product manager role requires excellent skills in communication and collaboration. They need to work with cross-functional teams as well as third parties.
Hence, having a solid bond with all team members and stakeholders can make product development smooth.
Overlooking the Entire Product Lifecycle
The role of senior product manager demands overlooking the start-to-finish process of the product life cycle.
From ideating, planning, and building product roadmap and strategy until you distribute the product in the market, the senior product manager overlooks everything.
At every stage of the product life cycle, the team will consult the senior product manager.
Analyzing the Market and the Product
The senior product manager regularly researches the product that is in the pipeline. This research includes product pricing, competitive and profitability analysis.
The senior product manager roles also require you to work alongside the product marketing manager while conducting market research.
Crafting a Product Strategy
The senior product manager looks at the draft of the product strategy developed by the product teams.
They also need to prove to the product management director and other heads that this product strategy will help the company reach its vision and deliver success.
Responsible for Recruitment
The senior product manager role also requires working with the HR teams. They need to look after the recruitment, appraisal, and other factors related to the product teams.
The senior product manager roles may also demand more depending on the company.
What Are the Roles of a Technical Manager?
As we know, the product manager role is not limited to having technical knowledge. But the role of a technical product manager is open for people with technical backgrounds only.
The role of technical product manager also involves converting the company business requirements into technical requirements. They work with the CTOs of the company.
They team up with the development team, clear their technical doubts, and help them with time management.
Following are the roles and responsibilities of someone in the role of the technical product manager:
Analyzing the market trends, competitors' products, and new ways to improve the existing products.
Providing development and technical training to teams.
Innovating new product ideas.
Coming up with innovative product solutions.
Answering questions customers pose about the products.
What Are the Skills a Product Manager Should Have?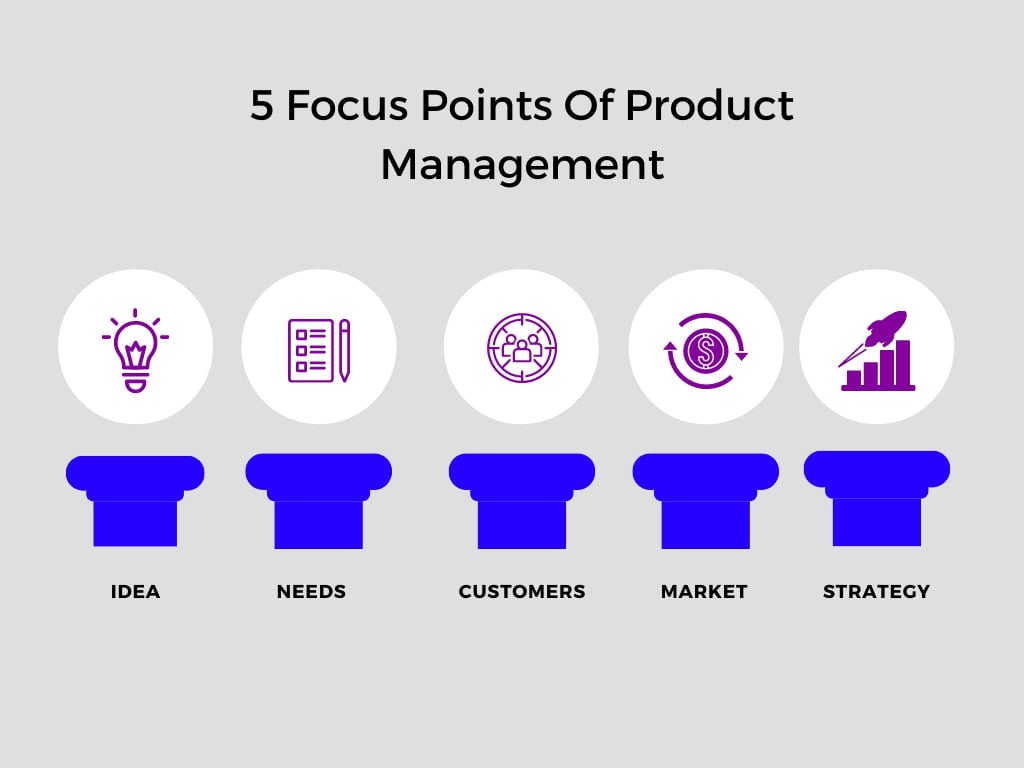 While the role of the product manager may vary a bit from company to company, the core requirements that have proven to deliver success have a steady pattern across industries.
There are a lot of hard skills and soft skills that the product manager role demands.
Below are some of the critical skills needed by product managers to succeed in 2023:
Identifying and Assessing Opportunities
It is one of the first things product managers do to kick off the product life cycle.
They identify opportunities from various sources.
These include external sources such as customer requirements, competitor analysis, and new market trends.
It also has internal sources like team members' ideas across multiple disciplines and executive management.
They prioritize these opportunities based on various prioritization criteria, including customer impact, revenue impact, feasibility/risk, and the effort required.
Conducting User and Market Research
Product managers conduct user and market research to validate user needs and market opportunities. They use several tools, including user surveys, to collect feedback.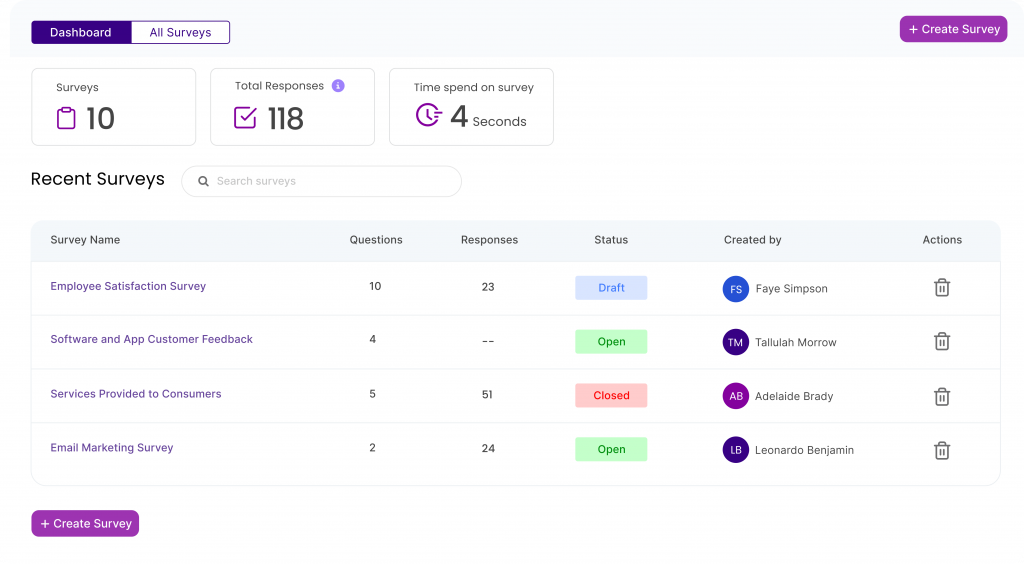 Such feedback is critical in ensuring customer-centricity of the product features, future development roadmap, and end-user satisfaction.
A product manager should study the market through targeted surveys, evaluation, and demand forecasting. It helps us understand and forecast tentative demand for the product.
That, in turn, defines the investment and revenue goals to a large extent.
Therefore, the manager needs to display accurate forecasting that can stand up to scrutiny and be fit for viewing by the company's leadership team.
Creating Product Vision, Feature Roadmap, and Prioritization
Great product managers create a vision for the product and roadmap that is compelling and achievable.
That requires an in-depth understanding of the target customer's needs, the engineering team's capabilities, and available technologies.
Using this understanding, product managers create feature roadmaps across several releases to release the right product to market at the right time.
To determine how to prioritize the various tasks in the roadmap, product managers employ the prioritization frameworks to make the workflow efficient.
Team Alignment, Communication, and Internal Evangelism
A cross-discipline product team involves several members across UX design, engineering, marketing, customer experience, sales, executive management, and more.
To ensure buy-in from various stakeholders, the product manager must convey which features are part of the roadmap and why.
Product managers also gather feedback for the effort involved, feasibility analysis, and risk assessment for developing various product features.
In disagreements, they build consensus and rally the team towards a common goal.
Product managers drive the team to ensure the product gets delivered within the scope of time and with high quality as per the product roadmap.
It involves continuous communication and coordination across teams.
Product managers are instrumental in resolving disputes before they escalate and disrupt work.
Furthermore, companies may need the product manager to participate in client calls or meetings. It allows them to understand customer needs better and helps resolve their queries.
This responsibility requires customer-facing skills, including explaining complex situations in the least amount of time.
Executive management support is essential for the production effort to continue. A good product manager will proactively think through executives' concerns and address as many as possible.
Product managers need to follow up on unanswered questions or issues from executives diligently. They need to address them time and again.
Understanding of Tools and Technologies Involved in Development
The role of the product manager entails the planning and development work of the product.
The manager must know how different teams work across technologies and how long it should take to create them.
It helps understand the proper delivery time of each moving part, like product feature, web development, marketing techniques, design, content, and more.
It is achieved either through the right education programs or through extensive work experience managing different aspects of development, marketing, and sales coordination.
Alternatively, many organizations also invest in people across departments to grow into product managers.
A good development manager with good management and communication skills is often trained to communicate with other teams. That enhances the coordination for the end-product delivery.
Design, Content, and Aesthetic Knowledge
A product manager role is probably one of the most comprehensive jobs in the industry today, perhaps right after CEOs.
Product managers who may even be standalone contributors with shared resources also need to display the same set of extensive skills.
These include product design and aesthetic design based on which the final development happens.
It is okay for the manager to have design and aesthetic knowledge limited to the specific industry. They cultivate this niche knowledge as a result of one particular industry experience.
Product managers are not art directors by any measure. However, they need the design understanding to work with designers and their immediate managers to identify the best-suited aesthetics.
Such knowledge will fit the tremendous user experience, product vision, and CX goals.
Similarly, the product manager is expected to work with marketing designers and content experts to deliver the right marketing collaterals.
These consist of website pages (standalone or otherwise), content pitches, and information.
Wrapping Up
The role of a product manager involves much more than just the job description on paper. It extends beyond the realms of sales, marketing, and business.
At its core, the role is about one thing: assessing market needs, gauging how well a product is doing in the market, and recommending how to move forward.
But beyond that, every product manager tasks will be responsible for different. If you want to become a product manager, learn about this indispensable position as much as possible.
Ultimately, the product manager skills lie in the vision and strategy of the development process.