How to Create a Business Roadmap?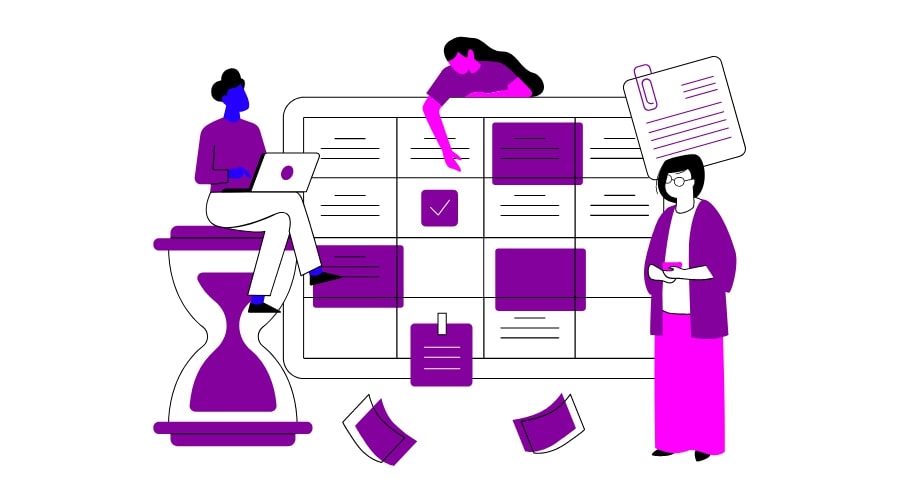 A business roadmap is an essential tool for any business.
It helps visualize the different aspects of business activities and measure progress by defining how to reach an organization's objectives.
You can use business roadmaps in various ways – from daily management tasks to staying on top of long-term strategic goals.
This article will cover everything you need to know about business roadmaps.
What Is a Business Roadmap?
A business roadmap is a plan that shows how the different aspects of business activities will lead to achieving strategic goals. Individuals in charge of specific areas and managers and executives need to overview all business operations.
Creating a business roadmap is vital in analyzing a company's performance and assessing its future potential. They're used to plot out the itinerary for accomplishing objectives and tracking progress.
A business plan differs from a business roadmap. Business plans are long-term, while roadmaps focus on short-term goals and objectives. Business plans include information about the company's finances, but roadmaps don't need to be as detailed or comprehensive; they just need to give a general idea of what you should do next.
How To Make a Business Roadmap?
A business roadmap is a document that outlines the steps needed to reach an end goal.
Creating a practical business roadmap can seem like a daunting task, especially if you're not sure where to start. But it's not as complicated as it sounds!
Many online tools can help with this task, too. So don't worry if you've never done this before – we'll walk through everything step by step below.
Define Your Business Vision and Strategy
One of the first steps in a business roadmap is to get your vision, mission, and strategy in place. Without this, it would be difficult to create specific objectives and tasks for your roadmap. Planning your business vision and design helps you determine what actions need to take place and ensure that you align all of them with your goals and objectives.
Identify Business Objectives and KPIs (Key Performance Indicators)
The next step is to identify the business objectives you want to achieve. Business Objectives can be anything from increasing sales by X%, gaining Y new customers each month, or creating a product that will revolutionize an industry.
These objectives should align with both your company's mission statement short and long-term strategic plan. When setting up business objectives, keep in mind how they relate to your strategy.
For example: Suppose you have a goal of achieving 100% customer satisfaction. Think about what it would mean for sales growth to accomplish this objective.
Business KPIs are the metrics that you could use to achieve these objectives. Business Objectives and Business KPIs should always go hand in hand.
Key Performance indicators refer to those metrics that help measure the performance of any Business strategy or initiative. They can be anything from the number of new customers acquired per month, the growth rate for revenue over time, etc. Business KPIs are also used to track progress towards your Business Objectives.
Business Milestones and Timeline
Once you know your objectives, it's time to set Business milestones – these are specific goals that need to be met for a business objective to become a reality.
Business milestones could include launching new products or services every quarter, hiring one person per month (if there's a budget), etc. Business milestones should also have measurable results so you can track progress towards achieving them!
On the other hand, business timelines involve making estimates about when each milestone will happen (i.e., start date/end date), along with its associated cost. Costs could include financial capital and people's hours spent working on tasks related to achieving your business goals within their role at work—functions such as marketing, sales, product development, etc.
Business timelines should include any significant events such as product launches, new marketing campaigns, etc., that could affect progress towards objectives set out on the Business roadmap.
Assign Tasks and Responsibilities
The next step is to assign tasks and responsibilities to individuals or teams. Breaking down business objectives into specific, actionable tasks is essential for anyone trying to achieve them. Doing this also allows team members to understand better what they need to work on to contribute to the organization's success.
When assigning tasks, make sure that they're SMART: Specific, Measurable, Achievable, Relevant, and Time-bound. Setting SMART goals will help ensure everyone in the team understands what they need to do and when they need to do it.
Implement and Track Progress
The last stage is putting your Business Roadmap into action and tracking progress. Make sure to revisit your Business Objectives and KPIs regularly so that you can course-correct where necessary. Doing so will help ensure that you stay on track towards achieving your business goals! Create a winning roadmap with Chisel Roadmaps.
What Makes a Good Business Roadmap?
Let's look at some of the essential features of a successful business roadmap.
The Business Roadmap Should Be Clear, Simple, and Understandable.
Business roadmaps are meant for everyone to understand – from the CEO to an intern.
They should also have a consistent format that makes it easy for people unfamiliar with your company's business goals or strategy process (e.g., customers).
Following this process will help determine where things stand about their needs/expectations.
Business Roadmaps Must Be Inclusive of Specific Parameters
A business roadmap should include key milestones, objectives, and deliverables along with tasks assigned so that there is no confusion about what needs doing next or when it might need doing. This process will also help ensure that team members know how to achieve those larger goals.
Granular and In-depth
The business roadmap has the right level of granularity, and it should be easy enough for anyone to understand but detailed enough that they're helpful as well. If a business roadmap is too high-level, it won't provide any direction on how to do a particular task and vice versa if the roadmap is too low.
It is crucial to find a middle ground and specify all the information needed but not too high for a layperson to understand.
Revise Regularly
The business roadmap is updated regularly. Business objectives and goals will change over time, so it's essential to update your business roadmap accordingly. Doing this ensures that everyone has the most recent information and helps track progress and identify any potential issues/obstacles along the way.
What Are the Business Roadmap Elements?
Now that we know what makes a good business roadmap let's look at the different elements.
Business Objectives
The purpose of a business roadmap is to help achieve business objectives, so these should be clearly defined and listed prominently on the business roadmap.
Milestones
A milestone is an important event or achievement that needs to happen for business objectives to continue. They could include launching a new product, reaching a certain number of sales, etc.
Tasks
Assigning specific tasks and responsibilities to individuals or teams is essential for achieving business objectives. Doing this also allows team members to understand better what they need to work on to contribute towards the organization's overall success.
Business Roadmap Format
The overall layout of your business roadmap should be easy to follow so that anyone can understand where things stand at a glance.

Using a style or template specific to your company is also essential to avoid confusion about which business objectives/milestones you referred to.
You can present business roadmaps in formats such as Gantt charts, Kanban boards, or mind maps.

Who Can Use a Business Roadmap?
An essential tool like a business roadmap helps anyone achieve business goals – from the CEO and Board of directors to team members and individual contributors.
You can use business roadmaps in various ways – from daily management tasks to staying on top of long-term strategic goals. Different leaders in the ghostwriting company who need an overview of all business operations use the business roadmap.
Let's take a closer look at who might benefit from creating a business roadmap:
CEOs/Managers: They use business roadmaps to visualize the big picture and track progress towards defined goals.
Business Owners: Business owners can use business roadmaps to see all the different business areas in one place, which can help identify opportunities and problems that need addressing.
Employees: They can use business roadmaps to see how their tasks contribute to their overall success.
Freelancers/Consultants: They can use business roadmaps to understand the client's business better and offer tailored solutions.
Project Managers: Project managers can use business roadmaps to show the progress of their projects and forecast future tasks. Business roadmaps are an excellent tool for project managers to guide their teams on how each task contributes toward achieving strategic objectives.
Product Managers: Product managers can use business maps to visualize different aspects of product development and management processes, focusing on what needs to be done next year or five years down the line. Doing this will help make sure those goals get done on time.
Venture Capitalists: Business roadmaps can be a valuable tool for Venture Capitalists because they provide an overview of their investments over time.
Sales Teams: Business roadmaps help sales teams identify potential customers and track progress towards business objectives.
Marketing: Marketing teams use business roadmaps to visualize different aspects of marketing campaigns, focusing on what needs to be done next month or five months down the line. Ready to start creating your winning business roadmap?
What Are the Different Types of Business Roadmaps?
There are many business roadmaps to choose from, but it's crucial for you and your team members to understand what kind of business roadmap would be most suitable for them. Here are some examples:
Strategic Business Roadmap
This business roadmap assists businesses that are looking for long-term success. It covers the company's vision, mission, and goals and how they plan on achieving them.
Project Business Roadmap
Project business roadmap is for projects, and, as a result, its focus will be more on task management than strategic planning.
Marketing Business Roadmap
A Marketing business roadmap focuses specifically on strategies and campaigns that will help promote and sell a product or service.
Product Business Roadmap
Companies use this type of business roadmap with multiple products/services that need managing.

It helps track the progress of each product line and determines when you should release new products into the market.

Technology Business Roadmap
A technology business roadmap is designed for companies that rely heavily on technology to run their business. It covers the development and implementation of new systems/technologies and how you will use them.
What Is a Business Roadmap Template?
Business roadmaps are also easy to customize, so they're perfect if you want something quick and straightforward.
A business roadmap template is a pre-made business roadmap that is an example or starting point for future business roadmaps.
They're great because they save time by providing you with all the necessary elements already included.
Business roadmap templates also ensure consistency between business roadmaps so that it's easy to identify essential information at a glance. These templates come in many different styles and formats, so you can choose one that suits your needs best.
The best way to start making your business roadmap is with free powerpoint templates that experts have already designed.
Let Us Take a Look at a Business Roadmap Template Below:
The first step in the business template will be to input the company's name, logo, and website. This step will help personalize your business roadmap and give it a more professional look.
The next step is to input the title of your business roadmap. This title can be from "Strategic Business Roadmap" to "Product Business Roadmap."
After that, you'll need to list your objectives and goals. These can be anything from increasing sales to developing a new product.
Next, you'll need to list the strategies and tactics you'll use to achieve your objectives. This process could be anything from launching a new marketing campaign to expanding into new markets.
The final step is to add in any other information that you think is important such as timelines, budgets, or other business roadmap elements.
What Is a Small Business Roadmap?
A small business roadmap is a template specifically designed for businesses with fewer resources and less complex operations.
The main difference between a small business roadmap and other business roadmaps is that smaller businesses typically have one or two key goals they're trying to achieve.
In contrast, larger companies may have several plans spread out over different company areas.
Small business roadmaps usually aren't as detailed as others because there's not enough time or resources to include everything. But using some important small business tools can help you grow quicker.
That said, it's important to remember that even the most straightforward business roadmap can be beneficial when it comes to keeping your business on track.
What Are the Business Roadmap Tools?
Business roadmap tools are a great way to stay on top of daily management tasks by showing how they contribute to achieving strategic goals.
Executives can use business roadmap tools to overview all business operations and individuals in charge of specific areas within an organization.
Business roadmap tools significantly help for planning purposes. You can make them with pen and paper, Excel spreadsheets, or other software programs such as PowerPoint slideshows.
Business roadmap tools are a great way to visually see and track the different aspects of your business, which is extremely important when it comes to measuring progress.
Additionally, individuals in charge of specific areas can use business roadmap tools. Tools such as marketing or product development allow them to understand how their work contributes to its overall success.
When tracking performance over time, business roadmap tools are essential. By comparing data from previous years, you can see whether your company is moving in the right direction or if any areas need improvement. Business roadmap tools can also help predict future growth or decline for an organization.
Conclusion
With a business roadmap in hand, literally and figuratively, you are on your way to success. Business roadmaps are essential for any strategy process, and you should create them with precision and care.
We hope this article helped provide you with a better understanding of business roadmaps and their uses.