What Is B2B SaaS? [7 SaaS Companies Examples]
April 5, 2023
Max 7min read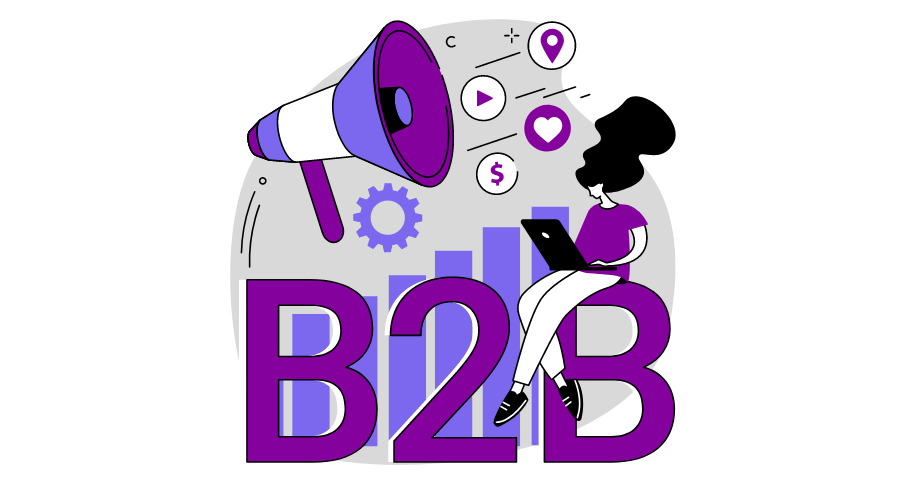 Are you feeling the burden of traditional software solutions for your business? Do you often need help with constant updates, maintenance, and the need for expensive hardware?
Let me introduce you to B2B SaaS, the perfect solution to all your software-related problems.
B2B SaaS, or Software as a Service, is a cloud-based software delivery model that has brought a new era of technological advancement for businesses. With B2B SaaS, you no longer have to worry about investing in costly hardware or frustrating software updates.
The cloud-based solutions provided by B2B SaaS companies are fully customizable to meet your business requirements, streamline processes, increase efficiency, and ultimately boost your revenue. But what exactly is B2B SaaS, and how can it benefit your business?
Fear not. In this article, we'll explore the world of B2B SaaS. Are you ready?
What is B2B SaaS?
Definition of B2B SaaS
B2B SaaS, or Business-to-Business Software-as-a-Service, is cloud-based software companies use for various business activities like accounting, office productivity, and customer relationship management (CRM). Companies often subscribe to B2B SaaS solutions and regularly pay, whether monthly or yearly, instead of installing and purchasing software on their hardware.
B2B SaaS is a software delivery model where one company provides access to their software solution to other companies through an internet connection.
Any company that subscribes to a B2B SaaS service can access all the features and benefits from anywhere, which makes it highly convenient. This service ensures that users can access all the features and benefits regardless of the device used.
One of the best things about B2B SaaS is its variety of solutions to the specific pains of companies across various industries.
From marketing automation to project management, B2B SaaS has the potential to streamline operations and boost efficiency for businesses of all sizes.
If you're looking for a way to simplify your company's software solutions, B2B SaaS is the answer.
What is B2B SaaS Software?
B2B SaaS, or Business-to-Business Software as a Service, is a software delivery model where a vendor provides software applications to other businesses over the internet.
Businesses can access the software hosted on the vendor's servers through a web browser or other internet-connected device( without needing on-premises installation or management.)
B2B SaaS software applications can include:
Project management tools.
Customer relationship management (CRM) software.
These applications are often scalable, customizable, and user-friendly, catering to businesses of all sizes and industries.
According to Gartner's 2021 poll of emerging technologies, SaaS is one of the top three innovative technologies.
McKinsey & Company also predicts that B2B SaaS and cloud-based computing will have a market capitalization of approximately $200 billion for B2B SaaS firms by 2024.
This further cements the role of B2B SaaS as a game-changer in the software industry and highlights its potential for growth and expansion in the coming years.
Now that you have understood B2B SaaS meaning, time to look the benefits.
Benefits of B2B SaaS
B2B SaaS, or Business-to-Business Software-as-a-Service, is rapidly gaining popularity among businesses worldwide. It provides a range of advantages that conventional software systems do not. The benefits include cost savings, adaptability, scalability, enhanced safety, and automatic updates.
Let us discuss each of these advantages in detail.
Save Money
Businesses can save money by choosing B2B SaaS by avoiding upfront costs associated with traditional software systems.
Instead of paying for licenses, installation, and setup fees, users pay a monthly or yearly subscription fee. This provision makes it a more cost-effective option for small organizations or start-ups.
Easily Customizable
Cloud-based solutions, such as B2B SaaS, are highly adaptable and allow businesses to deploy software quickly.
Unlike traditional approaches that can be difficult and time-consuming to deploy, with SaaS, you can start using the program immediately.
Scale Up or Down Effortlessly as Your Business Evolves
B2B SaaS systems are scalable, making it easier for businesses to expand and change as their needs evolve. As your organization grows, you can easily add new users to your account, making scaling up or down a breeze.
Keep your Data Secure
B2B SaaS provides enhanced safety for your business by storing your data on the cloud. The SaaS company hosting your data has robust security procedures to safeguard your data from loss or theft.
Never Miss Out on the Latest Version of the Software
With B2B SaaS, you always have access to the most up-to-date version of the software, as updates are automatic. It means you never have to manually install updates or wait for the provider to issue an update before installing it yourself.
Not updating the software could expose your business to security flaws, so automatic updates provide added protection.
B2B SaaS Companies Examples
Businesses worldwide are leveraging the power of B2B SaaS companies to drive productivity, improve operations, and increase revenue.
We've put together a list of the best B2B SaaS companies that are taking the industry by storm. Let's take a closer look at these game-changers:
Google is the epitome of an all-in-one B2B SaaS platform. It offers many services, including email, file storage, website analytics, document creation, and time management.
With 100+ products, most of which are free, Google is a popular choice for businesses of all sizes.
Shopify is a leading e-commerce content management system and online store builder that enables anyone to create and manage an online store.
With its tiered pricing structure, Shopify's flexible pricing plans make it a go-to choice for businesses looking to set up shop online.
BigCommerce is one of the top-performing B2B SaaS companies that offers both B2B and B2C e-commerce solutions.
The platform's unique ability to provide customers with different catalogs and price lists makes it a unified solution that caters to both business types.
Slack is a popular business communication tool, offering multiple features like video conferencing, AI bots, and messages.
The freemium model of Slack delivers value right from the start. Teams can access more advanced features by switching to the premium model.
Mailchimp is a well-known email marketing tool that enables businesses to send newsletters, manage mailing lists, and create email campaigns.
Its unique ability to create automated marketing campaigns and segment customer email lists makes it a go-to choice for businesses worldwide.
HubSpot is a cloud-based inbound marketing and sales platform. It helps businesses capture leads, manage customer relationships, and nurture prospects.
With its advanced tools, companies can improve their web analytics, content management, and SEO, driving revenue and growth.
Microsoft is a leading software company that offers cloud services to its customers worldwide. With over 100 B2B products, including computer software, online chat, video meetings, and file management, Microsoft remains a popular choice for businesses worldwide.
Future of B2B SaaS
We hope you have had a fine grasp of B2B SaaS meaning and the top-performing B2B SaaS companies. Now, what does the future hold for B2B SaaS?
Well, as the B2B SaaS market continues to grow, it's essential to stay ahead of the trends shaping its future. Here are some significant trends to watch:
Accounting Goes Digital: SaaS Platforms to the Rescue
Accounting professionals have higher expectations of their tools, and B2B SaaS platforms are catching up.
With automation and machine learning capabilities, future accounting SaaS platforms will provide features like compliance, leave entitlements, and wage subsidies.
Enterprise Resource Planning Takes Over
ERP software solutions are integrated software used to manage business activities. As implementation becomes faster and prices become more cost-effective, ERP SaaS is gaining popularity.
Improved Customer Experience with CXM
Customer Relationship Management (CRM) software is critical for boosting the retention of customers and minimizing churn. CXM solutions employ CRM data to enhance the consumer experience across all touchpoints through automation and customization.
B2B Omnichannel is the New Norm
B2B companies have shifted to virtual sales models during the pandemic, and businesses now prefer doing business online. Expect B2B SaaS vendors to offer omnichannel experiences for their target companies based on speed, transparency, and technical support.
Artificial Intelligence Takes Over
Companies already use AI and machine learning to optimize SaaS processes and improve user experience.
In HR SaaS, AI is improving and automating talent search and hiring processes. Marketing and CRM will also start integrating AI to generate content automatically.
The Rise of Vertical SaaS
Vertical SaaS products cater to a super-specific target audience. These micro-SaaS platforms are gaining popularity as users turn away from one-size-fits-all in search of something that fits their needs.
FAQs
The distinction between B2B and B2C businesses depends on the target market. If a SaaS company targets individual end-users, it falls under the category of B2C. Conversely, if the aim is to sell products and services to other companies, it is classified as a B2B business. The acronym B2B stands for "business-to-business," while B2C is the shortened form of "business-to-consumer."
To learn about B2B SaaS, visit industry publications like TechCrunch and SaaS Mag. Attend events like SaaStr Annual and join online communities such as the SaaStock Community or the B2B SaaS Community on LinkedIn to network, ask questions, and share insights.