Business to Consumer (B2C): Definition, Meaning & Examples
July 9, 2021
Max 4min read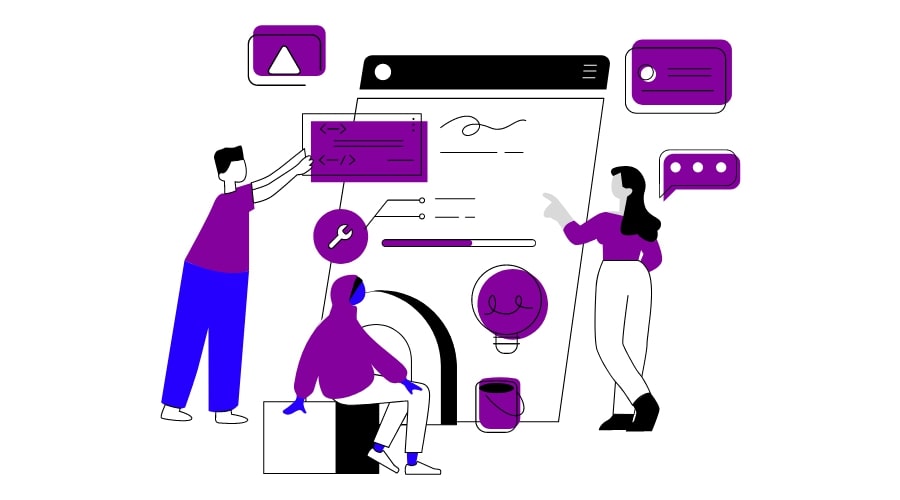 What is B2C (Business to Consumer)?
B2C Definition
B2C (business-to-consumer) is a retail approach in which goods or services are delivered directly from a business to the end customer who has bought them for individual consumption. It is the opposite of B2B. The B2B (business-to-business) model includes exchanging products and services between businesses rather than between companies and customers.
As the name suggests, B2C refers to selling or business transactions between a business and the end-user.
The common application of the business to consumer model is in the e-commerce business model. It also gives an advantage in reaching out to the customers and a better-personalized experience.
In business to consumer, product managers are more concerned with the end-user than their customers. Product managers can get information about consumers' preferences through focus groups, surveys, interviews, and user research.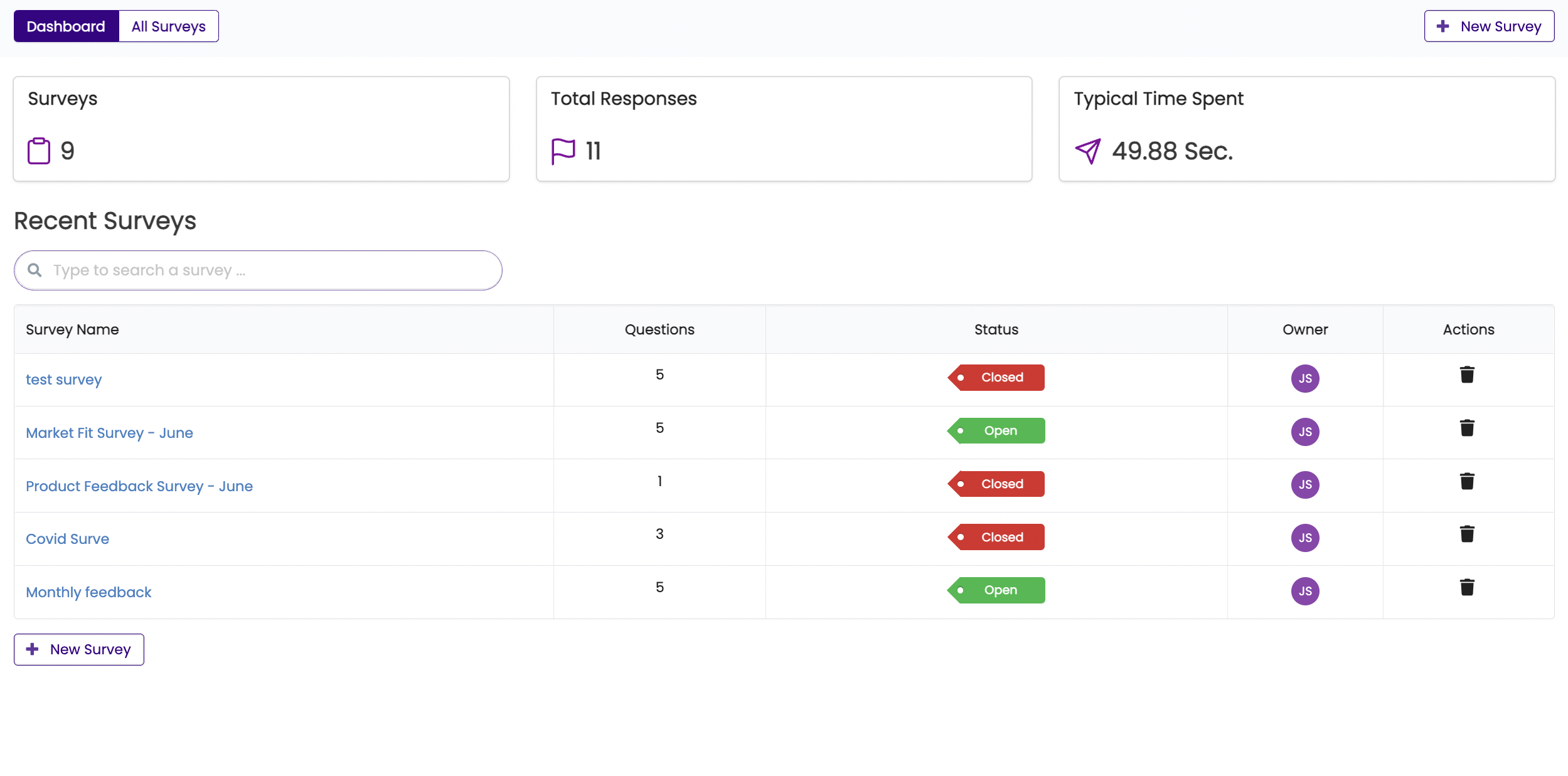 Check out Chisel's user research pillar to cater to your target audience by understanding what they need.
Business to Consumer (B2C) product managers employ several product management tools daily and analyze user behavior patterns. They do this to evaluate what works and needs to be modified and look for new ways to enhance product UX.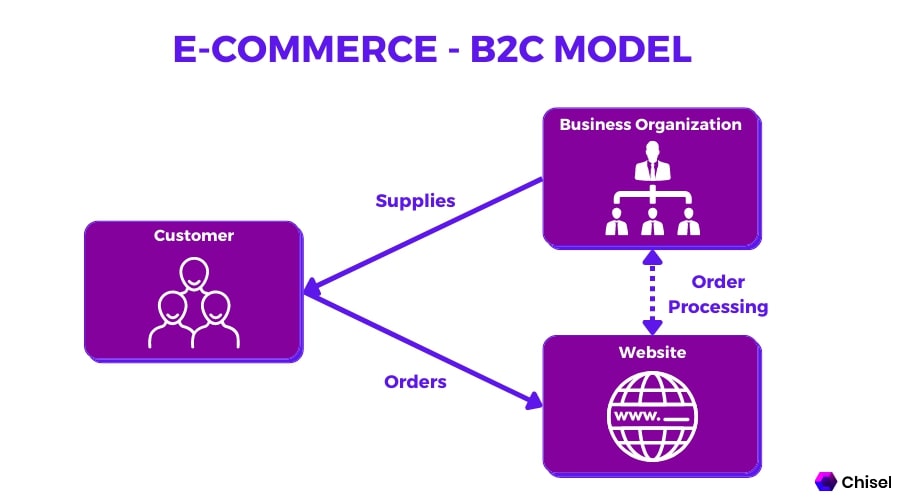 What Is the Difference Between B2C and D2C?
As we have already seen, B2C stands for Business to Consumer. On the other hand, D2C is for Direct to Consumer. Both commercial phrases refer to the provider offering services to you, the customer.
D2C brands function without the "intermediaries" that B2C enterprises rely on, such as Amazon. Every transaction and interaction in D2C is between customers and the brand.
B2C is often easier to launch when it comes to simplicity of use. Even though you must set up an online store, display products, advertise, and manage orders, it requires less planning than D2C business models.
If you sell directly to consumers, on the other hand, you'll have to make your goods first, then take care of packaging, all before selling a single product.
Have you grasped the B2C definition? Great! But don't stop there. Keep reading to explore the essential business to consumer models you need to know for success.
What Are the Key Business to Consumer Models?
Following are the five critical models of Business to Consumer (B2C) :
Direct seller
A direct seller is the online selling of E-commerce business model where customers can buy the product via retail sites or direct in-house selling products. Examples: Target.com and Apple.
Online intermediaries
The second model of business to consumer is an online intermediary. They don't own the product, but their service is to provide the medium for buying the actual product. They connect the customer with the business online. Examples: Trivago and Expedia.
Advertising-based
The model converts the web traffic on online content into customers through advertisements for products on the webpage. These platforms create free content to attract web traffic. The online platform charges the businesses to put up their ads on the webpage.
Bonus: Click here to learn how to drive website traffic.
Community-based
In this business to consumer model, the businesses promote their products to customers based on standard or shared interest patterns. For example, social media sites like Facebook or Instagram help companies promote and sell their products to targeted customers.
The promotion depends on their behavioral patterns of platform activity or factors like place or location.
Fee-based
These are subscription-based businesses like SaaS. They charge fees based on specific packages that you provide to the customers. The package is a combination or amount of various services offered depending upon the price the customer will have to pay. For example, Netflix, Hulu, and Newyorker.
Benefits of B2C business model
Now that we explored and understood the B2C definition let us look at a few prominent advantages of the B2C business model.
Globalization and growth: Advertising and online model aids business expansion, development, and brand extension throughout the globe.
Low cost: Operational or physical costs like infrastructure, store employees, etc.
Better customer experience: Customers have ease searching for the desired product, flexible payments and distribution, and return policies for unsatisfactory products build customer trust.
Bonus: Want to learn more about how to enhance customer experience? Click here!
Smoother business management: Administration methods are more accurate than traditional business models.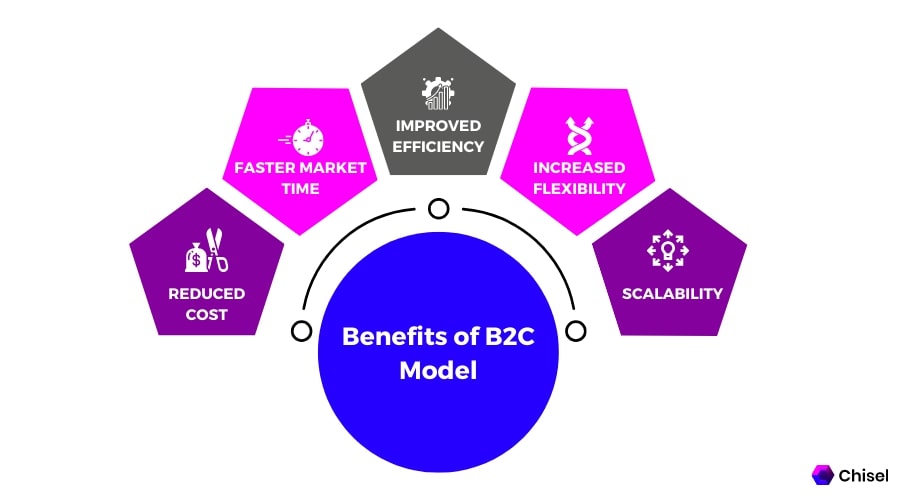 What are some B2C Examples?
Shopify is one of the best B2C examples of a significant B2C company today. It has created a market for small businesses to trade their goods digitally and gain more customers.
Nevertheless, business to consumer terminology was employed to represent take-out restaurants or businesses in shopping malls even before the internet. In 1979, Michael Aldrich further utilized this term to attract consumers through television.
When The Lip Bar celebrated its tenth anniversary, its creator wanted to go all out. They not only hit a company milestone but also coincided with the launch of a new product.
As a result, an omnichannel marketing initiative came into the picture to honor the milestone while also launching a new product.
FAQs
B2C is short for business-to-customer. It is a business model in which the business directly deals or transacts with the product's end-users. It is most often related to e-commerce businesses.
Some commonly effective business techniques for sales enhancement of B2C are:
(i) Focus on market segmentation
(ii) Provide better customer service on the platform than the competitors.
(iii) Incentives and discounts. Also, you can provide particular incentives to first-time users to expand their domain of customers.
(iv) Better return policies for unsatisfactory products.
(v) Personalized marketing.
B2C stands for business-to-customer, and B2B stands for business-to-business. B2C is a direct selling model to sell to the end-users or consumers, whereas B2B business sells its product or services to other companies to aid their functioning or management. Examples of B2C can be Netflix, Trivago, Amazon, etc. B2B includes hardware items sold directly to other manufacturers like a tire manufacturer who will sell the tires to automobile manufacturers.
A B2C company promotes and sells directly to consumers, whereas a C2B company markets and sells through the acts of a middleman customer. The distinction between B2C and C2B is that the C2B model provides the consumer more authority and influence and relies on them to bring value to the company rather than the other way around.