What is Hierarchical Structure (vs Flat Structure)
July 11, 2022
Max 5min read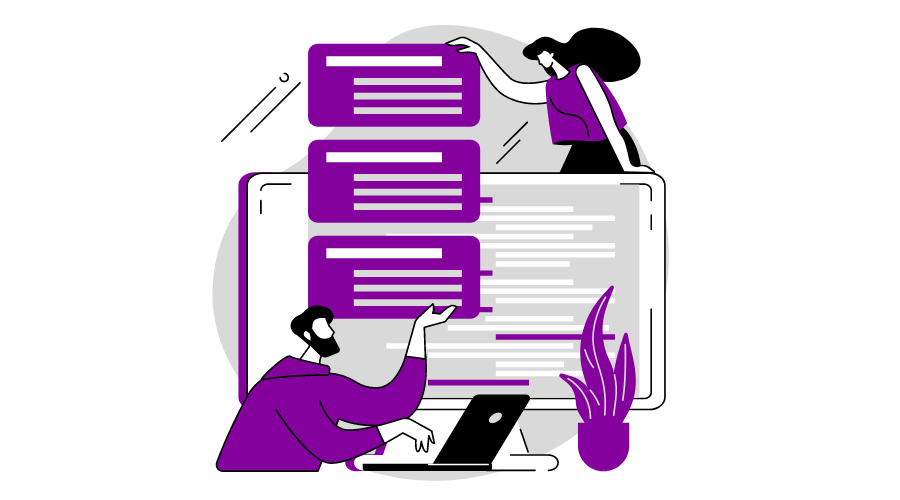 Definition: A hierarchical organizational structure has a basic reporting system that makes it easy for subordinates to comprehend their roles and responsibilities.
What is hierarchical structure?
A hierarchical organizational structure has a direct chain of command from the top of the company to the bottom.
Senior management makes all essential decisions, which are handed down to the lower levels of management.
Suppose someone at the bottom of the organizational pyramid needs to make a choice. In that case, they must first convey the request up the chain of command for permission, after which they get to decide.
When fewer products get sold in large quantities, a hierarchical organization works effectively because you can maintain strict control over the design, quality, production, and distribution of goods.
Workers in a hierarchical organization have diverse, interconnected jobs and contribute to the company's objectives. Executives form groups of employees. Each has a manager or managers in charge of the employees.
A pyramidal command structure occurs among managers and senior executives above them. A standard construction can be either flat or tall. Depending on the company's size or the management stages in the middle.
The C-Suite, which comprises senior management, includes the CEO, CFO, and COO (COO). Senior executives are in charge of the organization's most important decisions.
Some directors oversee various firm divisions and make strategic decisions to achieve their goals. Marketing, IT, finance, accounting, and HR are the most popular departments.
Managers are under the supervision of directors, who give them orders. Managers pass on instructions to lower-level employees and supervise them while they work.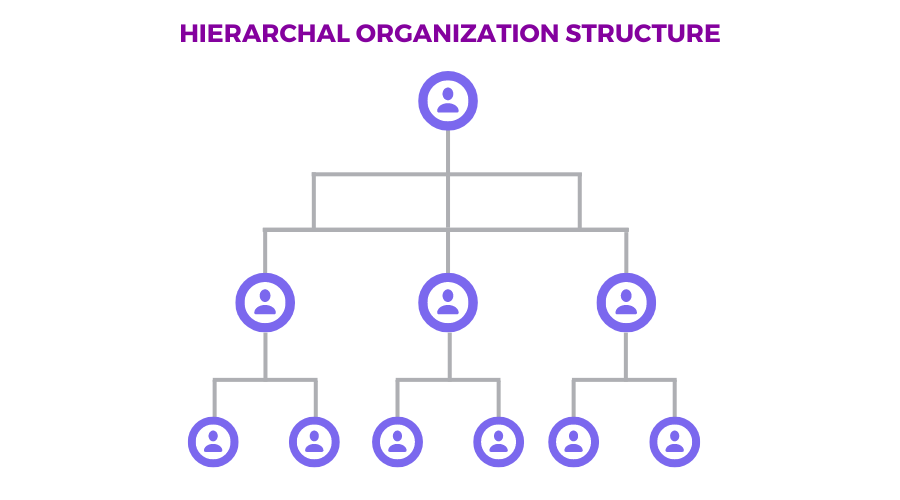 Professionals in the military, government, and other large organizations use a hierarchy. The aim is to establish their level of influence over their work and their position concerning others.
Several layers of management are common in hierarchical systems, leading to bureaucracy and the formation of silos. It inhibits cross-team teamwork.
Flat vs. hierarchical structure
Small businesses employ a flat organizational structure when handling complicated challenges in significant uncertainty.
Since there are lesser layers of administration in such arrangements, each leader is responsible for a more significant number of employees than the appropriate number for hierarchical structures.
Minor businesses and small divisions of giant organizations have adopted a flat organizational structure.
There are numerous advantages to efficient implementation, including a happy workforce, contented consumers, and quick decision-making. Implementing such an organizational structure incorrectly can result in unrest in the workplace.
There is a rigid organizational hierarchy, the standardization of directives and procedures, and centralized decision-making. And a strictly defined role in the activity is characteristic of hierarchical organizational structures.
The pyramid scheme gets used in such an organizational structure. In other words, each employee reports to a specific boss (not only the CEO), and a firm with a hierarchical organization is best described by one of these.
Departmentalization is partitioning an organization into distinct segments and the distribution of specific functions (functional specialization). The hierarchical organizational structure was created by combining the notions of hierarchy and decentralization.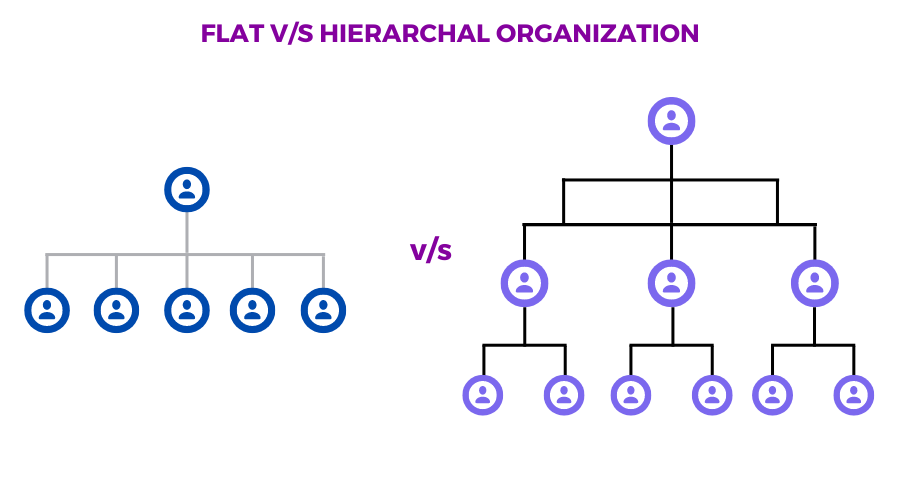 What are the benefits of hierarchical structure?
It establishes a clear communication structure:
Open channels of communication get developed for everyone inside a hierarchical organizational structure. Employees in entry-level roles would report to their direct supervisor for their daily assignments.
The direct supervisor is in charge of deciphering directions from their superiors. This procedure goes on until it reaches the highest individual in the structure. Assuming that employees adhere to the structure makes it easier to design and implement corporate initiatives swiftly.
It provides many levels of control inside the organization:
Internal and external parties can learn who has what authority within the company thanks to a hierarchical organizational structure.
More tasks are often assigned as more authority is gained. This establishes a clear reporting structure, allowing for consistent information flow up and down the chain of command.
It adds a unique sense of authority:
There is a clear understanding of who has the authority or doesn't in the organization within the hierarchical organizational structure.
This makes it very easy to figure out which supervisors have the authority to provide resources, recognize achievements, or take disciplinary action. It eliminates the confusion about who is in command and who is not, which can be extremely helpful in a crisis.
It indicates areas where there may be duplication:
It is possible to determine which teams share resources thanks to the hierarchical organizational structure. It identifies areas where job responsibilities may overlap, resulting in a financial loss to the company.
Although this may result in job losses over time, it provides more efficiency to the company's financial profile. Paving the way for long-term growth within an economy of scale.
It enables expertise:
Managers often get tasked with several functions when an organization's structure isn't well-defined. This is particularly true in small organizations. One manager may be in charge of marketing, human resources, and buying.
When a hierarchical organizational structure is in place, managers can divide responsibilities among employees rationally, resulting in increased efficiency.
It reduces concerns of uncertainty:
Within the hierarchical organizational structure, someone is held accountable for the acts or decisions. You cannot avoid accountability even if one manager tries to shift blame to someone else.
There is a clear understanding of who is in charge of which projects. This layout also makes it easy to keep track of ongoing tasks, project status, and the quality of work getting accomplished.
It relieves stress for entry-level employees:
The power of decision-making concentrates at the firm's top with this structure.
Owners, founders, CEOs, and others in comparable roles are in charge of making organizational decisions that influence everyone.
In theory, these decisions should collaborate with a senior management team. The only stressors they face are the deadlines they must meet for entry-level employees.
What are the examples of a hierarchical structure?
Amazon is an example of a hierarchical organization, owing to its size. The organization employs around 560,000 worldwide as the world's largest internet retailer.
Because of the hierarchical structure, all of Amazon's workers report to Jeff Bezos, the company's founder and CEO.
There are multiple tiers of management under Bezos in numerous departments, including:
The hierarchical organizational structure works for Amazon since it gets organized into many tiny teams under separate management. This structure enables managers to work more directly with their team members while facilitating departmental control.
Walmart's organizational structure is hierarchical and functional. Hierarchy and a function-based characterization are two elements of this structure.
The hierarchy feature represents the vertical lines of authority and power throughout the organizational structure. Every staff has a direct superior, except the CEO.
Walmart stores follow directives and regulations from the company's top management down to the rank-and-file employees. It is through middle managers.
On the other hand, the company's corporate structure's function-based definition entails groups of people performing specific duties.
FAQs
Our lives become more structured and regular due to hierarchies. They provide us with routines, duties, and tasks. We may not understand how critical such items are until they are no longer available.
Here are some of the advantages of hierarchical structure. There are clear lines of control and reporting within the company. Employee roles and duties are better understood. At various management levels, there is accountability for actions or choices. Employees might be motivated by clear career routes and development opportunities.