Product Management: The Only Guide You Need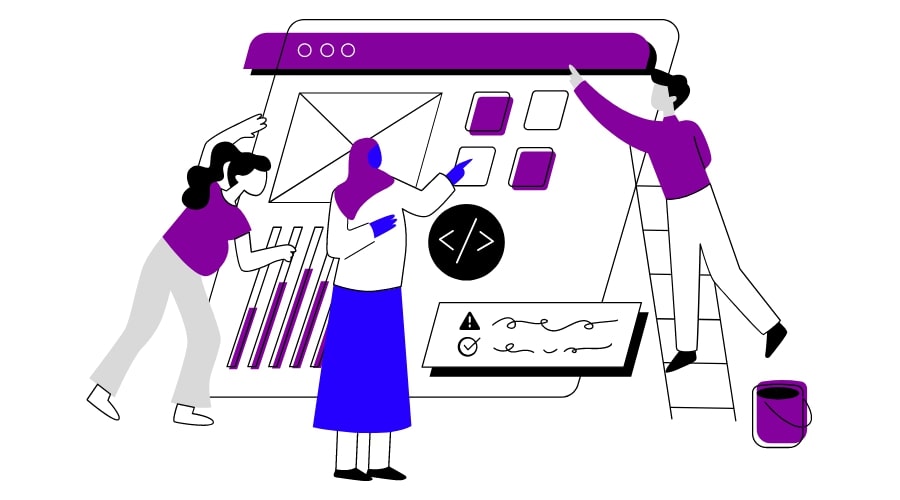 It is a grasping blog that revolves around the different aspects of Product Management and its other amusing details.
"Let us see how many more features we can cram in," the earlier phrase elucidates upon the art of product management. The whole world of 'Product' is thrilling and topsy-turvy, and we all know it.
A critical role at the very heart of every organization is 'Product Management.' This term is much more than the mere two words mentioned, and you can delineate it in numerous ways.
So, What exactly is Product Management?
While not an exhaustive list, the following is a standard definition declared by some qualified professionals. "It is a task of supervising specific products within a business."
Product management is a crucial function in any company, and it can be challenging to find qualified people. The good news for companies and their product managers is that the demand for these positions will continue to grow in the coming epoch.
Product Management has been called "the new MBA" because of how much knowledge you need to succeed in this role.
In this blog post, I want to share some insights on what product management entails so that you know if it's the right choice over time!
We won't leave you hanging to find the best product management software in the market today on your own. Stay with us till the end and find out for yourself!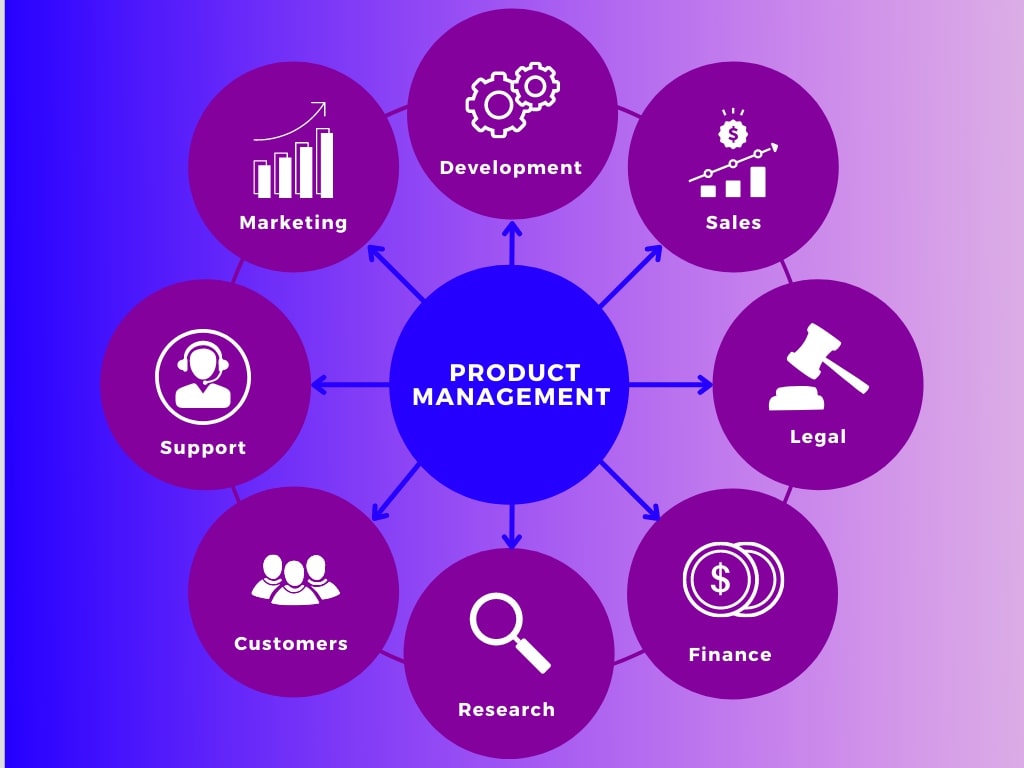 When Did Product Management Begin?
The history of product management traces back to the 20th century. The role of product management has evolved over the years, with different titles and responsibilities at other times.
One of the earliest mentions of "product manager" was a 1957 Harvard Business Review article. The description goes as "the person who conceives and designs products that will make money for his company."
However, not all companies used this title right away. Some early examples of product management titles were "marketing engineer" and "technical market analyst."
There were different names because the role related to engineering in the beginning years since most products were technology-based (i.e., computers).
What is Product Management?
The function and task inside an organization accountable for a product's overall effectiveness are called product management. Product managers collaborate with all relevant internal and external organizations. The collaboration aims to develop and implement a plan. Thereby ensuring the product accomplishes its financial and strategic objectives.
The main objective of product management is to bring new products and services to the market.
Listed below are some of the specific skills needed for the success and smooth running of the product management process:
Strong analytical capabilities (to create a sound strategy)
Exceptional business acumen (in terms of understanding how markets work)
Good writing abilities (to enhance communication skills and business expertise)
Ability to see the "bigger picture" (recognizing how a product affects the company as a whole)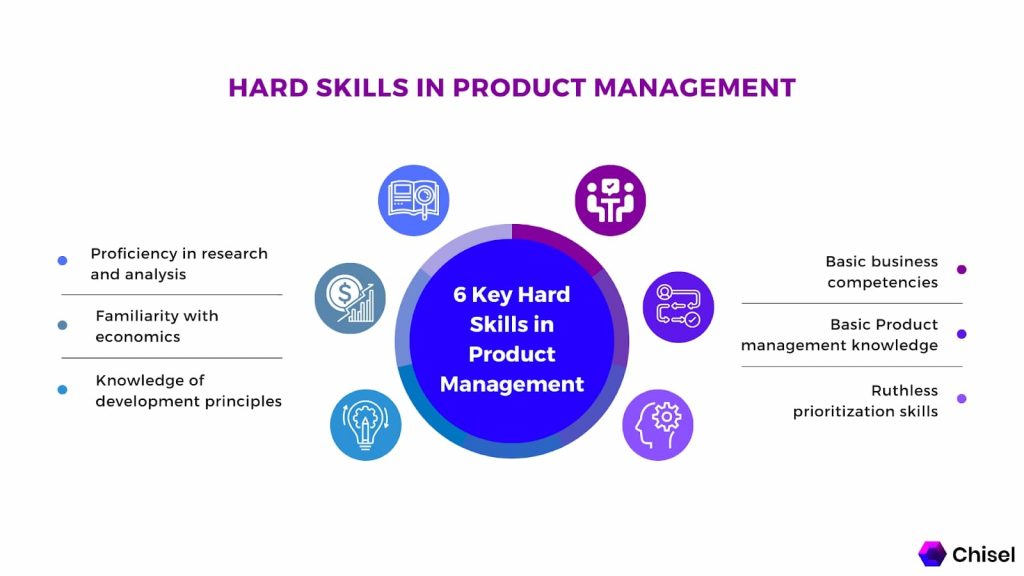 What Is Not Product Management?
Many businesses continue to use ineffective product management models and fail to grasp the importance of job definition in forming effective teams and producing successful products.
By highlighting these misconceptions, businesses will be able to see where they're going wrong and, eventually, reevaluate how they define this role.
The business case is not the responsibility of product management:
Certain product managers believe that defining the business case for reasons behind product creation is their primary role.
Is a business case required?
Absolutely. Management will utilize this information to make investment choices. Nevertheless, it has no bearing on the actual development of the product. The product manager may produce or participate in developing the business case in several businesses, which is acceptable. But don't equate this with the product management role.
Product management varies from project/program management:
When a business has an IT or specialized software background, the product management group may have developed from the project/program management group. As per this approach, the product manager is in charge of obtaining and establishing requirements and overseeing the project from start to finish.
On the other hand, the discovery phase is more than just a project assignment. It's an entirely separate process from product development.
Additionally, it's rare to find people who appreciate both the discovery and delivery of products in product management. As you know, everyone is different.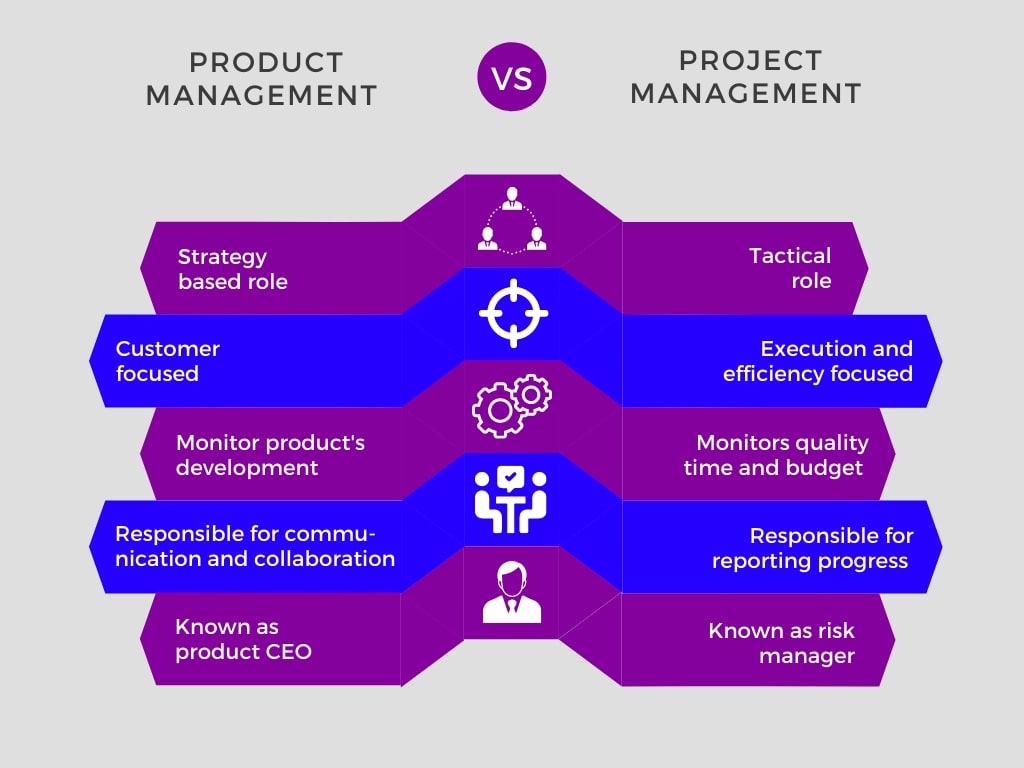 Product management and product marketing are different:
Product management does not cover pricing, marketing, placement and communication, and product launch activities. It's also not concerning online marketing, customer services, or influencer marketing.
These are all essential activities, and the product manager will be involved in many of them. Still, they are not the same as product management. These are product marketing activities, and all but the smallest products will require a dedicated marketing person.
Unlike product marketers, product managers are responsible for creating a helpful, useable, and practical product.
What Is the Process of Product Management?
Idea management:
New proposals, ideas, and feature proposals get added to the product backlog during this stage of the product management process. These are significant motivating factors for the advancement of your product. Then the creative ideas should be locked down and further developed.
Product specifications:
The specification stage of the product management process involves fleshing out concepts and feature requests from the product backlog. You do this to understand the consequence and work that each would require fully.
Roadmapping:
During this phase, your complete product strategy and vision get considered. And emphasis is on efforts that align with the product's overall goal. A roadmap is a communication tool that shows where you are now, what you aim to achieve, and how you intend to go.
Prioritization:
In this phase, you'll look closely at your backlog and roadmap to prioritize tasks depending on various factors. The process entails determining what you should create, when, and based on what provides the most value to the customer and the product.
Delivery:
During this phase, the product manager collaborates with the various teams within the organization, as in engineering, branding, and assistance. The collaboration ensures that features get executed to a great value and product specification.
Analytics and experiments:
Experiments and analytics occur in this phase to continuously test and develop your product and determine what your users genuinely value.
User feedback:
Customer feedback is critical for evaluating and improving suggested features and products throughout the cycle. It provides direct feedback and suggestions to assist you in realizing how well you're addressing the challenges. It also helps in discovering previously undiscovered difficulties.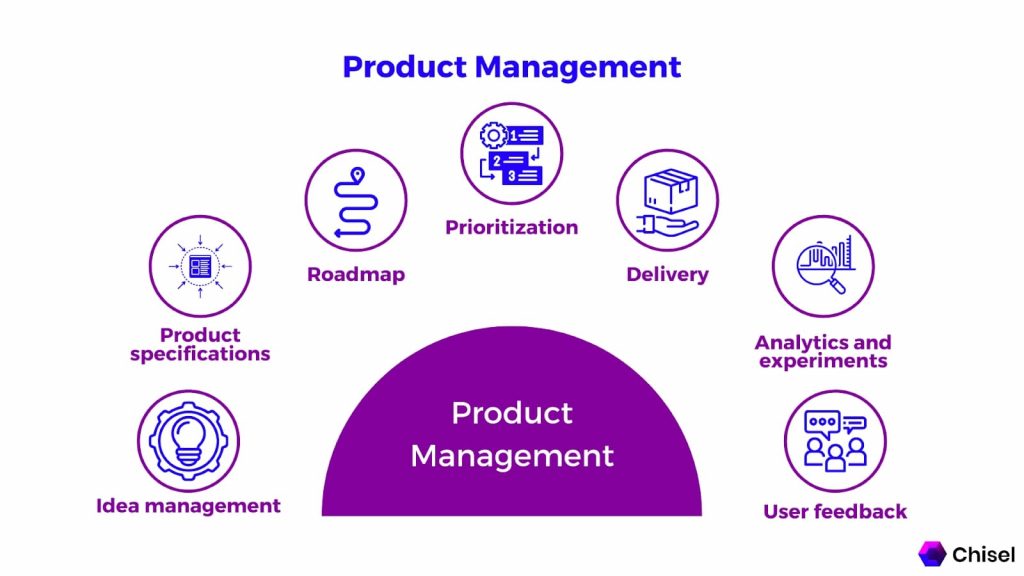 What Are the Product Management Best Practices?
Recognize the Organizational objectives:
What criteria do you use to analyze your company's success? How does the product strategy contribute to the company's overall aims? Who would be your target customers, and what is the problem that your product is supposed to solve?
Make an effort to learn what executives and stakeholders care about the most, and coordinate with them whenever possible.
Conversations with Customers:
Your most valuable resource is your current clients and consumers. After all, what good is creating a fantastic product if no one intends to use it? So many of your loyal clients will gladly tell you what features they use and love the most and which ones bother them.
Make use of the expertise of your sales and customer service teams:
Since your sales force is always in contact with potential clients, they have crucial insights into the marketplace. Your product's strong and weak points and the challenges customers require to address when they come to your product.
Likewise, your customer service staff knows better than anyone how current consumers utilize this product. Not how you believe they should use it. Attend support calls to learn about the most common issues, problems, and questions your team faces. And on which aspects of your product, you should put your efforts.
Use the Product Yourself:
You must get your hands dirty and utilize your product daily.
What is the difference between the trial and the paid product?
Which features are mobile-friendly and which aren't?
How user-friendly is the interface?
How frequently do you come across a bug or a glitch?
You must be the master of your product.
Research Other Products:
Consider the items and websites you enjoy using: what makes them unique? What methods do they use to create membership or sample sign-up pages? What is the procedure for checking out? What made a negative encounter so bad if you've experienced one?
Keep your eyes attentive. Create a "swipe file" of creative inspiration to help you develop your product management approaches.
Iterate, organize, and implement:
Break down your long-term strategy for the product into iterations of creating, executing, and deploying OKRs. It helps product managers to develop and establish the next iteration using all of the valuable insights you've gained from the preceding steps. This phase assists you in deciding what features and functionalities to include in the next launch.
Join the product management community and network with your peer group:
Connecting with online groups is a fantastic opportunity to keep up with industry trends and best practices, build your connections, and gain from senior product managers with extensive experience.
What Are Some Basics of Modern Product Management?
Getting your digital transformation off the ground as quickly as possible:
Is your product providing the maximum amount of value to your customers? How thoroughly has your app been incorporated into its main processes? Are they learning about and utilizing a diverse range of valuable features? Or are they overlooking the features of your product that they will find most useful? Similar questions get addressed by digital adoption.
Onboarding:
The beginning of a product user's journey is among the most critical factors. Onboarding is the first stage in a user's experience with the product, and it has a significant impact. After all, you don't get another shot to make a first impression.
User satisfaction:
Product experience (PX) is a term used in the software industry to describe the component of the customer journey that occurs within the application. It's a smaller portion of the total customer experience. Consumer experience lasts after a client leaves your product, whereas product experience is unique to their interactions with it.
Customers' interactions with vendors have become more integrated into the product. It's where you onboard people, where they discover new features, and where they gain value in the end.
User segmentation:
Organizations benefit from user segmentation because it truly allows them to understand their user base. No two users are the same. However, grouping comparable users together can reveal the characteristics shared by a company's most profitable consumers.
NPS:
How can you tell if your clients are satisfied with your product? How do you know your most prominent supporters and advocates and your most unsatisfied and unhappy clients? The Net Promoter Score (or NPS) tries to provide numerical, measurable answers to these questions.
Feature adoption:
Each additional feature offers the potential for increased value. Unused features, on the other hand, can have the opposite impact. Because critical KPIs like retention and growth are dependent on shortening time to value, customer success managers are generally laser-focused on feature adoption.
Feedback:
A company would never understand whether their product provides value to clients if they do not receive feedback. The product and go-to-market teams won't know whether they're fostering loyal customers unless they know if they're making a profit.
How To Get Started With Product Management?
You'll need a combination of personal and technical abilities to work as a product manager. Some may come naturally to you, while others may necessitate prior knowledge and professional experience. It is a rough outline of the talents you'll need. They may differ depending on your organization and function.
The hard skills required to become a Product Manager are relatively simple, although they will take continuous research. Soft skills that distinguish the finest Product Managers from their peers can take longer to acquire. Still, you can master them while working in a variety of fields.
How Can Chisel Help You in Product Management?
Chisel is a # 1 Agile Product Management Software that the majority of the product managers rely on and use as their primary app.
It allows product managers to create a product roadmap, build team alignment, and collect customer input in one place. We believe that there are three essential parts to creating exceptional products:
Developing the appropriate product at the perfect time
Aligning the team
Establishing a deep, direct customer relationship
We at Chisel offer a variety of product management tools and solutions that have evolved in recent years. Also, we contend against various product lifecycle management systems, such as project management software, and ad-hoc legacy tools, such as spreadsheets and slides.
Conclusion
And there you have it! A complete understanding of product management, along with so much more.
To wrap it all up, we would like to throw light upon the future of product management.
It is essential to recognize that product managers are the backbone of any company to have a bright career in the product management field.
With the ever-growing field of Product Management, there has never been a better time to enter into this exciting and lucrative career.
The skills you learn as a product manager. Working with stakeholders to understand customer needs and everything in between is valuable in any industry. What are you waiting for? Start your journey today.
After looking at an overview of a career in Product Management, let's look at some specific jobs within this field.
Many different positions fall under the Product Manager umbrella. Here are just a few:
Product managers are the key players in shaping the future. Product management is all about innovation and how to go beyond what already exists.
Product Managers must know marketing and sales channels to successfully market and sell their products. Such knowledge allows them to collaborate with other departments effectively.
Knowing that Product Management deals with managing products from cradle-to-grave comes as no surprise. The core responsibility is driving customer satisfaction. To achieve this, you need to relentlessly show improvement throughout each process stage (researching customers' needs, developing solutions, etc.)
Product managers come out on top when working through these stages because they have excellent communication skills along with solid leadership abilities.
Like every other vocation, this field is not always easy. There will undoubtedly be bumps along the way. But with the proper tools, it can be one of the most rewarding careers you'll ever have.