10 Best Idea Tracking Software Options for 2023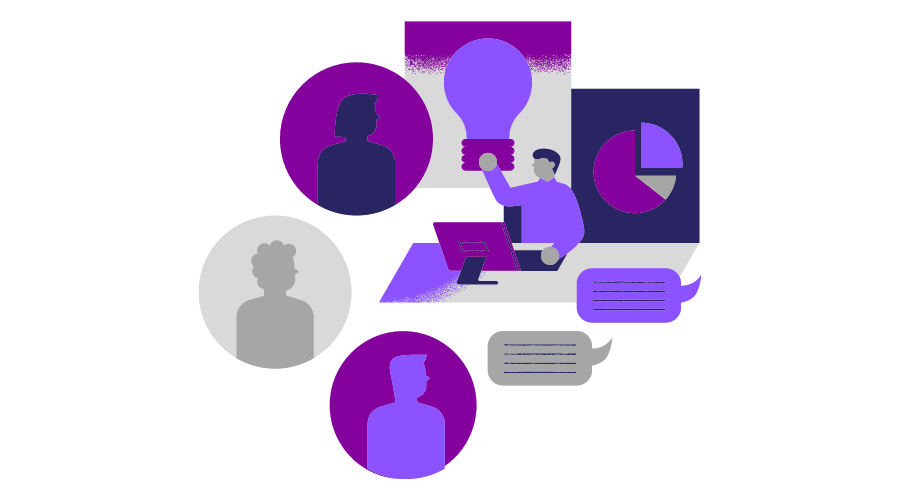 In the opinion of more than 80% of CEOs, the success of their company depends on ideas and innovation.
What you require is a tool that will enable you to tap into the inventiveness of your team, allow them to express their ideas freely, and then select and put into practice the most original and inspirational concepts. Additionally, this engine is an idea management program.
The ability to assess the financial impact of the concepts you and your team produce is the finest part about having this tool in your toolbox, though.
Flexible and potent idea management software retains your fresh concepts and pushes them through to completion. Nothing is worse than watching a new, promising concept vanish.
A wide range of features assists your team members in breaking through the creativity blockage and capturing and automating the progression of ideas at any time and from any location. These features range from brainstorming, idea management, project planning, product lifecycle, and portfolio management.
Instead, manage your initiatives using a system that ensures everything is noticed. To assist you in attaining this level of organization, there are many solutions for concept management software available on the market.
We've already done the legwork by ranking the top idea management programs. Read on as we explore idea management, its main advantages, qualities to search for, and the best 18 ideas management programs to make your brainstorming more effective.
What Is an Idea Tracking Software?
The purpose of idea-tracking software is to facilitate the gathering, developing, and collaboration of ideas pertinent to your company. The program aids businesses in classifying ideas and even allows customers and other interested parties to submit and design ideas.
Organizations can compile their team's ideas using idea-tracking software, saving them all in a single, central database. Businesses produce thousands of pictures, which must then be appropriately managed, processed, and put into practice. The backbone of your idea management procedure is idea management software, which enables your team to
Collect ideas
Discuss
Consider
Prioritize
such ideas.
The strategic process of collecting, evaluating, and prioritizing ideas offered by stakeholders or discussed by team members during tactical brainstorming sessions is known as idea tracking.
Many firms prioritize innovation to stay ahead of the competition and actively search out innovative ways to spark interesting team projects. It is where idea-tracking software shines.
A product must meet the criteria below to be eligible for the Idea Management category:
Collaboration, revisions, and contributions to gathered feedback are encouraged.
Have a database with a well-organized search mechanism for choosing and excluding concepts.
Offer a white-label platform customized to meet the customer's needs.
Enable personalized workflows to move ideas along a review process.
Add personalized reporting and analytic tools to manage the ideation process fully.
The ability to gauge the financial impact of the concepts you and your team gather and create is the absolute finest feature of having this kind of tool in your toolbox. It enables your team to work together as effectively as possible and select the most significant concepts to allow your company to compete at greater levels.
Why Do You Need Idea Tracking Software?
Now let's look at why you need to have Idea Tracking software.
This tool's ability to encourage creativity at all corporate levels and to empower every person to innovate and contribute to the organization by sharing their ideas is one of its greatest strengths.
Classifying ideas into distinct campaigns and problems facilitates the organization. The public, employees, or specific groups can participate in such campaigns.
An ideal tracking tool encourages team members to participate in generating and managing new ideas, making them feel instantly more valued and increasing their work's visibility.
Many idea management platforms provide collaborative options like document and file sharing, group to-do lists, and automated notifications, making it easier for teams to work together.
With all of your ideas in one location, your team will be more transparent, and you will be able to make better decisions more quickly, thus saving you a lot of time and money.
Software for idea tracking can significantly improve customer satisfaction, which can help create a favorable perception of the business and boost its reputation.
Organizations may streamline various activities by employing idea management software, from concept appraisal and idea management to project tracking and innovation implementation.
Key Features in Idea Tracking Software:
It's time to know about the kind of features you should for, while selecting. Let's hop on to that.
Capabilities for Crowdsourcing
A collaborative tool called crowdsourcing enables you to access your staff's knowledge and experience quickly. It encourages employees to actively participate in developing creative, superior concepts and solutions for any business problem.
Accelerating workflow procedures, engaging staff, and changing how your firm operates, can boost business growth.
An organization must seek popular crowdsourcing elements like commenting, liking, and upvoting ideas.
Campaign Assistance
For those new to innovation, "focused ideation," which allows you to urge an audience to concentrate their creative energy on a specific, limited subject, is, in my opinion, the most valuable aspect. It may sound apparent to you, seasoned innovation practitioners.
Inviting individuals to submit any ideas they may have is insufficient. Gathering suggestions that specifically support or address these issues will ensure that everyone is focused on helping to move the business forward and are more likely to be resourced and implemented, strengthening the Innovation program as a whole. Your company has specific challenges it faces and opportunities it wants to pursue.
Simple User Interface
Without a suitable mechanism and tool, idea management has never significantly contributed to overall success. It is necessary to have a user-friendly, intuitive, and adaptive interface for idea management to target the pooling of ideas from various departments and personnel. Employees can quickly navigate workflow procedures, idea submission forms, concept archives, etc., encouraging connection and transparency.
It can be helpful to drive actions based on criteria and discover the finest ideas by displaying ideas in various ways, such as lists, tile, and tree views.
Strong Search Engine for Idea Archives
The nature of the innovation process is to focus on a small number of ideas that are most likely to provide the desired results, given the limitations and available resources. It implies that most of the concepts you gather need to be implemented.
It is important to browse through and archive ideas. We advise sponsors to review the existing theories to see if any would suit their needs before establishing a new challenge or campaign. These concepts also make excellent standalone subjects or excellent seed concepts.
Efficacious Workflow Process
Your staff can become actively involved in the idea evaluation and development process with the help of an efficient idea management framework and a well-organized workflow procedure.
Employees can develop a sense of mutual trust by being shown how the idea flow will operate in terms of capturing, recognizing, building, redefining, and selecting ideas. It encourages openness and interaction, which in turn increases employee engagement.
10 Best Idea Tracking Software:
After researching thoroughly, we have whittled down our top picks for idea-tracking software for you.
Keep reading,
Chisel wants to help you produce amazing things. To create amazing things, it's essential to align the team, build the correct product at the right time, and forge a strong relationship with the client.
To manage their roadmaps, Product Makers have access to various software tools on the market. They must, however, provide your team with the best resources for achieving alignment or building strong client relationships. Chisel came up to provide a cohesive platform to serve these three aspects of product management.
There are a wide array of features that will make idea tracking easy in no time.
Some of its features include:
Creating flexible, agile product roadmaps that consider the specific priority system used by your team
Deliver the correct item at the appropriate moment.
To create a collaborative prioritization approach based on scores, Chisel devised the alignment matrix.
You may record, organize, prioritize, and curate ideas using Idea Box. It is a centralized view for all of your ideas, making it easy to develop your product and align your teams.
Chisel uses the Portal to collect client input in the form of pictures. Feedback Portal allows you to collect ideas directly from customers, and reassures them that you are listening to them every step of the way
If you want to be specific about who you are targeting, Chisel's audience tool is a great choice. It allows you to narrow down your target audience based on location, age, gender, and income.
Additionally, you have control over how many people you want to take your survey. Overall, if you want detailed feedback from your target market, Chisel's Audience Panel is a valuable tool.
All the above features coupled with spectacular integrations and reasonable prices make chisel the best option for Idea tracking.
Infinity
To brainstorm, develop, gather, share, and analyze your ideas with the rest of the team; you can use this idea management and tracking tool, which offers a single, central location for all your projects and ideas. You can also use it to organize brainstorming sessions, create structure, and customize it to your needs and preferences.
ClickUp
With ClickUp, teams from many industries can organize and collect ideas, keep track of project developments, and collaborate on the same screen. ClickUp's robust brainstorming and ideation tools may expand any team size, whether you meet in person or virtually, and inspire each member to explore their creative side.
Presenting ideas to your team and taking action on them has never been simpler, thanks to the more than 15 distinctive ways to illustrate your thoughts.
Confluence
It is a super-effective idea management application made to speed up creativity through successful teamwork. All you have to do to develop and publish your ideas with your team is designate areas for collaboration and encourage everyone to participate.
Your team may share ideas using meeting minutes, research reports, and product specifications. Additionally, each team member can offer input by directly commenting on papers. You may create a hierarchical list of pages within a space using page trees. This fantastic application provides a wide range of great functions that could be helpful for some employees while also being a little cumbersome for others who are just getting started.
Coda
Coda is a program that integrates numerous widely-used spreadsheets and document functionality into a collaborative text editing environment. It is a well-liked tool for compiling data into structured and easily shareable papers, building comprehensive wikis, and maintaining knowledge bases.
It has several features:
Your team can keep all information and data in one central location in shared documents.
Parts for your document's visual, skeletal, and formatting appearance to look more attractive.
Simple to change and add features to.
Capabilities for manual reliance and prioritizing.
Offers several short instructional films.
Crowdicity
The most prominent feature of this program is its fantastic user interface, which enables users to assign team members tasks, share their ideas, and then vote on the ideas they feel should be adopted. To encourage its users to share their thoughts with friends on these platforms, Crowdicity also offers optional integration with 250+ social network accounts, including Twitter, Facebook, and Google+.
Canny
A team can gather, compile, and analyze product feedback using Canny's AI technology to learn more about what customers want to see. You may categorize feedback based on use cases, add pertinent company data from other work tools, and filter the requests you see coming in with Canny to ensure that no client request is overlooked.
It has several features, such as
A voting system for product features that automatically groups related requests.
You can get feedback from other popular work tools with integrations.
Customers who request feature releases will automatically receive them.
Codigital
Codigital, an innovation management platform designed to meet the demands of sizable audiences at events like conferences, workshops, and seminars, is another outstanding product we had to add to this list. It streamlines the brainstorming and idea management processes.
Any firm looking for a strategy to handle planned difficulties and exchange and gather insights from many departments will find this solution appropriate.
Bluescape
Teams can brainstorm, collaborate, and present their ideas using a virtual whiteboard using the cloud-based visual collaboration platform Bluescape to develop concepts from scratch into polished products. It is excellent for creative, content, or design teams because it is visible and has powerful image search engine and media upload features.
Features of a Bluescape include
Features for whiteboarding that will improve your brainstorming.
Host video conferences inside your office area.
Synchronous video playback on your whiteboard after upload.
Rever
It is unique among idea management solutions because it is made with industrial and manufacturing organizations in mind. Rever assists businesses in involving staff members in continuous process improvement. Since front-line employees constantly require new, innovative ideas to optimize their procedures, this makes perfect sense.
3 Editor's Pick Idea Tracking Software:
Chisel
It was established to offer a unified platform to support these three facets of product management. It is so far the best tool for Idea tracking.
Finding the right places to put resources and knowing when to do so is one of the most challenging aspects of creating a product. By providing you with access to several tools that make it simpler to plan the future of your product, Chisel's Roadmaps pillar intends to assist you in finding a solution to this issue.
Chisel has several features and Integrations for Idea tracking, such as
Idea Box
Ideabox is a useful tool for storing and organizing all of the suggestions, ideas, and other ways to improve the product that come from customers and coworkers.
Keeping all of this information in one place makes it easier to track and implement changes that can improve the product, and to identify and implement the most promising ones
Feedback Portal
The feedback portal is an effective way to gather customer feedback and turn it into useful insights. It enables consumers to easily submit, save, and prioritize their suggestions using a single link.
It's also a good way to demonstrate to customers that you value their feedback and are always looking for ways to improve your business.
User Surveys
The user survey tool from the start is a good choice, as it allows you to use a previous template or any other template you've already created. This flexibility enables you to design surveys that are tailored to your specific needs
Apart from this, many other features can aid in effective idea tracking and management. There are also fantastic integrations to help to get started in no time.
Confluence
It enables you to put your best and most feasible ideas into action. Confluence and other idea management tools let you organize and centralize your thoughts. Most importantly, it gives you a platform to communicate your sentiments across the entire firm. With your team, discuss concepts and brainstorm upcoming initiatives.
Cacoo
With team members in the same office or worldwide, brainstorm and rank ideas. Among other diagrams, Cacoo may be used to create mind maps, org charts, flowcharts, and prototypes. Real-time collaboration, robust app integrations—including those with Google Drive, Confluence, Visio, and others—a large selection of templates and shapes, and simple sharing options—including embedding, links, and exports—are just a few of our features.
Putting it All Together:
It's time for you to decide and help your business succeed now that you know some of the most excellent tools for idea management and tracking.
More like this: