What Is Idea Management? Definition and Best Practices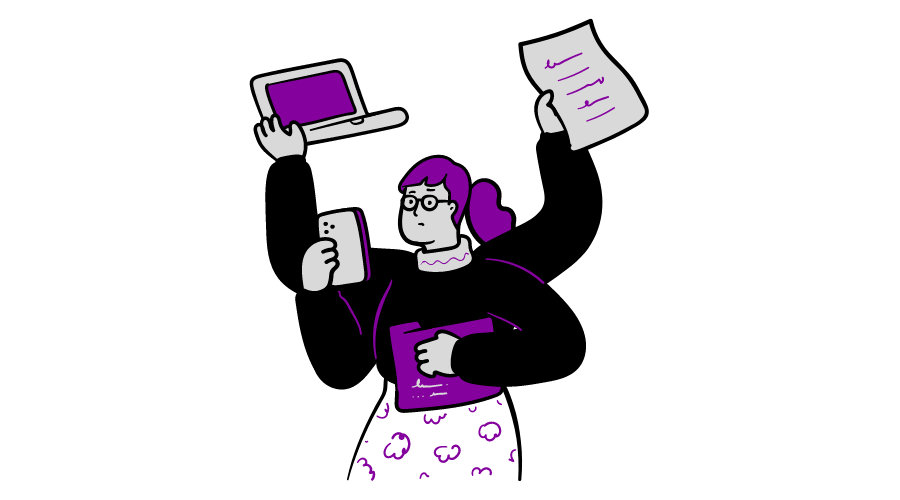 At the core of any business development, innovation and improvement will be IDEAS.
Smart companies with smart product managers know very well that to reach great heights of success and keep the customers satisfied, taking a suitable idea and working on it is the key.
However, ideas can strike anyone at any time, and they can bombard us many in numbers. This will make it challenging to keep a tab on the overflowing ideas. At all times, and especially when thousands of ideas are running down the pipeline, it is essential to have a system that captures and manages ideas.
The system we are talking about is Idea Management. Idea management will help you to capture, manage, filter, and prioritize ideas as per their potential before you execute them.
This article will define a clear process for collecting and managing ideas. This definitive guide will help you understand what an idea management system is, the best practices, and, more importantly, how Chisel helps product managers manage ideas.
Register today and get access to the ideabox and idea portal tools in your workspace to effectively gather and manage ideas from all customer and team sources.
Let's dive right into it!!
What Is Idea Management?
The idea management system is a formalized tool or a structured routine that aids in the idea generation process, keeping track, evaluating, and implementing them. It is like a repository that stores all the ideas that your organization gathers from customers, key stakeholders, teammates, and others.
The focus of the idea management system is to stimulate and generate brand new ideas which will have a significant impact on the existing products, services, and business models that the organization has.
Idea management has the potential to transform your organization simply because it is flexible and easy to use.
Ideas are likely to get lost when you don't have a clear process to follow. You can ask your teammates or customers what they think about a certain product. However, the information they provide may not be helpful if you are not able to implement it properly.
You will have a big box of innovative ideas at your disposal if you capture, refine and implement the feedback and ideas you get from inside and outside your company.
It is worth investing your time and money in good product management software to help you to get your idea management process right.
It is also worth noting that idea management is different than innovation management. Idea management forms a core aspect of innovation management. Innovation management is a vast strategy, and idea management is a vital but one wheel of it.
Why Is Idea Management Important?
But why is it necessary to manage ideas?
As a product manager, you constantly try to improve your products by asking customers and team members for feedback. After much effort, you will have a pool of ideas. 
However, the question remains:
How do you go about sifting through these ideas and finding the ones with potential?
What are the ways to keep track of these ideas where no ideas get lost in the process?
These questions bring us to the solid answer for an idea management tool that will manage your ideas effectively.
Let's look at how businesses and organizations can benefit from an idea management tool.
Tackling Product Problems Promptly
Your customers are the most important persons to tell you about your product issues and ultimate solutions.
Setting up an idea management system where your customers can provide an in-depth understanding of what problems they are facing with the products will be the first step.
The next step is to create a log of this information so that you can fine-tune, upgrade and improve your products. All while keeping your customers at the core.
Developing New Products and Services
When ideas are properly collected and adequately evaluated, product managers can draw insight to develop new business models, products, or services.
Idea management tool provides a systematic way for you to collect diverse ideas from various people.
You will see the growth in your product and business as a result of the systematic collection of ideas.
Collaboration and Contribution of Team Members
How do you allow your team members and employees to think creatively? Idea management is the way.
With an idea management system, you can motivate your team members to think in a creative manner while innovating ideas.
Doing so will also encourage your employees to contribute to the improvement of the product.
Now that we know why it is essential to have an idea management system in place in your organization let's give you a solution as well. 
Let's look at how Chisel gives you an inbuilt tool like Ideabox and Idea portal along with the Zendesk and Intercom integrations in your workspace to collect, manage and prioritize the ideas.
How Does Chisel Help Product Managers Gather Ideas?
Gathering and managing ideas is a give your all task. Therefore you can't handle it in a casual manner. When you use an idea management tool that helps you to manage ideas efficiently, you will reap the benefits.
Suppose you decide to gather and manage your ideas via the traditional route. You will probably be wasting time and effort on something that has a better solution.
Don't sift through the files and suggestions to find the relevant ideas; instead, use the modern digital idea management tools readily available.
One such digital tool is Chisel's Idea box and Feedback portal.
Product managers don't have to have any other software in place when Chisel's Idea box and Idea portal is already there in their workspace. Isn't that amazing?
The best thing about these tools is that it makes the entire process of collecting, organizing, evaluating, and prioritizing ideas a cakewalk.
To get customer feedback, which is also one of the ways to gather ideas, we have the User survey pillar.
Bonus: How to Use User Surveys?
With Chisel's idea management tools, product managers can prioritize ideas without much effort.
You can also track where you are at in terms of idea management processes and accordingly decide the ways you want to channel resources to improve your products.
You may now be wondering how one must get started with an idea box and idea portal to manage ideas. We have outlined below a general flow of how these tools work.
Idea Management Using Chisel?
Idea Box
Idea box is a one-stop place for idea management where you can capture, curate, prioritize, organize and analyze the ideas coming in from your teammates, customers, and other stakeholders.
Your idea can be anything from customer feedback or a feature request to product enhancements.
The other options Chisel's Ideabox gives are to filter and pin ideas, add labels, tag customers and team members, link the idea to a feature, and even delete or archive as per your requirements.
Bonus: Learn more about how to use the Idea Box.
Feedback Portal
Feedback portal is a tool that helps you gather and organize your customers' ideas which you can then prioritize and decide to add to your product roadmaps.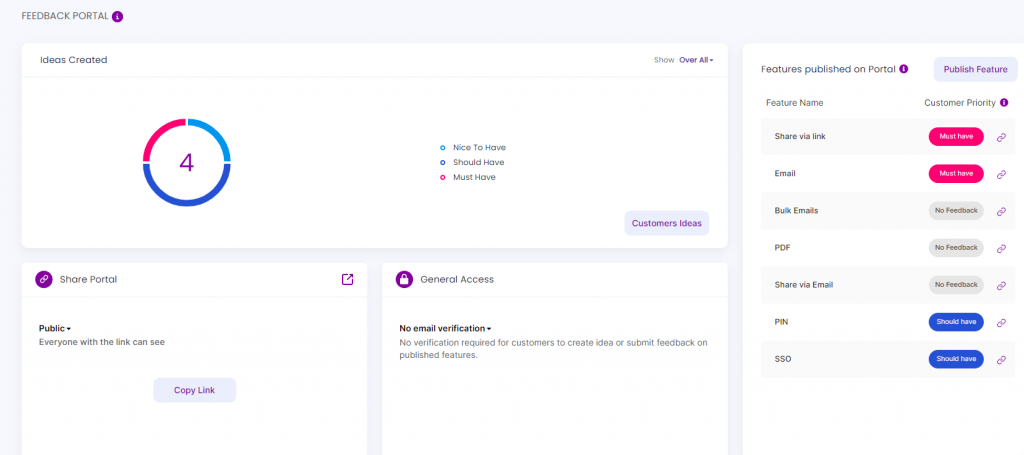 The idea portal on Chisel is divided into two sections:
PM Portal:
The product manager-facing portal is the space where you can view, analyze and prioritize the ideas that your customers share with you.
Product managers will be able to share the link with customers from this portal to capture the ideas.
For security purposes, product managers can change the settings of 'General access' on this portal. This will accordingly ask customers to verify their email to submit an idea.
Customer Portal:
The customer portal is the space for your users. They can share their ideas by clicking on the link you shared.
Customers can give their ideas relevant titles and descriptions, priority levels based on their importance, and so on.
Bonus: How to use Feedback Portal.
Capture Your Ideas and Make Your Way to Innovation!
Zendesk and Intercom Integration
If Zendesk (for customer communication) and Intercom ( for sales and support communication) are already on your workspace list, then Chisel's Zendesk and Intercom integration is the right tool to capture customer feedback, feature requests, and product enhancements. 
With the help of these two integrations, your support team can quickly push relevant tickets into Chisel's Idea Box.
Learn how to set up your Intercom-Chisel integration effectively.
From there, product managers can easily link them to the related features in the roadmap. This will make your prioritization decisions easier.
Learn more about the Zendesk-Chisel integration
How Product Managers Can Build an Idea Management Process?
Since product managers are responsible for managing and reviewing ideas, it is also important to have an idea management process in place.
A formal idea management tool will guide you to make sense of the feedback/ideas you receive.
Choose a tool that will have the following three features:
The collection is frictionless
Objectives set for evaluation of ideas
Smooth transition from ideas tool to the feature backlog
Four Points To Keep In Mind When Building an Idea Management Process:
Collect Ideas in One Place
When you have all the ideas in one place, the chances of duplication and losing them are less. Therefore set up a unified idea collection system.
Group Ideas Into Themes
Organizing your ideas into themes will make it easier for you to find the areas that need improvement related to a particular product area.
When you categorize your ideas into themes, the problem of repetition also is solved.
Evaluate Ideas Against the Overall Business Strategy
Every decision you make with the idea that is in your hand must align well with your strategy and help you to achieve your overall goals.
Communication Is Key
Once you have the idea, you will want to know more about it. Asking additional questions to clarify any doubts regarding the requests, ideas, etc., will help you to understand the request better.
Whether or not you add the idea to your roadmap, informing the customer about it simply shows transparency and encourages them to submit feedback and ideas regularly.
What Are the Idea Management Best Practices?
Modify your ideation process
Bring the senior management into the picture when managing ideas
Allocate resources for idea management
Launch challenges to get ideas from various sources
Choose an idea management tool that suites your goals and objectives and goes well with your workflows
Assign roles in your teams for who will handle which part of the idea management process
Let's Put Idea Management Into Practice
Now that this guide to Chisel's Idea management tools has clearly explained the steps to gather and manage ideas, why not give it a try?
Many have seen the benefits of having a good idea management tool and how it improves your overall products. If you don't have one yet, sign up on Chisel to try it for free.
Capture, store, organize, analyze and prioritize your ideas in one place using Chisel today.
Get started in minutes!