How Do Product Managers Collect Customer Feedback?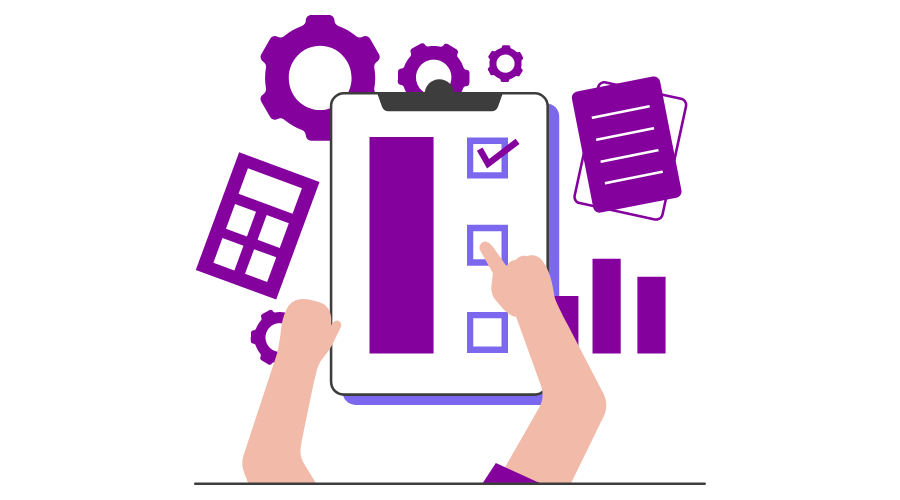 "It takes months to find a customer…seconds to lose one," goes the famous quote.
Businesses require customers. But you must make sure your customers also need you by listening to their valuable feedback and taking action.
If you don't want to lose customers, miss marketing opportunities, stay one step behind competitors, and get a bad reputation, you are at the right place. Read on!
Jeff Bezos says," We see our customers as invited guests to a party, and we are the hosts. It's our job every day to make every important aspect of the customer experience a little bit better".
However, you might ask, is collecting and managing customer feedback a fun and laid-back task as a party?
The secret is out. Product managers use product management tools like Chisel to tick all the customer feedback tasks off their checklist smoothly and efficiently.
Register to manage your customer feedback effectively today!
Customer feedback is, without a doubt, an invaluable asset to any type and size of business.
But what does customer feedback mean?
How to collect it?
Which software to use to record and analyze customer feedback?
You'll get answers to all these questions and more in this article.
What Is Customer Feedback?
Customer feedback is the four 'I's'- insights, inputs, information, and issues that your customers/community share about their experience with your product, service, or company.
This feedback guides product, marketing, and customer success teams to improve the customer experience.
The purpose of customer feedback is to reveal the current satisfaction level your customer enjoys. Thus empowering teams to find room for improvement and bring positive change in the business, especially when the feedback is negative.
Bill Gates speaks the hard truth when he says, "Your most unhappy customers are your greatest source of learning."
It is important to seek customer feedback because your customers are valuable. Not just that, but there's an ROI attached to knowing your audiences.
The empathy gap results from how companies think they are doing versus how customers feel.
There's proof to the above statement provided by the Harvard Business Review Analytic Services. It states that while every company strives to be 'customer-centric,' only a few manage to achieve it.
Nearly three-quarters (72%) of businesses agreed they 'understand what it is like to be one of our customers.' However, only 35% of customers surveyed agreed that it's true that companies understand them well.
This gap is created by more than just the misunderstanding between customers and companies. Here is where there's a vast opportunity that business leaders can grab to reconnect with their customers.
Fret not! We will discuss how you can bridge the gap between customers and the company using Chisel's user research tool. But first, let's look at how product managers collect customer feedback.
How Do Product Managers Obtain Customer Feedback?
How your brand chooses to collect and manage the customer feedback from the myriad ways available is your call. It depends on whether you want to measure the Net Promoter Score (NPS) or Customer Satisfaction (CSAT).
The other factors on how you can obtain customer feedback will depend on the type of product or service you offer and the phase of the product development lifecycle your company is in at that point in time.
Here are five common ways product managers obtain customer feedback.
Follow-up Emails
Getting customer feedback through follow-up emails is the most popular and effective way. You can automate the email; however, having a team member reach out to the customers is better.
Once the interaction or transaction with a particular customer is over, PMs assign a person(mainly a customer manager) to reach out to the customer and let them know that you are available to chat.
The advantage of using emails to obtain feedback is that it is affordable and automated. However, the downside of this method is the customer may not be willing to compose an email reply. Therefore it is always better to give the contact number to your customers to let them know that they can always call if any issue arises.
User Surveys
Surveys are a great tool that product managers use to ask customers relevant questions and get their opinions. A user survey is a type of customer feedback that comes in every shape and size. Therefore you can easily craft them at a low cost and include a wide range of topics.
Focus Groups
Focus groups are a qualitative method of collecting customer feedback where the moderator guides the small group of people through a discussion. If you want to explore the preferences, priorities, and needs of a group of people, go for focus groups.
Digital Channels
Some product managers rely on social media accounts, videos, and websites to gather relevant customer feedback. You can gather customer perspectives through customer comments and reviews.
Ideas Portal
A web-based interface, an idea portal, gives you a feedback loop where customers can describe their pain points and ideas. When you capture ideas in one place, it is beneficial to identify trends, crowdsource feedback, and analyze customer feedback.
How Can Chisel Help Product Managers To Manage Customer Feedback?
Customer feedback is the key to innovation. Irrespective of your product and customer, product managers and the company will always need an incoming flow of ideas.
Therefore, collecting customer feedback must be an ongoing process whether you are an established or new firm.
As we saw earlier, among the five methods to obtain customer feedback, two of the most common are user surveys and ideas portals. Chisel gives you exactly that, all while staying in your workspace.
Chisel is the perfect product management software to record and analyze customer feedback. 
Chisel's user research pillar lets product managers and other team members craft surveys and sends them out to their customers or a tailor-made audience.
Tailor-made audience? That sounds interesting! Stick around; we'll discuss it later in the article.
Product managers can easily manage customer feedback and ideas using the powerful Idea box tool. You need not worry about using spreadsheets to keep track of ideas or keep up with all the product feedback, feature requests, or ideas your users suggest. Idea Box safely stores all these and more!
Product managers must use Chisel's excellent Idea portal tool to never miss out on potential ideas from your customers that'll help you improve your product.
Wait, there's more to these tools than you can imagine. We'll discuss that now in detail.
Guide To Manage Customer Feedback on Chisel
The user research section in Chisel has four main tools: user surveys, audiences, idea box, and idea portal. There's an additional integrations tool that can help you manage customer feedback.
Let's review each tool product managers must use to manage customer feedback on Chisel.
User Survey
You can seamlessly collect customer feedback using Chisel's user surveys tool. This tool allows you to craft surveys from scratch or using the available survey templates.
Survey templates are a feature that allows you to create a target-oriented and market-specific survey without much effort.
The user survey dashboard displays all the necessary information required by the PMs, such as the status of the survey, the number of collectors, questions and responses the survey has, and the date of creation.
Bonus: Get a step-by-step guide on how to use user surveys.
Once you choose the method of survey you wish to go ahead with, edit the questions as per your requirements. There are various types of questions like multiple choice, ratings, and so on.
To examine whether you have correctly set the questions and other important information, the preview screen lets you view your questionnaire in different modes: desktop, mobile, and tablet.
There are three different collectors you can choose from:
Bonus: Learn more about how you can access and use the different collectors in user surveys.
Once you send a survey to your audience, you can sit back and wait for your customers to respond. Product managers can then analyze the data with three different screens:
Questions breakdown will show you the answer to individual questions
Insights will show you a generalized overview of the responses
Individual responses cater to a specific customer and their responses
Audiences
As a product manager, you need not worry when you have the perfect survey in hand but no audience to send it to. Use Chisel's audience feature.
Simply customize your audience using the filters available in the audiences tool. The tool lets you select the country, age, gender, income, and other options to narrow down options and gather your target audience.
Bonus: Understand when and how to create a target audience panel.
Pricing for every audience survey will vary depending on various factors such as filtering criteria, length of the survey, and so on.
Bonus: Clear all your filtering and pricing doubts for audience surveys.
Idea Box
Idea box is a holistic idea management solution where you can capture, curate, prioritize, organize and analyze the ideas coming in from your teammates, customers, and other stakeholders. An idea can be anything from customer feedback or a feature request to product enhancements.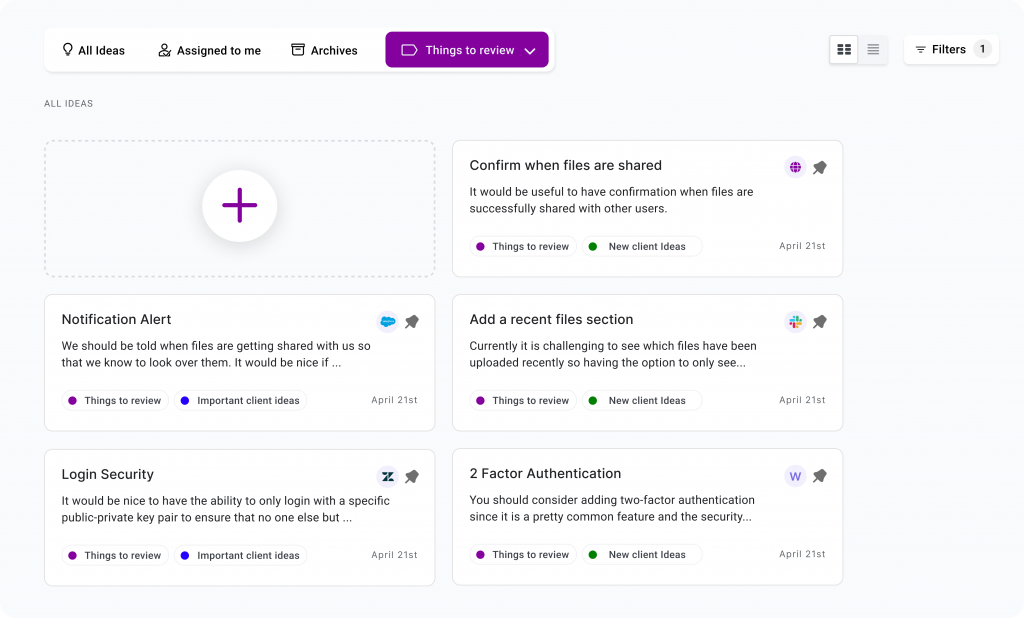 You can filter and pin ideas, add labels, tag customers and team members, link the idea to a feature, and even delete or archive as per your needs.
Bonus: Learn more about how to use the Idea Box.
Feedback Portal
Idea portal is a tool that helps you capture and organize your customers' ideas which you can then decide to add to your product roadmaps.
There are two sections to the idea portal on Chisel:
The PM portal is the space where you can view, analyze and prioritize the ideas that your customers share with you.
Product managers can share the link with customers from this portal to capture the ideas.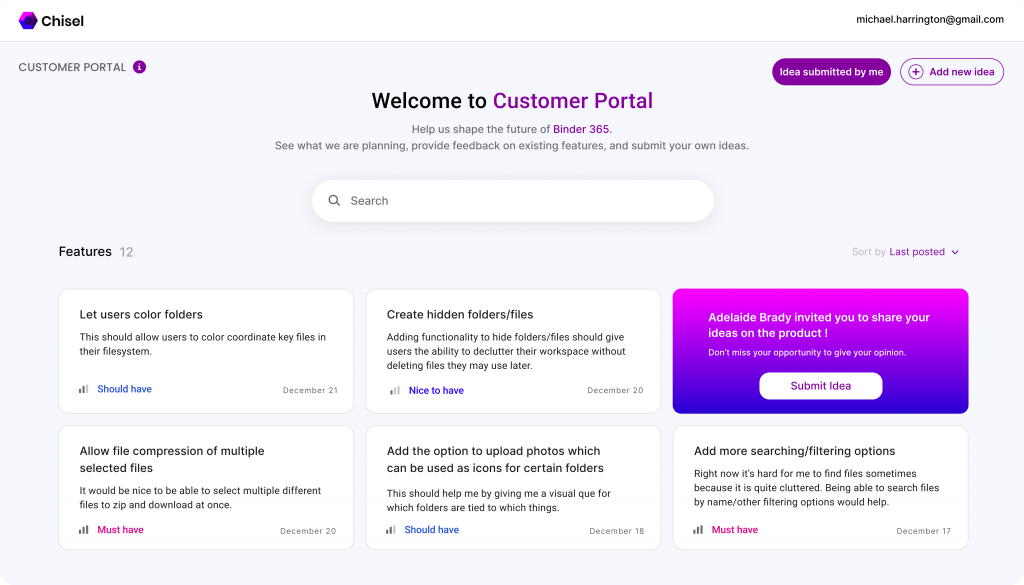 For security purposes, product managers can change the settings of 'General access' on this portal. This will accordingly ask customers to verify their email to submit an idea.
The customer portal is the space for your users. By clicking on the link shared by PMs, they can share their ideas by giving them a relevant title and description, priority level based on the importance, and so on.
Bonus: How To Use the Feedback Portal
Zendesk and Intercom Integration
If you are already using Zendesk (for customer communication) and Intercom( for sales and support communication), then Chisel's Zendesk and Intercom integration is the right tool to capture customer feedback, feature requests, and product enhancements.
With these two integrations, your support team can quickly push relevant tickets into Chisel's Idea Box.
From there, product managers can easily link them to the related features in the roadmap, making prioritization decisions easier.
Things To Consider Before Gathering Customer Feedback
Consider the following factors before you start collecting customer feedback.
Define a clear objective stating what you want to achieve from the customer feedback you will receive
Determine which potential or existing customers you want to engage with
After you set your goals and decide on which customers you want to interact with, narrow down on the feedback methods you wish to use.
What To Do With the Collected Customers' Feedback?
After completing the research, it is time to do some customer feedback analysis. At times your users will have unrealistic expectations because they may not be aware of the effort it takes for the entire team to make changes to the product.
But that doesn't mean you ignore user feedback. When customers give you feedback, they expect you to do something about it.
Pro tip: To take action doesn't mean to code and ship every request coming your way. It only means you demonstrate to your audience that you have taken the feedback and didn't just ignore it.
But then, how do you move forward with the ideas and customer feedback?
And which ones to analyze and when to do so?
Organize and Prioritize
Begin with a strategy. Get to know how many people have given the same feedback/idea. To understand which ideas carry the most business value, take each idea and score it against your objectives.
You can then prioritize the requests that align with your product and company goals.
Don't forget to promote the best ideas to your product roadmap. Share your inputs regarding the feedback and what you've learned with your teammates. Doing so will give your team members the answer to the 'WHY' of the work you'll be doing.
Close the Loop
Don't leave your users hanging even if you aren't going to consider their suggestions. Ask more questions if need be. Or simply write, "your feedback is now under review. Thank you for your suggestion".
Conclusion
We will conclude with the famous words of Author David.J.Greer: " Customers often know more about your products than you do. Use them as a source of inspiration and ideas for product development."
You can deliver the best product to your customers that they will love only when you completely understand their needs.
Allow your customers to become active participants in your product development process, and you'll get to witness how your innovation thrives.
Capture, Store, organize, and analyze your customer feedback and ideas in a single place. Chisel's roadmap includes User research tools and other essentials- Start with your Free Forever version today!