What is Website Traffic and How to Drive it to Your Website?
June 8, 2021
Max 6min read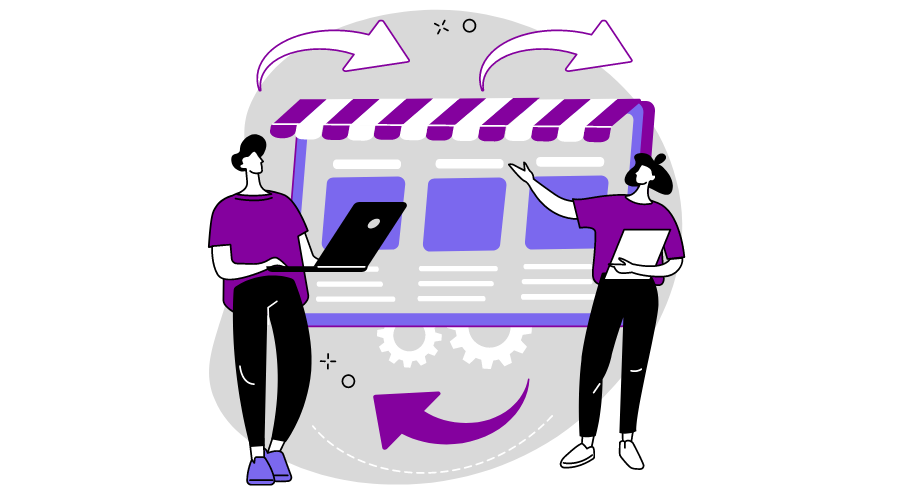 What is Website Traffic?
Website Traffic Definition:
The process of examining and analyzing website traffic to evaluate the website's user traffic and general performance is known as website traffic analysis.
For any SaaS organization, traffic refers to the number of users a website receives.
It is also called website traffic measured by visits, sometimes called sessions. Measuring web traffic is a beneficial measure of the effectiveness of an online product or service.
However, monitoring traffic as a standalone metric can not amount to any significant success of an online service.
While the website traffic rates are essential, an analyst cannot just stop with the number of users visiting the website.
The length of their stay and the percentage of users who bought anything (conversion rate) is also essential. Additionally, you should consider the cost of attracting a new website visitor while analyzing website traffic.
For example, let us consider two websites, A and B, where website A has 5000 visits, 500 sales and website B has 5000 visits and 50 deals.
The conversion rate for website A is 10%, while the conversion rate for website B is 1%.
The number of visitors to both websites could be the same. But the conversion rate makes it clear that the profit of website A would be much more than website B.
Therefore, while analyzing the traffic, it is necessary to consider other factors that could significantly affect a product.
One of these factors is the feature prioritization for your product. You can successfully prioritize features using product management software such as Chisel. A good product serves as the base for the traffic to your website.
What is organic website traffic versus regular website traffic?
There is no referring website for regular website traffic. Someone is directly accessing your website.
This source is a sure sign that you've caught someone's attention. After all, visitors came to your site without you having to do anything.
On the other hand, regular website traffic can signify various things. For example, someone may have manually typed your URL, which is fantastic.
Someone might have bookmarked your website, which is also fantastic. Someone could have contacted you using an untagged email link — not awful, but difficult to monitor.
It's possible that your tracking codes aren't working. A redirect brought you to your website. An employee visited your website.
A returning consumer visited your website. There are so many possibilities. Because regular website traffic is harder to evaluate and report on, it's critical to understand what matters most to your organization from an analysis standpoint.
Another reason for regular website traffic could be security (HTTPS versus HTTP).
When a user navigates from a secure website to an insecure one, Google does not record the referring URL. It's no longer traceable.
If your website isn't safe, installing an SSL certificate is simple to address the problem.
On the other hand, organic traffic gets measured by a different method and is the goal of every digital marketer.
Organic traffic is crucial if user intent, targeted keyword research, and ranking are vital components of your marketing plan.
Organic traffic statistics notify you if your campaign works and offer helpful information about your visitors.
What are the major sources of website traffic?
Organic Traffic:
Organic traffic refers to visitors who arrived at your site after searching for it on a search engine.
The fundamental goal of inbound marketing is to enhance organic website traffic. The material you upload to your website will affect traffic tomorrow, the following day, the next month, and possibly for years.
It is why content marketing is crucial for any successful marketing strategy. Organic traffic is earned rather than purchased.
Direct Traffic:
Direct traffic comes to your website directly rather than through another route. It indicates that a visitor typed your website address into the search console because your employees' visits to your website can count as direct traffic.
Your team should filter out their IP addresses from your web analytics to avoid muddying your statistics.
Referrals:
Visitors can also find you through a link from another website. Because the link the user clicks leads back to your website, this is a "backlink." This traffic is far better for your SEO ranking than direct traffic.
Your website's credibility gets enhanced through backlinks. If business cannot automate task like link building, then it's recommended to outsource link building. Link building agency can help you acquire high quality backlinks for better rankings and
According to search engines, the more websites connecting to yours, the more valuable, reliable, and accurate your information must be.
Paid Search:
The antithesis of organic traffic is a paid search. PPC (Pay Per Click) campaigns are the most common paid media source. It's likely due to sponsored advertising through Google Ads, formerly Google AdWords. Other networks may also be considered, but regardless of the platform, it's crucial to prioritize Google Ads campaign optimization to maximize the impact of your paid search campaigns.
Email Marketing:
Incorporating connections to your website in your email marketing campaigns is critical. It's crucial to use these links as a powerful call to action, just like blogs.
Many visitors to our website come through emails we've sent, such as weekly emails from our RSS feed, our monthly newsletter about current events, or special deals.
Social networking sites:
Social media sites such as Facebook, Twitter, LinkedIn, and other social media links drive social traffic.
Social traffic, like organic traffic, is very scalable.
Your traffic will increase as your following rises. It does not imply that you must produce new content every day.
There are alternative ways to keep your audience interested. Sharing and linking to material on your website will help you grow your audience.
Why is traffic important for a business?
A website that doesn't attract visitors will soon become lost in the expanse of the internet. Every website requires traffic.
Even if your site is well-designed, you won't be producing sales or accomplishing your business's end goal if you don't attract people.
Many individuals overlook the fact that people are the ones that visit your website and transact business with you online. Finally, your website and business will fail without consistent visitors from the right demographic.
To produce more money, you need to generate more focused traffic.
Targeted traffic, or visitors interested in what you're selling or marketing, is more likely to stick around and recommend others.
Increased time spent on your page enhances the chances of them signing up for your newsletter or receiving promotional content, enabling you to market to them over time.
How to drive traffic to your website?
Conduct keyword analysis:
A keyword analysis discovers and evaluates search phrases that people type into search engines intending to use the information for search engine optimization (SEO). Keyword analysis can reveal questions to target and their prominence, ranking complexity, and more.
You can simply conduct keyword research using the Google search console and the suggestions' keywords. You can also use advanced keyword research tools such as Moz or Semrush.
You should include the researched keywords in the meta description, page title, URL, headers, and headings throughout the text.
While using keywords in your content, you should not force them into the article. That distracts the reader or detracts from the main idea, damaging your SEO.
Make Content That Sticks:
It's not enough to submit the material; you need to develop specific content that stands out. Among the effective strategies to increase website traffic is to provide relevant and memorable content.
Update Social Media Accounts:
The significance of social media in drawing visitors is enormous. Here are a few suggestions about how to utilize it to enhance your website traffic:
Distribute information throughout your social media platforms (blogs, e-books, white papers, infographics, videos, and so on)
Interact with your followers by answering, tagging , and reposting on Instagram.
Use appropriate hashtags.
When new content gets released, update your bio's link to advertise it.
You may also be interested in:
FAQs
One way to measure traffic on your website for free is through Google Analytics. You need to register your website after receiving a unique code. You can use this code for each web page to allow tracking. Google Analytics provides tracking data in real-time and date range.
Your website should have multiple web pages around each topic. The web pages on related topics must be linked together. Sharing your content on social media has also proven to be an effective way to increase traffic to a website.
In Google Analytics, all websites that direct visitors to your site get classified as "referrals." "all traffic" under the "acquisition" tab will lead you to "Referrals."