What is Competitive Analysis?
July 7, 2021
Max 6min read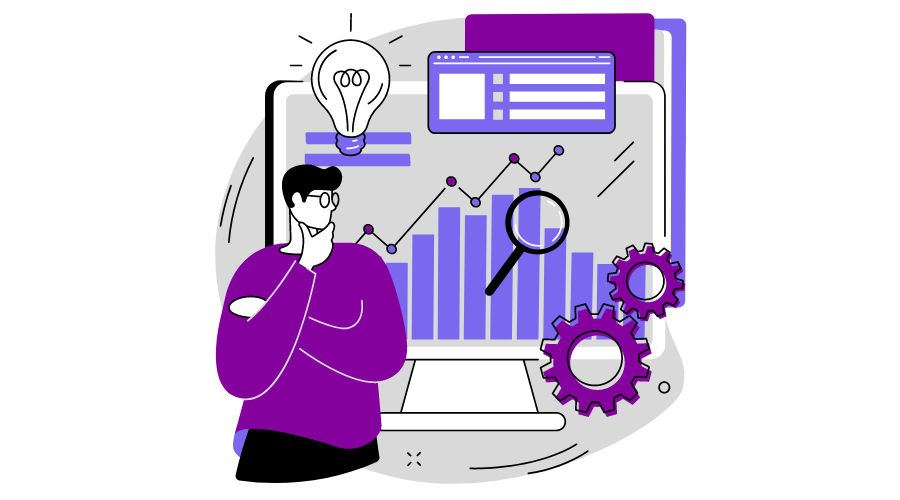 What Is Competitive Analysis?
Competitive Analysis Definition
"Competitive analysis refers to finding competitors in the market. It is essential to conduct a competitive analysis because it helps identify your competitors' strategies, strengths, and weaknesses. Doing this will help you make decisions for your company to set on the success path."
Competitive analysis refers to a strategy where you identify major competitors and evaluate their strategies to determine their strengths and weaknesses.
The competitive analysis aims to create solid business strategies that make your organization superior to your competitors.
Competitive analysis tools help you learn the basics of how the competition in the market works and identify any potential available opportunities where you can get ahead of them.
Once you have identified the ways the market and your competitors work, you can hire a product management team to help you with your product-building process.
Your teams can start with product management software like Chisel to help you with building the product and team management.
What Are the Advantages of Competitive Analysis?
Here are some of the benefits that come with competitive analysis:
It helps you establish a USP of your product, how it differs from your competitors, and how you can get the best performance.
It helps analyze your competitors' strategy and where they're outperforming you. This information can be critical to realizing what's relevant and ensuring that your resources are not getting wasted over something unfruitful.
Same as telling your competitors' strong zones, it also reveals their weaknesses. Understanding your competitor's strong points provides you with information on any potential openings in the market and an opportunity to try out new products and strategies.
It gives you a benchmark against which you can measure your own organization's growth.
These are only a few reasons businesses should consider conducting competitive analysis. As long as there is competition, there must always be competitive analysis.
How To Do a Competitive Analysis?
The following ten steps will help you to do a competitive analysis.
Make a list of your competitors.
Firstly you will have to figure out who you are competing with within your industry.
You can conduct a direct and indirect competitive analysis.
The importance of direct competitive analysis is that you will get to know firms that sell products that are substitutes or similar to your products or services.
On the other hand, indirect competitive analysis refers to the companies that sell similar products. Still, it can fulfill the exact customer needs with its products.
You have to focus on direct competitive analysis.
Analyze the products of your competitors thoroughly.
In this step of competitive analysis, you must understand and analyze the pricing, product line, quality, and discounts of your competitor's products.
Some of the questions that can help you with it are:
What is your competitor's market share?
How do they segregate themselves from their competitors?
What strategies do they use for distributing products and services?
What do your competitors' customers look like in terms of their needs, likes and dislikes, and other characteristics?
What are their pricing strategies?
Research the sales strategies of your competitors.
Get answers to follow questions when you do a competitive analysis:
What is the sales strategy that your competitors are using?
What are the various channels they are selling their products?
Are they located in multiple places?
Are they expanding their chains or scaling them down?
Understand the pricing strategies of your competitor's products.
To price your products, you must be able to take a look at your competitor's pricing. Doing this will help you to charge less or more.
If your product is worth more, your sales representative must be able to handle things and questions at the sales front.
But if you find any gap for affordable goods during competitive analysis for product pricing, you might charge less.
Also, keep in mind the discounts and other perks your competitors offer.
Look at the shipping costs.
Most customers abandon their order at the checkout point. Do you know the reason why they do so? It is mainly because of high shipping costs.
Understand the industry shipping strategies. Accordingly, offer free shipping or minimum shipping costs to your customers.
Analyze the marketing strategies your competitors are using.
Understanding what tactics your competitors use to market their products during your competitive analysis will help you make similar or better marketing efforts.
Ask yourself these questions:
Do your competitors have e-books, blogs, videos, podcasts, and webinars?
Are your competitors focusing on visual representation in blogs such as infographics and more?
Do they have articles that are featured and a section on FAQ?
Analyze the content strategy while conducting a competitive analysis.
Analyze the content strategies that your competitors are using. Such as:
Are they publishing blogs and articles daily, weekly, or monthly?
Is the quality of their content worth it?
You may deeply analyze the content strategy and see if it's bringing them results.
Focus on the technology stack.
Knowing what tech stack your competitors are using can help you quickly take advantage of these tools and start with them for your company.
You can find these tech stacks on the job descriptions on their job listings page.
Conduct a SWOT analysis.
Don't forget to conduct a SWOT analysis when you do a competitive analysis.
Conducting the SWOT analysis- of the strengths, weaknesses, opportunities, and threats of your competitor's company will help you to better your own company.
You can incorporate these points into your brand and eventually build up and better position your company.
Observe the channels through which your competitors promote their products.
In this step, you will understand and analyze all the channels promoting their marketing content to reach the target audience.
These channels could include SEO, social media sites, engagement rates, and many more.
Get to know their social media following, how they promote these channels via articles, customers sharing their content, etc.
Why Is Competitive Analysis Important?
Before conducting the in-depth competitive analysis, know that it must go way beyond just looking at your competitor's social media handles.
You also look at their history, the competitors they believe in having, and their success and failure stories.
Following are three reasons why competitive analysis is important for your business.
You can set a benchmark.
With the help of competitive analysis, teams can set a benchmark for your company's growth.
For example, take your competitors' social media engagement metrics and combine them with the average. This way, you can set a benchmark for your social media channels.
You can get to know your 'Why.'
When you have a similar product as your competitors, it is beneficial if you can determine the why of your business and product.
The customer will notice the difference in pricing, campaigning, etc. But knowing your 'WHY' will set you apart from your competitors. You can quickly achieve your 'Why' when you conduct competitive analysis.
Let your customers know why you are different from your competitors.
You can fill the gaps in your business.
Notice the gaps your competitors are trying to fill when they bring new roles to their firms.
Your competitors will bring a new role onboard when they sense that the market changes and need someone to handle things smoothly.
Example of Competitive Analysis
You can conduct a competitive analysis in various ways based on your business.
Following is an example of competitive analysis for a SaaS-based organization, such as Chisel.
Here are some things you can track:
Website Speed: High speed is essential as the customer may not want to wait for long times. Customers today are more likely to use websites that do not take much time to load.
Website Traffic: This is a vital metric as an accurate measure of the number of people visiting your website relates directly to the popularity and demand of your product among the consumers.
Traffic Sources: Analyzing whether the people coming to your website are doing so organically or via some sources. This information helps you analyze what works and what doesn't for the organization's growth.
FAQs
The purpose of competitive analysis is to understand the strengths and weaknesses of your competitors.
Competitive analysis helps establish what strategies you can employ to have the best possible outcomes for your product.
Competitive analysis is important to startup companies mainly because it helps them analyze the existing organizations' practices. Startups can also get a better idea about what strategies other firms undertook to reach that position.
Following are some of the sources you can use to gather data for competitive analysis:
Magazine, newspaper articles, 

Databases and books 

Annual reports and the Salesforce employees from your company

In-depth direct observation and trade associations

Sales brochures and advertising copies