What Is Digital Transformation? Definition and Benefits
May 23, 2022
Max 7min read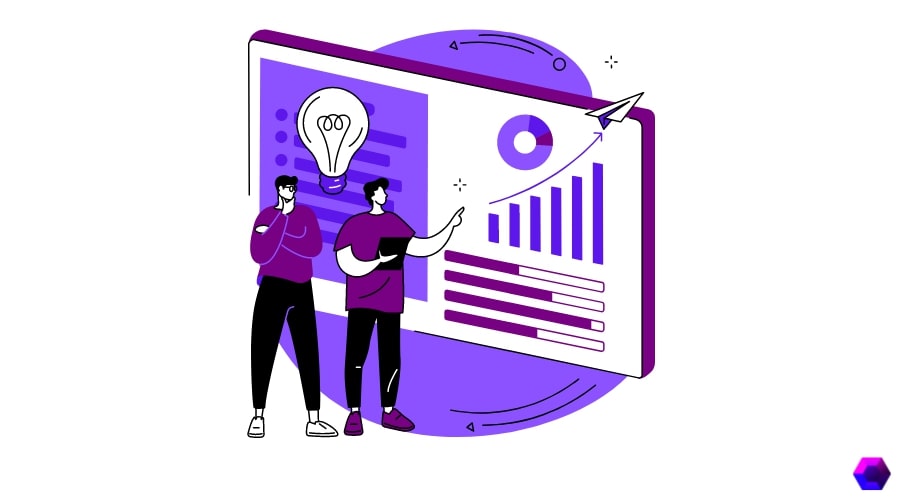 The COVID-19 pandemic has launched a new buzzword- 'digital transformation.' Not only have organizations released the importance of digital transformation, but they have also begun implementing it.
But what exactly is digital transformation? Is it just the digitalization of your office processes?
Digital transformation means different things to different people. However, it is essential to know the crux of digital transformation in this growing digital world. As long as you understand its essence, you're good to go.
The growing consumerism, shift to virtual work, and rising market demand has made digital transformation essential in every industry.
In this post, let's understand what digital transformation means and why you need it. We will also cover some FAQs related to digital transformation. By the end, you will be ready to transform your company digitally.
Let's begin.
What Is Digital Transformation?
As we already mentioned, digital transformation may mean different things to different people. Digital transformation differs from company to company.
However, digital transformation refers to digitally integrating all areas of business. This essentially changes your operations and customer delivery.
Digital transformation uses technology to optimize your business growth in existing and new markets.
Let's look at some digital transformation definitions to understand what global digital leaders think.
Digital Transformation Definition
There's no single all-encompassing digital transformation definition. What exists are different takes on the topic that all capture its essence.
Here are some of the leading digital transformation definitions-
According to Wikipedia, "Digital transformation (DX) is the adoption of digital technology by an organization. Common goals for its implementation are to improve efficiency, value or innovation."
This is perhaps the simplest definition of the term.
According to Gartner, "Digital transformation can refer to anything from IT modernization (for example, cloud computing), to digital optimization, to the invention of new digital business models. The term is widely used in public-sector organizations to refer to modest initiatives such as putting services online or legacy modernization."
This definition is more elaborate and provides context.
Brian Solis' definition is more holistic. He says, "DT implies the realignment of, or new investment in, technology, business models, and processes to drive new value for customers and employees."
Many experts and influencers point to digital transformation to improve customer and employee experiences through the use of visionary technology.
Now, we have a clearer picture of what digital transformation means. Let's also understand how it differs from digitization and digitalization. The three terms are often confused.
Digitization refers to the conversion of analog data or information into digital forms.
On the other hand, digitalization refers to the use of digital information for more efficient processes.
And finally, digital transformation, as we know, is the restructuring of business processes with technology.
Next, let's understand why digital transformation is essential today.
Why Is Digital Transformation Important in the Modern World?
There are several reasons why digital transformation is gaining recognition today. But the most immediate importance of digital transformation is 'survival.'
We live in an ever-evolving fast-paced economy. New companies and ITs crop up with the latest innovations every day. Consumer behavior, too, is changing its pattern.
In such a case, digital technology provides first-class services, and the experience becomes critical to business survival.
It's too early to tell which long-term shifts in consumer behavior will persist. However, McKinsey & Company's Rodney Zemmel, global head, McKinsey Digital, claims that "digital has been increasing in just about all categories" on the consumer side.
An interesting point is how much-forced change — three out of four Americans tried a new purchasing pattern.
According to McKinsey data, the fast trend toward streaming and online fitness is here to stay, adds Zemmel. The most significant changes, however, were in the food industry.
Home cooking and online grocery shopping — a segment that has historically resisted moving online — are likely to remain more popular with consumers than in the past.
Cashless transactions are also on the rise. McKinsey data indicates that remote selling thrives in B2B.
This means that hasty experimentation is no longer a viable option for CIOs.
All of this calls for digital transformation. If the pandemic has taught us anything, it is to stay ahead of the curve.
With this, let's look at the benefits of digital transformation.
What Are the Benefits of Digital Transformation?
As an entrepreneur, you may receive several benefits of digital transformation.
Here Are the Benefits of Digital Transformation:
Agile Innovation
Businesses expand thanks to DT, which is powered by innovation. When it comes to DT efforts, 68 percent of companies regard agility as one of the critical factors.
Transform Customer Experience
Customer experience is at the heart of digital. Many businesses are becoming increasingly conscious of this.
92 percent of executives implement complex digital transformation strategies to improve their customer experience.
Cross-Functional Collaboration
Digital transformation has leaders build the organization toward digital congruence. This gives a unique chance for team alignment. The transition will be flawless when everyone is working toward a shared goal.
Data-driven Inputs
You can measure KPIs and evaluate data captured during your digital marketing efforts. When you go digitalizing, data-driven information can help you better understand your customers and rethink your strategy. This will assist with an improved decision and pave the way to a higher return on investment.
To reap these benefits, we need to overcome the challenges of digital transformation.
What Challenges Do Businesses Face During Digital Transformation?
Several tech workers are skeptical about the digital buzz. DT might be so wide at times that it borders on meaninglessness.
Here are some significant digital transformation challenges that businesses face:
Communication Confusion
Without taking the time to explain 'why' and 'how', digital transformation imposes change. Your effort will fail if you do not provide clear and practical direction before, during, and after a transformation.
Measuring Metrics
You can't get a successful digital transformation unless you define success for yourself. Companies frequently believe they can measure success based on key performance indicators (KPIs) previously set for their organization. However, if you are changing how you do business, you will need to establish fresh KPIs to track the results.
Aligning People
People have the power to shape your digital transformation. Remember that culture is a driving factor of digital transformation and one of the six pillars of successful ones. Your effort will fail if you do not place enough emphasis on people and culture. Among McKinsey's 21 keys to digital transformation success, 16 involve people.
Let's elaborate more on this.
It's Not a Digital Transformation Without a Digital Culture
Resistance to change is a natural human characteristic. When you disregard the cultural side of a digital transition, you will immediately encounter resistance.
Although technology plays an integral part in driving DT strategy, the effort of adopting and responding to significant changes falls on everyone. Because of this, DT is a people problem.
46 percent of CIOs think culture is their most significant hurdle to transformation. Addressing culture guarantees that your plan has internal support.
According to Swift, businesses should evaluate internal teams' digital experiences and likings before crafting messages that reach each group's right launch point and realistic endpoint.
Thus, it is vital to familiarize your people with a digital culture before you digitally transform.
What Technologies Enable Digital Transformation?
Some of the most common technologies that enable digital transformation are as follows:
Cloud computing
Internet of Things (IoT)
Digital twins
Mobile phones and apps
Blockchain
Artificial intelligence (AI) and machine learning
Augmented reality and virtual reality
These technologies form the basis of your digital transformation and further enable it.
How Do You Develop a Digital Transformation Strategy?
A digital transformation strategy is an action plan for launching, assessing, and advancing a digital transformation endeavor. Your plan will specify the business objectives you hope to achieve via digital transformation.
A comprehensive digital transformation strategy will provide you with a framework to guide you through this ever-changing process. But, before you start, you should know what you want to achieve to set KPIs to monitor along the road.
A well-planned strategy will also consider how the transition will influence your customers and workforce. Begin by identifying internal change agents who will openly support your transition.
Tech tools may take various forms, but if you're embarking on a digital transformation, chances are there are digital resources available to help you.
Here Are Some Popular Digital Transformation Frameworks You Can Refer To-
FAQs
To allow for productive and effective remote working conditions, organizations have had to discover ways to integrate digital solutions quickly. Companies advanced the digitalization of their customer and supply-chain contacts and their internal operations. Furthermore, the proportion of digital or digitally enabled products in company portfolios increased by seven years.
The risks of digital transformation include wasted investments, the disintegration of culture, gaps between humans and technology, third-party regulations, data privacy and security, and data leakage. Some may also feel a loss of human control while transforming digitally.