Everything You Need To Know About Product Onboarding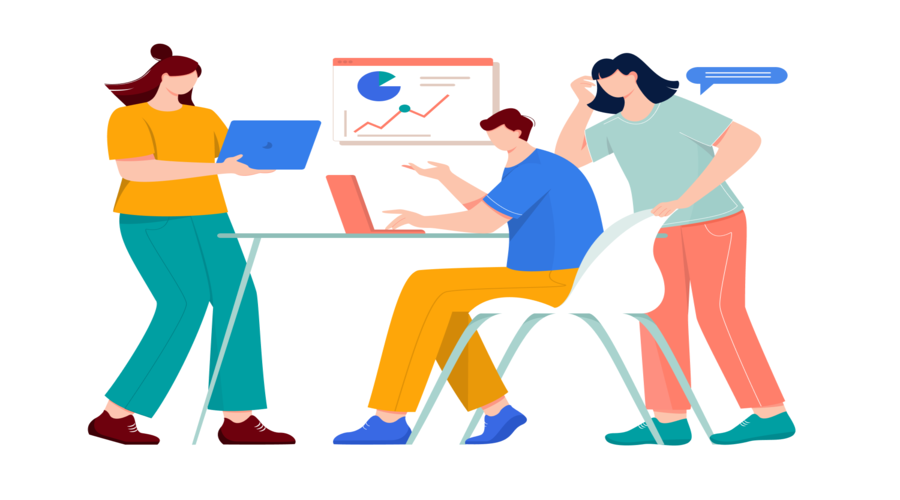 When you start to create a successful product, it's essential to have the proper onboarding process in place.
The first few steps of product onboarding should be to figure out who your target audience is and how they will engage with the product.
You should then develop a plan of action that will lead to the desired outcomes of your product.
This blog will cover the various components of the product onboarding checklist.
Starting from what onboarding entails to what constitutes successful product onboarding and product onboarding best practices (and more.)
What Is Product Onboarding?
"Product onboarding" is a term that refers to the process of getting a new customer moving with their product.
It is the process that covers:
Getting the customer to sign up for a product
Install the product
Start using the product
The product onboarding process could take days, weeks, or even months.
To make this process successful, you will have to create a strategy to onboard your new customers.
In other words, product onboarding is the process of enabling a new user of a product or service to understand their product and what they need for using it.
Enabling a user to understand the product is a critical first step in adopting.
When done correctly, it can improve the rate of product adoption and user satisfaction.
Onboarding is an essential aspect of the product acceptance process.
It enables people to become familiar with a product's features and use it. You can assist your users in learning how to use your product to its maximum potential by using product onboarding.
In a nutshell, product adoption is the process of deploying, integrating, and providing value to customers' daily lives.
It entails both education and assistance.
It's critical to comprehend product onboarding and adoption processes. Doing this will help because they're both essential components of your organization – especially if you want to boost your onboarding process.
Product Onboarding Importance
It's no secret that a product's onboarding process profoundly affects its success.
Some of the most prominent products on the market today have one thing in common: a great onboarding experience.
And why is this?
The purpose of a product's onboarding experience is to provide new users with a smooth and frictionless onboarding process.
And that includes:
Helping the customers to set up and start using the product as quickly and efficiently as possible
Giving them the information they have to understand the product and its features
But why is onboarding so important?
The importance of onboarding can often be hard to see from a business perspective.
Some companies don't think about it much, but it's a matter of life and death for others.
Why, you ask?
Because onboarding is responsible for getting new users to do one of the essential things in the life of any company: churn as few of them as possible.
If a company can get users to become regular and active users, they have a much better chance at reaching their goals.
Product onboarding is a secret weapon because it helps to:
Boost conversion rates
Increase repeat purchases
Create happy customers
It's a set of steps or a process that helps your users get comfortable with your product and be effective.
Product onboarding separates the users who stick around from those who bounce away.
It's important to note that product onboarding isn't just for new users. You can use it to onboard existing users as well!
Why Does Onboarding Matter?
Product onboarding is an essential part of retention.
About 43% of users who sign up for a product never return.
The good news is that users who complete a product's onboarding process are twice more likely to stick around.
Product onboarding is a great way to show the value of your product to your users while at the same time it helps you make sure new users understand your product.
Product Onboarding vs. User Onboarding
User onboarding refers to the process of actively guiding consumers to discover new value in the product.
Companies use this onboarding process to ensure that customers are successful the first time they use a product. And the product is usually a SaaS product.
Following are the parts of the onboarding process:
Initial experience
Training
Acclimation
The aha moment is when the user internalizes the value of a product — which is the ultimate objective of the onboarding process.
These are just a few reasons why user onboarding is so important, and it has a significant impact on growth.
User onboarding enables you to uncover your product's intrinsic value.
Customers will stick with you for weeks, months, and even ages if you get the first couple of moments of your product perfect.
The words "product onboarding" and "user onboarding" are many times interchangeably used.
Even though they are sometimes confused, the two are distinct.
Product onboarding is the macro mechanism used to make a product more discoverable. And it is mainly at the beginning of a customer's journey.
On the other hand, user onboarding means the process of implementing those systems at the single-user level.
User onboarding and adoption are concerned with the user experience.
In contrast, product onboarding and adoption are concerned with the product experience.
Product Onboarding Best Practices
Product onboarding is a simple process that involves getting your brand new customers to speed on your product.
A product onboarding process involves:
Teaching your brand new customers about your product
Teaching them how to use your product
Teaching them about your company
To effectively onboard your customers, you need to establish a strong relationship with them before your customers begin using the product.
The process should go back to the beginning of their relationship with your company.
It would be best to do most of your work before onboarding.
Product onboarding is a vital part of your company's success.
To maintain a healthy and practical product onboarding process, each company should have a product manager on their team.
The Best Practices for a Successful Product Onboarding Include:
Stick To Your Brand
Just as branding may help your product stand out to your ideal target audience and entice them to sign up, it can also keep them on board.
Product teams might lose sight of the brand experience from time to time, and they potentially lose customers when they do.
Value isn't simply about crossing something off your task list, so put in the effort to bring your product's full potential to life.
Create a Multichannel Experience for Your Customers
Because people today consume content in various places and have varied learning styles, you'll need to employ numerous channels to maximize engagement and retention.
Create a Well-structured Onboarding Procedure
A planned product onboarding can deliver a high return on investment whether:
You're operating a medium or large business
Developing new goods
Implementing them internally (ROI)
However, the first stage is establishing a product onboarding process, which necessitates a commitment.
Make Decisions Based on Data and Insights
Any business endeavor, including product onboarding, is built on data and insights.
You can use them to evaluate the process's performance, identify faults and areas for improvement.
Aside from that, data analytics can assist with:
To improve and optimize the onboarding funnel
To monitor user involvement, behavior, performance, and sentiment
Maintain a User-centric Approach to Your Strategies
Today when we talk about business plans or digitalization, we don't just mean using the most up-to-date technical tools. It also entails providing customers with value.
User experience has long been a focal point in any business strategy for offering value.
And it implies that your product onboarding strategy should be user-centric.
After all, you can determine the success of your product by the experience your customers have with it.
Being customer-centric implies that your consumers should take the lead in terms of:
Onboarding- the process of introducing a new product
Designing a product
Adoption of the product
Every part of the product experience must be covered, from marketing to customer service.
Maintain an Agile and Adaptable Mindset
You must design the product onboarding around the customer/user like any other customer-centric process.
Product adoption procedures and product onboarding programs should adapt as needs, goals, and expectations change.
As a result, keeping it handy can enhance any aspect of your organization, including experience management and onboarding.
Products and procedures that are related to them should be:
Efficient and adaptable
Adaptable to changing user requirements
Examine the user's complete digital environment
Customers' needs, as well as the digital world in which they live, are constantly changing.
According to many experts, the new normal is ongoing learning and progress.
It's simple to understand why employees today must continually learn and use new digital tools.
To stay competitive, they must continue to learn, train, and upskill.
Employers also expect them to grasp digital skills fast and work as efficiently as possible.
Because the digital world provides new technologies to employees regularly, businesses should use product onboarding to teach employees the necessary digital skills.
Employee onboarding is vital for SaaS employees and any organization invested in technology.
Tools To Boost Productivity
At the same time, the digital workflow must be integrated and streamlined.
To reach your objectives, you can utilize a variety of tools.
Therefore, product onboarding specialists must understand digital tools and follow a digital workflow.
You can increase productivity by using a variety of platforms and tools.
Product Onboarding Process
A stage in the product adoption process is product onboarding.
Firstly you have to introduce users to a product or platform.
The introduction of a product will allow customers to
Become familiar with the product
Learn about its features
Make an initial impression of it
Product Onboarding Tools
Today your organization will require multiple tools and platforms in workflows, and onboarding has a similar effect.
Following are some of the product onboarding tools you can use:
UserGuiding- Better SaaS user and product onboarding
Wyzowl- Animated video onboarding
Intro.js- Open source library for creating product guides
Best Product Onboarding Experiences
Product onboarding experiences are the key to success when bringing new customers into your product.
For any business, A/B testing is one of the essential parts of their product.
One of the main goals of A/B testing is to boost the conversion rate of their offer.
Understanding the conversion rate and addressing it is crucial when onboarding a new product.
You need many different experiences when onboarding a product.
These experiences include:
Onboarding experience
The registration experience
The onboarding email
The onboarding phone call
Product onboarding is a vital part of the process.
And hence it is crucial to understand and get answers to the following questions and get the best onboarding experience possible.
What is the customer looking for in the onboarding process?
What are the core experiences that they want?
What are their pain points?
What are they trying to achieve?
What Defines Successful Product Onboarding?
The main aim is the practice of displaying and explaining your product's use cases and features to users.
The better you can assist users in absorbing and comprehending your product, the more likely you are to keep them.
How sales can help product onboarding?
Sales allow users to see and feel the value of your product
They make it easier for a product to penetrate or expand
It helps the users through the purchasing process
Product Onboarding Specialist
An onboarding specialist is a firm employee or third party who manages the onboarding process.
Employee onboarding specialist refers to the person in charge of onboarding new hires in a company.
And customer onboarding refers to the person in charge of onboarding new customers.
In other terms, an onboarding specialist, mainly for SaaS services, takes a customer from initial signup to first success.
Or a new employee from novice to family member.
Conclusion
There is still a lot to learn about onboarding tools.
The insights we have given you here should help you better approach your product onboarding solutions.
Optimal solutions will depend on your goals and the type of product you are handling.
The bottom line: keep it simple, and take the time to learn more about your users.
From there, give them just enough insight to have them move forward with your product, but not so much that they feel confused.
You may also be interested in: