What Is a Marketing Plan? Definition and Examples
July 9, 2021
Max 6min read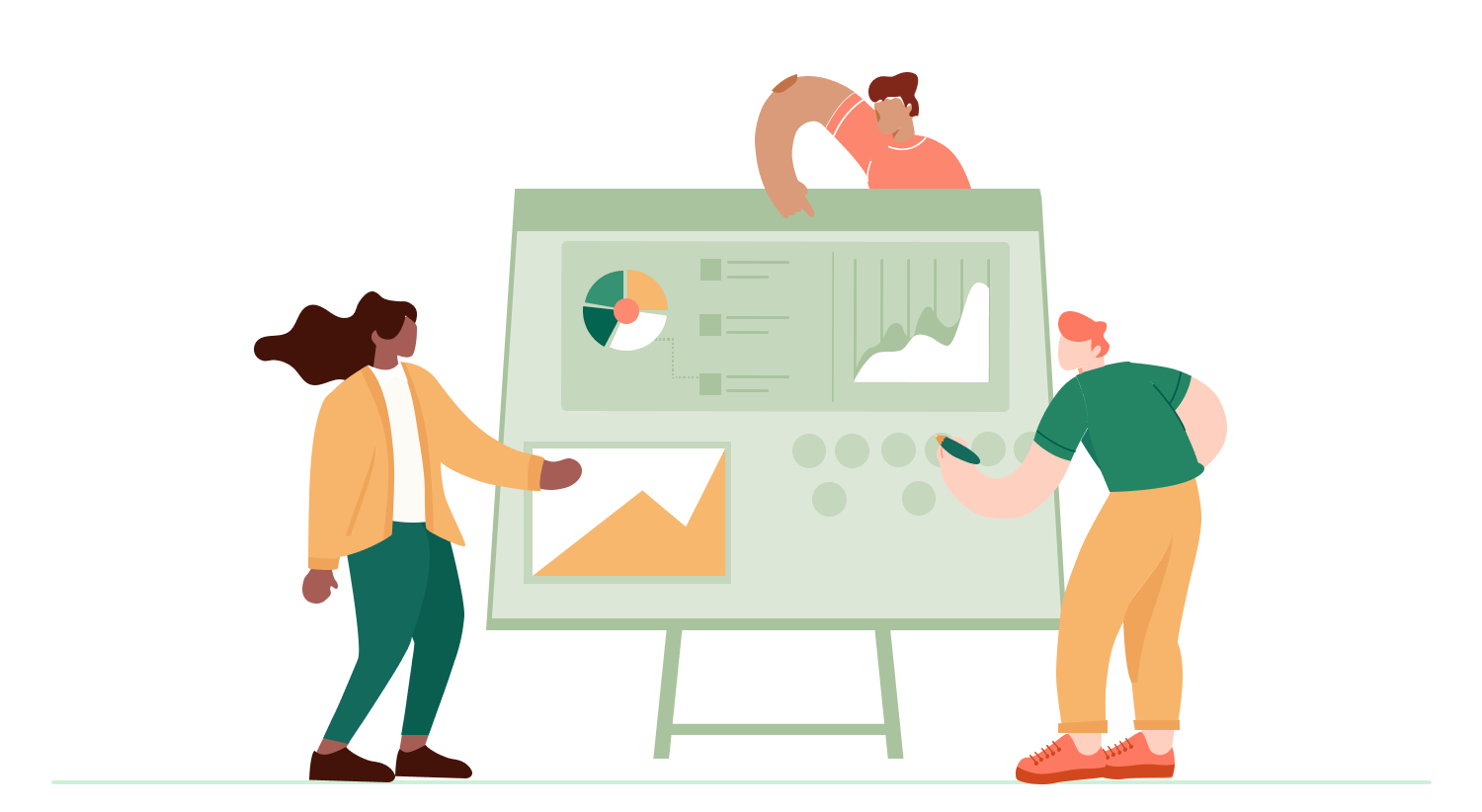 What is a Marketing Plan?
Marketing Plan Definition
A marketing plan is an operational document detailing an organization's marketing approach for generating leads and reaching its target audience.
A marketing plan is a document that lays out the marketing and advertising strategy for a year or quarter.
It is a plan of action and a roadmap for all the marketing and customer targeting measures. A marketing plan outlines all the promotional campaigns and activities that will take place over a particular period.
To sell something is to market it. Thus the marketing plan aligns with the selling process or strategies.
The marketing strategy focuses on the company's value proposition. The basis for all promotional and marketing activity is what value the brand promises to the customer. The marketing plan highlights this through all the strategies.
How to create a marketing plan?
A marketing plan has a similar structure over varied types of businesses.
You can prepare a marketing plan by using a marketing plan template.
When creating a marketing plan for the business, follow the steps below.
Identifying goals:
Clearly express all your objectives. Prepare an executive summary covering goals, deadlines, marketing position, etc.
Figure out the key performance indicators (KPI):
They enable you to keep track of various aspects of your approach and discover what's working and what isn't. You can then adjust your marketing plan accordingly.
Recognize your target market:
Realize your target audience and market segments. Make use of buyer personas.
Strategize content creation:
How will you carry out your campaigns and advertising? What are you conveying to the potential customers, and how will it be shared.
Conduct market research:
Market research entails gathering data about potential customers for a specific product or service. It could entail gathering competition and industry data.
Proper Budgeting with cost analysis:
You can use a marketing plan to demonstrate how you use the marketing budget to executives. That is to secure the funds you need to run profitable campaigns.
Employ a proactive strategy:
Follow a collaborative approach by allocating specific roles to members with expertise in those fields. Documenting a marketing plan and the expected outcomes encourages the marketing team to follow these action plans and deliver the expected results.
What is the purpose of a marketing plan?
To determine the company's marketing targets, which get oriented with the organization's perspective. It tells us where the company sees itself in a particular time phase in the market timeline.
A marketing plan supports business growth. All the critical factors like marketing, sales, product development, user experience, and product roadmap tools implementation remain interrelated in business. Hence, the marketing plan will affect the execution of marketing strategies. It reflects market expansion, sales, and brand equity, influencing the ROI, profit margins, and other costs.
A product marketing plan will assist you in conducting market research, identifying your strengths, identifying possible customers, and developing core marketing messages. It also helps choose the appropriate product roadmap tools and product management software.
As mentioned in the previous point, it is needed to stress how much the brand value and equity depend on the marketing strategies. Therefore it would be optimal if you had a marketing plan.
A brand's name, value, and features all get amplified through marketing. A well-made plan can help customer acquisition and increase sales and trust in the brand. It results in increased brand value and profit margins.
It supports expanding the market share also in exploring new markets.
One of the most significant purposes of a marketing plan is to allocate an organized budget for all marketing activities.
It helps in proper task allotment to avoid chaos.
A well-defined plan helps in identifying and scoring on opportunities.
Planning your marketing activities regarding time, opportunities, and capabilities reduces the risk and losses associated with failure.
What should be included in a good marketing plan?
Market Analysis:
Gather, classify, and update information on the market currently purchasing the product(s) or service(s).
Target Audience:
Identify and describe niche or target markets for your product.
Product:
Explain your product. What is the relationship between your product and the market? What does your target market require? What do they utilize? What do they need? And what do they already have? 
Competition:
Describe your opponent. Make your "unique selling proposition" a priority. What distinguishes you from your competitors? What is your competitors' action plan in terms of branding?
Market strategy:
Your marketing approach will lead you to your sales objectives. "How will I identify and attract my most likely buyers?" you might wonder. It is the essence of the strategy's explanation.
That should consider the entire market, such as events, direct mail, email, social media, content strategy, street teams, and price promotions.
Pricing, marketing, and positioning:
Establish strategies for deciding the price of your product. Also, determine where you want to position it in the marketplace and create brand awareness based on your information.
Budget:
Make a financial plan. Which strategies are you able to afford? What can you accomplish in-house, and what must you outsource?
How to Execute a Marketing Plan you have created?
Maintain contact with your team:
The more you include your employees in your marketing plan, the more invested they will become. Your team must have complete faith in the data and actions defined in its marketing strategy.
As often as you can, explain the plan to your team. Ensure the team has a right to engage and assign them roles and duties in executing the plan.
Determine your ultimate goal:
Remember what you want to accomplish with your company and your unique selling proposition. It differentiates you from the competition and keeps your marketing focused and efficient.
Track your progress:
You must treat your marketing plan as a living document to update regularly. At a minimum, once a quarter, review your marketing strategy. Create a list of questions to aid in the review process.
Modify as needed:
Make changes to your marketing strategy whenever and wherever they are required. Keep an eye on technological developments, the market, competition, customers, suppliers, and other external influences.
Prepare for the unexpected:
Acknowledge that not all of your plans will succeed. Marketing is a dynamic and evolving creative process. You may need to create backup plans, extend deadlines, add a new phase to your activities, or revise your marketing goals.
Seek experienced assistance:
Marketing activity development and measurement is a specialized field. If you are afraid of lacking the necessary abilities or experience, you should seek guidance from experienced marketing advisors.
Examples of Marketing Plans to Inspire You:
Contently, a renowned SaaS, created a visual marketing plan for upcoming campaigns. The strategy presents a "waterfall" structure, with goals merging into application methods, potentially leading to success metrics.
Despite being significantly more informal than the other examples on this list, the work provides a solid summary of the fundamental components of a marketing plan.
Lush, a famous health and hygiene company, has produced a detailed marketing plan. The plan includes product descriptions, positioning, and a marketing calendar for upcoming product releases.
A complete SWOT analysis with easy-to-read graphics is one of the highlights. It is especially beneficial for brands in the personal care market, among other industries.
Starbucks takes a more straightforward approach in comparison with other long-form statements. This six-page press release outlines a global strategy to improve customer experience and brand ambassadors.
Individual plans, approaches, and ways to ensure success were discussed in the marketing plan. The highlight is the complete customer journey profiles that fit into a five-year strategy.
FAQs
The CMO usually creates a business unit's marketing plan. However, marketing specialists and other team members work on marketing strategy teams to help the CMO. On the other hand, marketing analysts are part of the CMO's permanent team.
Your targeted customer is an essential part of your marketing strategy. Entrepreneur authors' views are entirely their own. Any marketer's single most crucial task, and one that never stops, is to understand their target market.
Three necessary fields encounter obstacles – Customer identification, Budgeting, and setting up Goals for marketing. Specifically, identifying target customers and their segmentation require much effort. It is possible to cut your budget and change some or many strategies.
Thus it needs to align with the process, or the process needs to align with the budget. There can be conflicts between departments or individuals depending on who prioritizes goal-setting.