Product Development Manager: How to Become One?
June 18, 2021
Max 4min read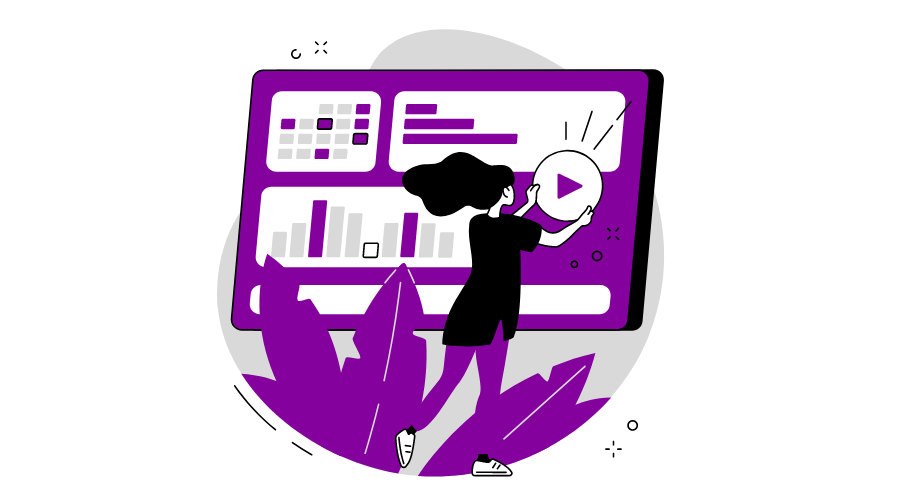 Definition: A product development manager (PDM) is in charge of doing market research, evaluating new goods, and overseeing their development.
What is a Product Development Manager?
A product development manager (PDM) is often a software developer, UI/UX designer, or QA tester responsible for developing a marketable product right from conception to distribution.
They are in charge of performing market research and analyzing the industry's trends. They assess as well as coordinate the development of the new product.
Moreover, they play a crucial role in interacting with the customers to understand their needs better. This way, you can improve the product accordingly.
Product development manager vs. Product manager:
A lot of tasks that product managers and product development managers undertake overlap. The key difference lies between their focus and scope.
The product manager defines the problem to work on for product development managers.
In short, product managers put forward the problem, and the product development manager provides the solution.
On the one hand, the product manager focuses on the product, the customer, and how this particular product can be further improved or developed.
On the other hand, product development managers undertake a more tactical role. They focus on conception and development and monitor and manage the products already developing.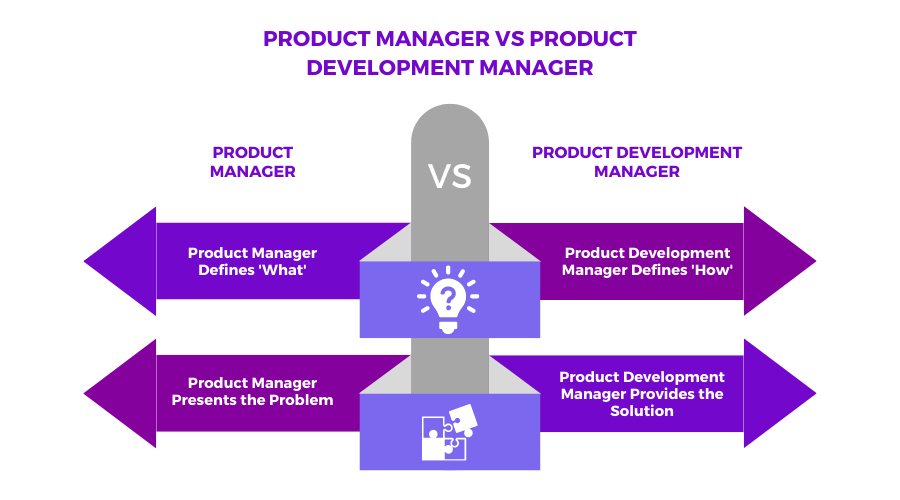 What are the essential skills that make a successful Product Development Manager?
Product development managers are predominantly concerned with coordinating with other team leaders. And managing the development processes.
Thus, it requires many soft skills and technical knowledge such as UX, testing, coding, and software engineering.
Following are a few skills listed that will make a good Product Development Manager:
Problem-Solving Ability: PDMs need leverage over their analytical skills to assess the product and the information provided carefully. Moreover, they also need complex problem-solving skills.
Interpersonal Communication Skills: PDMs often have to coordinate with other team members, such as developers, marketers, designers, and engineers, regularly, if not daily. Thus, it is crucial to be able to put across the needs of the team as well as provide explanations wherever necessary.
Time management and Organization skills: It is essential to organize the tasks assigned to each member and keep a check on the progress regularly. They should keep track of the budget and timelines, customer interview schedules, and report progress to the CEO. For all of the mentioned tasks, organization skills are highly essential.
What are the roles and responsibilities of a product development manager?
The product development manager (PDM) oversees the execution of the entire product family's business strategy.
Consumers and internal customer success, advertising, media services, and sales force are all kept in regular contact. This position's fundamental responsibility is to lead the collection and synthesis of consumer intelligence and market insights.
Responsibilities:
Identify and validate market issues (both existing and future customers).
Organize usability workshops/product evaluations (in collaboration with PMs and product designers) to existing consumer efficiency and adoption barriers.
Assist internal stakeholders as an ambassador for our product family.
Develop and execute customer success and sales training sessions in collaboration with the PMM.
Determine market segments/industry verticals and their sizes.
Perform a win/loss analysis (in conjunction with sales).
Keep up-to-date analyses of rival capabilities.
Create buyer personas for each of our product lines using product management tools.
Position our product line to appeal to various industry verticals and buyer types.
Identify strategies to improve our products to acquire new business by documenting the typical buying process with the help of product roadmap tools.
Work with the PMM to develop marketing and go-to-market strategies.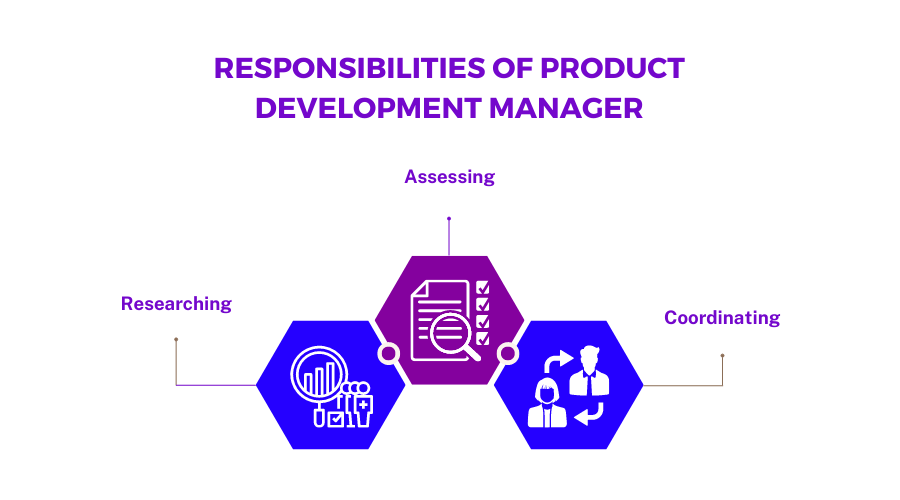 How to become a product development manager?
If you want to be a product development manager, the first factor to consider is how much education you'll require.
It would be a great aid if you had a bachelor's or master's degree in product development management.
Even though most product development managers have a college education. It is feasible to become one with only a high school diploma or a GED.
When looking into becoming a product development manager, finding the perfect major is vital.
Whenever you look into the most prevalent majors for product development managers, you realize that they mostly earned bachelor's or master's degrees.
Associate degrees and doctoral degrees are two more degrees that we frequently find on product development manager resumes.
You might find that previous work experience will assist you in becoming a product development manager.
Several product development manager positions need previous experience as a product manager. Nevertheless, many product development managers have held positions such as project manager or production manager.
FAQs
Product management is one of the highest-paying positions in the software industry. In the United States, the average Product Development Manager earns $114,267 per year. Product Development Managers earn an average hourly wage of $54.94
An good PDM must have a deep understanding of the complete product development cycle to spot the perfect chance to produce a product that will please customers and flourish in the market. They must also have a thorough awareness of customer wants and market trends.