Product Development Manager: Job Description & Salary
May 2, 2023
Max 4min read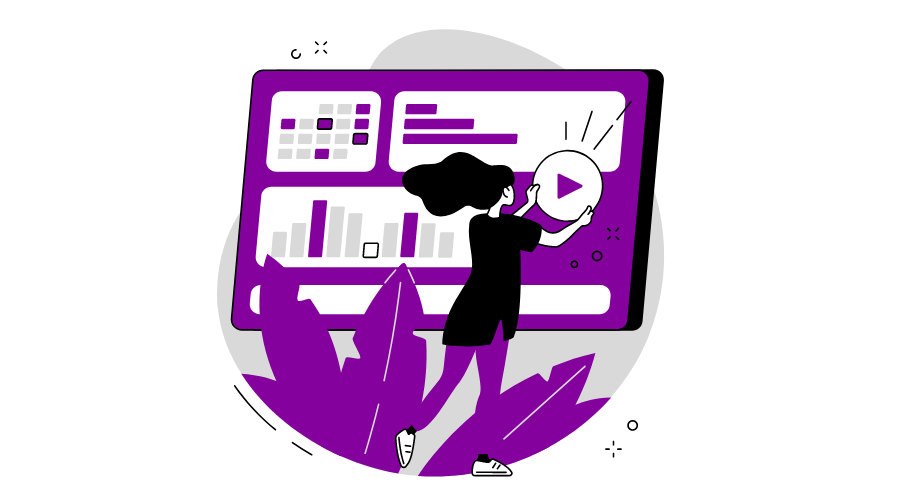 Introducing the mastermind behind innovative product design and development, the visionary leader who orchestrates the creation of exceptional products that exceed customer expectations – the Product Development Manager.
With a keen eye for detail and a deep understanding of market trends, this strategic thinker drives the development process from conception to launch with unparalleled finesse.
Armed with a wealth of knowledge and expertise, they easily navigate complex challenges, transforming ideas into tangible products that captivate and inspire.
So, let's raise a toast to this incredible individual and the excellent products they bring to life! And learn about how to become one, the salary you can expect as PDM, and other skills.
What Is a Product Development Manager?
Product development manager definition
A product development manager, or PDM, oversees the process of creating or improving products from start to finish, working with a team to ensure that the products meet customer needs and business goals. They lead a product's market research, assessing and coordinating front.
---
Job Description of a Product Development Manager
The product development managers job description will look something like this:
Position Description
Product development managers create fresh products to fill the needs of customers and the company.
Essential Duties and Responsibilities
Conducting market research to identify customer needs and preferences.
Preparing cost analysis when developing a new product
Presenting new ideas/opportunities to executives
Ensuring every step of the product development process proceeds as planned
Making adjustments to product plans when things aren't working
Creating marketing campaigns
These are just some of the tasks you'll be involved in. In a nutshell, as a PDM, you will look after a product's technical and design aspects.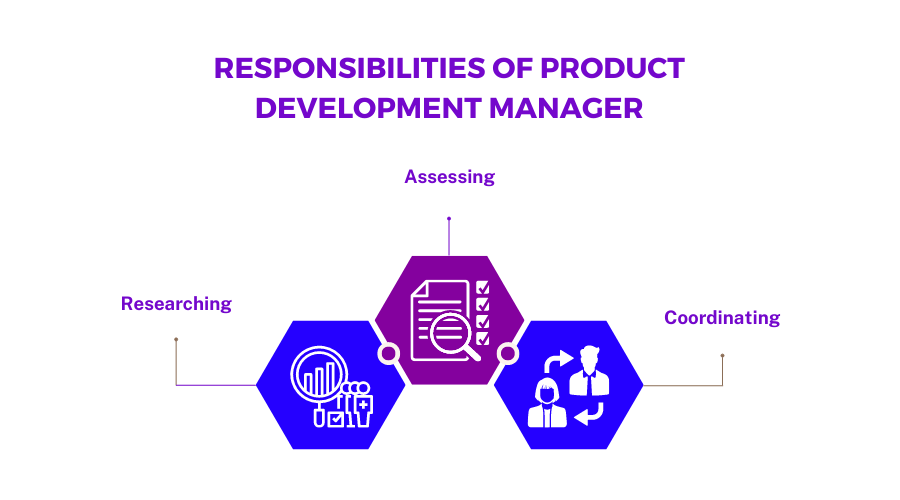 Required Skills and Qualifications for a Product Development Manager
Product Development Manager Skills
If you want to thrive in the role and responsibilities of product development manager, below are the skills you'll need to hone.
Expert in Everything Technical
Since, as a product development manager, you will be closely working with the engineering and the design team, communicating with them in their technical language is necessary.
Technical proficiency helps when debating with teams on projects and their timelines.
Project Management Skills
As a product development manager, you must have project management skills to keep the budgeting, timelines, and organizing tasks in check all the time.
The Amalgamation of Creativity and Innovation
PDM is handed down the problems and asked to look at the possible solutions. Therefore having creative and innovative skills helps to come up with unique ideas and have a stand in the market.
Collaborative Skills
As a product development manager, your task doesn't involve coding or working individually. Most of the work consists in working in teams. Working with teams with various backgrounds requires a great deal of collaboration skills.
Customer First Attitude
Although other managers are looking at the customer needs and expectations, you, as a person who will come up with products for customers, must always have the attitude of customer focus.
Product Development Manager Qualifications
To be able to work as a PDM, you will need to have completed at least a bachelor's degree in the type of product you will be working with.
Having a five-year of work experience helps when understanding the role of teams, working on the product, developing prototypes, and the like.
Another advantage will be having two-year research and development experience under a proficient product development manager. This way, you can begin with R&D for your product in the company quickly.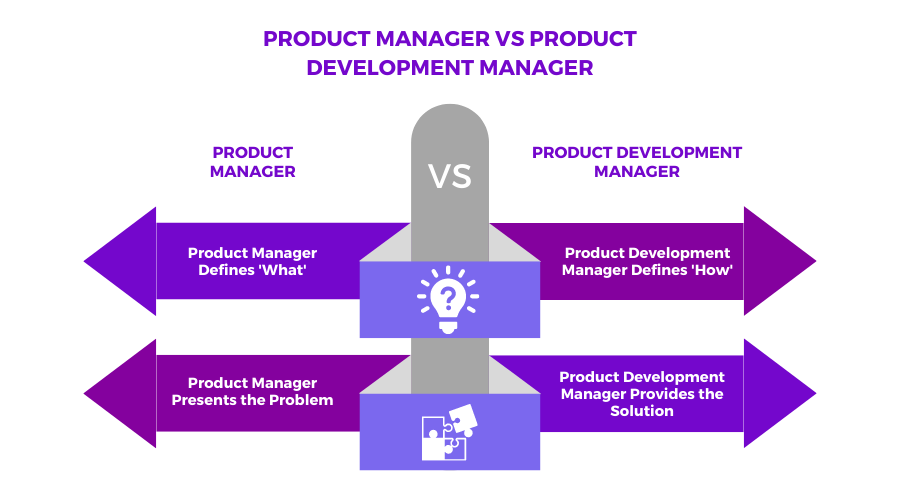 Product Development Manager Salary
You can expect a salary of $62-75,000 annually. Know that your pay as a product development manager will vary on the basis of several factors, like the company you're working for, your position, experience, skills you possess, etc.
Tools and Techniques Used by Product Development Managers
Here are some commonly used tools and techniques used by product development managers in the industry:
A visual representation of a product's strategic plan and the key milestones in its development.
A human-centered approach to problem-solving involves empathizing with users, defining the problem, ideating potential solutions, prototyping, and testing.
Agile Development
An iterative approach to software development that focuses on collaboration, flexibility, and rapid response to change.
Lean Startup Methodology
An approach to building new products that emphasize rapid experimentation, customer feedback, and data-driven decision-making.
A basic version of a product with just enough features to satisfy early customers and provide feedback for future development.
Fictional characters represent the key demographic and psychographic traits.
User Story Mapping
A visual representation of a product's features and user interactions, organized by priority and user needs.
An assessment of a product's strengths, weaknesses, opportunities, and threats to help identify strategic priorities and risks.
A comparison of a product's features, pricing, and market positioning with its competitors.
The collection, analysis, and interpretation of data on a product's usage, performance, and user behavior to inform product decisions.
FAQs
A product Development Manager and a Product Manager are different roles, although their responsibilities may overlap. 
A product manager looks after the 'defining the problem' factor. In comparison, PDM is responsible for how you will solve the problem to reach a solution.
A Product Development Manager is responsible for bringing new and improved products to market. 
They lead a team to ensure the products meet business goals and customer needs, conduct market research, develop product specifications, oversee prototyping and testing, and manage the product launch. 
Their ultimate goal is to create innovative and successful products that drive business growth.