CPO Meaning – Chief Product Officer in Business
March 23, 2023
Max 8min read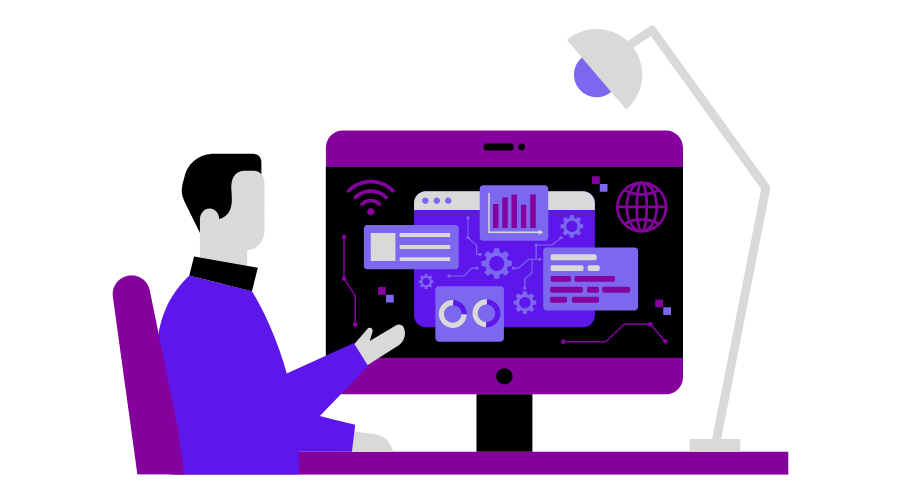 The world of products has significantly transformed due to the ever-changing digital landscape. With an increase in the number of products, improvements in features, and changing customer requirements, it has become imperative to create a competent profile to drive progress in product development.
Companies require an additional C-level executive to facilitate business growth via products. But what distinguishes a Chief Product Officer (CPO) from a CTO or a VP in the product department?
The need to empower customers more than ever has created specialists within organizations. These product professionals possess advanced knowledge on improving product performance, are customer-focused, tech-savvy, and, most importantly, make informed product decisions.
So, what exactly does a Chief Product Officer do, and why is this role essential in any organization?
In this article, we'll explore the ins and outs of the CPO position, including their roles and responsibilities within a company, and beyond. Let us get started, shall we?
What Is a Chief Product Officer?
Definition of Chief Product Officer
A Chief Product Officer (CPO) is a high-ranking executive who oversees a company's product department. This role also refers to the Vice President or Head of Product. The CPO provides leadership and guidance in creating products that satisfy consumer requirements.
They manage a team of product managers responsible for building products that generate value for the company.
The Chief Product Officer (CPO) plays a critical role in driving a company's product development efforts to produce exceptional results for customers. They are the crucial decision-maker who oversees the entire product department and ensures that each new product release meets or exceeds customer expectations.
You must remember that the CPO differs from other executive roles, such as the Chief Technology Officer (CTO) or Chief Marketing Officer (CMO). While a CTO oversees the technical aspects of product development, and a CMO focuses on marketing the product, the CPO's primary focus is solely on product-related decisions.
As a crucial player in a company's growth and success, the CPO holds a pivotal position. It may go by various titles, such as VP of Product, Head of Product, or Product Head. Nevertheless, regardless of their specific designation, the CPO is responsible for efficiently delivering high-quality products that satisfy customers' ever-evolving demands and expectations.
What Does a Chief Product Officer Do?
As a company's top executive, the Chief Product Officer (CPO) has a critical role in the organization's success. Here are some key responsibilities and tasks that define the CPO's role in driving the company's product development and management:
Build the Product Vision and Strategy
The CPO is in charge of creating a thorough product vision and strategy that aligns with the business's overall objectives and purpose.
They gather insights from the market, coordinate with product teams to research users and analyze the data to identify areas for improvement and growth. It helps create a clear roadmap that guides the product development process.
Create a Strategic Roadmap
The CPO creates a strategic roadmap outlining the product division's significant initiatives. This roadmap should be updated regularly and include all critical product milestones.
The Chief Product Officer also presents this roadmap to other executives and the board of directors to ensure alignment with the company's broader vision and strategy.
Establish the Product Management Process
The CPO creates and implements an effective product development and management process. This process should focus on identifying customer needs and building high-quality products that address those needs. It should also be agile and adaptable, allowing the team to adjust and pivot when necessary.
Engage with Product Development
The CPO works closely with the product development team to ensure that the product moves from ideation to launch efficiently and effectively. They provide the team feedback, guidance, and support throughout the development process and ensure they work towards the product vision and strategy.
Mentor Product Managers
The CPO is crucial in mentoring and guiding senior product managers and directors. They provide regular feedback, support, and guidance to help them improve their skills and develop as leaders within the organization.
Recruit the Product Team
The CPO is responsible for hiring and building a diverse product team with various skills and experiences. They use different techniques and methods to find the best talent and ensure the new hires align with the product vision and strategy.
Chief Product Officer vs Head of Product
| | | |
| --- | --- | --- |
| Aspect | Chief Product Officer | Head of Product |
| Focus Area | Policies, procedures, productivity, and performance | Product development, identifying features, suitability |
| Hierarchical Position | Member of the C-suite, involved in steering organization | Directly below C-suite team, supports C-suite team |
| Reporting Lines | Reports to organizational President/CEO | Reports to CPO |
| Scope of Work | Executive, concerned with policy development and planning, departmental structures and systems | Operational, concerned with processes relating to the product, effectiveness, and efficiency of development team |
| Customer Experience | Concerned with profitability, appropriate product, and satisfaction from users | Concerned with user experience, ensures product features meet customer expectations, undertakes research and development |
| Planning | Involved in developing strategic plan, guides organizational mission and vision | Focused on operational activities, develops strategies to give company products a competitive edge, ensures unique user experiences |
| Hiring Process | Participates in recruitment of all product department staff, including VP | Participates in recruitment of staff for product team |
What Are the Challenges Faced by Chief Product Officers?
Challenge 1: Changing Company Culture
Making a significant change to the role of a product that affects the entire business requires a major culture shift. CPOs are at the forefront of this transformation, which impacts everything from products and services to business models.
Challenge 2: Finding and Keeping Talent
Finding and retaining talented individuals is the top concern for the Chief Product Officer. It is challenging during "The Great Resignation" when there are many turnovers, even at the CPO level. CPOs must lead in their teams' recruitment, retention, and personal development.
Challenge 3: Driving Business Growth
As vital strategic executives, CPOs play a crucial role in driving business growth. It involves creating a more product-focused culture fueled by digital technologies. CPOs are now considering the speed of decision-making, growth opportunities, and how they influence the C-suite.
Challenge 4: Structuring the Organization
Scaling the organization in a high-growth environment requires hiring the right people quickly, implementing the right processes at the right time, and determining when to add management layers. CPOs must build scalability into products while driving a culture that focuses on product development.
Challenge 5: Measuring Success
The metrics used to evaluate the success of product teams are changing. There is now more accountability for business metrics such as growth, revenue, and profits. The CPO role is now actual business, measured by product performance and overall business success.
Challenge 6: Prioritization
Setting priorities and receiving input during the road-mapping process is critical. The Chief Product Officer must ensure transparency in decision-making while balancing competing and conflicting stakeholder priorities.
Challenge 7: Remote Work and Connections
The CPO faces challenges managing remote work policies and dealing with employees who may have moved for family or financial reasons.
The CPO must inspire and influence their team while navigating these challenges.
Challenge 8: Isolation and Burnout
Although we are more connected than ever, thanks to technology, many of us still feel isolated. CPOs are learning to effectively drive cultural changes while maintaining their well-being and avoiding burnout.
How to Become a Chief Product Officer?
Becoming a Chief Product Officer usually involves obtaining a solid education, typically in a business or tech-related field. While a tech background is not mandatory, it can help grasp engineering concepts.
CPOs come from a variety of educational backgrounds.
Both Greg Peters, CPO of Netflix, and Scott Belsky, CPO at Adobe Creative Cloud, have diverse educational backgrounds. Peters graduated from Yale University with a degree in physics and astrophysics, while
Belsky has a bachelor's degree in economics and entrepreneurship from Cornell University and an MBA from Harvard Business School.
CPOs frequently advance through all stages of career growth, starting as product managers. It includes senior PM, product director, and VP of product.
Talented product managers should logically advance to the CPO position within a company. CTOs, CEOs (in smaller companies), or veteran startup founders do, however, occasionally fill the role.
While a good education and immense product-related experience are must-haves, they are insufficient for success in the CPO role. The following competencies and personal traits are critical for the C-level position:
Leadership: The ability to influence and motivate others to maximize their efforts toward achieving the company's business purposes. A product leader unifies groups with different backgrounds, creating a sense of mutual goal.
Communication: Effective CPOs are always great communicators. Their objective is to persuade executives, product teams, and customers of the value of the offering.
The CPO's ability to motivate everyone with the product strategy is crucial to the solution's success.
Strong customer focus: Like the Chief Product Officer, the product leader prioritizes improving the user experience and views the answer from the standpoint of its value for users.
Business acumen: An individual who can rapidly assess the state of the market and spot profitable opportunities.
Structured thinking: The ability to break down broad goals and long-term strategies into manageable tasks makes for a great Chief Product Officer.
Strategic thinking: The ability to envision what may happen. It also entails analyzing large volumes of information to spot trends, offering new approaches to old problems, and anticipating customer needs and wishes before they appear.
Creativity: The ability to be creative in forging unconventional methods when faced with challenges that don't always have clear-cut answers.
Perseverance and enthusiasm: The ideal CPO is eager to learn more about the issue and suggest the most effective action. Additionally, they spread their excitement to others. However, suppose something doesn't go as expected. In that case, the CPO must have the fortitude to keep going and ultimately come to the correct conclusion.
How Much Does CPO Make?
Several factors, such as geographical location, business size, sector, and years of experience, come into play as deciding factors for a CPO salary.
According to Salary.com's estimates on May 01, 2023, the average CPO salary in the US is $271,080, ranging from $245,780 to $295,080.
Education, certifications, and additional skills can further affect the salary range.
We encourage you to conduct further research to determine the precise salary range for a Chief Product Officer in a specific sector or region.
However, 'marketing management roles, including officer and management roles for products, are expected to grow by 10 percent by 2031.
A Chief Product Officer's complete compensation package is determined by several variables, including but not limited to their experience and geographic location.
Conclusion
The Chief Product Officer, or CPO, is at the heart of a company's product development and management. They take charge as a visionary architect and strategic navigator, setting the course for the company's product roadmap. They also establish a product management process, inspire and mentor product managers, and assemble a diverse and dynamic product team.
As markets keep changing and customer demands keep evolving, the CPO plays a vital role in driving business growth and success.
Of course, this can be challenging – the CPO has to juggle multiple priorities, make sure products get delivered on time, manage a wide range of people, and ensure the product vision always stays in line with business goals.
Despite the challenges, the CPO's role is only getting more critical as companies focus more and more on innovation and customer satisfaction. With the right blend of skills, experience, and leadership qualities, a CPO can take a company's product development efforts to new heights and create a brighter future in the ever-changing business world.
FAQs
A great Chief Product Officer (CPO) must align their product vision with company goals, utilize metrics to drive growth and distinguish between product owner and product manager roles to lead their team effectively.
The Chief Product Officer (CPO) holds the top position in the organizational structure related to products, with all other product-related officers reporting to them. It includes positions like the Director of Product Management and Head of Product Analytics, who report directly to the CPO and work together to develop and implement product strategies for the company.
Tomer Cohen is the Chief Product Officer at LinkedIn, overseeing the product development for the world's largest professional community, with over 774 million members in 200+ countries and territories. With his leadership, LinkedIn has experienced significant growth cycles. Cohen has played a pivotal role in driving the company's success, ensuring that the platform remains relevant and valuable to its users.