What Is Voice of Customer (VoC)? Definition & Examples
June 19, 2021
Max 6min read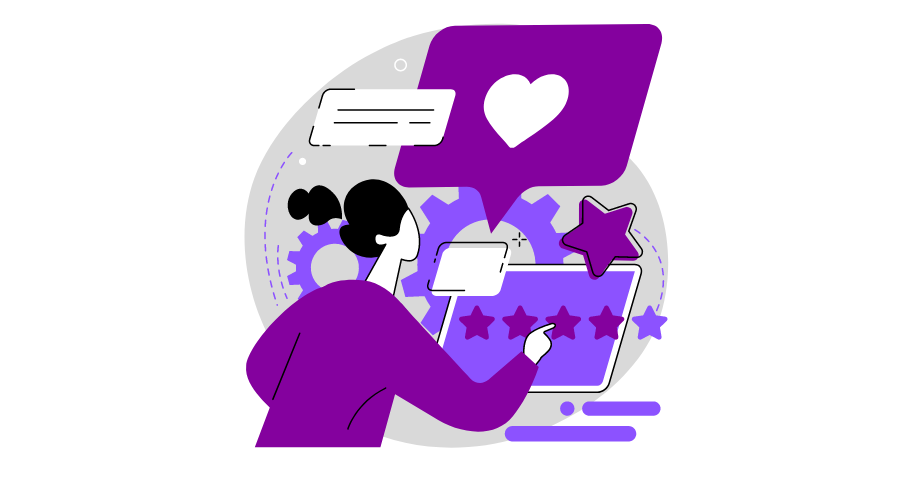 What is the Voice of the Customer (VoC)?
Voice of Customer represents how a company acknowledges and handles user feedback about their experiences and expectations for its products or services.
The term VOC in itself is pretty self-explanatory. It primarily focuses on the customer needs, understandings, and suggestions for product improvements.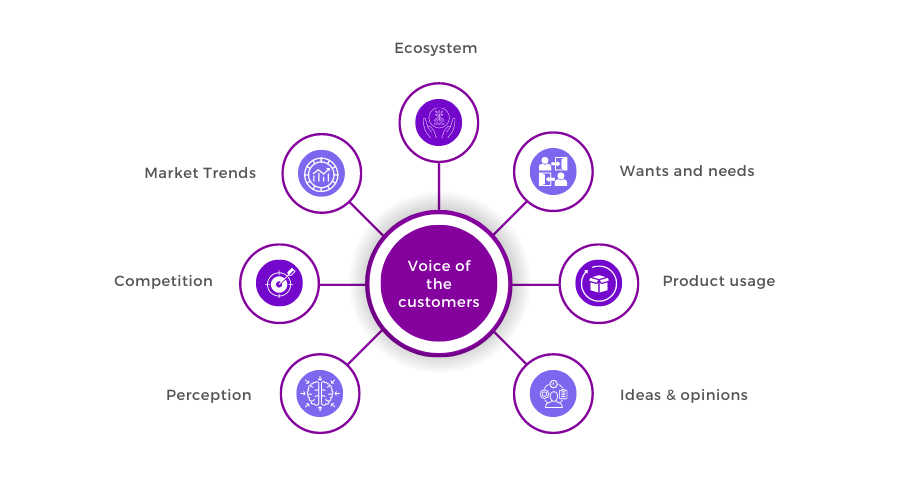 Why Voice of the customer is Important?
In today's era of cutthroat competition, a company must understand what the user needs and design their products according to that. Product managers use many product management tools to meet the needs.
A slight mistake could result in severe consequences for the company as its rival could sense this opportunity and quickly pounce on it.
Thus, to keep up with the ever-changing needs and expectations of the customers, companies must invest some amount of time and money into Voice of Customer programs.
It could give them invaluable insights and ideas and help them get ahead of the prevailing market sentiments.
What are the Most Effective Voice of the Customer Survey Questions?
What is your opinion of the call?
This question, among the commonly asked VoC survey questions, helps firms measure CSAT at the company and agent levels.
These replies can assist uncover gaps in the customer experience and inspire customer service team members to self-correct. Additionally leads to improvements in customer service training programs and more when collected regularly.
Have we resolved your issue today?
This question will assist your organization in determining your first contact resolution (FCR) rate. It is a measure of your customer service team's efficiency and effectiveness.
This indicator informs us how often your organization can fix customer care concerns on the first contact, email, chat, or text a customer sends for help.
Are you going to refer a friend about our company?
Your insights will help you estimate your Net Promoter Score (NPS) and evaluate client loyalty. Thereby you can see how your firm stacks up against the competition.
Have you attempted to resolve your issue utilizing our support articles before contacting us?
Practical self-service tools, such as video lessons, FAQs, and knowledge base content can help customers solve problems independently. Thus resulting in improved customer satisfaction, engagement, conversions, and income.
But how can you know if your clients are aware of these resources and using them?
This question can help you assess your self-service choice utilization and determine how extensively these services get utilized.
How firmly do you agree or disagree with this statement: This company made it simple for me to resolve my problem?
After clients contact your customer care team, follow up with them to determine your company's customer effort score (CES). You'll be capable of assessing the possibility that your clients will continue to do business with your firm based on responses.
So far, how have our products benefited you?
Customers who are loyal to you are undoubtedly the most satisfied. These are essential clients who can assist you with word-of-mouth marketing.
As a result, gathering customer feedback is critical for determining their loyalty and likelihood of recommending your brand or products to their relatives and friends.
Voice of the Customer best practices to achieve VOC success:
Select the appropriate VoC tool:
A good Voice of the Customer tool combines input gathering, analysis, distribution, and action into one platform. Making it simple for a company to comprehend and improve its customer experience.
Some VOC systems focus on assisting organizations in collecting customer feedback. In contrast, others go deeper into unstructured feedback data to provide insights, while others focus on reporting and analysis.
Work collaboratively with other teams:
A successful Voice of Customer (VoC) campaign never gets implemented in isolation. To get the most out of your VoC activities, you'll need to work with other teams/departments. Within your company, generate feedback surveys, host user forums, and implement VoC action items within your company.
Consider alternatives to surveys:
Explore other sources of consumer feedback. Such as social media, complaints, third-party review sites, and so on, as part of your VoC program.
Make your VoC campaigns unique:
To increase client engagement and participation, tailor your VoC initiatives. Through tailored interactions, the goal is to establish strong communication bonds with the customer. It extends beyond simply mentioning their names in the material.
Customers should get enrolled in your VoC program as soon as possible. After having an encounter or interaction with your company.
Do Not Overlook Employee Feedback:
While consumer feedback is vital, you should also solicit input from your employees. Without employee feedback, the company would be ignorant of the customer experience and struggle to achieve favorable business outcomes.
Finish the loop:
In VoC, closing the loop means replying directly to customers who have provided feedback to your company. It includes acknowledging their comments, sharing your campaign results with them, and informing them of what you have accomplished or plan to do with them.
Ending the loop is an ability to demonstrate to participants in your VoC initiative that their input is valued. And also that your company is committed to putting it to good use.
How do you analyze the Voice of the Customer?
Begin by posing the questions:
The first step in developing a successful VoC program is to shift the attention to questions. It will enable you to collect essential data for your company later on.
The questions you ask will assist you in gathering the appropriate data, determining which analytics tools to use and what types of studies to conduct.
We recognize that some questions may not get answered right away when the problem is complex. On the other hand, asking broad questions can help you gather valuable information until you get to the heart of the matter.
Data collection and preparation Alternatively, select the best VoC Insights partner:
The data collection stage begins once you've identified your question – or questions. Remember that the information you gather should relate to your query. You'll be wasting your time otherwise.
Data collection does not have to be complicated. You can accomplish this in various methods, including searching online reviews and social media comments about critical customer experiences.
Analyze the data you've gathered:
You must have reports fresh off the press at this point, ready to assist you in answering the critical questions. Now, imagine you've asked, "How can we better promote our products?"
To figure out the solution, you've probably combed your social media data for consumer feedback and to see what others comment about your company.
Make Inferences:
The next stage is to generate actionable conclusions from your collected and thoroughly studied data. Some revelations will be simpler to spot than others. For example, recruiting more workers to reduce wait times is a reasonably simple task to identify and implement.
However, determining how to sell your products more successfully will be difficult. You can also come upon some unexpected insights.
Take Charge:
Act today. We wish to assure you that your next step will be obvious, but this isn't always the case. Some issues are not receptive to simple solutions.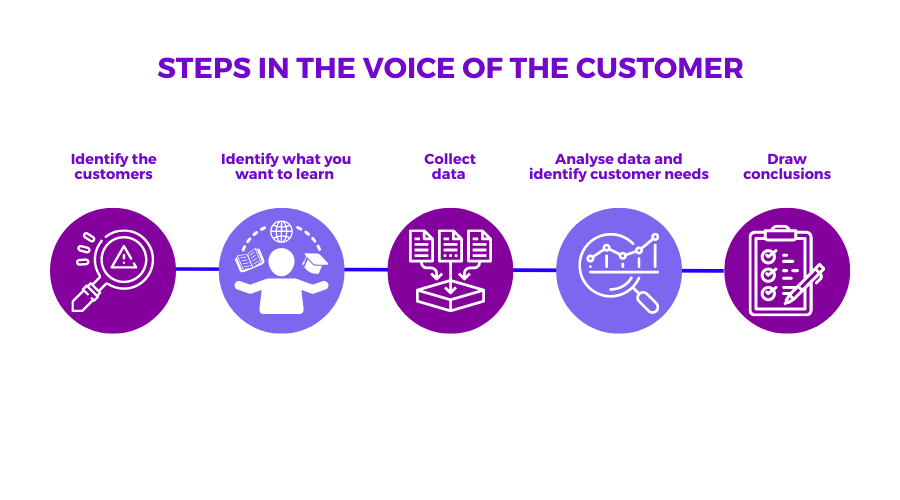 What are the Voice of the customer Examples?
There are various ways to use customer data's voice to understand consumer expectations better, improve products and services, and boost customer satisfaction. Ultimately, increase sales and profitability.
Since there is so much VoC data, it may seem overwhelming, but this is actually in your favor. You need to figure out where to look for it.
Customer satisfaction surveys
Focus groups & interviews
Website traffic
Customer service by email, live chat, and telephone
Customer satisfaction team
Online reviews & social media
You may also be interested in:
FAQs
Any organization can receive VoC data in a variety of ways. Conducting surveys, customer interviews, hosting focus groups, listening to customer complaints, and gathering online reviews. Also, inviting customers to provide a net promoter score for the product is a way to do this.
The first step is to frame the question that you need the customer to answer. The second step is to gather the information from the customers. Next, choose your tools for VoC analysis, followed by a thorough examination of the data presented to you. The next and most crucial step is drawing your conclusions from your data analysis. The last step is to take action as you deem appropriate.
VoC tools are applications, processes, or software designed to receive large amounts of user data about a product. These tools give companies all the information, such as opinions, views, feedback, etc., from the user to analyze and make an informed decision