How to Create a Customer Facing Roadmap (With Chisel)?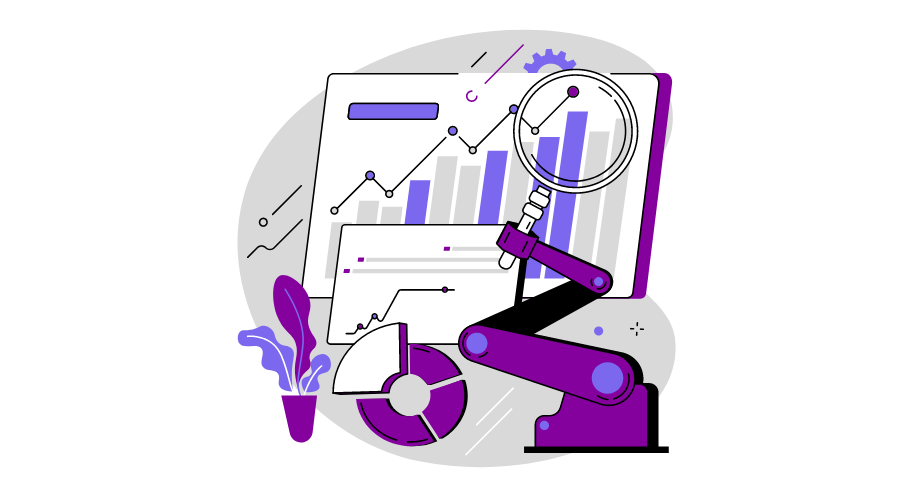 Are you working on a product that customers will use? If so, you need to create a customer facing roadmap.
It will help you communicate your plans to customers and get their feedback. A customer facing roadmap is a document that sets out the goals for a product or service from the customer's perspective.
It is a way of communicating the high-level direction of the product or service to customers. Customer facing roadmap helps them understand how you are developing a product and what they can expect in the future.
Creating a customer facing roadmap can be a helpful way to ensure that all stakeholders are on the same page. That is when it comes to developing a product or service.
It can also help to build trust with customers by showing them that their feedback is getting used to shape the direction of the product.
Creating a customer facing roadmap can be a valuable way to ensure that everyone is on the same page regarding the development of a product or service.
By keeping the roadmap aligned with the company's overall strategy and communicating it regularly to customers, you can help build trust and understanding.
Wondering how to create an effective customer facing roadmap? We got you covered.
Chisel helps create an efficient customer facing roadmap that can help you visualize and communicate your product strategy to your team and stakeholders.
In this blog post, we'll show you how to create a customer facing roadmap using Chisel.
How to Create a Customer Facing Roadmap?
Let's begin looking at how to create a roadmap now that we've established a foundational understanding of what a roadmap is.
Tips on creating a customer facing roadmap.
Establishing the Target Market for Your Roadmap
Creating a customer facing roadmap is a critical step in any business. You can ensure that your roadmap gets addressed toward the requirements and preferences of your target market by identifying the target market for it. This step is crucial in ensuring that your roadmap is successful.
You need to take a few steps when establishing the target market for your roadmap. First, you must understand your client base and what they want/need from your product.
It will help you create a buyer persona, a semi-fictional representation of your ideal customer.
Once you have your buyer persona, you can map their journey from awareness to purchase.
Outlining the Customer Facing Roadmap
Your roadmap should be clear, concise, and easy to understand. It should also align with your company's overall strategy.
When outlining your roadmap, start by identifying your company's overall objectives.
What are you trying to achieve? Once you have your objectives in mind, you can begin mapping out the steps you'll need to take to get there.
Remember, your roadmap is for your customers. Keep them in mind as you're outlining your plans. What do they need to see from you to be satisfied? What are their pain points?
Always Bear in Mind That Your Competitors Might Come Across Your Roadmap
It's no secret that competition is fierce in today's business world. So, when creating your customer facing roadmap, always assume that your competitor will discover it.
While this may seem daunting, it's not that difficult to anticipate what your competition will do.
Simply put, you need to assume that they will be as aggressive as you are in trying to win over customers.
To do this, you must be cautious about what you include on your customer-facing roadmap. Make sure nothing on there could give your competition an advantage.
It is possible always to be one step ahead by anticipating that your competition will discover your customer facing roadmap. You can also keep your company on the path to success.
Make Sure Only To Offer Realistic Promises
It's essential to be realistic when developing your customer-facing roadmap. Promising the moon will only set unrealistic expectations that you may not be able to meet.
It's best, to be honest, and open with your roadmap from the start.
Your roadmap can constantly be tweaked as needed. But it's essential to have a solid foundation to begin with.
A product roadmap software like Chisel can help simplify this process by keeping everything in one place.
Your Roadmap Has To Be Conversational
When you put together a customer facing roadmap, you get valuable market feedback and invite input from the general public.
This way, you can assess what people like and don't like about your proposed project and adjust your strategy accordingly.
Make sure to engage your clients and potential clients who view the roadmap and encourage them to provide feedback.
Send out surveys, set up a comment section on the roadmap itself, and use this information to improve your chances of success.
We have explored some tips and tricks you can use to develop a great customer facing roadmap. You must be wondering why we need to create one. Here are the reasons.
Why Create a Customer Facing Roadmap?
Building a Loyal Customer Base Requires Disclosing Your Roadmap
Customers trust open and honest businesses about any problems they may be experiencing.
By disclosing your roadmap, you are showing your customers that you are committed to transparency and ready to work with them to solve any issues.
In addition, customers appreciate it when businesses provide updates on their progress regarding a product. It allows them to track the development of your product and understand how it is progressing.
Helps Your Customer Base To Make an Informed Decision
Suppose you're in the business of selling products. In that case, it's essential to have a roadmap that outlines the features.
As in the features under development and those you have already planned to launch. It helps prospective customers decide whether to purchase your product over a competitor's.
Of course, sharing your roadmap with customers has its benefits. Not only does it help them make purchasing decisions, but it also helps them plan their purchases. Knowing what's in the pipeline can better budget for future acquisitions.
Hence, start sharing your roadmap with customers if you're not already doing so. It just might help you boost sales.
Opening a Door for More User Feedback for Enhancing Your Product
Like most product managers, you're always looking for ways to improve your product. One way to do this is by sharing your roadmap with your customers.
By sharing your roadmap, you're allowing your users to provide feedback and shape the product.
It is precious for features you have designed to solve common pain points.
And while it may seem counterintuitive, a customer facing roadmap can improve your product by making it more user-friendly.
Therefore, don't be afraid to share your roadmap with your customers—it may just be the best thing you can do for your product.
Customer Facing Roadmap Enhances Customer Engagement
Your roadmap is more than just a tool for your product development teams – it can also be a powerful customer engagement tool.
By sharing your roadmap with your customers, you can keep them updated on your progress and let them know what's in store for the future.
It can help build customer loyalty and keep them excited about using your product.
Of course, you'll want to be careful about how much information you share on your roadmap. You don't want to give away too much and risk spoiling surprises, but at the same time, you don't want to leave your customers in the dark.
Strike a balance that works for you, and keep your roadmap updated as things change.
If you're not already using your roadmap as a customer engagement tool, give it a try. You might be surprised by the results.
How Chisel Helps You Create Customer Facing Roadmap?
If you want to create unique products, you need to have excellent product management software. Chisel is that solution.
To assist you in creating excellent products, Chisel provides the tools you need to build the appropriate product, align your team, and connect directly with customers. Product managers or makers can use various software tools to manage their roadmaps.
Still, Chisel offers the best tools for alignment and communication. With Chisel, you can create products that your customers will love.
The Treeview, Kanban, Release screens, and Timeline view are a few examples of customer-focused roadmaps that are usually employed.
The marketing and sales departments, which deal with customers, can also benefit from this approach. It enables them to inform customers about what your product will include next.
We will discuss every feature of this seamless product management software that helps you create a solid customer facing roadmap.
Treeview
Chisel's treeview offers customers a simple method to navigate and rank the numerous features they are developing and considering including in their product.
It might be challenging to decide which efforts or features in your products should get priority.
You can improve the collaboration and efficiency of the process by using Chisel's treeview. It also seeks to encourage you to resume producing fantastic goods.
Rating Features and Prioritization Score
In Chisel, you can rate any feature in addition to the following categories:
Customer Value, Customer Reach, Revenue, and Effort. You can use a composite prioritizing score of these four distinct categories to compare features quickly.
Customer Value is a rating determined by the usefulness of each feature to the user.
Customer Reach is a rating based on how effective a specific feature will be at luring new clients.
A feature's revenue rating indicates how much of an influence it will have on your company's bottom line.
The effort score is calculated based on how many person-days it will take to finish a work.
Click on the bubble that represents the rating for the category to assign a value for Customer Value, Customer Reach, and Revenue.
You can rate an effort by selecting a figure from the related effort drop-down menu that you believe is suitable for the feature.
If you think one category is more significant than the others, you can change the algorithm for the overall score.
Clicking on the Score wording at the top of the column will reveal this difference and show you a side panel where you can change the values.
After you have rated each feature in a component, the component's average customer value, customer reach, revenue, effort score, and aggregate score will get calculated.
Treeview gives you an easy way to go about and rate the various features you are working on or thinking of adding to your product.
Objectives
Chisel also allows you to add additional objectives that you deem significant. It also lets you quickly assess the relative merits of various features and components.
Releases
In addition to supporting Objectives, Chisel also supports releases. Releases make it simple to plan when you want specific releases to be available and the features you would like in those releases.
Feature Side Panel
Chisel's feature side panel is an excellent tool for monitoring features and their development.
You can assign team members, add labels, add start and finish dates, and attach documents. Additionally, you can quickly examine how a feature received a score across all categories.
Release and Kanban Screens for Tracking Features
Release views let you see which features get scheduled for which release. Kanban views let you see all the features that are currently in progress and what needs to you need to do next.
Kanban
The "Kanban view" is a kanban board that displays which features you are currently working on, which are in progress, and still need development.
Finally, display the features that you have previously completed.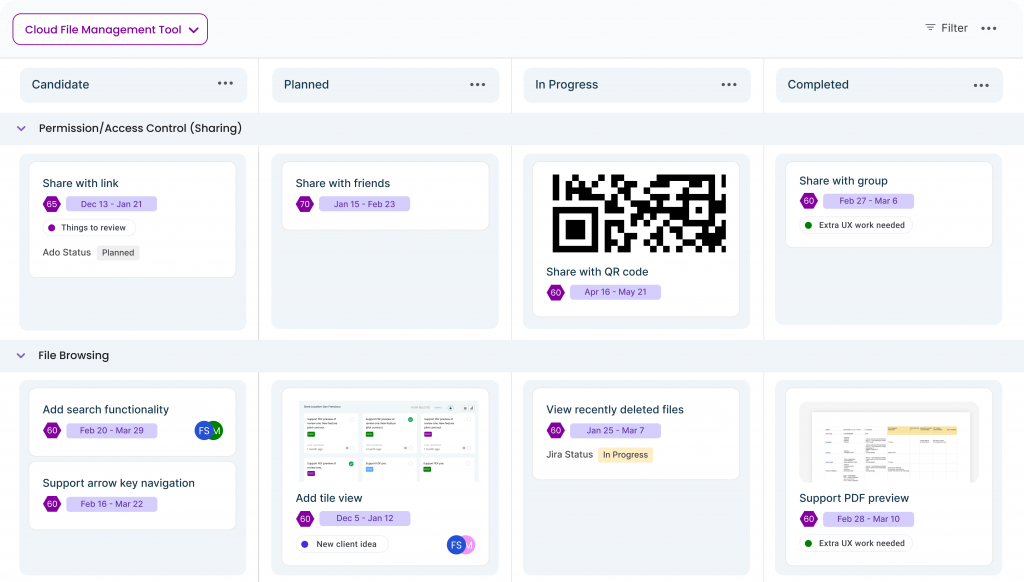 Releases
With the help of the "Release view" tool, you may view the features included in each release cycle in a card-like format. Moving features between releases is hence made fast and simple.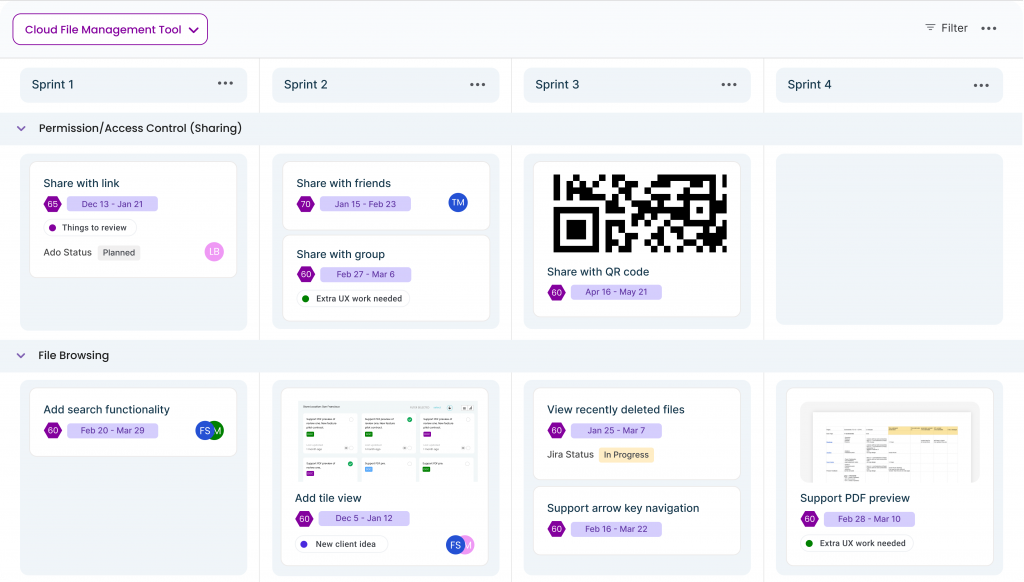 Timeline View To Stay Ahead of Time
Suppose you're looking for a way to understand better how time got allocated to your last project. In that case, Chisel's timeline view can help. Timeline View is a calendar that displays which features you worked on during specific periods.
Having a clear timeframe is essential for any business, and Chisel's timeline makes it easy to see how your project is progressing. Plus, the timeline is adaptable, so you can make changes as needed.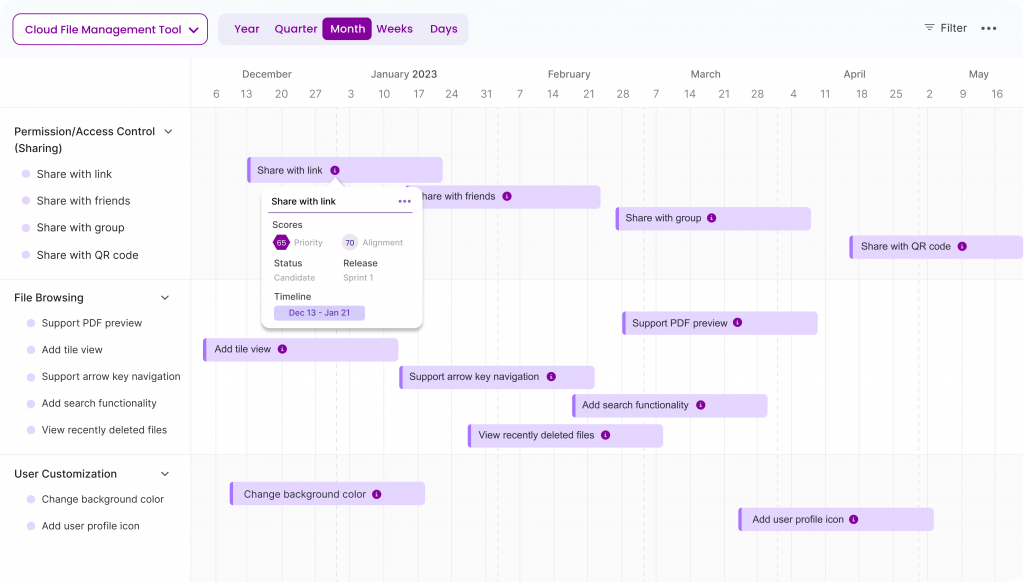 Useful Things to include in your Customer Facing Roadmap
If you're creating a customer-facing roadmap, a few key elements you should include to ensure its usefulness.
Product Vision
First and foremost, your roadmap should articulate the product vision. What is the overall mission of the product? Why does it exist?
Once the vision is clear, you can start diving into the specifics of what you'll deliver and when.
But it's not enough to list features – you also need to explain how each contributes to the overall vision. What need does it address? How will it improve the user experience?
Including this level of detail will help your roadmap serve as a valuable tool for internal and external stakeholders.
It will ensure that everyone is aligned on the product's goals and understands how their work contributes to the bigger picture.
Public and Internal Product Roadmap
We have learned that you should tailor your roadmap to your audience. Still, ensuring that your internal and external stakeholders have visibility into your product roadmap is essential.
It will help ensure that everyone is in sync and that there are no surprises down the road.
Adding Release Notes
One of your primary duties as a product manager is keeping a product roadmap current. Your product's most recent modifications should be reflected in your roadmap so that your customers always know what's coming next.
Constantly adding updates to your release notes is one of the best methods to ensure your roadmap is continuously current.
Customers can see what modifications you are making to the product and when they should anticipate seeing them.
An excellent strategy to keep your customers informed and interested in your product is to include updates in your release notes regularly.
Additionally, it guarantees that your roadmap is always accurate, allowing you to continue to plan and carry out your product strategy efficiently.
Highlight Key Features
You should always highlight the most important features of your product. It will ensure that your team is aware of the essential components of your customers and that they are constantly working on improving these features.
It is also necessary to be clear about how your product solves customer problems.
Things Not To Include in Your Customer Facing Roadmap
It would help if you left a few things off the customer facing roadmap to avoid confusion and frustration.
One of the most essentials aspect to remember is that your roadmap is not a list of features you plan to add to your product. Instead, it should be a high-level overview of the key initiatives you plan to work on shortly.
Here are a few things to never include in your customer facing roadmap.
Never Include Exact Dates on Your Customer-Facing Roadmap
While it can be helpful to know when certain features will be released, including exact dates on your roadmap can create a lot of pressure and expectations.
If you miss a release date, it can reflect poorly on your company. Even if you hit the release date, your customers may be disappointed if the feature is not everything they expected.
It's important to remember that your roadmap is a guide, not a set-in-stone plan. Things will inevitably change, and that's okay. Your roadmap should be flexible to allow for those changes.
Hence, when creating your customer facing roadmap, leave out the exact dates. Focus on the bigger picture and let your team have the flexibility to make changes as needed.
Avoid Publishing a Detailed Feature Description
You should keep a few things out of a customer facing roadmap if you're planning to release one. Starters, giving competitors too much information regarding features in-depth could give them new ideas.
Generally, expect that whatever you disclose will be seen by your competitors.
Furthermore, giving up too much information increases the chance that you'll commit you can't maintain. It's crucial to be realistic about what you can accomplish during product development because factors frequently change.
By keeping these elements in mind, you may develop an instructive customer facing plan without being unduly revealing.
Mentioning Details Such as the Name of Team Members or Revealing Their Contact Information Is a Big No-no
Your clients won't care about the specifics of which team will work on a given feature or what swim lane you've chosen to group a particular set of projects into.
This kind of information will only increase the roadmap's unneeded complexity, make it more challenging to understand and lessen the excitement you were hoping to generate.
Instead, please focus on the big-picture aspects that will truly matter to your clients and help them see the value in your product or service.
Final Thoughts
Creating a customer facing roadmap can be a great way to improve your business. After all, it can help you better understand your customers and their needs.
Additionally, it can help you keep track of your progress and ensure that you meet your goals.
Are you looking for a way to create a customer facing roadmap? If so, then you should check out Chisel.
As we discussed above, Chisel is among the most seamless product management tools that can help you create a roadmap that is both customer facing and easy to use. Why not give it a try today?