Customer Retention: Surefire Strategies To Retain Customers
July 14, 2022
Max 7min read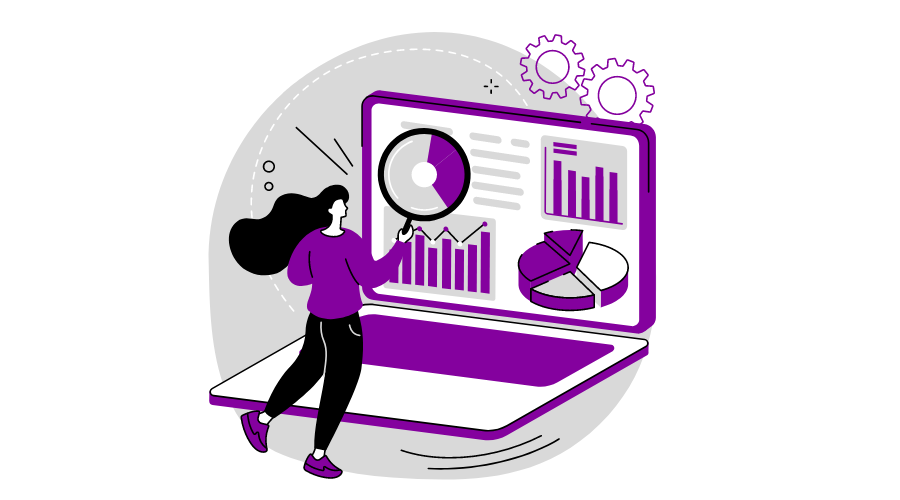 Definition of Customer Retention
In marketing, customer retention motivates existing consumers to buy more products or services from your company or stay with the company.
What Is Customer Retention?
When starting a company, you don't expect money to come in from one-time purchases. When your customers keep purchasing from you, your cash flow increases.
Binge-watching is why Netflix has so many users. They keep watching.
Customer retention is one of the most important aspects of any business. Without customers, a company cannot survive.
So, what is customer retention, and how can you keep your customers coming back?
Customer retention means retaining existing customers and encouraging them to continue doing business with a company.
Good customer retention strategies help keep customers happy, engaged, and loyal. In turn, this can lead to increased sales and profitability.
Ultimately, customer retention is all about meeting and exceeding customer expectations.
By providing a great product or service and always putting the customer first, you can encourage customers to stick with your company for the long haul.
Why Is Customer Retention Important?
It's simple. You don't have a business if you don't keep your customers.
That's why customer retention is so essential. It's the key to keeping your business alive and thriving.
Customer retention is vital for any business because it costs less to keep a customer than acquire a new one. Thus, customer retention becomes another great strategy to decrease customer acquisition costs.
Additionally, retaining customers can help business owners better understand their target market and what they need or want.
Here are some of the significant reasons why customer retention is essential:
Repeat Purchases
Customers who are loyal buy more frequently and in larger amounts. They understand that your business can offer the goods and services they require.
They believe that your company is more likely to be receptive to their needs and deliver quality service as a valued customer than your competitors.
Thus, higher customer retention rates provide you with a competitive advantage.
Lesser Marketing Cost
Customers that stay with your company know our products and services. Customer retention cuts down on marketing costs like brand recognition and product advertising.
Familiarity with your products and services also minimizes the support your customers need.
Lesser Price Sensitivity
Returning clients aren't as price-conscious; they know your company solves their problems and are willing to pay a premium.
For example, businesses that adopt the Freemium model grow their revenue through customer retention.
Word-of-Mouth Marketing
Repeat clients are more likely to recommend your brand or product to their friends and family. Customers love to share excellent service or a product that makes their lives easier with others.
Word-of-mouth marketing also lends credibility to your business.
This has an indirect positive impact on your market penetration strategy.
Product Feedback
Customers that stay with your business provide constructive insight. They know areas you can improve because they make frequent purchases from your company.
Ask your repeat customers how your company can better serve them proactively. This may lead to fresh ideas that you were unaware of, such as a suggestion to develop a feature to complement an existing one.
You may opt for product management tools like Chisel, which constantly offers product feedback features to stay in touch with your customers.
Here's a free-forever version of the best product management software for you.
And voila! We're pretty sure you understand how necessary customer retention is by now.
What Factors Affect Customer Retention?
Now that we know all about customer retention and its importance, let us tell you what influences it.
Customer Satisfaction
One of the most important factors affecting customer retention is customer satisfaction.
If your customers are happy with your product or service, they're more likely to continue doing business with you. On the other hand, they're more likely to take their business elsewhere if they're dissatisfied.
Customer Experience
Another critical factor is the level of customer support you provide.
If your customers have a good experience dealing with your customer service team, they're more likely to stick around. Conversely, if they have a terrible experience, they're more likely to take their business elsewhere.
Drawing your customer journey map and planning a robust customer success strategy can help build a better customer experience.
The user experience is part of the customer experience in the SaaS industry. If your UX or UI design confuses the user, why would they want to come back?
Product Price
We know this one's probably obvious, right?
Additionally, the price of your product or service can impact customer retention. If your prices are too high, it may tempt customers to switch to competitors.
Conversely, if your prices are too low, customers may wonder if your product or service is of good quality.
Customer Loyalty
Finally, the level of customer loyalty can also impact retention rates.
If your customers are loyal to your brand, they're more likely to continue doing business. However, they may be more likely to switch to a competitor if they're not faithful.
Starbucks is an excellent example of a company that uses customer loyalty programs to retain customers.
All of these factors can impact customer retention. By keeping these factors in mind, you can work to improve your retention rates.
How To Calculate Customer Retention Rate?
The customer retention rate is a metric that measures the percentage of customers who continue to do business with a company over time.
There are a few different ways to calculate customer retention rates.
But the most common is to take the number of customers at the end of a period and divide it by the number of customers at the beginning. You then multiply it by 100 to get your percentage.
This will give you the percentage of customers you retained over that period.
Let's look at the customer retention rate formula with an example.
Suppose you're a SaaS product manager who wants to calculate this quarter's customer retention rate.
You had 300 customers who signed up for the premium version of your AI writing tool until 1st July. Now, on 30th September, you have 230 customers.
In that case your customer retention rate will be as follows: ( 230 / 300 ) * 100 = 76%
That was easy, wasn't it? You can try it yourself now!
What Are the Strategies To Improve Customer Retention?
There are several strategies to improve customer retention. Here are some customer retention strategies that you can consider:
Offer Incentives
One way to keep customers coming back is to offer them incentives.
This could be in loyalty programs, discounts, or simple thank-you messages.
Anything that makes your customers feel appreciated will likely keep them returning for more.
Improve Customer Service
If your customers aren't happy with your product or service, they'll not stick around for long.
That's why it's so essential to offer excellent customer service.
Respond to customer queries and complaints quickly and efficiently, and always aim to exceed expectations.
Keep Things Fresh
If your customers are getting bored, they will look for something new. So, it's essential to keep things fresh.
This could mean adding new products and services, running promotions, or changing your regular communications.
Build a Community
Make your customers feel like they're part of something bigger.
Build a community around your brand, and give your customers a platform to connect. This will make them feel more invested in your company and more likely to stick around for the long run.
Get Personal
Finally, don't forget the personal touch. Teach your team to treat each customer individually, and take the time to get to know them.
This will help you build better relationships with your customers and make them more likely to stick around.
Netflix uses neuromarketing to understand their customers better and offer personalization.
Even if you cannot invest in expensive research tools, you can opt for free product management tools like Chisel.
With such tools, you can simply track what your customers think about your product and how you can improve it for them.
What Are the Examples of Customer Retention Strategies?
Finally, let's get some practical perspective. Here are some real-life examples of customer retention strategies:
Apple
Apple is notorious for its exceptional customer service and its loyalty program, AppleCare, is a big part of that.
AppleCare gives customers extended warranty coverage and 24/7 technical support, which provides them with peace of mind and makes them more likely to continue using Apple products.
Amazon
Amazon Prime is a perfect example of how to keep customers coming back.
Prime members get free two-day shipping, exclusive deals, and access to Prime Video and Prime Music for a yearly fee.
This loyalty program has been incredibly successful, with Amazon now having over 100 million Prime members worldwide.
Starbucks
Starbucks has a robust rewards program that keeps customers coming back.
Customers can earn "Stars" for every purchase through the Starbucks app, redeeming them for free drinks and food.
Additionally, Starbucks frequently runs promotions that give customers extra Stars for purchasing certain items.
These are some very innovatively executed customer retention strategies. It's now time for you to do so!
Check out how Chisel can help you stay engaged with your customers and build excellent products!
FAQs
A good customer retention rate is as close to 100 as possible. You must aim for 100, and you'll barely manage to get close enough. Understanding your industry benchmarks for customer retention is always good, and the churn rate is always reasonable.
Uber, Coca-Cola, Apple, and Amazon Prime have some of the best customer retention rates in their industry.