Competitive Differentiation: Definition and Strategy
May 30, 2023
Max 4min read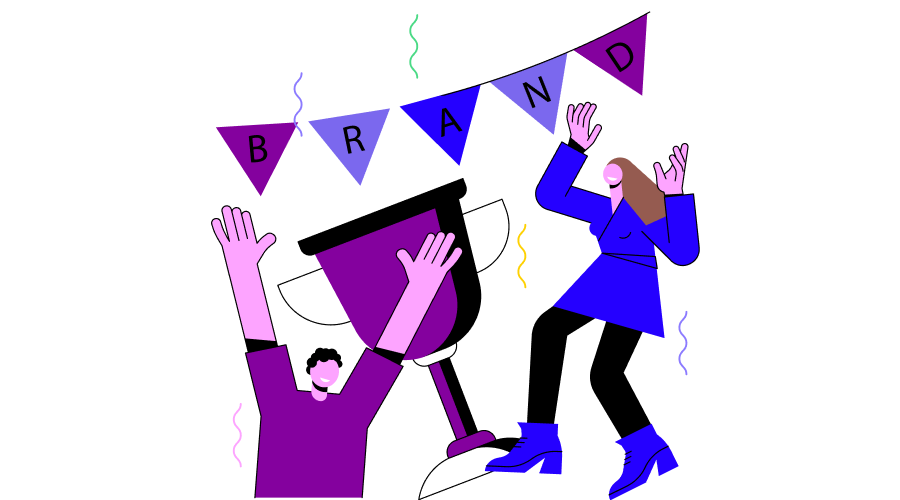 In today's highly competitive business landscape, standing out from the crowd is essential for success. To do so, companies must find ways to differentiate themselves from their competitors. This is where competitive differentiation comes in – identifying and highlighting the unique qualities that set your business apart from others in your industry.
Competitive differentiation can take many forms, such as offering a superior product, providing exceptional customer service, or utilizing innovative marketing strategies. 
Regardless of your approach, the key is to recognize and use your strengths to your advantage. Doing so can create a strong brand identity and build a loyal customer base.
But competitive differentiation isn't just about marketing tactics – it's about creating customer value.
Learn all you need to know about competitive differentiation here.
What Is Competitive Differentiation?
Competitive differentiation definition:
Competitive differentiation refers to a product, service, or company's unique aspects that set it apart from its competitors in the market. It is the process of creating a distinct competitive advantage by offering something different, better, or more valuable than other companies. The goal of competitive differentiation is to make a company stand out in the crowded marketplace, attract and retain customers, and eventually increase revenue and profitability.
Comparison With Competitive Advantage
Competitive differentiation and competitive advantage are two essential concepts in business strategy.
Competitive differentiation is about what makes a product, service, or brand unique compared to competitors.
In contrast, the competitive advantage is the strengths or advantages a company has over the competitors that make it possible to succeed in the market.
While both are important for business success, competitive differentiation can be easier to achieve than competitive advantage, which often requires significant investments in research and development, marketing, and other areas.
Identifying Sources of Competitive Differentiation
Competitive differentiators are the unique factors that set a company's products or services apart. There are several sources of competitive differentiators, including:
Brand Differentiators
The brand is the face of the company, and it plays a vital role in creating a unique identity and reputation. A strong brand can help a company differentiate its products or services from its competitors and create a loyal customer base.
Service Differentiators
Providing exceptional customer service can be a powerful competitive differentiator. Companies that put extra effort into meeting their customer's needs and providing a positive experience can build a loyal customer base and differentiate themselves from their competitors.
Product Differentiators
A company's product design, features, and quality can be a strong competitive differentiator. Companies that innovate and create unique products can differentiate themselves from their competitors. They are also able to attract customers looking for something new and different.
Price Differentiators
Offering competitive prices can be a powerful competitive differentiator. Companies that can offer products or services at a lower cost than their competitors can attract price-sensitive customers and differentiate themselves in a crowded marketplace.
Technology Differentiators
Companies that invest in cutting-edge technology can differentiate themselves from others by offering innovative products or services that aren't available elsewhere. Advanced technology can help companies improve their operations and provide better customer experiences.
Channel Differentiators
Companies that offer products or services through unique channels can differentiate themselves from their competitors. For example, a company that successfully sells its products exclusively online can differentiate itself from competitors with a physical store presence.
Developing a Competitive Differentiation Strategy
Two important things to remember when developing and implementing competitive differentiation strategies are knowing your customers and, even more essential, knowing your competitors.
Start by identifying your target market and try to understand their needs, preferences, and behaviors. This will help you tailor your differentiation strategy to meet their specific requirements.
Conduct customer and competitor differentiation analysis to get to know your customers and competitors better.
Identify your unique value proposition. Jot down the key benefits your products or services offer that differ from your competitors. This could be anything from superior quality, better customer service, lower prices, faster delivery times, or more innovative features.
Communicate your unique value proposition. Once you have identified your unique value proposition, communicate it effectively to your target market. This could include using targeted advertising, social media marketing, or other marketing channels to emphasize your unique features and benefits.
Finally, it is essential to regularly innovate, ideate and improve your products or services to be one block ahead of the competition. This involves investing in research and development, listening to customer feedback, or keeping up with industry trends and advancements.
Examples of Companies With Strong Competitive Differentiation
Tesla is another example of competitive differentiation. Tesla has revolutionized the electric car industry with its sleek design, long-range capabilities, and advanced technology. The company's focus on sustainability and renewable energy has also set it apart from traditional car manufacturers.
FAQs
Competitive differentiation is important in business for several reasons:
To stand out in the market

To increase customer loyalty

To justify premium pricing

To create a barrier to entry
Yes, small businesses can achieve competitive differentiation through various strategies such as offering unique products or services, providing exceptional customer service, focusing on a niche market, leveraging technology, or adopting sustainable practices.
Without a clear competitive differentiation strategy, a company may struggle to stand out in the marketplace, leading to reduced customer loyalty, price competition, and decreased profitability.