Difference Between a Product Manager and a Business Analyst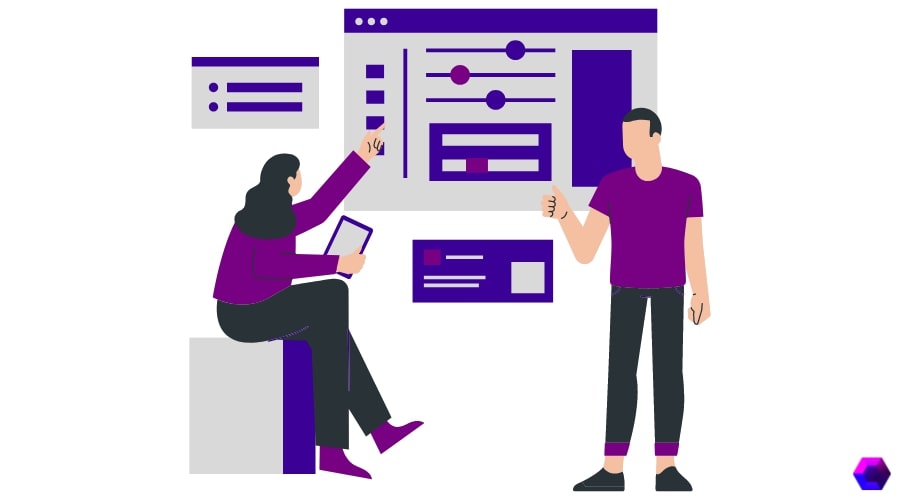 In the tech industry today, job titles are expanding. New job roles keep emerging and overlap with each other.
The google search engine looks like, "Difference between XYZ and ABC." While new job roles emerge, most people are still unaware of them.
The product manager is one such job title. Product managers play a diverse role in companies.
Their responsibilities cover a little bit of every function. This naturally leads to confusion for people with no experience in the field.
A product manager is often confused with a business analyst due to their overlapping roles.
Although the role of a product manager and business analyst demands a similar set of skills, their responsibilities are distinguished.
The use of these job titles depends on the company. Smaller companies cannot afford to have both positions filled in. So, a product manager and business analyst function may merge.
However, as the company grows, the corporate structure becomes more intricate and efficient. This leads to better product and business delivery.
In this post, let us look at the difference between a product manager and a business analyst. We will look at their roles and responsibilities, skills, and salary.
Let's begin!
Who is a Product Manager?
The product manager's role is a relatively recent one. If you asked someone about product management today, most people would still think of project management.
A product manager analyzes the consumer demand and bigger company goals that a product or feature will satisfy.
They summarize what success looks like for a product and coordinate a team to make that vision come true.
A product manager is concerned with technology, user experience, and business. Product managers are actively involved in analyzing a client's needs and what would help retain users resulting in an eventual sale.
Their tasks frequently involve communicating with stakeholders, creating user personas, and use-case scenarios.
A product manager is the one that leads the team that converts ideas into reality with a practical roadmap.
Unlike a business analyst, a product manager works from an outside perspective. This means that they are concerned with the market and customer needs.
They gauge what the user wants and work on providing a solution for it.
Additionally, they are responsible for the product vision, strategy, and roadmap. Product managers work by aligning cross-functional teams.
They use various product management tools to achieve tasks, such as a kanban board.
All in all, a product manager is more concerned with a product than with the company. Although, they do align product objectives with company objectives and keep the big picture in mind.
Well, that's an overview of a product manager. Let's look at who a business analyst is.
Who is a Business Analyst?
Business analysts are responsible for gathering, integrating, and assessing enormous amounts of data from various sources,
They also manage documentation, mechanisms, processes, and stakeholders.
Business analysts present the stakeholders' requirements, conduct uniform investigations, and resolve issues.
They create systems or products that the company will use to improve internal team processes.
While product managers look at the 'why' of a product, business analysts consider the 'how.' They are primarily concerned with how product development will affect the company.
Business analysts examine the business challenges that every new product development could face.
Unlike product managers, business analysts look towards the inside. These individuals concentrate their efforts within the organization.
They look at procedures, practices, and internal systems to see how they can effectively support what the product manager demands on behalf of customers.
Business analysts also discover possibilities to automate operations and services in more IT-centric workplaces.
They may use various business analytic tools and software. These differ from product managers' software.
You have a basic idea of how a product manager differs from a business analyst, right? The key is in the titles themselves.
A product manager is product-focused, while a business analyst is business-focused. They may perform the same roles but for different goals.
With that, let's proceed to look at their roles and responsibilities.
Roles and Responsibilities of a Product Manager
The product manager is the individual responsible for the success of a product.
They are in charge of the product from conception to delivery. They must ensure that it meets the needs of the customer and the company.
The product manager is a critically important role in any company that makes or sells products. They are responsible for product delivery and need to have a wide range of skills to be successful.
The product manager's responsibilities include:
Defining the product vision and aligning it with the company vision.
Gathering and analyzing customer requirements.
Acts as the mediator and empathizer between customers and products.
Implementing customer ideas onto the product roadmap.
Working with engineers to build the product.
Testing and QAing the product
Planning and overseeing the development process.
Managing the launch and post-launch phases.
Identifying issues and conducting iterations.
Communicating with stakeholders about their product expectations.
Aligning cross-functional teams.
Prioritizing features.
Running beta and pilot tests to qualify semi-final products.
Acting as the product leader at the company level.
Contributing information for product pricing.
Mentoring associates.
Phew! That looks like a tough job. No wonder the job demands a highly skilled and all-rounder individual.
Now, let's look at how the responsibilities of a business analyst differ from a product manager.
Roles and Responsibilities of a Business Analyst
The business analyst is responsible for understanding a project's business and functional requirements and documenting them clearly and concisely.
They work with stakeholders to understand the needs of the business and then work with the development team to create a plan that meets those needs.
The business analyst is also responsible for testing and verifying the accuracy of the requirements and ensuring that the end product meets the needs of the business.
They often act as a liaison between the business and the development team. They are essential for ensuring that projects are completed on time and within budget.
The responsibilities of a business analyst may vary depending on the organization but may include the following:
Analyzing an organization's business needs and developing IT solutions that meet those needs.
Planning and designing new IT systems or enhancements to existing systems.
Documenting business processes and ensuring that all stakeholders understand them.
Testing new IT systems before they go live.
Creating a detailed business analysis, outlining problems, opportunities, and solutions for a business
Budgeting and predictions.
Planning and tracking.
Variance analysis.
Pricing.
Reporting.
Determining and reporting business requirements to stakeholders.
According to Bob Gregory, a director at Bellevue University's business analysis and management degree program, the business analyst's critical tasks include recognizing and prioritizing technical and functional needs.
That's another set of demanding responsibilities. But clearly, they differ from that of a product manager.
Like we love to say here at Chisel, with great responsibility comes great power. In the form of greens.
Let's look at some salary figures for product managers and business analysts.
Product Manager Salary
According to Glassdoor, the average salary of a product manager in the U.S. is approximately $115,000 annually.
The lowest reported salaries are around $80,000 a year for freshers. Google, Amazon, and Meta are a few top-paying companies for product managers.
The highest package can go as high as $300,000 per year. The highest-paying location for product managers is San Franciso. Well, that screams "Silicon Valley!"
Well, those are some big numbers. Let's take a look at the business analyst's pay.
Business Analyst Salary
The average base salary of a business analyst in the U.S comes to around $90,000 per year.
The lowest reported salaries are around $70,000 annually for freshers, and the highest pay can reach up to $200,000 per year.
Intuit, Fannie Mae, and Microsoft are among a few of the highest-paying companies.
The best locations for business analysts in salary packages are San Francisco, New York, and Chicago. These cities have a 14%-24% higher than average pay scale.
Suppose you're someone with diversified technical and business skills aspiring for an IT-company role. In that case, knowledge about these two job titles will help you get some clarity.
As a bonus, let's look at some famous product managers to inspire you.
Leading Product Managers
As an aspiring product manager, you must gauge the wisdom of your predecessors.
Here are a few leading product managers-
Jules Walter (Slack)
Jules Walter, a former director of product at Storefront, the world's top short-term retail platform, is now a product leader at Slack.
He is a seasoned startup and growth counselor with degrees from Harvard Business School and MIT. He is also the president of CodePath.org and co-founder of BlackPMs.com.
Follow him on Twitter, and don't forget to read his Medium posts.
Ken Norton (Google)
"I deliver the doughnuts!" is a famous line by Ken Norton.
If being recognized by such a quote sounds strange, you may learn the anecdote behind it in his book. It's called 'Leading Cross-functional Teams Always Bring the Donuts.'
He has worked as a Product Manager at Google for nearly a decade, earning him the fame and experience he presently has.
He is an expert in technology and startup businesses. He is an excellent role model for those who want to make their name in product management.
He now oversees Google Ventures. He's one of the product managers to keep an eye on.
Julie Zhuo (Facebook)
She identifies herself as a foodie, a gamer, and a writer.
Julie Zhuo worked for Facebook for 14 years, 11 of them as head of product design and management.
As a specialist in design and product management, she is one of the most noteworthy people regarding how we view UX-centric products.
She currently runs her own business, Inspirit. We strongly suggest you read about her success story.
Well, those were our top 3 leading product manager recommendations.
Similarly, you can find an unending list of great business analysts doing proficient work at their companies worldwide. What're you waiting for? Follow these great leaders!
Conclusion
Product managers and business analysts share the talents and responsibility for bringing the project to a successful end.
Both positions ensure that the desired organizational results are met.
Both responsibilities involve evaluating, prioritizing, assisting the work of internal teams, gathering stakeholder input, and providing consumer feedback.
The duties are, nonetheless complementary.
In other words, the product manager will be in charge of filling backlogs. At the same time, the business analyst will be in command of communicating the expectations of the internal team.
Consider how your firm sees roles and duties before getting to the bottom of the distinction between a business analyst and a product manager.
Simply put, while one is technical, another is experiential.
If you're keen on learning more about the product management world, don't forget to check out our blog.
And before you leave, we'd like to gift you this free trial of the #1 agile product management tool. Try it today!