How to Manage and Meet Multiple Project Deadlines?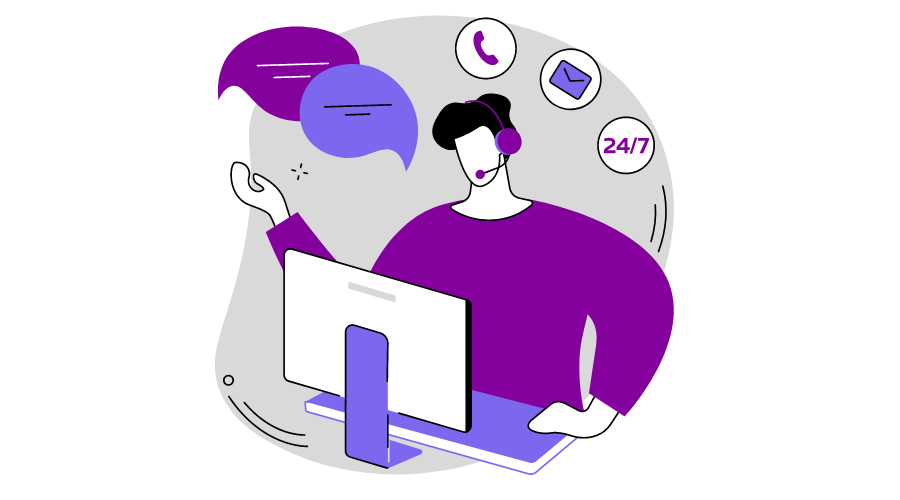 Imagine a scenario where everyone in the office is at their desks on a Friday morning, stressed and heads and eyes glued to the computers to finish that one project that is due that evening.
The above is a typical situation for any team member if product managers do not use relevant product management tools.
Deadline, the term as much as it sounds very dreary, is an essential aspect of any project's success.
We all know managing deadlines and ultimately being able to meet them is an achievement in itself. However, if we didn't have a set of deadlines in place, there would be no direction, urgency to complete work on time, and no motivation either.
A set of scheduled tasks gives a path to follow, and delays, failure to follow up, or missing deadlines will be out of the question. If you didn't have a deadline, you would waste thousands of dollars and hours.
If missing deadlines has always been your concern and you are searching for a one-stop solution, you are at the right place.
We will dive deep into why meeting deadlines is an essential factor, reasons why teams miss important deadlines, and how Chisel assists you in deadline management.
Why is meeting deadlines so Important?
If you want to succeed as a product manager, meeting deadlines is crucial, among many others.
Now let's look at why deadlines exist in the first place.
They aren't just a date that you mark on a calendar. They are there to show the business the growth it must achieve in some time to reach its definition of success.
If your company misses several deadlines at a time, the business probably won't grow. The reason is that the projects your teams will then be able to produce will be much lesser.
Some of the crucial reasons why meeting a deadline are necessary for the growth of your projects are:
The Market Timing
There are specific market standards and timings that you must be able to match to get success for your products.
When you ship a product when the market is growing, getting recognition for that product will be easier than at any other time.
Setting the Bar of Expectations
When you set certain expectations from your team members, they will most likely meet them. If you fix the deadline for the coming Friday, the team is more likely to work toward it.
Setting Precedents
We know how dependency works. If you give your team a month to complete one project, the next project in line will begin only after one month.
Deadlines are the torch bearers of your project. They will show you the exact timing of the beginning of the next project.
Budgeting Well
Time is money. And deadlines are the books that keep a record of the money spent on projects. When you have fixed deadlines for a project, the project's cost also gets fixed. However, if the project is prolonged, then the project's cost keeps increasing.
Motivating factor
Your team may keep procrastinating on the project if there is no deadline. Some people won't perform well if they aren't binding by a deadline. Teams' overall performance improves when you can set deadlines, which also puts positive pressure on them to perform.
Top reasons for not meeting Project Deadlines
Now that we are aware of why meeting deadlines is a necessary feat let's dive into the top reasons why teams miss deadlines even after knowing its consequences!
The missed deadlines can be disastrous to the business, and customers may lose trust.
No one would ever miss a deadline if we lived in an ideal world. However, with many responsibilities shared by teams adhering to deadlines and eventually unable to meet them, call us to take a closer look at it.
You need to analyze the way teams' responsibilities and deadlines are structured.
Below we discuss some of the top reasons for not meeting the project deadline:
Scope Creep
Scope creep in a project is the biggest hurdle for any team member. Imagine a situation where you ordered cupcakes for tomorrow but make changes at the last minute and ask for a wedding cake too. It is next to impossible for the baker to make necessary changes and bring the order to the table.

The same goes for the product roadmap. If what you decide takes so and so time, and you have a fixed deadline. However, if you continuously make changes or ask for more features to add to the product, team members will never be able to meet deadlines.
We advise you to plan and ask for features at the beginning of the project itself. This way, your team members can deliver the 'initial ask' on time.
Procrastination
To begin something new is a difficult task for most brilliant minds out there. It can be an overwhelming task.
Therefore if your team struggles with procrastination, they aren't alone. When the tasks begin late, they are bound to finish late too.
The solution to this problem is to break down the project into smaller tasks. These smaller tasks will have their deadlines.
When you have the deadlines for smaller tasks in place, team members won't pretend that the deadline is far away in the future for a big task.
This will also motivate them to work harder and faster for smaller tasks.
Miscommunication
One of the other top reasons why teams aren't able to meet deadlines is the miscommunication issue.
There are miscommunications often in daily life. However, a miscommunication in the product management process where teams miss deadlines is a big issue that PMs must address.
When you have a product management tool like Chisel, with its team alignment and other notable features, miscommunication won't ever be a problem.
Throughout the time of the project, go through the project parameters. Before starting the project, cross-check the project parameters once before giving a green signal to get going.
The other reasons for deadline management failure are:
Not setting clear deadlines
No clarity on the responsibilities of each team member
No authority to maintain accountability
Not getting dependencies done on time from other team members/departments
How can Chisel assist you in Deadline Management?
If you are a product manager leading a project now and then, you would have multiple project deadlines.
Prioritizing overlapping is the best way for you to manage multiple projects. Allocating resources and using product management platforms like Chisel to schedule your team's responsibilities can help.
With Chisel, managing workflows and multiple deadlines is a smooth process because of the tools like timeline, dependency management, and milestones.
When you have multiple deadlines having to prioritize comes first. Chisel's alignment matrix is a great tool for that too.
Let's discuss the tools to help you stay on top of deadlines daily.
Timeline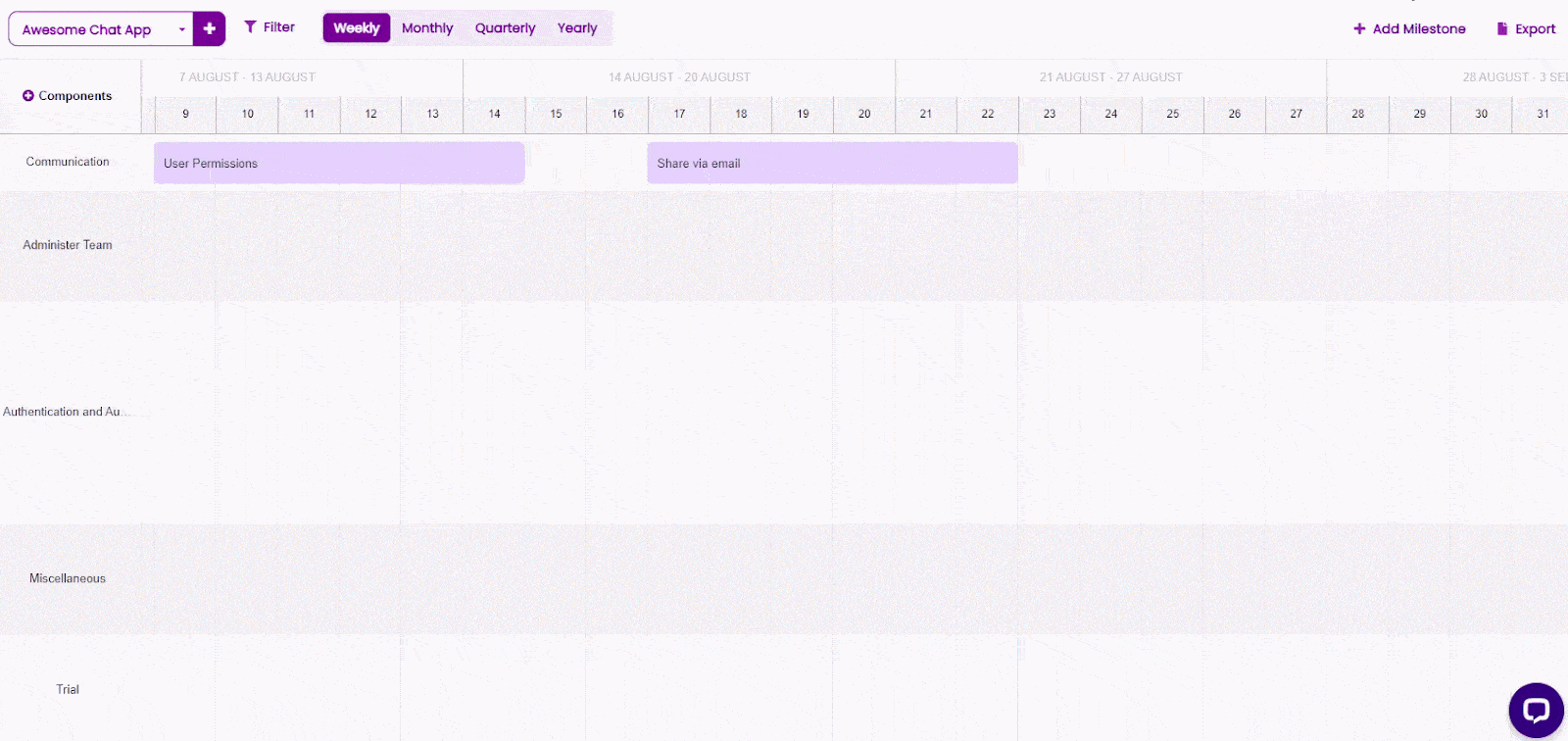 Chisel's timeline feature in the roadmap pillar lets you add timelines for your tasks by giving it a relevant name and description and choosing the date range.
With the zoom-in and out option, you can get a birds-eye view of your project: weekly, monthly or quarterly.
Viewing the kanban and release status, alignment, and priority score in the timeline view for a particular feature also becomes easier.
Set a date range but wish to change it? Simply extend, shrink or drag your tasks from one place to another.
Collecting a report is even simpler because the export option lets you download the timeline work to share with the relevant stakeholders.
The best thing is that the timeline tool is not complicated. Instead, it has an intuitive interface. No need to have a tutorial session, just get started right away.
Learn more about how to use the timeline view.
Milestones
To ensure your projects are staying on track, use milestones. In Chisel, milestones show up at the top of the timelines.
You can think of milestones as signposts you must hit to reach the final deadline you have marked.
Milestones can be a spotlight for you to approve meetings, decisions, and deliverables.
Get to know how to use milestones in timelines.
Dependencies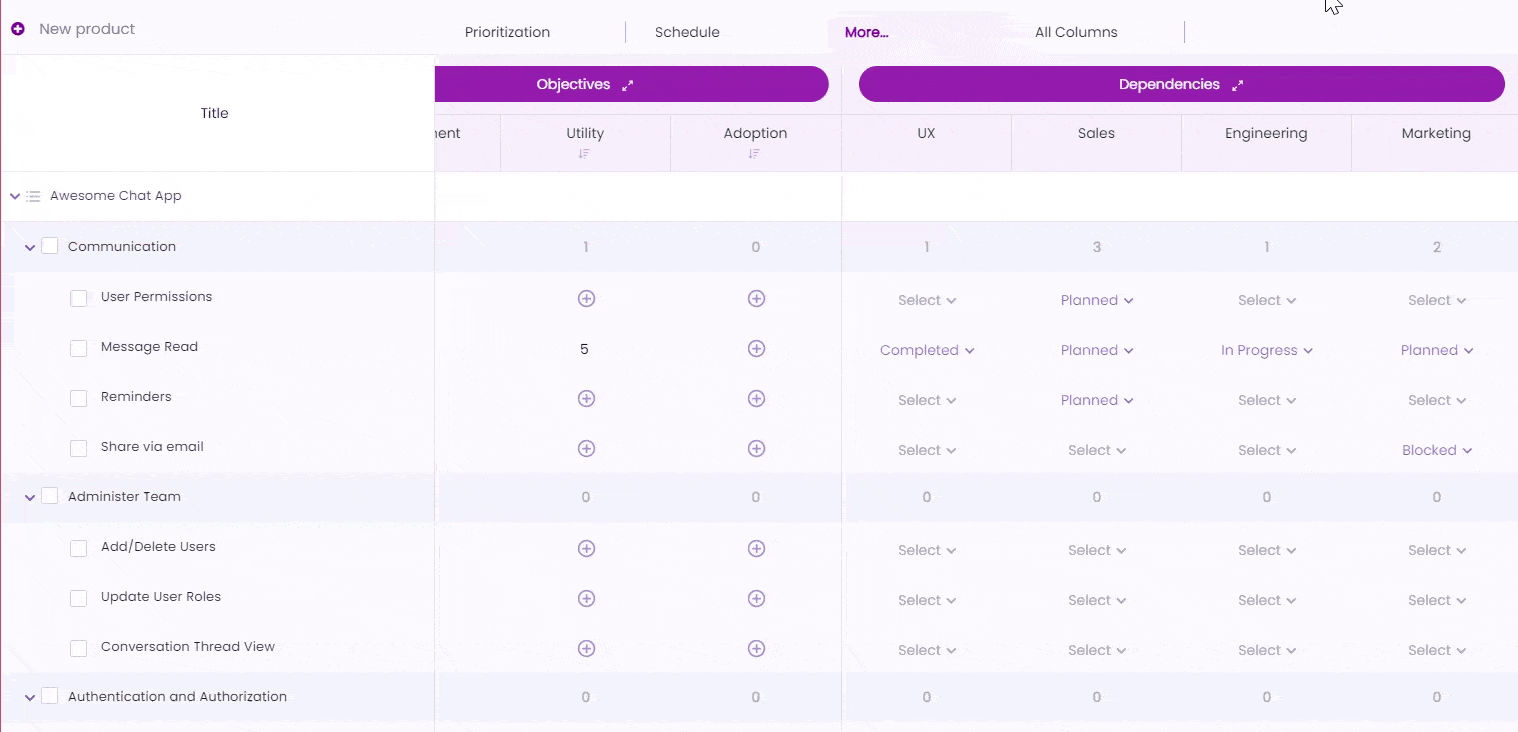 Setting dependencies in Chisel will show how things are progressing at the other department levels. Thereby keeping you up to date with the overall work process. This will help you as a product manager manage the deadlines effectively.
Set dependencies and status while tracking them in the treeview pillar.
Get an in-depth understanding of how to use dependencies.
Alignment Matrix
When you have multiple projects and deadlines, prioritizing which project to work on is essential. With chisel's alignment matrix, you can do that with the three key values: "Cut Candidates," "Build Immediate," and "Need More Assessment."
By requesting a vote on specific features from your team members, the alignment matrix will divide the features into any of the three categories mentioned above.
With this information, along with the priority and alignment score in the bubbles on the features, making informed decisions on what to prioritize becomes easier. Meeting deadlines also becomes less of a challenge because you are aware of who is working on what.
Step-by-step guide on how to use the alignment matrix tool.
What if You Already Missed the Deadline?
Even when you know the top reasons why teams miss the project deadlines and how to tackle them, certain situations outside your control may hinder meeting deadlines.
There are only two things you can do in situations like these:
Accept the mistake
Learn from your mistakes and experience
However, the best thing to do in times like these is to have a conversation with your stakeholders. Explain to them the issue at hand and the solution you have planned to make up for the deadline you missed.
When you have a plan on how you will handle the missed deadline moving forward, it will show the stakeholders and other leaders that you genuinely care about the project.
Give Chisel a try today!
Having a good plan makes your deadline management an easy walk.
Want to walk every talk you make to your stakeholders? Try Chisel and set a clear project timeline; never miss a deadline!!