9 Feedback Management Software to Grow Your Business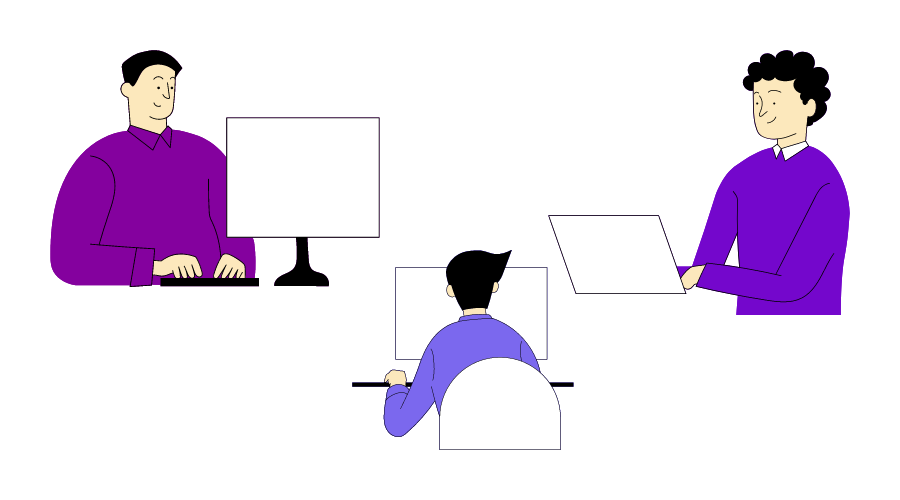 Best Features To Look For in Feedback Management Software
Review generator
This feature allows you to create reviews of your products or services automatically. This feature is helpful because it saves you time and ensures you always have fresh, up-to-date reviews.
Use across platforms and channels
The best feedback management software will be accessible on multiple platforms. This way, you can reach more customers and gather feedback from as many sources as possible.
Reporting capabilities
Reporting is essential for tracking the success of your feedback management strategy. Look for software that offers detailed reports and analytics. This feature allows you to determine what's effective and what needs to be improved.
Survey templates
Survey templates make it easy to create surveys that are specific to your needs. This feature is helpful because it allows you to gather relevant feedback for your business.
Customer segmentation
This helps you target specific groups of customers with tailored feedback requests. Customer segmentation is essential for any company that wants to get the most out of feedback management.
9 Modern Feedback Management Software
List of Best Feedback Management Software:
Let us take you through each of them.
Chisel is a leading product management software that makes creating roadmaps, building team alignments, and collecting customer feedback effective and effortless. This software will help you create spectacular products in no time.
Chisel offers following unique features for feedback management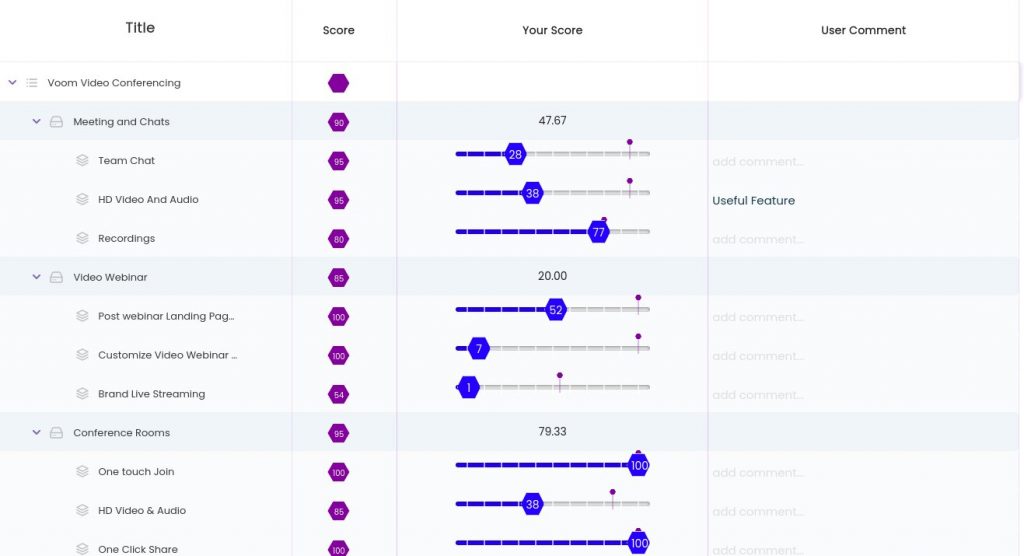 User survey tool helps you get feedback from your target audience to make data-driven decisions that reflect the needs of your customers.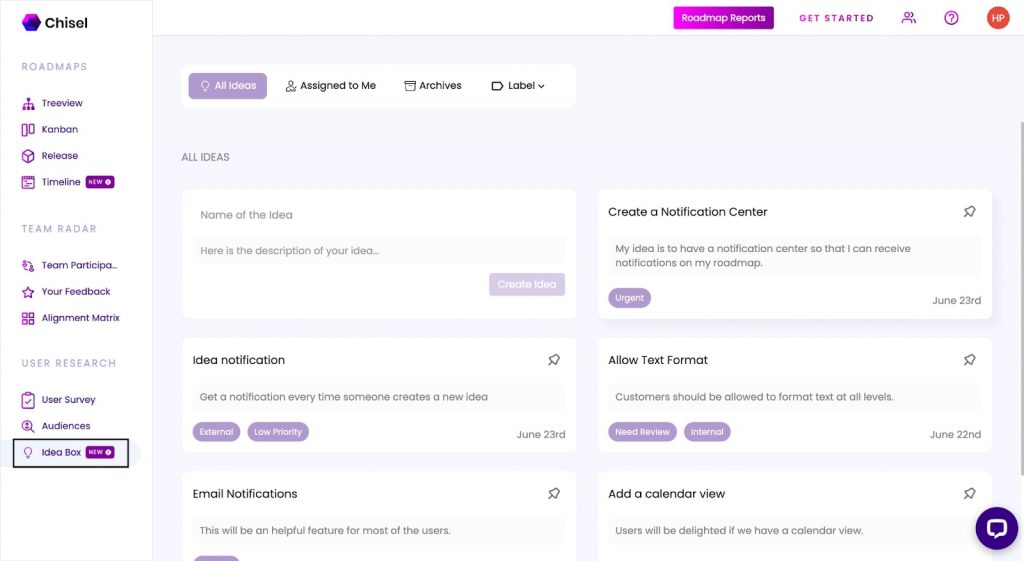 Ideabox helps to capture organize and prioritize your customers and team ideas in one place
Prioritize features and push them to your delivery planning tools seamlessly with Jira and Azure DevOps Integration.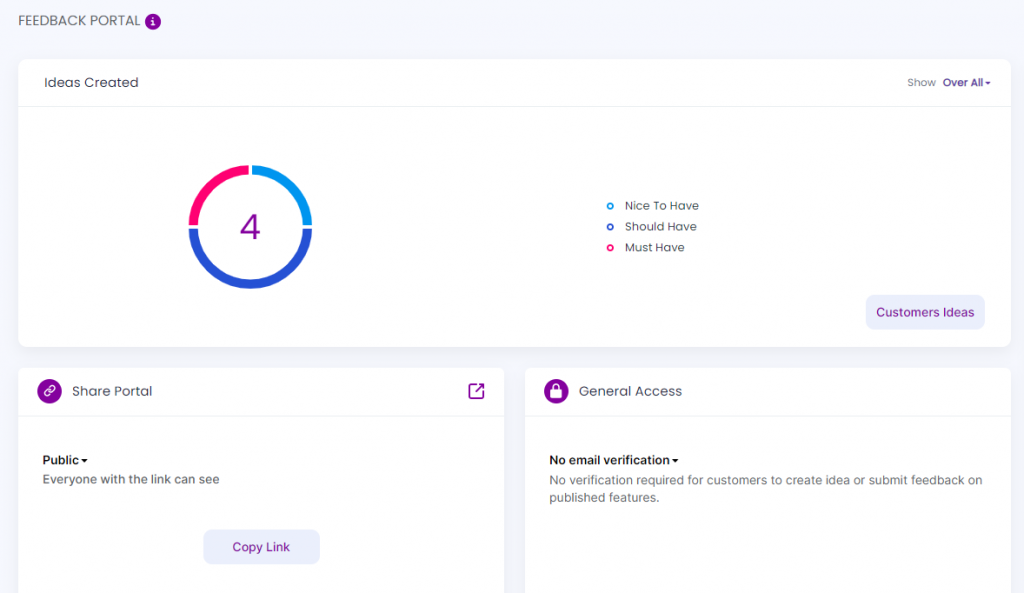 Get customer feedback, feature requests, and product enhancement ideas directly in the centralized Idea Box through Zendesk and Intercom integration.
If you are looking for a company that can enable high-quality feedback management look no further than Chisel.
From our data-driven marketing solutions to our comprehensive business intelligence tools, Chisel is committed to helping our clients achieve their goals. We offer a wide range of services to help businesses grow and succeed. Contact us today to learn more about what we can do for you.

Streamline feedback management with our free software.
Get started with our free feedback management software now and see for yourself why our customers love it.
UserVoice is a feedback platform that helps you understand and improve your customers' experience. It provides a simple yet powerful way to collect feedback and turn it into actionable insights.
UserVoice helps track customer satisfaction, engagement, and conversion across all channels. It allows you to measure customer satisfaction over time, track engagement and transformation changes, and identify the most effective channels.
UserVoice also provides a forum for customers to voice their suggestions and feedback. This allows you to identify trends and problems early and quickly make changes to improve the customer experience.
Survicate is powerful survey software that helps businesses collect customer feedback. With Survicate, you can create surveys optimized for customer engagement and get actionable insights that will help you improve your business.
It is easy to use and offers a wide range of features, making it the perfect survey tool for businesses of all sizes. With Survicate, you can create informative and engaging surveys and get the insights you need to improve your business.
Using Survicate, businesses can improve customer service by understanding what customers want and need. They can also use Survicate to measure customer satisfaction levels and track customer loyalty.
Survio is an online survey platform that helps businesses collect customer feedback. With Survio, you can create surveys that are professional and easy to use. Plus, Survio offers a wide range of features, including data export, multiple language support, and custom logo design.
This tool helps you collect reliable data and gain insights into your customers, employees, or market. With Survio, you can create surveys in minutes, distribute them online, and get results in real-time.
SmartSurvey is a powerful survey tool that helps you gather data and insights from your target audience. With this software, you can create surveys that are engaging and informative, and you can collect responses from respondents in real-time.
SmartSurvey also provides powerful data analysis tools that help you make sense of your survey results.
The tool makes it easy to get actionable insights that can help you improve your business.
GoReact feedback management software is a great way to get your customer feedback organized and under control. With this software, you can easily track and manage customer feedback, as well as create reports and insights to help you improve your business.
GoReact is a cloud-based application that allows users to create and share video reactions. Businesses use it and individuals to communicate their responses to a particular event or situation.
If you're looking for a way to get a better handle on your customer feedback, GoReact feedback management software is a great option.
Confirmit is a software company that provides customer experience, market research, and employee engagement solutions.
Confirmit is a leading software provider that enables organizations to collect and analyze customer feedback. It provides a robust and scalable platform that helps organizations to improve customer satisfaction, increase customer loyalty, and drive business growth.
Pointerpro is a feedback management software that helps businesses to collect and manage customer feedback & create their own online assessments and automatically generate personalized reports. It offers a range of features that makes it easy to collect feedback from customers, store it in a central location, and track and address customer concerns.
Pointerpro offers the most comprehensive and user-friendly feedback management software on the market. The software makes it easy to collect, track, and manage customer feedback, so you can always be sure you're providing the best possible service.
Pointerpro is a valuable tool for businesses that want to improve their customer service and address customer concerns in a timely and efficient manner.
Zonka is a new online platform that helps businesses manage their customer feedback.
With Zonka, companies can collect feedback from their customers through a variety of different channels, including surveys, phone calls, and social media.
Zonka then analyzes this feedback and provides businesses with actionable insights that they can use to improve their products and services.
Other Feedback Management Software
Feedback management software like SurveyMonkey allows users to design quickly and send and evaluate questionnaires. This capability makes it an excellent tool for conducting consumer satisfaction surveys to gain feedback on goods and services. You can also send out employee engagement surveys easily to learn how satisfied employees are with their work environment.
Qualaroo is the feedback management software that allows you to place a widget directly into your website or app. This way, you can gather feedback data now from your consumers and learn more about how they use your service and what they need.
Usersnap is a feedback management software that enables organizations of all sizes to archive projects and follows current trends.
The software lets you take screenshots with annotations and drawings and do much more on a single platform. With Usersnap, you can easily collect and manage feedback from customers, employees, and other stakeholders.
With EchoSpan's development planning module, you can easily create a professional development plan based on your review outcomes.
This module allows you to specify focus areas, set goals, and track progress. You can also share your plan with your manager or coach for feedback and guidance.
QuestionPro is the leading SaaS survey solution provider that offers a variety of apps to gauge and manage audience sentiment, staff engagement, and customer satisfaction. With QuestionPro, businesses can quickly develop online surveys and polls, distribute them to a specific group of people, and then base management decisions on the responses gathered.
3 Editor's Pick Feedback Management Software
Chisel is an excellent tool for conducting product feedback surveys. With its built-in survey templates, you can easily adjust the surveys to meet your needs. Whether you're looking for post-launch feedback or pre-launch user needs assessment, Chisel can help you get the information. It is the ultimate arsenal you need to improve your product.
Plus, with customer recommendations, you can further enhance your product's features.
Survicate provides five different solutions. They are one-click email surveys, NPS email surveys, targeted internet surveys, and widgets for user-generated feedback. So you can get feedback from all your digital touchpoints in one place. This software can help reduce churn and improve customer loyalty, as you'll better understand what your customers need and how to fulfill their needs accurately.
SmartSurvey offers a wide range of question types, including multiple-choice, text box, ranking, and choice matrix questions, a more complex Likert scale, net promoter score (NPS), continuous sum, and semantic differential inquiries. With SmartSurvey, you can collect data from an unlimited number of surveys, making it a valuable tool for any researcher or business.
What Is Feedback Management Software?
Well, to start with, let's understand the concept of feedback management first.
In any business or organization, feedback is essential for growth and success. Whether it's customer, employee, or shareholder feedback, managing this feedback is vital to improving your operations effectively.
Feedback management is collecting, tracking, and responding to customer feedback. It helps businesses to understand customer needs and improve the quality of their products or services.
Feedback management asks for, provides, and tracks feedback on a product or service. It is the method of giving feedback to companies on the design, function, usability, and more of products or services. It is commonly used in business today.
In the business world, feedback is essential to succeed. It helps businesses to understand what their customers want and how they can improve their products or services.
It's no secret that feedback is essential for any organization to improve and grow. Yet, gathering feedback can be a challenge in itself. That's where feedback management software comes in.
Feedback management software is a system that enables businesses to manage and distribute surveys centrally. This way, you can ensure that all feedback is collected and evaluated promptly.
You can make strategic decisions about your following projects with the right feedback management software. In addition, the software permits the distribution of feedback to the relevant stakeholders.
Hence, if you're looking for the best feedback management software, consider a web application or portal that meets all your needs. With the right software, you can drive your company to new heights.
Feedback management software is a new way to collect and manage feedback. This software provides a platform for businesses to collect and track customer feedback.
Additionally, it can help companies understand and promptly respond accordingly.
Keep reading. We have dealt with listing the best feedback management software in detail ahead in the blog.
Why Is Feedback Management Important?
In today's competitive world, feedback management is more critical than ever. With the advent of social media, businesses must be even more careful about this.
Although it has many benefits, such as improved customer satisfaction, better product quality, and increased sales. However, it is hard and not all companies can do it properly.
We say this because the market changes rapidly which calls for quick adaptation. Which can be technical and onerous.
But don't worry, you can gain an edge there.
How?
You Need a tool.
Keep reading
Let's dive into a few of the benefits of customer feedback management in detail.
Five benefits of customer feedback management are as follows.
1. Better Customer Understanding: You can understand what your customers want using a feedback management tool. You can know when they make their way to your website and how they went about purchasing products. This customer life cycle will give you a clear idea of where to take action in your business model.
2. The Ability to Improve Services and Products: After you have gathered customer feedback, it is easier for you to improve your services and products. You can clearly understand what your customers like, what they need, and other related information that will help your business grow.
3. Improved Customer Satisfaction: On top of knowing where to take action in your business, you can also have a clear idea of the customer satisfaction level. For example, suppose you can identify that the customer is unsatisfied with your product or service. In that case, it will be easier for you to improve them.
4. Better Retention Rate of Customers: Efficient feedback management boasts loyalty. Customer feedback is a great way to monitor what customers think about your business and can help you improve customer service. Customer loyalty is also important because it can help encourage repeat business from loyal customers and prevent them from going elsewhere.
5. Gain New Users: As you satisfy your old users through effective feedback management. You will observe new users automatically get attracted to your product. Online reviews improve, which eventually boosts overall growth.
How Feedback Management Software Will Help You?
The key to any successful business is feedback. You must listen to your customer's feedback and take them to heart.
This can be a lot easier said than done. Managing feedback can be a daunting task but
You don't need to worry.
As a company grows, so does the volume of customer feedback.
Managing this feedback becomes increasingly complex.
Technology has made it easier to collect feedback and use it. With the rise of digital tools, businesses can track and analyze input more efficiently. This has been made possible because of the feedback management tool.
Feedback management software is a valuable tool for businesses of all sizes. If you want to improve your customer service or get more insights into your product, consider using feedback management software.
Here are a few ways feedback management tools make the head-cracking process much more manageable.
Feedback management tools will help you collect customer feedback from all channels, track specific customer complaints, and measure customer satisfaction over time. This information is invaluable for any business and can help you make the necessary changes to improve your customer experience.
With feedback management tools, you can finally start making decisions based on actual customer data – not just your gut feeling.
They can help you identify and fix problems quickly. You can make changes and constantly evolve with the help of these tools.
Feedback management tools are helpful for companies because they help them to stay in sync and on top of the latest trends. These tools also help them create a more productive work environment and better relationships with their customers.
So if you're looking to take your business to the next level, you need to use feedback management tools.
Suppose you're not using feedback management software. In that case, you're missing out on an important tool to help you build a better business.
With the increasing popularity of feedback management tools, more and more companies are using them to collect and track customer feedback. Feedback management tools are a great way to get a pulse on customer satisfaction, identify areas of improvement, and track progress over time.
Several different feedback management tools are available, each with features and benefits. Choosing the right tool for your business can be challenging, but it's worth finding the right one. With the right feedback management tool, you'll be able to take your business to the next level.
We have made this task easier for you.
We have listed the top 9 feedback management tools you can use today.
How To Pick the Best Feedback Management Software?
First and foremost, you must think about what you need the software to do. Do you need it to collect customer feedback simply? Or do you need it also to help you analyze and act on that feedback? There are various feedback management software options, so choosing one that will fit your specific needs is essential.
Once you know what you need the software to do, you can start narrowing down your options. Look at a few different software options and read reviews to understand what others think of them. It can also be helpful to reach out to friends or colleagues who might have experience with feedback management software and see if they have any recommendations.
Once you've narrowed down your options, it's time to take a closer look at each. To evaluate which feedback management software is best for your company, compare features and prices. Take a close look at the business's support and customer service options. You want to ensure you can seek assistance if you need it.
How does the UI look? It would help if you looked for software that is user-friendly and simple to use. The last thing you want is to spend hours figuring out how to use the software.
One of the most critical considerations is integration. Customized and expandable client feedback management platforms can provide a complete software-using experience. Incorporating additional third-party applications gives the solution the flexibility to meet your demands and close any gaps.
Pricing is another crucial factor to consider. Any business searching for the best feedback management software must deal with budget restrictions, and prices might vary depending on the features and functionality you need.
By doing your research, you can be sure you'll find the best feedback management software for your business.
Conclusion
As the world grows more connected, the need for effective feedback management systems will only continue to increase. The softwares listed in this article are some of the most popular and the best feedback management softwares on the market.
Feedback management softwares is a great way to stay on top of customer feedback.
There are a variety of feedback management softwares available on the market. While each software has unique features, they all share the goal of helping businesses manage customer feedback.
If you're looking for Feedback Management Software, you've come to the right place. We offer a variety of options to suit your needs.
Get more out of your customer feedback with Chisel. Try it for free today!
We hope this blog post will help you develop a more effective feedback management strategy for your business.