10 Customer Feedback Tools to Boost Your Business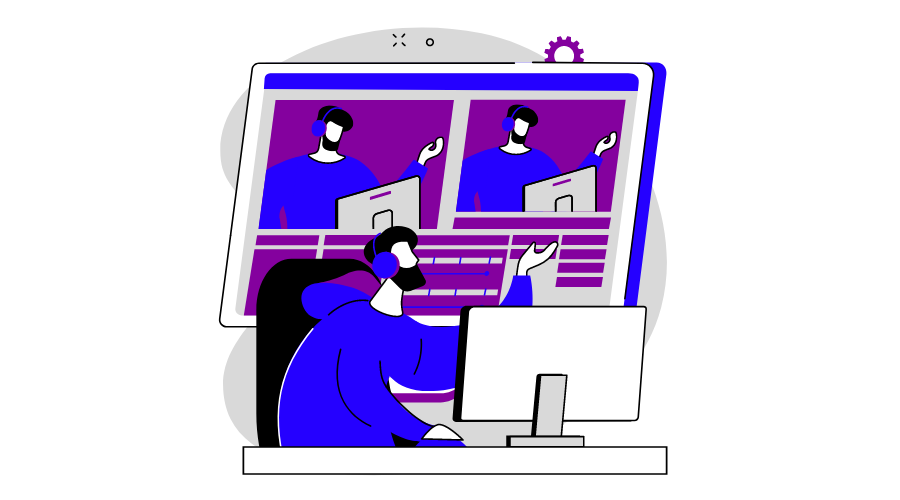 There's no denying that customer feedback is essential for businesses. It helps you understand your customer's desires and how they feel about your product or service.
But what's even more important is using that feedback to drive growth.
That's where customer feedback tools come in.
Customer feedback tools help you collect and analyze customer feedback to make data-driven decisions that improve your business.
There are a lot of different customer feedback tools out there, so it's essential to choose the right one for your business. With so many customer feedback tools, knowing which ones are right for your business can be tricky.
To help you out, we've put together a list of our top customer feedback tools to help you improve your growth.
What Is the Customer Feedback Tool?
A customer feedback tool is a powerful technique to gather consumer feedback and produce valuable insights. You can use it to increase client happiness, pinpoint problem areas, and make better business judgments. The capability to design simple surveys to distribute and collect feedback in real-time is the most crucial feature to look for in a customer feedback tool.
NPS surveys, CSAT surveys, text and sentiment analysis, omnichannel feedback, excellent assistance, and other aspects are also crucial to consider. Any company will benefit significantly from using the correct customer feedback tool. It can help you collect the data you need to make informed decisions, improve customer satisfaction, and ultimately grow your business.
Why Do You Need a Customer Feedback Tool?
Customer feedback is one of the essential tools you can use to improve your business. It allows you to understand what your customers think of your product or service and their needs and wants.
But despite its importance, many businesses don't have a feedback tool. They may think it's too expensive or time-consuming, or they may not know where to start.
The following are four reasons why a customer feedback tool is essential:
It Helps You Improve Your Product or Service:
How can you improve your product or service if you're unaware of what your customers believe? Customer feedback can help you identify areas that need improvement and potential new features or products.
It Builds Customer Loyalty:
When you pay attention to what your customer base has to say and make changes based on it, you show them that you care about their experience. This act builds loyalty and makes customers more inclined to carry out business with you in the future.
It Increases Customer Referrals:
Satisfied customers are more likely to refer your business to others. One study found that customers with a positive experience are three times more likely to refer a company than those with a negative experience.
It Can Save You Money:
Making changes based on customer feedback can save you money in the long run. For example, suppose you're constantly getting complaints about a particular product. In that case, it may be cheaper to stop selling it altogether than to keep trying to fix it.
Investing in a customer feedback tool can help you make well-informed decisions that will improve your business and bottom line.
Criteria To Pick the Best Customer Feedback Tools
Is It Easy To Use?
You want an easy tool to set up and start collecting feedback quickly without any headaches.
Customer feedback tools that are intuitive and user-friendly will also be more accessible to your customers, which means they're more likely to provide feedback.
So when evaluating customer feedback tools, be sure to pay attention to how easy they are to use.
Functionality:
The most important criterion when choosing a feedback tool is functionality. After all, if the tool doesn't do what you need it to, it will not be of much use.
Therefore, what exactly should you be looking for in terms of functionality? Well, that depends on what you need the feedback tool for. Suppose you're looking for something to help you gather customer feedback. In that case, you'll need a tool to collect and view responses easily.
You'll need something with more robust features if you want an efficient customer feedback tool. It might include reporting and analytics or the ability to integrate with other customer service tools.
Cost:
Other vital considerations include ease of use and the ability to collect actionable insights from your customer feedback.
When it comes to cost, you'll want to find a customer feedback tool that fits within your budget. But it's also essential to consider the value you'll get from the tool. It may be worth the investment if it's a low-cost solution that is easy to use and provides valuable insights.
Actionable Insights:
Does the customer feedback tool give you the necessary information to make changes that will improve the customer experience?
There are a few different techniques to get actionable insights from customer feedback. One is to look at trends over time. It can help you see whether your customer satisfaction is improving or declining. Another way is to compare feedback from different groups of customers. It can help you identify the most satisfied groups that need more attention.
10 Best Customer Feedback Tools
Chisel Labs is one of the most efficient product management software that focuses on customer feedback, team alignment, and managing roadmaps. The software has many distinct and helpful features that make customer feedback management more effective than ever.
What makes Chisel a cutting-edge custom feedback tool? Let us look at the features.
Key Features:
User surveys: You can create surveys from scratch or a pre-made template with the user survey tool. You can also use a different template that you've developed in the past. This flexibility makes the user survey tool excellent for collecting customer feedback.
Audiences: The Chisel labs' audience feature is a great way to create a custom audience panel for your target audience. You can tailor the panel to your specific needs and target your ideal customer.
Idea Box: With Idea Box, you can easily collect and track all of the suggestions and ideas that come from your colleagues and customers. This way, you can ensure that no great idea goes unnoticed and that every suggestion gets the proper consideration.
Feedback Portal: We understand that customer feedback is essential for innovation at Chisel. That's why we created the idea portal feature. In this space, customers can share their ideas with us so you can improve your product accordingly. The idea portal lets customers share, store, and prioritize their ideas with just a single link. It makes it easy for us to track and implement the best ideas to improve our product.
Reasons to buy:
Seamless team collaboration.
Focuses on customer feedback.
Impactful product management.
Pricing:
Free forever:
Kanban, release view, timeline view, team alignment, and product roadmapping are all features of the free forever version.
If billed yearly, the premium plan costs $49 per month:
You may submit surveys to a customized audience pool and experience all of the benefits of roadmaps and team radar, Jira, Azure DevOps, Slack and Microsoft Teams connection, and CSV import and export integration.
If billed annually, the enterprise plan costs $99 per month.
Pros:
Chisel runs well on all devices, including Android, Windows 7 and above, Mac OS X 10.10, and iOS.
Any novice may quickly get started owing to the fantastic user interface.
You can send out consumer surveys and receive up to 100,000 answers.
Storing and access to any data related to customer feedback are very easy.
Zonka Feedback
Zonka Feedback is the perfect customer feedback tool for creating a popup form to generate quality customer leads. To create the survey specifically for your company and to customize the popups, you can use pre-built survey templates. Utilizing features like smiley questions, NPS inquiries, CES metrics, and others will help you increase engagement and generate more leads. There are many integrations in the tool that assist you in nurturing leads.
Key Features:
It takes less than five minutes to create surveys. Technical expertise is optional.
Close feedback loops by managing feedback efficiently, working with the team, and taking action.
Create several locations. View location-based cumulative and comparative reports.
An app that is used on iOS and Android devices to submit feedback.
Emails should contain survey questions so that recipients can respond right there.
Get instant SMS and email alerts for new and negative feedback.
Reasons to Buy:
Plenty of template options at your disposal.
Feedback forms are customizable to match the branding of the company.
They are offering a free trial.
Pricing:
Free plan for 15 days.
Essential plan $24/month.
Pros:
The feedback reporting and analytics are accurate.
Automation and conditional logic.
Unique survey URL.
There are many template options.
Cons:
Lacking flexibility in reporting.
If you're looking for a way to make your data collection more engaging and enjoyable, Typeform is your platform. With its flexible design, you can create custom forms and surveys tailored to your needs. And because Typeform is easy to use, you'll find that getting responses is a breeze.
Key Features:
With integrations to popular tools like Slack, Autopilot, Google Sheets, and Airtable, Typeform makes it easy to get your feedback into the hands of the people who need it most.
Question branching and skip logic also ensure that your customer feedback form gets tailored to your specific needs.
And with live tracking, you can be sure you're getting the most up-to-date information possible.
The customer feedback form has excellent reporting tools that you can use to extract insightful information.
Reasons to buy:
Typeform's designs are eye-catching and professional-looking, so your forms will make a great impression on your users.
Plus, the conversational tone of Typeform's interface makes it easy and fun to use.
Typeform also offers a live preview feature, so you can see how your form will look before you publish it.
Pricing:
Free plan: collect 100 responses monthly with type forms with up to 10 fields for free.
Basic: $29/month (or $25/month if paid annually).
Plus: $59/month (or $50/month if paid annually).
Business: $99/month (or $83/month if paid annually).
Pros:
Typeform is very easy to use, even if you're not a tech-savvy person. Creating surveys and forms is simple and only takes a few minutes.
Typeform has many features that make it an excellent choice for businesses. For example, you can use logic jumps to make your surveys more dynamic and give your respondents a better experience.
Typeform integrates with many popular business tools, making it even more convenient.
Cons:
Typeform can sometimes be a hindrance. While its creators may want to keep it from being too complicated, you may need more sophisticated functionality than what's available. It is especially true if you opt for their paid plans.
Another issue with Typeform is that exporting data can be a bit clumsy. You must go through a few additional steps to find the data you're looking for. It can be a minor annoyance, but it can impact your overall experience with the product.
Hotjar is a fantastic choice to solicit website visitors' feedback. With Hotjar, you can see how users interact with your site and use that information to improve your site's design and user experience. Hotjar also offers recordings of user sessions and feedback polls, which can help you further understand your users' needs.
Key Features:
One great way to get this information is by using heatmap reports. HotJar offers two types of heatmaps (click and scroll) that let you see where visitors click and scroll on your pages.
After identifying some initial problems using the heatmap reports, HotJar recordings can be a great resource. These recordings let you see your visitors' work on your site in real-time.
Polls are another useful customer feedback tool that you can use with HotJar. By asking questions, you can gather a variety of data that can help you improve your website.
Reasons to Buy:
Hotjar is essential for understanding why people behave in specific ways on your website.
It is an easy product to sell and demonstrate its value.
Hotjar is a precise and illustrative tool that provides context for website behavior.
Pricing:
Observe:
Basic Plan: Free forever.
Plus plan: $32 per month if billed annually.
Business Plan: Starting from $80 per month if billed annually.
Scale Plan: Contact the team.
Ask:
Basic Plan: Free forever.
Plus plan: $48per month if billed annually.
Business Plan: Starting from $64 per month if billed annually.
Scale Plan: Contact the team.
Pros:
Hotjar is a good solution for companies with multiple teams working on different aspects of their website.
Heat maps can help determine which website elements draw users' attention.
You can enhance lower conversion rates through the use of Hotjar.
Cons:
Hotjar is an incredible tool that offers a lot of value, but creating forms can be tricky.
The tool has a limited number of integrations available
Additionally, the ability to record multiple sessions simultaneously on various areas of a website is a feature that is currently unavailable.
HubSpot's customer feedback tools are a great option. With HubSpot, you can design and distribute surveys by email and online and track all of your customers' input on a single dashboard that is available to the entire team. It makes understanding your customers and making decisions based on their feedback easy.
Key Features:
HubSpot CRM: HubSpot's CRM is a free tool that helps track contact behavior across various HubSpot assets, including contacts, businesses, offers, and tickets.
Email: If you're using HubSpot's email functionality, you can customize your calls-to-action, links, and graphics to make your emails more effective. You can also test your emails on different email clients and mobile devices before you send them.
Paid Ad tracking: If you're running ads on LinkedIn, Facebook, or Google, you should check out HubSpot's ad integration tool. It makes tracking your performance metrics and attributions super easy to see which ads are working and which aren't.
Dashboards: If you want to make it easier to read and evaluate reports from HubSpot, you can add the company's out-of-the-box reports, custom reports, and attribution reports to a dashboard. Dashboards make obtaining and using information about your clients and prospects simple. You can email the dashboards to one another, change the dates on them, or even make them private to restrict access.
Reasons to Buy:
It is a complete CRM platform with all the features you require.
HubSpot is compatible with various platforms.
Easy prospect identification
With comprehensive dashboards, you can easily access detailed reports.
Pricing:
HubSpot Marketing Hub: starting at $45 a month, it offers all the resources required for a company to draw clients and turn connections into leads.
HubSpot Sales Hub: Starts at $23 per user per month and allows businesses to track every lead engagement and transaction pipeline.
HubSpot Service Hub: This support enables a company to keep its whole client base pleased by providing quick, smart customer service.
HubSpot Assistance Hub: With HubSpot Assistance Hub, which costs $23 per user per month, a company can provide quick, informed customer service to all its customers.
HubSpot CRM Suite: $45 per month for a set of hubs that includes the Marketing Hub, Service Hub, and Sales Hub.
Pros:
HubSpot is one of the only CRMs on the market that offers a free subscription.
HubSpot's plans can be costly, but there are ways to combine services to acquire what you need for a fair price.
HubSpot has an unmatched selection of scalable solutions for operations, content, customer support, sales, and marketing.
Cons:
HubSpot's free edition has many great features, but users who need live chat will need to upgrade to a paid plan.
Hubspot has many great features, but it has some restrictions.
Sprinklr is a powerful enterprise software platform that helps brands manage customer interactions across social media, messaging, blogs, and review sites.
Sprinklr's software enables businesses to listen to and understand the most important online conversations, deciding on the best way to provide their clients based on more accurate information. Notable brands like Microsoft and McDonald's rely on Sprinklr to help them manage customer experiences at scale.
Key Features:
Modern Engagement: A social media management tool that enables organizations to control social media across 35 channels and offers features like Publishing and Engagement, Community Management, Distributed Engagement, and more.
Modern Marketing: A content solution that offers a wide range of functions. It includes Digital Asset Management (DAM), workflow automation, information analysis, and more to help businesses deliver the right content to their customers at the right moment.
Modern Advertising: A campaign management solution for modern marketing includes various features. For example, an ad composer, ad manager, an audience manager, a creative library, campaign execution, campaign optimization, paid/owned/earned reporting, and so on. According to Sprinklr, it enables targeted, individualized advertising campaigns and the highest ROI.
Digital Community: Offers a forum where customers can post their problems and solutions.
Reasons to Buy:
Easier to handle responsibilities like content production, posting, and customer service.
You can compile related grievances into a single case.
Pricing:
You have to contact their team directly to know the pricing plans.
Pros:
Sprinklr makes it easier for your social media team to handle specific responsibilities like content production, posting, and customer service.
Everyone involved can have complete, real-time access to what's happening if you're handling Instant transmission of Facebook and Twitter posts to the tool.
The case and profile interactions are separated, making it easier for someone to analyze the data.
Cons:
Sprinklr's interface needs some work – navigating and finding the tools you need can be difficult.
Tool bugs of a minor nature reduce staff productivity.
Podium is the perfect solution for businesses that want to streamline customer communication and payments. With Podium, you can manage everything from a single inbox, making it easy to stay organized and efficient.
And because Podium integrates with local credit card readers, you can streamline your payment processing. Plus, with Podium's outbound marketing campaigns and customer evaluations, you can keep your finger on the pulse of your business and ensure that you're providing the best possible service.
Key Features:
Podium offers a one-stop shop for users to connect their Google My Business and Facebook profiles. It also helps to connect incoming leads and invite other users to the account.
Podium allows businesses to manage their online reviews on Facebook, Google, and other sites. Customers who use Podium's review service receive a link to publish a review on the platform of their choice.
The customer survey function helps gather user feedback quickly and easily, allowing important client feedback, and you can retain information.
Reasons to Buy:
Google Business integration enhances customer relationship management.
One of the vital text message marketing services.
Pricing:
Essentials: $99 per month
Review Plus: $249 per month
Marketing Plus: $349 per month
Pros:
Podium is an easy-to-use tool that businesses can use to increase customer reviews.
Podium helps businesses manage a high level of complexity by sending content tailored to specific audiences.
Podium includes a team chat tool for individual and group talks.
Podium is perfect for organizations with multiple locations that receive a high volume of customer information and requests.
Cons:
Second, Podium is a reasonably expensive service, costing hundreds of dollars per month. It is not appropriate for small businesses that have limited resources.
Finally, Podium is best suited for larger teams with the infrastructure and resources to take full advantage of its features.
SurveyMonkey is a powerful survey tool that can help collect valuable feedback from your customers, employees, or website visitors.
Creating and publishing surveys allows you to gather insights on various topics, from satisfaction levels to product preferences. With the mobile app, you can send and collect surveys on the go.
Whether you're looking to understand your employees' engagement levels or get feedback on your latest product, SurveyMonkey can help you get the answers you need.
Key Features:
It offers users many surveys and questions to choose from, complete control over how their surveys will appear, and the ability to add logos, fonts, and thank-you pages. Additionally, the platform allows users to use professionally written survey questions and pre-made survey templates to get started.
SurveyMonkey offers a range of deep data analysis tools to help you discover trends in your real-time findings and analyze responses within the data. It also helps to create custom reports using custom filters.
SurveyMonkey has team collaboration options, allowing you to create surveys and transmit them to many departments within your company using a single account. When dealing with data, this enables increased team productivity and collaboration.
Reasons to Buy:
Links and Design Themes for the Survey are Customizable
Connect to the Right People
Pricing:
Team Advantage Plan: $27 per user per month (billed annually.)
Advantage Annual: $34 per user per month (billed annually.)
Team Premier: $89 per user per month (billed annually.)
Standard Monthly: $99 per user per month (billed annually.)
Premier Annual: $119 per user per month (billed annually.)
Pros:
SurveyMonkey allows you to create appealing and functional surveys.
You can use SurveyMonkey to gather employee input and feedback.
Surveymonkey provides you with over 100 templates to choose from.
You can also use SurveyMonkey to gather demographic information.
Cons:
They can improve the free plan with more color and design customization options.
Reporting and analytics could also improve to make them more user-friendly.
They can improve the UX to make the product more user-friendly and appealing.
Finally, better consumer marketing could help attract more users to the product.
UserReport is a handy online tool that allows businesses to gather data and feedback from their visitors easily and efficiently.
By incorporating "ready-to-go" surveys, customized questions, and intuitive reports using UserReport, businesses may quickly obtain the data they require to enhance their websites.
Key features:
UserReport is easy to use – it has just two straightforward widgets, a survey, and a feedback widget.
It allows you to connect with people and learn about them, what they are searching for, and how you can better serve them.
Google Analytics integrates into the survey widget, along with NPS and demographic data.
The customized feedback widget lets you gather suggestions from your users and address problems.
Reasons to Buy:
The perfect tool for data import/export, customizable branding, trend analysis, and survey/poll management.
Easy to get the data you need when you need it.
Tracks the progress of business and trends over time.
Pricing:
You can currently access all the features free of cost. Still, if you prefer a premium plan, contact sales.
Pros:
UserReport is free of cost.
UserReport has a social click map capability which helps users see how click habits vary across various groups.
The Feedback mailbox is a feature of UserReport which gives users the access to filter, comment on, and effectively eliminate website visitor suggestions.
Cons:
While it can be helpful for websites with a lot of traffic, they have not designed it for websites with low traffic.
Feedier is a brand-new platform designed to help you gather insightful feedback from your customers and employees. With Feedier, you can collect data that will help you identify growth opportunities and make the changes needed to keep your business moving forward.
Key Features:
The technology behind Feedier connects feedback collection to company KPIs.
It allows businesses to measure the effectiveness of their customer feedback programs.
Reasons to Buy:
Responsive and multi-platform compatible.
Organizations can use Feedier to distribute vouchers and coupons to stimulate further purchases.
Rewards customers with exclusive invites and money transfers.
Pricing:
You must get in touch with the sales team for pricing information that depends on the number of dashboard users.
Pros:
Feedier makes it easy to gather client feedback, including understanding their device, browser, replies, level of satisfaction, and more.
Teams of all shapes and sizes can use Feedier to gather feedback from promoters.
With Feedier triggers, you can connect your favorite tools using Zapier and generate custom actions.
Cons:
Feedier is a slow platform – every modification and new detail takes too long to implement.
Users need more template design possibilities to develop surveys.
Sometimes, users have problems with integration.
Other Worth Watching Customer Feedback Tools
Qualaroo is a powerful customer feedback tool driven by AI and powered by IBM Watson's natural language processing capabilities. The app's cutting-edge, in-house survey widget assists you in asking the right question to the right person. Furthermore, it provides feature-rich, editable templates for quick survey setups.
InMoment is an excellent customer feedback tool that can help improve the overall experience for your customers. It offers three different clouds – Employee Experience Cloud, Customer Experience Cloud, and Market Experience Cloud. Each of these can help you manage various aspects of the customer experience.
With Refiner, you can easily track customer satisfaction indicators like NPS, CSAT, and CES. Plus, Refiner makes it easy to determine your next steps. Whether you're looking to improve customer satisfaction or get insights into what your users are thinking, Refiner can help.
If you're looking for a robust tool to create surveys, questionnaires, tests, quizzes, and evaluations for your company, ProProfs Survey Maker is a great option. It provides access to expertly crafted templates for creating customer satisfaction surveys. You can publish these surveys via email and social media platforms, embedded on websites, and written about on blogs.
So, Which Customer Feedback Tool You Should Pick?
Chisel is the holy grail.
Thanks to Chisel, you can track client comments and use that information to prioritize new features and updates. It can help you make sure your product meets customer needs and expectations.
Chisel offers several different plans, so you can find the one that best fits your needs. Effective customer feedback management is critical to the success of any product. With Chisel, you can get the feedback you need to ensure your product's success.
Conclusion:
As you can see, various customer feedback tools are available, each with its advantages and disadvantages. Before choosing a tool, it's critical to assess your needs carefully.
The right customer feedback tool can make a big difference in your ability to gather actionable insights. You can make your clients happier by using these insights to enhance your products or services.
If you're unsure which customer feedback tool is right for you, consider taking advantage of free trials or demos to test each one.