The Process of Product Management: Making Ideas a Reality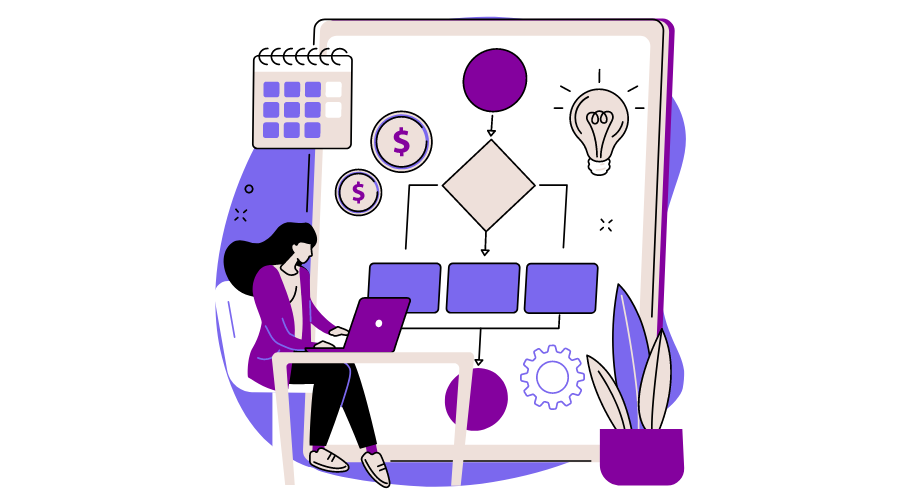 Every product starts with an idea. Product management is a challenging and demanding profession. You have to be able to think in the abstract, but also be grounded in reality.
It's not enough just to come up with an idea; you need to know when it will make sense for your company to invest time and money into developing it.
The process of product management is about bringing peace in a chaotic, stimulating situation and eventually a product into the market.
It is a challenging process and requires constant check-ins from multiple departments working in collaboration.
In this article, we'll discuss how product managers turn ideas into realities so that their organizations can reap the benefits of these new products or services.
There is no one way for the process to roll out.
However, more or less, it is similar. In this blog, we have spanned out 7 essential ways to ensure your ideation falls through as reality.
7 Essential Ways Through the Process of Product Management
Ideation and Management
Having an inspiration you want to materialize is not that big a deal. One can come up with countless ways to expand and bring forth a product.
What is important is to refine and pick out the best: the one that the market desires the most and one which is most feasible for the organization.
This process involves a team from different departments. The work of the marketing department, the customer service, and product development teams help in bringing new products to life. 
It starts with an idea that is tested for its feasibility by the project management team working closely with engineering; they try out different options before zeroing down on the one that will work the best, applying cost-budgeting of all factors involved.
In this process, a product manager has to ensure that all the stakeholders in an organization are in sync with each other.
The process of bringing a new idea into fruition is challenging and requires constant check-ins from multiple departments involved which require coordination among different teams working together towards one goal.
So what's important here is to refine and redefine values and what is most essential to the organization at the time of idea management.
Detailing
The second step of the process is to specify details. These may not necessarily have to be technical – but should be enough for a non-stakeholder to understand the project.
Of course, this also largely depends on industry types and the work culture in individual organizations. These factors determine how specific the product details need to be at this stage.
This stage should be able to answer the 3 most important questions:
What are we building as a product and what is our intention?
What do we envision for our product?
How will we be measuring success, short term, and long term?
These questions need answers collaboratively. However, it is important to identify who owns what so that there's no process breakdown. This is largely to identify the value the product offers to the target market.
This stage helps the product management team realize an estimate of the effort required to make a product successful and therefore enables a roadmap of its management.
Roadmap
The next step is to create a roadmap for the process of product management. It is novel to undertake this before the order of prioritization.
The aim is to make thematic roadmaps and not individual-corrective goal-related. This process makes it possible to focus on the larger picture and not get lost in individual activities.
The task is to identify and select themes that would be worked on at different points of time as the project progresses. This is in sync with the estimation of impact and rate of interest at the time of its implementation.
Such a process is much more effective than getting locked up in a roadmap about task-specific commitments for years in advance.
Prioritization
The next step in the process of product management is to prioritize features that are going to be developed. This involves many factors like time frame, market demand, and research findings (feedback).
If a particular feature has been prioritized for development, it becomes the responsibility of the project managers to tick off.
Multiple frameworks come in handy in this regard. The Kano Model, the MoSCoW Method, and a combination of Impact Matrices are all popular tools that help in determining which features should be worked on at a specific time.
It is of utmost importance to balance the absolute urgent must-have needs and the long-term strategy for the product. It is always helpful to take in points from all stakeholders involved and negotiate in a group.
Needless to mention, this is the part that gets scrutinized and criticized the most. Not everyone gets what they need and the team has to make some difficult decisions.
Distribution
Next is to distribute on terms pre-decided. In other words, we are referring to delivery. This is the part where project managers take a backseat as work as consultants or advisors and engineers and tech folks get the center stage to call the reins.
How organizations decide to do this part depends on varying factors – either in big chunks in a short period so they can work on improvisations in an extended period or work on small delivery expectations to work on the fallacies as they are pointed out.
No matter what direction the distribution takes place, the job of the product management team is to make sure the requirements are met well within time.
Analytics
Once the product is launched or put out in the world, there is a constant need to revise it over and over. Product management is to constantly check and recheck the requirements against how it's performing in the market.
Behavioral economics is of key vitality here. Organizations study consumer behavior right before their use or purchase and try to capitalize on that. They can also check out what other user cohorts may have in common.
Once the information is received on the analytics and relationships between the various factors, the organizations must strategize and pick a way to waver the user's choices in their favor.
It has proven to be helpful to pick on similar traits and identifications of successful clients or users of the product to recognize a new cohort of users. This is the step to market it and exhaust the utility of outreach methods.
Feedback
The next step in the process of product management is to gather feedback from users and clients. While there are many ways and methods of extracting this information, the product management team should be on the top of their heels about this particular input.
The banking of this particular information is what is going to help them understand the needs and demands of existing clients and create a pool for new users also.
This is often a very overwhelming process and steps in the product management systems.
While it is exciting to hear how your users have experienced your product, it also will encompass critique and disappointment on how it has fallen short of the expectations of the clients.
The product management team needs to be cognizant of this information and consider it.
Product managers should also keep in mind that even though they may get a lot of negative feedback, there will always be people who love to use their services.
Every feedback adds to the idea-pool of making the product better and therefore, we come full circle with the process of product management.
To know why folks may not be satisfied may prove much more beneficial for this product and future endeavors for the organization than to understand how much people like the product.
Also, it is of critical importance to realize the time and labor users have put into giving feedback and that is truly something to acknowledge by the product management team.
Conclusion
There may be reasons to not subscribe to this 7-way process of product management that may work out for you and your organization.
Having said that, it is crucial to spend time and effort into each step of this process with deliberate attention and detailing.