9 Tips for Succeeding in Hybrid Work as a PM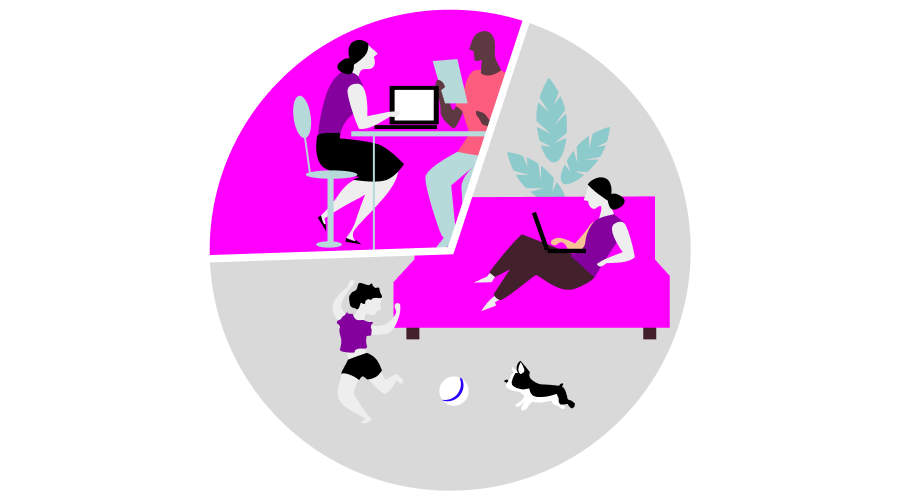 George Penn once said, "To succeed in a hybrid work environment, businesses must treat remote or hybrid workplaces as opportunities rather than transient or short-term strategies."
One thing is sure: Gone are the days when every employee reported to a desk five days a week. Companies have struggled to welcome personnel back to the office after more than a year of working from home during the pandemic.
Since the work culture in the computer sector is changing, many product managers are now working permanently remotely or in hybrid settings. Although mixed work presents a wealth of innovative new opportunities, it also poses new difficulties.
The COVID-19 pandemic has changed how people will work in the future by accelerating pre-pandemic tendencies like remote and hybrid labor.
Strategies for remote product management are no longer a "niche" subject. Working efficiently at a distance has become crucial for many firms.
With large firms like Nationwide, Citigroup, Ford Motor Company, IBM, and General Motors Co. all choosing to combine the benefits of in-office and remote working, the hybrid work model has emerged as the preeminent return-to-work strategy.
The relationships we develop with our coworkers and customers and our ability to communicate effectively about complex topics and forge consensus are all critical aspects of product management.
Product managers must devise alternate strategies for establishing rapport when unplanned face-to-face meetings are impossible.
Face-to-face communication is, as is rightly said, the most effective and efficient way to convey information to and within a development team. Isn't that entirely true?
Working from home during the epidemic was beautiful, as we have all experienced. However, you might also know individuals who hated working from home! In this case, a hybrid work environment is the best choice.
The hybrid work environment and some advice needed by product managers for this transition will be covered in this article.
What Exactly is Hybrid Work?
Before COVID-19, remote work and hybrid teams already existed. However, the epidemic gave almost everyone a first-hand experience dealing with distant coworkers and clients. Businesses have discovered that employees with flexibility may be effective.
There are numerous forms and sizes of hybrid work. Employees can work remotely full-time for some companies, but for other companies, they must visit the office two or three times per week. Some company employees might be employed full-time in an office, while others might be used remotely.
Employees can select how and where to work depending on where they are most productive.
Your industry and business will significantly impact the working style you adopt, and it could take trial and error to identify the best hybrid strategy.
With hybrid work, the workplace is no longer in the four walls of the corporate office; instead, it is a network of people who work at the office, from their homes, and in coworking spaces. Team members might move between different places depending on the tasks they need to complete.
You could think that hybrid work is quite advantageous after reading this, but let me assure you that it also comes with several difficulties, some of which are below.
What are its Benefits and Pitfalls?
Advantages:
Work-life Balance Is Better for Employees:
They can pick when and where to work, which gives them freedom. Hybrid work can help employees have a better work-life balance by helping them with tasks like setting up childcare or doing errands.
Increases Effectiveness and Productivity:
Flexible work schedules and a welcome change of scenery might improve employees' concentration in a hybrid setting, particularly on their responsibilities.
Your employees are likely to manage their workloads, take ownership, and put extra effort into their job when they have greater freedom in where they work.
Enhanced Corporate Culture:
Executives are concerned about how a hybrid model will affect the corporate culture they have worked so hard to create locally.
Giving workers autonomy over their schedules might be motivating. Employees will likely come to work motivated and prepared to contribute to the company's mission and culture because they can move between remote and on-site work.
Employers and Employees Can Both Cut Costs:
Organizations can save money on office costs by having fewer employees in the office and some working most of the time from home. Those savings can then be used to pay for other expenses associated with a hybrid workplace.
Wouldn't you, as an employer, adore this?
Redefines Working Together:
Hybrid work requires businesses to go through a digital transformation to bring together, engage, and support distant teams. Employees no longer need to collaborate and develop ideas in the same room.
They can interact and work together through remote work software tools from any location
Disadvantages:
Limited Interpersonal Connections:
Establishing or sustaining relationships with coworkers in a mixed workplace might be challenging. Poor interpersonal relationships could result from the fragmented workforce and the decline in in-person encounters.
Organizations must develop and implement a hybrid work paradigm that supports rather than erodes employee interactions.
Faster Burnout of Employees:
It is the worst disadvantage, by far!
Even under a hybrid approach, the culture of burnout can infiltrate the workplace if allowed unchecked. Your small crew may put in more time and take fewer breaks than those who work on-site.
They might even feel worse about taking the afternoon off for themselves and overcompensating by staying at work longer.
It will be easier to combat remote burnout if you foster a culture where staff members feel empowered to speak up or take breaks when they feel overburdened.
Inadequate Coordination and Communication:
A misalignment or breakdown in communication between office-based and remote workers may result from hybrid working.
Ensure that your hybrid working arrangement encourages both since one of the benefits of hybrid is the balance between autonomy and collaboration.
Having Trouble Adhering to Hybrid Schedules:
Your employees' schedules will be more varied as you have greater flexibility. You can experience resource problems if there isn't a reliable and straightforward way to maintain track of personnel scheduling.
Additionally, it can be challenging for workers who arrive on-site to determine which of their teammates will be there.
No need to venture out on your own! To plan their days on-site, invite coworkers to join them, and reserve a nearby workstation, look for a hybrid scheduling application.
Increasing Cybersecurity Dangers:
Oh, let me tell you that even seasoned employers are concerned about this!
Working outside of the office employees may lead to cybersecurity concerns. They might link to insecure networks or work on personal PCs.
A company must ensure that all remote workers adhere to their security rules.
Let's Quickly Review the Various Hybrid Work Environments:
In-office refers to businesses that favor having staff members present in the office to carry out their duties. Working hours are less flexible, and remote work opportunities are more scarce in an office setting.
You might be allowed to work from home occasionally, but the company prefers that employees do so. It refers to the conventional method of operating a business.
Working from home indicates that you have a physical desk at your workplace and the flexibility to conduct business remotely from your home or other locations.
Employees who need to pick up their children early or have other essential obligations can leave work early and work another shift at home later. Working from home is a hybrid work arrangement that emphasizes frequent transitions between the office and home settings.
There is no need for employees to have a physical workplace in the distributed work environment. While working from home is possible, walking into the office is impossible. Instead, people can meet in coffee shops or work remotely.
This hybrid work model aims to save facility expenses and rent by enabling employees to work remotely.
Small businesses and start-ups with less complicated collaborative structures are where it is most common to see.
Employees that work remotely typically do so from their homes or alternate between many sites frequently. Employees who travel often have a long commute to work, or don't like going to work could fall under this category.
The remote environment alters the function of the offices, shifting the emphasis to activity-based sessions because there is no longer a requirement for rooms to be furnished with actual desks for employees who are merely not present.
Are you a product manager who intends to move to a hybrid workplace?
You're in the right place now!
Let's concentrate on some advice for product managers navigating this chaotic transformation.
Many organizational experts projected that the office space would cease to exist in 2020.
Optimizing for a hybrid work environment takes strategic execution and holistic thought. Product managers must first and foremost constantly remind themselves that not everyone is present at all times. Many people have become accustomed to that reality over the past year, for better or worse.
According to recent data, 55% of American workers preferred to combine working remotely and in the office.
Tips:
Operate in a Hybrid Workplace With Remote Workers as Your Top Priority.
It entails holding meetings and dispersing information as though nobody was in the office.
Include information about videoconferences in the meeting invitations, share screens for presentations, and distribute materials digitally well in advance.
It also means that, if possible, in-person colleagues should hold these sessions in the same place.
However, whoever is facilitating should ensure that distant participants receive a chance to speak up without being overruled by those present.
Boost Your Meeting Manners.
Being considerate while scheduling meetings is another brilliant option. Make sure that everyone can participate, whether it's because your colleague is in a different time zone or needs to pick up their child from school. Everyone needs to maintain their calendars entirely for this to operate.
A 1:1 meeting with stakeholders and coworkers you don't regularly interact with in person should be scheduled.
Regular check-ins can prevent a problem from worsening and increase everyone's sense of inclusion.
Flexibility and the hybrid working system go hand in hand. Flexibility implies the absence of rigid workplace regulations.
Additionally, it entails testing out various model types. By letting people choose where they wish to work, managers may learn what is best for their company.
Employees can choose whether to work in the morning, during the day, or at night thanks to the hybrid work model's flexibility.
It Would Help if You Modified Your Procedures to Account for Hybrid Work.
Hybrid work only highlights the value of rituals if your organization adopts Agile for product development. From daily standups through sprint retrospectives, interactions are crucial to the diverse teams' strategic and tactical alignment.
Due to this, there is no greater motivation than ever to adopt and keep up with regular Agile practices.
Make sure artifacts are accessible, complete, and easy to understand. The teams must have easy access to a trustworthy and reliable repository.
Managers can also boost productivity by determining where employees can work most effectively in the hybrid working paradigm.
Not all tasks can be completed from a distance. Some ask for you to be present in an office to meet them.
Managers must assign duties by each employee's capabilities. Finding the areas where employees can perform at their highest level is crucial.
Managers may not completely control what their staff members do when on the clock in a mixed work environment. Many employees have used the workplace as a venue for extracurricular activities.
Being in control is difficult, especially for workers who do their jobs away from the workplace, where there are many distractions.
In a hybrid workplace, remote workers may confuse work and personal time. One of the time management strategies that help maintain employee productivity is setting boundaries right away. By setting boundaries and utilizing virtual assistant services, employers can help their remote workforce ensure they're staying productive during work hours.
Be Aware of Individual Peculiarities.
Some employees may fail to keep up with their allotted tasks in a different work environment even though they do well in that setting.
All workers are unique as people. While some people perform at their best while working alone, others perform at their best when working in a group.
Therefore, managers need to identify these elements and urge staff to use the method that will result in the most productivity.
Having a Roadmap Is Essential for Successful Hybrid Work.
The product roadmap is the best instrument for promoting shared knowledge and strategic alignment among many teams and stakeholders. The product strategy, execution priorities, and anticipated ongoing and upcoming development results are communicated.
Consequently, any product manager working with remote teams or doing hybrid work must develop and maintain a precise visual product roadmap.
Give Assistance and Instruments for Productivity.
Maintaining a productive hybrid workforce will be impossible without the appropriate technical resources to make the connections.
Having the appropriate tools at their disposal will keep staff members in touch with management and clients.
Fortunately, there are tools for remote productivity that can enable teams of workers from various places to communicate more effectively.
Putting it All Together:
Everyone has been hearing how remote work is the way of the future. In the coming years and decades, productive product managers will have to deal with hybrid and remote work environments.
Although challenging, thriving as a product manager in a hybrid workplace is undoubtedly feasible. And you can do this; I'll bet!
Since most businesses are still experimenting with different strategies to determine what works best for them, the hybrid work model is still a developing phenomenon.
Administrators must have the ability to manage staff in various work environments to maximize the benefits of a hybrid work paradigm.
Visit Chisellabs blogs to learn more about the hybrid working environment!