VP of Product: Definition, Responsibilities & Salary
May 10, 2023
Max 7min read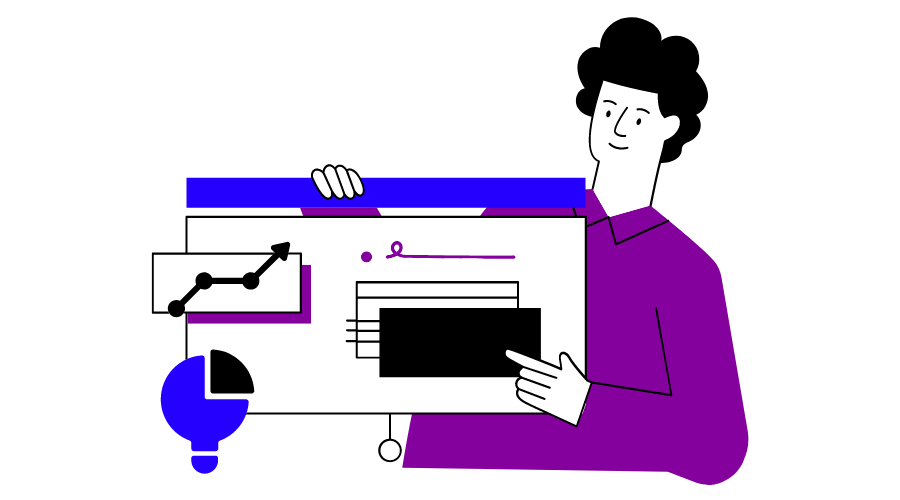 In today's fast-paced business world, it's becoming more and more evident that successful companies rely heavily on skilled product management to thrive and stay ahead of the competition. That's where the Vice President (VP) of Product comes in. This strategic position is crucial in shaping and executing a company's product vision, making it an exciting and influential career path to explore.
So, what exactly does a VP of Product do? In this informative guide, we'll break it all down for you. So, whether you're an aspiring VP of Product or simply curious about this pivotal role, keep reading to discover valuable information that will empower and inspire you.
Let's dive right in and uncover the world of VP of Product together.
What Is the VP of Product?
The Vice President (VP) of Product is a high-level executive responsible for leading and managing the development and strategy of a company's product portfolio. In other words, they are the head honcho regarding anything product-related within a company.
The VP of Product plays a critical role in a company's success, as they are responsible for ensuring that its product offerings align with its overall business goals and objectives. To fulfill consumer and market demands, they collaborate closely with various departments within the company, including sales, marketing, engineering, and design.
Key Responsibilities of VP of Product
The Vice President (VP) of Product is a key leadership position responsible for overseeing and driving a company's product portfolio's strategic direction, development, and success. Some key responsibilities of a VP of Product include:
Product Strategy: The VP of Product plays a critical role in defining the overall product strategy in alignment with the company's goals and market demands. They identify market opportunities, conduct market research, and collaborate with cross-functional teams to develop a product roadmap that outlines the product portfolio's vision, goals, and priorities.
Product Development: The VP of Product leads the product development process, working closely with engineering, design, and other teams to transform the product roadmap into actionable plans. They ensure the efficient and effective execution of product development cycles, oversee product releases, and drive continuous improvement and innovation.
Team Leadership: As a leader, the VP of Product builds and nurtures a high-performing product team. They provide guidance, mentorship, and support to product managers, designers, and other team members. They promote a culture of collaboration, creativity, and accountability and ensure that the team has the necessary resources and tools to deliver exceptional products.
Stakeholder Management: The VP of Product serves as a bridge between various stakeholders, including executives, sales, marketing, and customer support teams. They collaborate closely with these stakeholders to understand their needs, gather feedback, and incorporate it into the product strategy and roadmap. They also communicate product updates and plans to internal and external stakeholders, ensuring alignment and buy-in.
Market Analysis: Keeping a pulse on the market is crucial for a VP of Product. They monitor industry trends, competitive landscape, and customer needs to identify opportunities for product enhancements or new product offerings. They engage in market research, collect customer feedback, and analyze data to make well-informed decisions regarding the product roadmap and prioritize initiatives.
Product Performance and Metrics: The VP of Product establishes key performance indicators (KPIs) and metrics to measure the success of the product portfolio. They monitor product performance, analyze data and user feedback, and make data-driven decisions to improve product features, user experience, and overall product satisfaction.
Collaboration and Communication: A VP of Product excels in effective collaboration and communication. They closely collaborate with cross-functional teams, including engineering, design, marketing, and sales, fostering a spirit of teamwork and maintaining clear communication channels. They also collaborate with executives and other leaders to align the product strategy with the overall business objectives.
Skills and Qualifications of VP of Product
Here are some essential skills and qualifications typically expected from a VP of Product:
Product Management Experience: Extensive experience in product management is crucial for a VP of Product. They should have a demonstrated history of leading and delivering innovative products throughout their professional journey. They should be well-versed in product development methodologies and lifecycle management and deeply understand market dynamics.
Strategic Vision: A VP of Product should have a strong strategic mindset and the ability to think long-term. They should possess the ability to envision and communicate a well-defined product strategy that aligns with the company's objectives and market trends. Furthermore, they should be capable of analyzing intricate data, identifying market opportunities, and making informed decisions regarding the direction of the product.
Leadership and Team Management: Strong leadership skills are essential for a VP of Product. They should be able to build, motivate, and mentor high-performing product teams. Effective communication, collaboration, and the ability to inspire and align teams toward a shared vision are critical. They should also have experience in managing remote teams and fostering a culture of innovation and excellence.
Business Acumen: A VP of Product should possess a strong grasp of business principles and the capability to align product strategies with revenue objectives and market potential. They should be familiar with financial analysis, market research, and competitive analysis to make informed decisions about product investments and prioritization.
Customer Focus: Customer-centricity is an essential quality for a VP of Product. They should deeply understand customer needs, market trends, and user experience. They should be competent to gather and analyze customer feedback, conduct user research, and integrate insights into product planning and development processes.
Technical Knowledge: While not always required, having a solid technical background can benefit a VP of Product. They should possess a good understanding of technology trends and software development processes and can collaborate effectively with engineering teams. This technical knowledge helps make informed decisions, assess feasibility, and manage trade-offs.
Communication and Influencing Skills: A VP of Product needs excellent communication skills to articulate the product vision, strategy, and roadmap to both internal stakeholders and external audiences. They should be able to effectively communicate complex concepts in a clear and concise manner. Additionally, they should have strong influencing skills to gain buy-in and alignment from executives, cross-functional teams, and customers.
Adaptability and Resilience: The technology landscape is ever-evolving, and a VP of Product should be adaptable to change. They should have a mindset of continuous learning and be open to exploring new technologies, methodologies, and industry trends. They should also be resilient in facing challenges and setbacks, maintaining a positive attitude, and driving the team forward.
Differences Between VP of Product and Other Product Roles
The VP of Product is a senior executive position responsible for overseeing the overall product strategy, vision, and execution within a company. While the specific responsibilities and titles may vary across organizations, here are the general differences between the VP of Product and other product roles:
VP of Product vs. Product Manager
Scope: The VP of Product has a broader scope and is responsible for the entire product portfolio, whereas a Product Manager focuses on managing specific products or product lines.
Strategic Leadership: The VP of Product plays a more strategic role, setting the product vision, defining strategies, and aligning them with the company's goals, while Product Managers focus on executing those strategies and managing day-to-day product operations.
VP of Product vs. Chief Product Officer (CPO)
Organizational Level: The VP of Product is typically one level below the Chief Product Officer or may even hold the same position, as the titles can sometimes get used interchangeably. However, in some cases, the CPO may have a broader responsibility, including other functions beyond product management, such as design or user experience.
Executive Leadership: The VP of Product often reports to the CPO and works closely with them to shape the overall product strategy and drive its execution across the organization.
VP of Product vs. Head of Product
Authority and Influence: The VP of Product generally holds a higher position in the organizational hierarchy than the Head of Product. The VP of Product has more decision-making authority and influence over the product strategy. At the same time, the Head of Product may focus more on managing and coordinating product teams.
Career Path for VP of Product
The career progression for a VP of Product generally involves a blend of education, relevant experience, and a documented history of effectively delivering products and fostering business growth. While specific requirements may vary across companies and industries, certain common elements include:
Education and Experience Requirements
A Bachelor's or Master's degree in an associated field, like business, engineering, or computer science, is often necessary for a VP of Product position.
Extensive experience in product management, including roles like Product Manager, Senior Product Manager, or Director of Product Management.
Strong leadership and strategic thinking skills, with the ability to align product strategies with business objectives.
Excellent communication and collaboration skills are essential for effectively working with cross-functional teams and stakeholders.
Advancement Opportunities within a Company
Depending on the company structure and career aspirations, the VP of Product can progress to higher executive roles, such as Chief Product Officer, Chief Technology Officer (CTO), or General Manager.
Some VP of Product professionals may choose to transition to entrepreneurial roles and start their own companies or become product consultants or advisors.
Salary Expectations for VP of Product
VP of Product positions are senior-level roles, and compensation can fluctuate considerably based on company size, industry, location, and individual experience.
In general, VP of Product roles tends to offer highly competitive salaries. The average salary for a VP of Product Management in the United States is $271,103 as of May 01, 2023. However, it's important to note that the salary range for this role typically falls between $245,803 and $295,103. This range considers various factors such as the individual's experience, the company's size and industry, and the location of the position.
The specific details and career paths may vary between organizations, so it's always advisable to research and understand the expectations of a particular company when pursuing a VP of Product role.
FAQs
The main difference between a director and a VP of product lies in their levels of seniority and responsibilities within an organization. While both roles are involved in product management, the VP of product typically holds a higher position in the organizational hierarchy. The VP of product is responsible for setting the overall product strategy, vision, and execution across the company's product portfolio. They have a broader scope and are involved in strategic decision-making. On the other hand, a director of the product may have a narrower focus, such as overseeing specific product lines or managing a team of product managers.
A VP of product is vital for a company's success in today's competitive market. They provide strategic leadership, aligning product vision with company goals, prioritizing initiatives, and driving growth. They collaborate cross-functionally, ensuring engineering, design, marketing, and sales coordination. With market insight, they identify trends, analyze competitors, and understand customer demands. A strong VP of product delivers innovative products, increasing market share and revenue. They are also responsible for assembling and guiding a team, cultivating a culture that encourages creativity, collaboration, and continuous improvement