9 Best Product Portfolio Management Software for 2024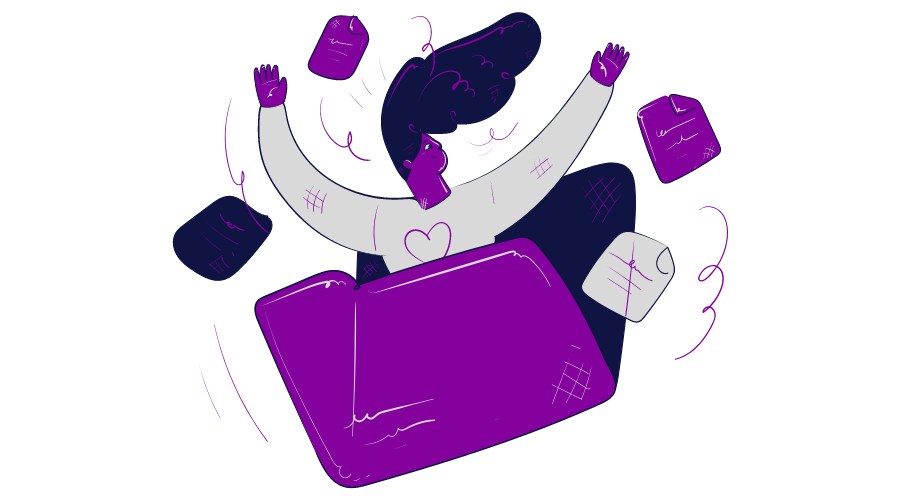 Suppose you're responsible for managing a product portfolio. In that case, you know how important it is to have the right tools in place. With the right tools, you can make better decisions about which products to invest in, allocate resources, and bring new products to market.
Product portfolio management tools help you make sense of the big picture and how your products fit together. With the right tool, you can see which products are most profitable, which are growing the fastest, and where you might need to make some changes.
There are a lot of different product portfolio management tools on the market, so it's essential to choose one that's right for your needs.
Let us learn more about product portfolio management tools today.
What are Product Portfolio Management Tools?
The product portfolio management tool helps your team manage, organize, and analyze your company's products and services. Product portfolio management tools can help you keep track of your product range and decide which products to continue developing and selling.
Product portfolio management tools can be extremely helpful in managing a large or complex product range. It can help you track your product development progress and make the most of your resources.
Suppose you want to streamline your product development process or better understand your product range. In that case, investing in a product portfolio management tool is a good idea.
Product portfolio management tools can help you to:
Understand what products and services you offer
Identify which products are most profitable
Understand what your customers want and need
Keep track of your competition
Make informed decisions about your product portfolio
Ultimately increase profits.
What is the Comparison Criteria for Product Portfolio Management Tools?
User interface
The user interface is essential because you want to be able to navigate the tool and find the information you need quickly. Some product portfolio management tools have more complex interfaces than others. Therefore, it's essential to find one that is intuitive and easy to use.
Functionality
What specific features do you need in the product portfolio management tools? Make sure the tool you choose has all the features you need to make your job easier.
Scalability
If you plan on growing your portfolio, you'll need a tool that can scale with you. Some tools are better suited for small portfolios, while others can handle large ones. Make sure you choose a tool that can accommodate your future needs.
Pricing
You'll need to consider your budget when choosing product portfolio management tools. Luckily, there are options out there to fit every budget.
Customer support
If you run into issues with your product portfolio management tool, you'll want access to good customer support. Make sure the company you choose offers quality support in case you need it.
Considering these criteria, you can narrow your options and find the best product portfolio management tool for your needs.
Key Features in Product Portfolio Management Tools
If you're looking for a product portfolio management (PPM) tool, there are a few key features you should keep an eye out for. Here are some of the most important:
Roadmap planning and management
A product portfolio management tool should allow you to create, visualize easily, and share product roadmaps. It will help you to effectively communicate your product plans to stakeholders and make better decisions about what to build and when.
Requirements management
A great PPM tool will help you to track and manage product requirements. It will ensure that all stakeholders know your needs and that you are meeting them.
Resource management
It should help you effectively manage resources to allocate them to the right products and projects. It will help you optimize your resources and get the most out of your team.
Reporting and analytics
A good PPM tool will allow you to generate reports that help you understand your product portfolio and make better decisions. It will enable you to improve your overall portfolio management process.
Prioritizing and tracking product development
The tool should help you prioritize and track product development to ensure that you are developing and improving the right products. It should also be easy to see how products perform against each other to decide which products to keep in your portfolio.
Making informed decisions
A good product portfolio management tool will give you the data you need to determine which products to keep in your portfolio. It should also be easy to use and understand, quickly choosing which products to keep and which to ditch.
Now that we have discussed the fundamentals for choosing the right product portfolio management tools, here are our top picks.
9 Best Product Portfolio Management Tools
Chisel is your go-to product management software that enables you to enhance your product seamlessly. 
If you're a product manager, you know how important it is to have a clear and concise roadmap. After all, your roadmap is what guides your product's development and shapes its future.
What if a solution existed to optimize your roadmap even further?
Enter Chisel.
Chisel is a leading product management software created with input from actual PMs. It offers all the features you need to create a great roadmap, including the ability to gather consumer feedback and prioritize your product's features.
With Chisel's integrated analytics, you can quickly generate user personas and customer journey maps.
Chisel Key Features:
Roadmaps:
Often, it can be challenging to know when to make changes or where to allocate your resources. Chisel offers several tools to help you plan the future of your product more effectively.
With our Roadmaps pillar, you can get the insights you need to make decisions that will benefit your product in the long run. Whether you are looking for ways to optimize your product roadmap or want to be more proactive about planning, Chisel can help.
The Roadmaps pillar has three main tools:
Treeview: It allows you to add the features and elements that go into creating your product, rate them on a specific scale, and allocate them to particular releases.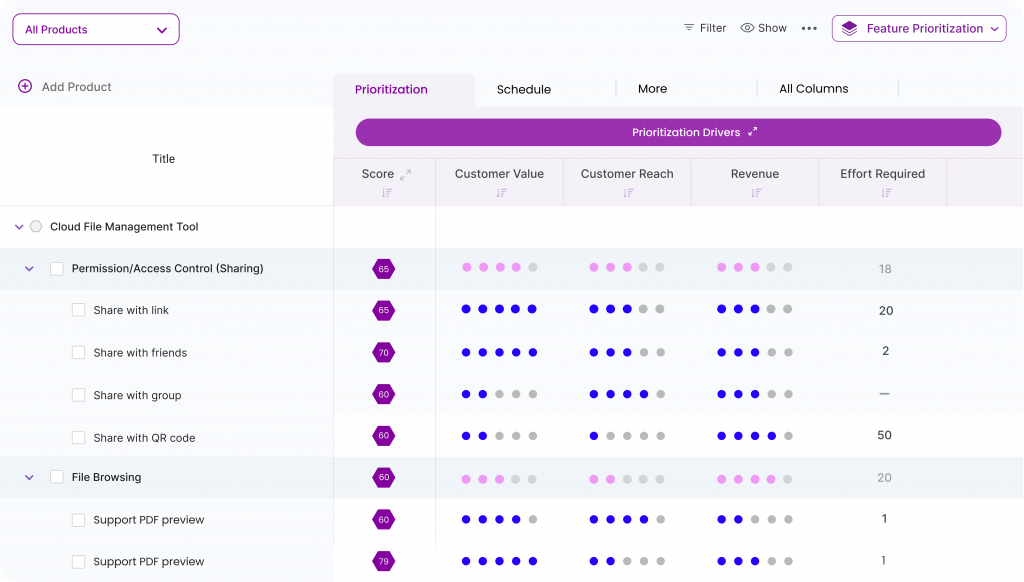 Kanban view: Kanban is a great way to visualize your work, and the Kanban view is an efficient tool for keeping track of your progress. This view lets you see which features you are currently working on, which are in progress, and which you have left for future development. It can help you prioritize your work and progress on the essential features.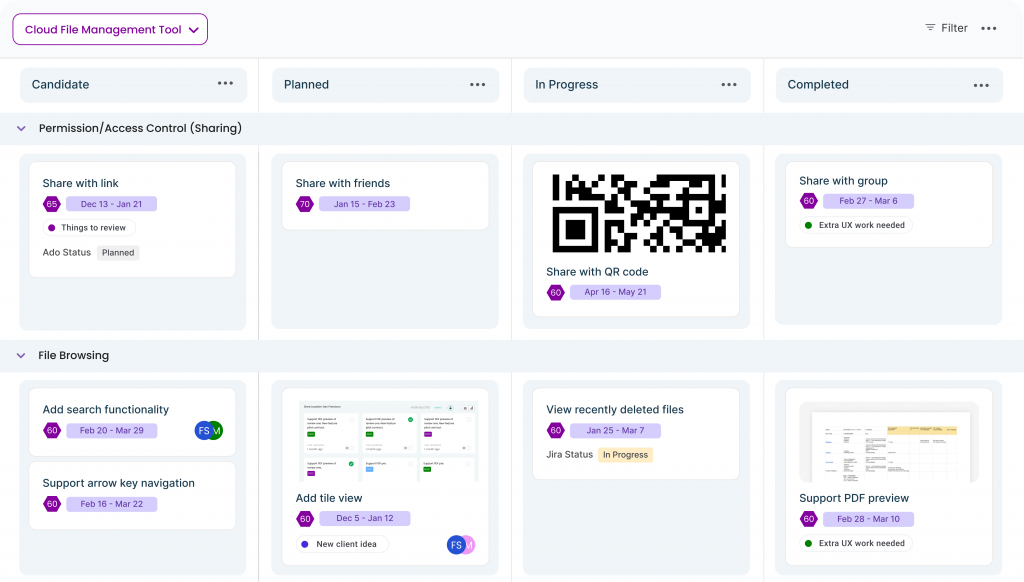 Release view: The Release View in Chisel makes it easy to see what's coming up in each release cycle. This way, you can plan your work around the release schedule and be sure to get the most out of each release.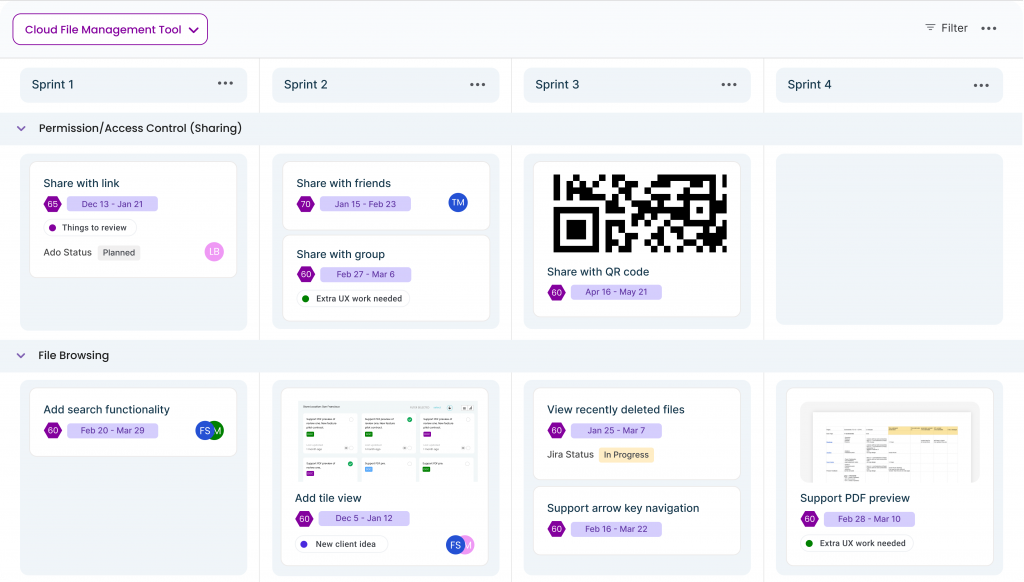 Timeline View: If you're looking for a way to understand better how time gets allocated, the "Timeline view" is a great option. This tool by Chisel lists the features you have already worked on at various points, giving you a clear picture of what you have accomplished and when. It can be a valuable tool for project planning and managing expectations.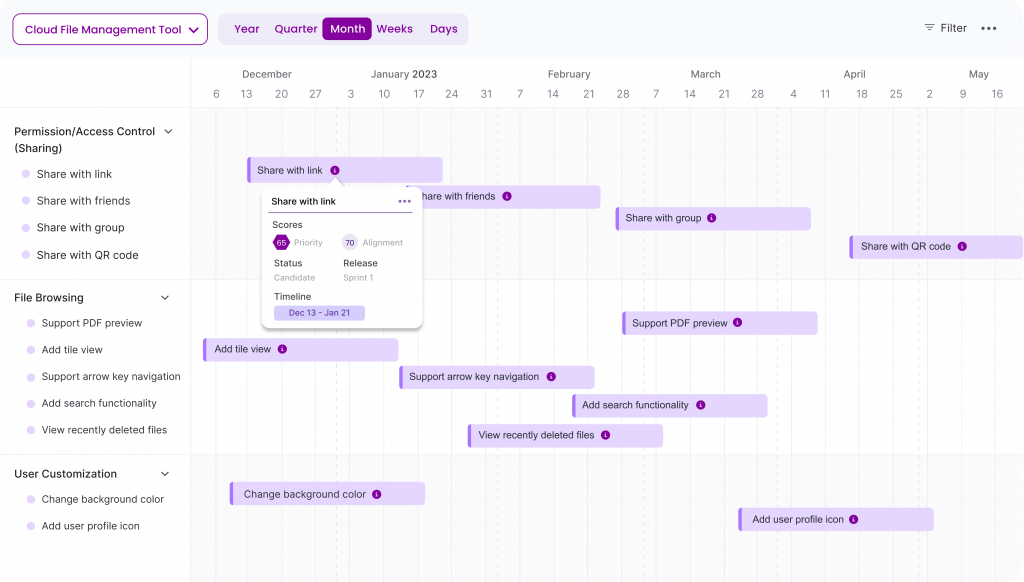 Integration:
Chisel includes connectors with many well-known tools to simplify the process of product management and free you up to concentrate on creating exceptional products. You can easily integrate Chisel with Jira, Slack, MS Teams, and Azure DevOps.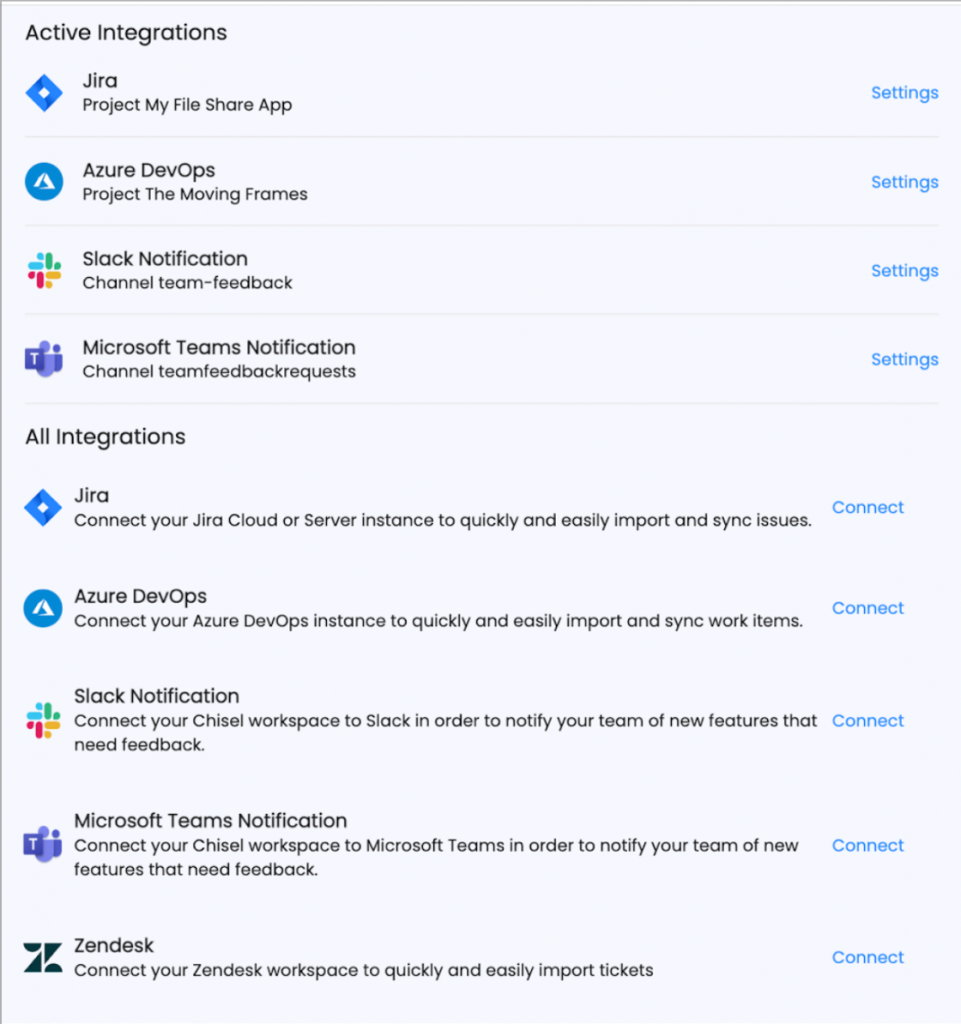 Chisel Pricing:
The free forever plan includes many essential features.
The paid plan costs $49 monthly if billed annually.
2012 saw the launch of Monday.com to help enterprises scale quickly. In 2015, Monday.com had thousands of consumers. Since then, they have grown tremendously, reaching their current global client base of hundreds of thousands.
Monday.com's templates also make it easy to start, so you can focus on your project and not worry about building everything from scratch.
Monday Key Features:
You can organize your tasks (each task is an item) and subtasks on a Monday.com board (subitems).
The checklists from Monday.com make it easier for your team to complete larger tasks by breaking them down into smaller subtasks. They can check the box next to an item to designate it as finished once they are through with it.
You can enhance workflows and automate various operations with Monday, including recurring tasks.
Several third-party apps are integrated with Monday to improve teamwork and data flow throughout your office software.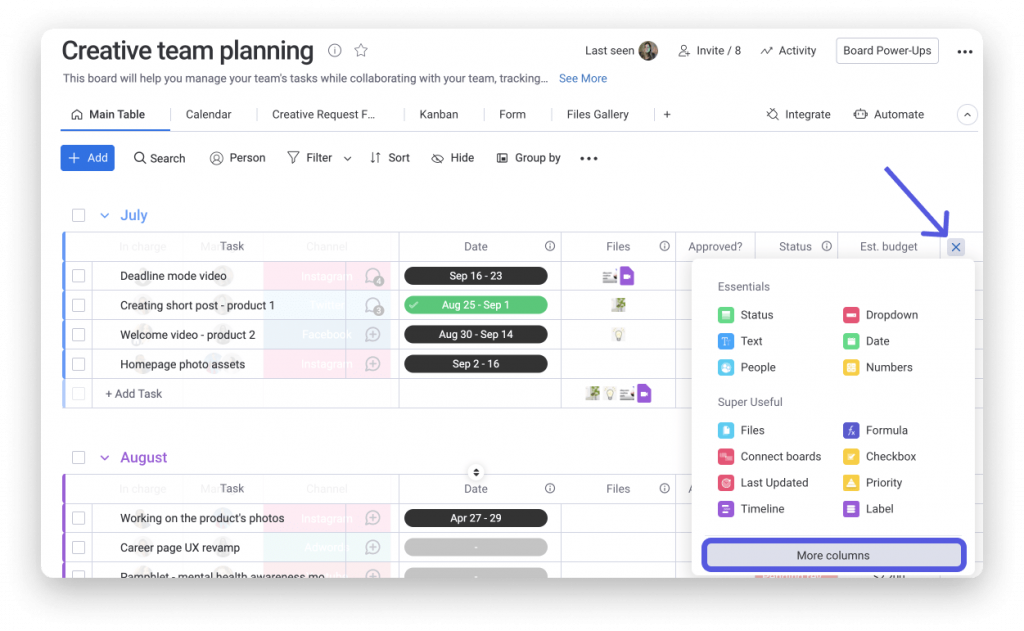 Monday.com offers a great way to do this by adding a Time Tracking column to your board. Click the timer in the row of the task you're working on to begin monitoring time. Once you get done, you can pause the timer to stop it. It is a beneficial tool that can help you maintain productivity and keep your clients happy.
Monday Pricing:
Individual: Free of cost.
Basic: $8 per member per month, billed annually.
Standard:$10 per member per month billed annually.
Pro: $16 per member per month, billed annually.
Enterprise: Contact Sales.
Propel is software that assists businesses in producing customer-focused goods. It is a cloud-based system that combines Product Lifecycle Management (PLM), Quality Management (QMS), and Product Information Management (PIM).
It allows businesses to develop products effectively and market them profitably. Propel also addresses quality problems decisively.
The consumer and product records are naturally related because Propel got built on the Salesforce platform. Having this tool can give businesses the edge they need to be successful.
Propel provides a suite of tools that can help streamline product development and achieve faster time to market.
By consolidating the view of service, quality, and product data, Propel can help resolve customer complaints faster and increase margins.
Propel Key Features:
Propel PLM provides a tool that includes full data transparency, cross-company collaboration, blended analytics, and complete access control. Using this application to connect people, systems, and processes, users can break down project silos and make better business decisions.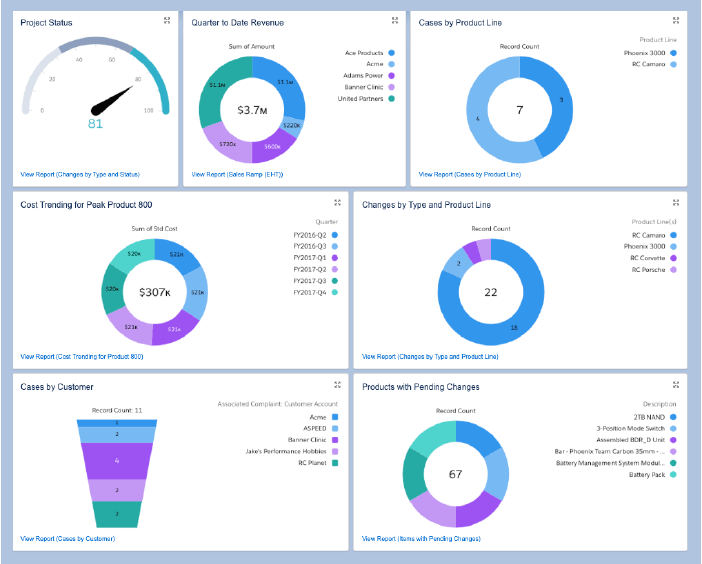 With the help of these updates, users can exchange information quickly and easily with the product, service, or sales divisions. It helps to get their product out in the market faster and makes it more accessible to potential customers.
This tool allows you to compare and review product revisions without stopping your current workflow. You can precisely determine what changed and where and efficiently cancel any product qualities you don't need.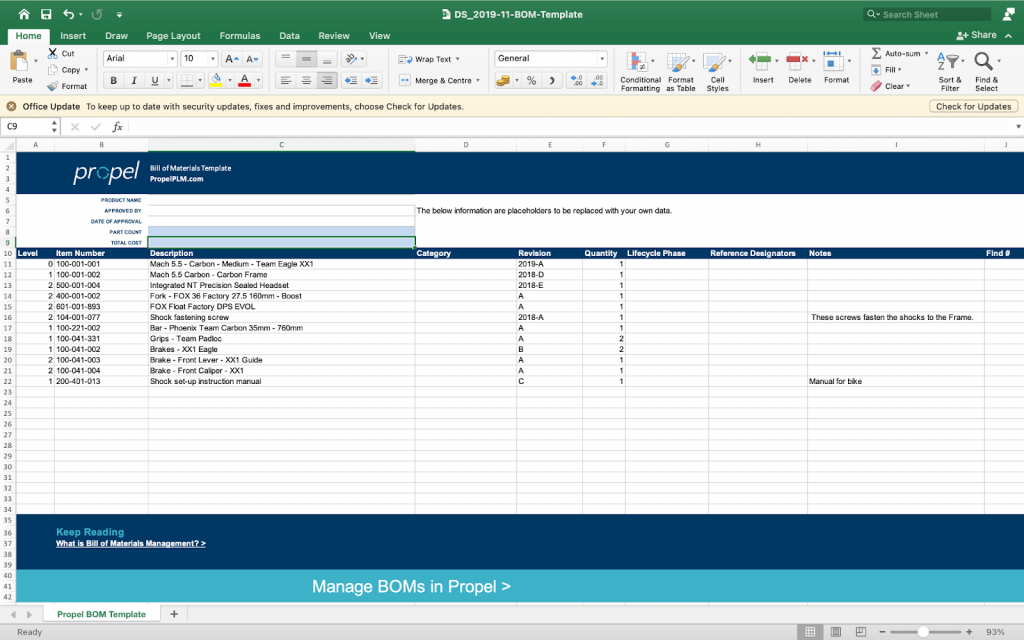 The BOM management tool is a great way to keep track of all the different parts and components that go into a product. This way, you can easily collaborate with various teams and partners involved in the product's lifecycle and safely share your most recent BOM information.
Propel Pricing:
You need to get in touch with their sales team for pricing details.
The product management platform Dragonboat is increasing in popularity among product leaders. It is because it provides an easy way to connect goals with initiatives, create data-driven roadmaps, and interact with engineering tools for execution.
Dragonboat makes it easy to use past iterations as a guide for upcoming iterations. Consequently, product managers who use Dragonboat can more efficiently plan, prioritize, deliver, and enhance market-leading solutions.
Dragonboat is an excellent tool for product roadmap management because it allows you to prioritize Epics according to various criteria.
It means you can build the best possible roadmaps for your products based on data and not just gut feel.
What's more, Dragonboat can help you model resource requirements to ensure that your roadmaps are achievable. It is crucial to ensure that your products are successful.
Dragonboat Key Features:
Dragonboat is the complete product roadmapping tool for chief product officers and their teams.
It helps CPOs and their teams choose the finest products for their customers' satisfaction while enhancing business results.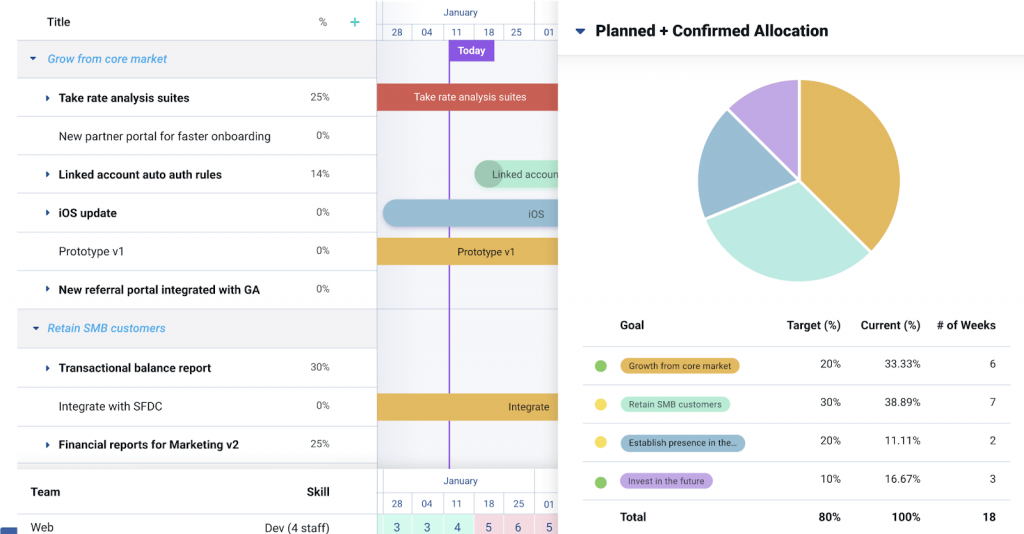 Priorities for revenue, consumers, operations, and stakeholders can all get aligned by users.
They can link efforts, features, and visions.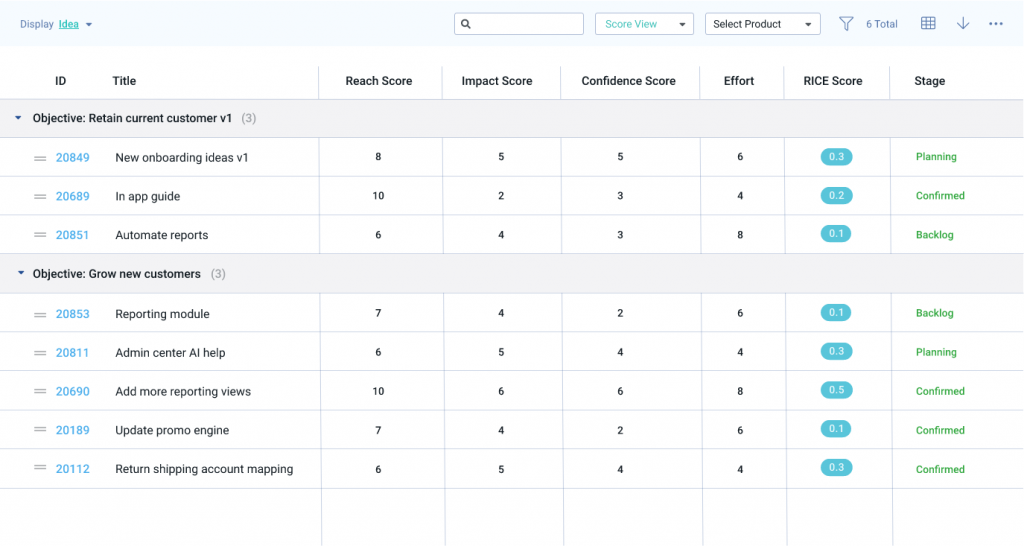 The software offers tools for setting strategic priorities and applying several frameworks, such as RICE, MoAR, or a custom framework.
Dragonboat enables teams to distribute and prioritize tasks. That is with real-time visibility, subjectively or numerically.
The integration of engineering tools enables users to estimate and allocate resources and detect and plan dependencies.
Dragonboat Pricing:
Starting: $39 per editor/per month, if paid annually.
Scaling: $69 per editor / per month, if paid annually.
Enterprise: $99 per editor, if paid annually.
Planview is a portfolio management and task management tool that provides business solutions via various packages.
It offers complete solutions for agile enterprise planning, project portfolio management, strategic portfolio management, agile program management, organizational innovation, and team task management.
The software assists organizations in changing the way they direct the execution of strategic projects. Additionally, Planview enables teams to perform at their peak in various ways.
Some benefits of using Planview include increased transparency, improved communication, and enhanced collaboration.
With Planview, organizations can easily see where projects stand on each other and get a clear picture of what they need to do to move forward.
In addition, Planview provides teams with the ability to work together more effectively, which can lead to better results.
Planview Key Features:
The Planview Spigit platform helps organizations share opportunities and issues, capture new ideas, and manage the evaluation process of new ideas.
Enterprise One is a comprehensive solution that includes features for project portfolio management, product portfolio management, capability and technology management, and strategic and financial planning.
Planview PPM Pro is a comprehensive enterprise work management solution that includes project portfolio management features.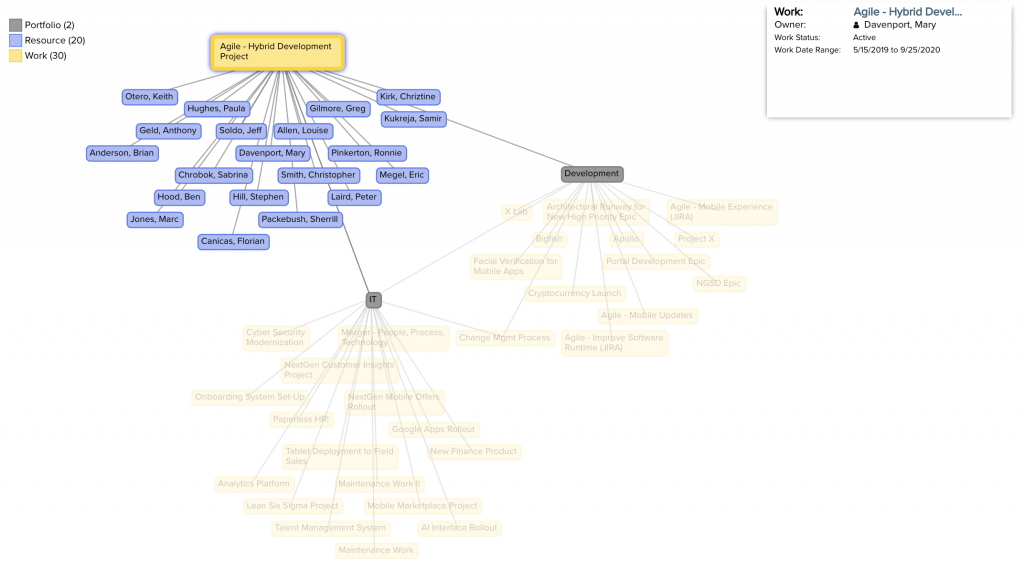 The project delivery service offered by Planview PPM Pro enhances PPM. It enables PMOs to focus resources on work that adds the most value.
Users can gather and carry out projects with the help of PPM, project intake management, prioritizing alignment, requests, time tracking, and a dashboard. They can use reports, team collaboration tools, predictive portfolio analysis, and Gantt charts.
Planview Pricing:
You need to get in touch with their sales team for pricing details.
Pendo provides thorough product insights that allow me to see how users interact with the product and what features they're using (or not using).
It helps you make informed decisions about improving the user experience. And because Pendo doesn't require scripting, tagging, or instrumentation, it's easy to use and keep track of all your users.
Using Pendo, users can create and implement sophisticated in-app campaigns without the assistance of developers. It makes it easy to contact customers and customize messaging to ensure they get the most out of your product.
Additionally, Pendo enables users to identify areas where they should improve their product's user experience.
Pendo Key Features:
Pendo provides account and user levels visibility, allowing you to identify your superusers and track usage patterns.
Rich usage analytics is available to each product team, giving you a detailed view of how users interact with your product.
Pendo helps you take action based on data-driven insights, improving the health of your customers and your product.
Pendo helps you find untapped opportunities to enhance the user experience by visually comparing user behavior across various groups.
Variations among segments are a powerful technique to comprehend adoption patterns and retention risk, regardless of whether it's enormous versus small clients, trial versus paid, or distinct user roles.
With integrated multi-app analytics, see how users interact with your product across different channels and applications.
Become more familiar with how users engage with your product, and identify any areas that need improvement.
Pendo Pricing:
The free version is available.
For paid version, you have to contact the team.
Planisware offers global project portfolio management software solutions specially made to support engineering, IT, and product development business processes.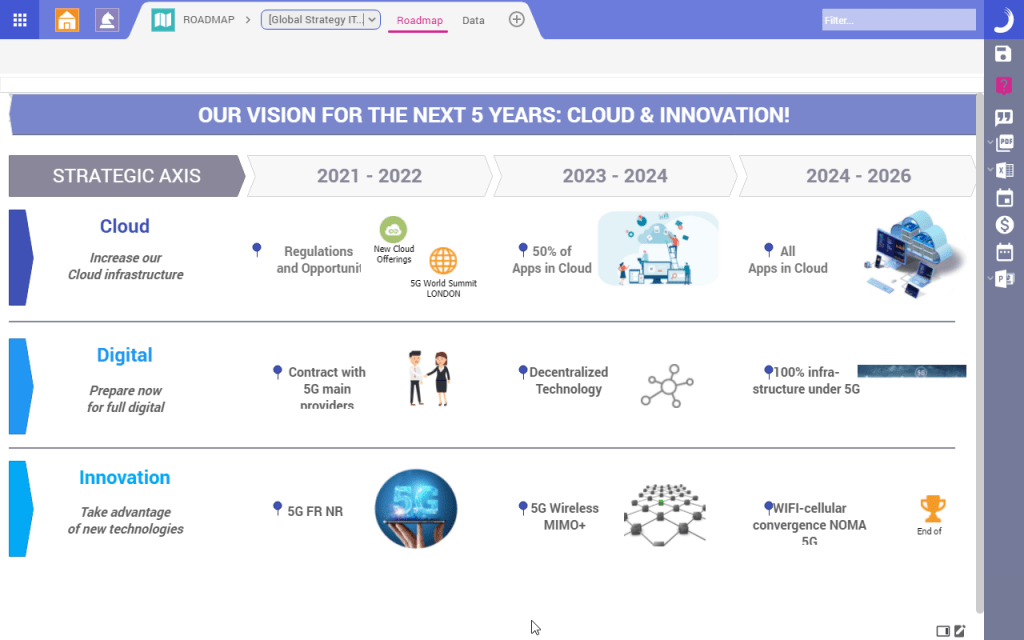 The software can schedule resources and costs, keep track of time, manage risks, and manage documents in a group setting. It also supports the full range of business portfolio governance, from financial and resource planning to product life cycle management.
Planisware Key Features:
Planisware shapes strategy by allowing businesses to use many categories to shape their strategy and evaluate results.
Planisware manages project portfolios by businesses being able to create and order their project portfolios through simulations.
Because of its coherence, its user interface provides businesses with an end-to-end integrated solution.
It enhances visibility by providing businesses with various tools such as capacity planning, resource scheduling, and time monitoring.
Planisware helps teams work better by providing a central location for sharing information and ideas.
It has integrations with Google Suite, Oracle, Primavera, Microsoft 360, Content/Document Management Systems (CMS), DevOps and Agile technologies, and additional integration and API points. It makes it simple for your customers to connect with the tools and systems they use daily, making their workflows more efficient and effective.
Planisware Pricing:
You get pricing upon request. Therefore, contact the sales team.
Adobe Workfront is the pioneer in collaborative work management. It integrates people and data across the organization, connects strategy to execution, and controls work from beginning to end to support teams in producing quantifiable results.
Workfront provides businesses with the business skills they need to deliver excellent customer experiences at every level of planning and implementing work.
With features that make it easier to prioritize, assign, and track tasks taking place through the entire customer journey, Workfront is your solution. Businesses would need Workfront to streamline their workflows and improve customer service.
Workfront Key Features:
Workfront is simple to account for every step in the process and convert new work requests into projects in seconds, thanks to project automation through editable templates.
Before making modifications, users can develop "what if" scenarios with the help of Gantt charts.
Drag and drop task manual assignment gives you more control over how work gets distributed.
Mobile applications and cloud technology provide access to the work management solution anywhere and anytime.
Automated request queues and customized forms help precisely scope projects.
Workfront offers standard reports and personalized dashboards to help users stay informed.
Fusion is a code-free, user-friendly interface to connect Workfront to hundreds of business applications.
Workfront integrates with Adobe Creative Cloud, Android and iOS apps, Box, Google Drive, JIRA, and other applications.
Workfront Pricing:
They have four plans. However, you will reach out to them directly to know the pricing of each model.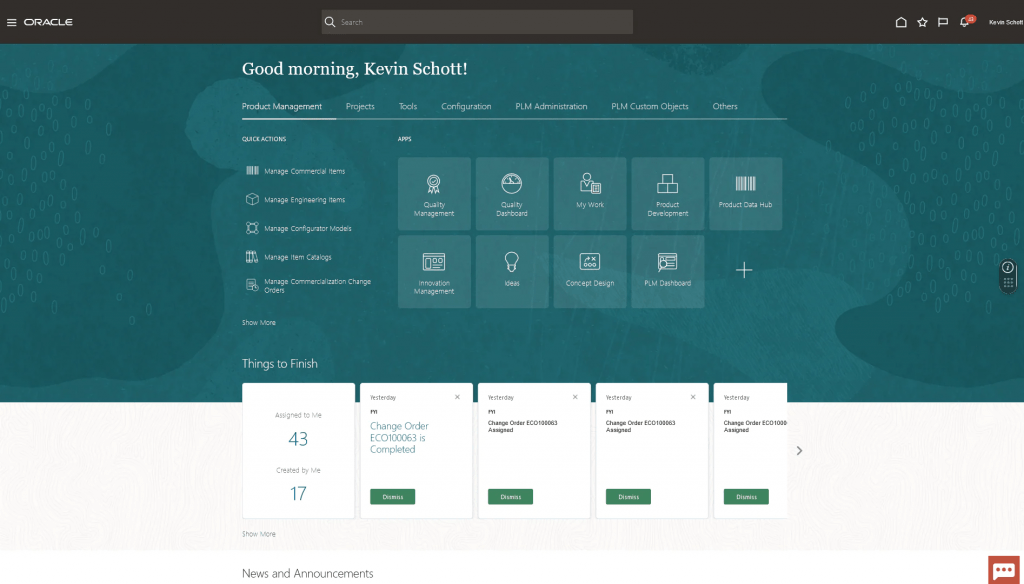 Oracle's Product Lifecycle Management (PLM) Cloud is a cloud-based solution that aims to help businesses with product innovation and supply chain management.
The PLM Cloud offers a variety of features to support product development teams, including project and collaboration portfolio tools, proposal and innovation management, scheduling tools, and more. By structuring and organizing the data and procedures involved in creating and commercializing products, the PLM Cloud can help companies improve their overall operations.
Oracle PLM Cloud Key Features:
It is a comprehensive product development solution that enables businesses to manage all product conception and development stages.
Oracle PLM Cloud includes all the features necessary for product development. It aims to support all pre-product conception and development stages.
Businesses can record ideas, gather needs, manage their portfolios and proposals, and even manage their operations and sales.
Enables internal group collaboration between R&D, Quality Assurance, Operations, and many other departments.
Oracle PLM Cloud can be directly integrated with Oracle ERP and Oracle SCM, providing businesses with a complete product development solution.
Predictive links exist between 360-degree product quality viewpoints throughout the PLM and supply chain activities.
Oracle PLM Cloud can integrate data from several ERP platforms based on expansion, mergers, or purchases.
Oracle PLM Cloud Pricing:
You need to get in touch with their sales team for pricing details.
Other Product Portfolio Management Software
With its user-friendly interface and excellent customer experience, KeyedIn Enterprise enables a PMO to shift from project delivery to portfolio value. Additionally, the tool's potent product innovation helps ensure that your PMO can make informed decisions that drive accurate results.
Anaplan is among the product portfolio management tools that offer a high rate of user adoption and engagement. On models and plans, anybody can participate using any device anywhere, at any time. By bringing distributed, on-the-ground expertise to corporate plans and enabling cross-functional planning, Anaplan's unified platform achieves top-down, bottom-up alignment.
With features like resource planning, business intelligence, integration, and workflow automation, Kantata can help you optimize your operations and improve your performance.
Saviom is a product portfolio management tool that helps companies create an optimum workforce, lower overall resource costs, and future-proof themselves against market instability.
The entire ERM suite provides enterprise-wide visibility to identify and manage qualified resources, using the necessary skills, qualifications, experience, pricing, and availability for the projects.
If you're looking for a robust and user-friendly platform to help you manage your projects and portfolios, Sciforma is an excellent option. With four fundamental PPM capabilities – idea & demand, portfolio & programs, planning, work & interaction, resources, and time tracking – it's adaptable to different PMO maturity levels and works in various industries.
3 Editor's Pick of Product Portfolio Management Tools
There are a lot of product portfolio management tools on the market. Still, Chisel offers a comprehensive solution that includes requirements management, a dashboard, release management, workflow management, and many more features.
All these capabilities make it an excellent choice to keep track of many different products and projects and make your work a walk in the park.
If you're looking for a scalable solution that can successfully combine all of your product records into one central location, Propel is the answer. With Propel, you can make quick decisions while keeping compliance in mind and using the context you need.
Planview's robust capabilities can help you optimize your utilization, identify and mitigate risks, and achieve timely and cost-effective project completion. Planview is the ideal solution for streamlining your product portfolio management, whether managing a few projects or hundreds.
Conclusion:
Various product portfolio management tools are available on the market, each with its unique features and benefits. Picking the appropriate tool for your organization can be a challenge. Still, it is essential to consider your specific needs and requirements.
In conclusion, your organization's best product portfolio management tool will depend on your specific needs and requirements. However, all of the tools mentioned in this blog post offer a great way to manage your product portfolios and make better decisions about your products. Take your pick according to what fits your bill.