11 Free Product Management Tools for Smaller Companies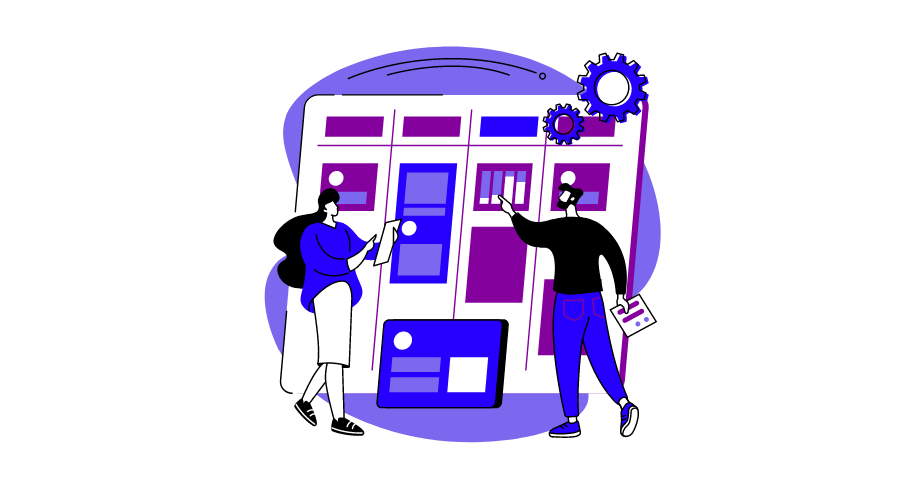 If you're a product manager, you know that there are a lot of tools out there to help you with your job. But which ones are the best? And which ones are free?
This article will help you discover the best free product management tools. These tools will help you get the job done, from project management to product discovery.
So without further ado, let's get started!
Why Do You Need a Free Product Management Tool?
Finding the best product management software, such as product feedback software, is essential and a win-win for product managers everywhere.
Every product management software, like any software, is available in the market in various shapes and sizes. On the one hand, we have premium products with advanced features and functionalities. On the other hand, we also have another category of free product management tools suitable for small businesses searching for very little to no-cost software solutions.
The free version of product management tools can be divided further into the free plan and the free trial.
Product managers can use the free plan softwares indefinitely. However, they will have restricted access to some features or even the number of users/seats.
The free trial version of the software is available only for certain days.
Other than the fact that the free product management tools are free, another benefit of signing up is that they help in improving team collaboration and also bring collaborators and stakeholders on the same page.
To ensure seamless and smooth team collaboration, product managers need top free product management tools with the said tools.
Fortunately, most free product management tools come with collaboration tools.
Comparison Criteria for Free Product Management Tool
User Interface:
The user interface is among the most critical aspects of any product management tool. You want a tool that is easy to use and navigate so that you can get the most out of it.
Usability:
Usability is another essential criterion to consider. You want a tool that is easy to use with a wide range of features that you can take advantage of.
Integrations:
Integrations are also essential to consider when choosing a product management tool. You want a tool that can easily integrate with other tools and systems to get the most out of it.
Support:
If you have complaints or need assistance, the company behind the product management tool should offer excellent customer support.
Functionality:
The tool should have all the features you need to manage your product development process. It should also be flexible and allow you to customize it to fit your specific needs.
Best Free Product Management Tools Key Features
As a product manager, you always look for ways to streamline your process and enhance team productivity.
There are a lot of great product management tools out there, but not all are free. So, what are the key features the best free product management tools should have?
Product Roadmap:
A product roadmap provides a broad picture of the development plan for a product.
It includes vital milestones, features, and timing. An excellent free product management tool should have a robust product roadmap.
A product roadmap will help you map out the course of your product development and ensure everyone is on the same page.
User Stories:
User stories are brief descriptions of how a user will use a product. They help to define the requirements for a product. User stories help you capture your product's functionality from the user's perspective. It is essential for developing a user-centered product.
Gantt Charts:
Gantt charts are also a valuable tool for product managers. They help you visualize your project timeline and track dependencies. Gantt Charts can be extremely helpful in keeping your project on track.
Feature Prioritization:
Feature prioritization is the process of identifying and ranking the most critical features of a product. Feedback from users can be a helpful input in this process.
This feature helps you prioritize features based on customer feedback. It is essential to ensure that your product meets your customers' needs.
Supporting PM Methodologies:
The best free product management tools should support popular project management methodologies such as Agile and Scrum. Join the thousands of product leaders who are using Chisel to succeed.
11 Best Free Product Management Tools
If you're looking for a free product management tool, Chisel is worth checking out. It ticks off almost all the essential features you'd want, from being able to access Gantt charts to creating seamless roadmaps and managing feedback transparently.
If you're looking for a way to plan the future of your product, the Chisel Roadmaps pillar can help.
With tools to add and rate features, assign them to releases, and see what you need to do, Roadmaps can make it easier to see what's coming down the line for your products.
Assuming you have a product you want to release, the "Treeview" tool can see what features and parts need to get completed.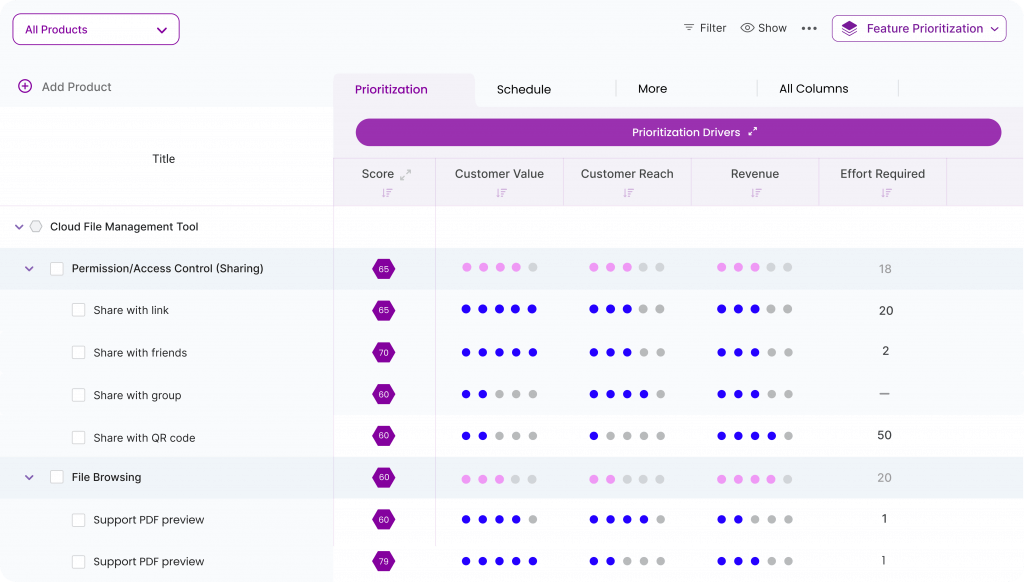 You can rate the features and components on a scale of importance and assign them to releases. It should help you plan the future of your product more easily.
If you're looking for a way to keep track of your development process, the "Kanban view" is a great option.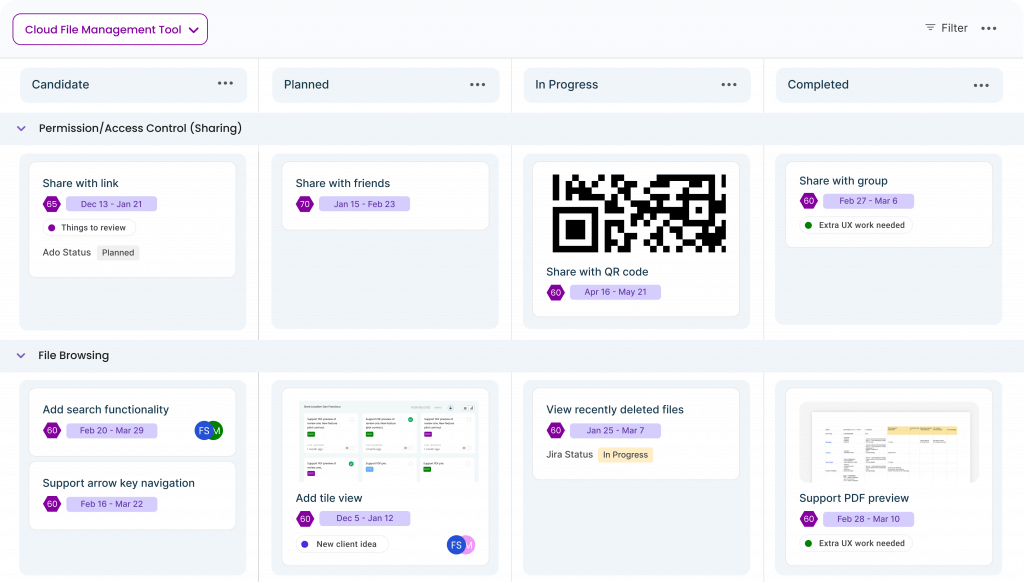 Kanban view displays all of the features that:
You are currently working on,
Are in progress, and
Are still in the development phase.
Additionally, it displays the features you have already finished. It can help you stay on track and ensure that you're making progress on your project.
The "Release view" tool in Chisel lets you view all the features in each release cycle. It is beneficial when you need to quickly and easily switch between releases.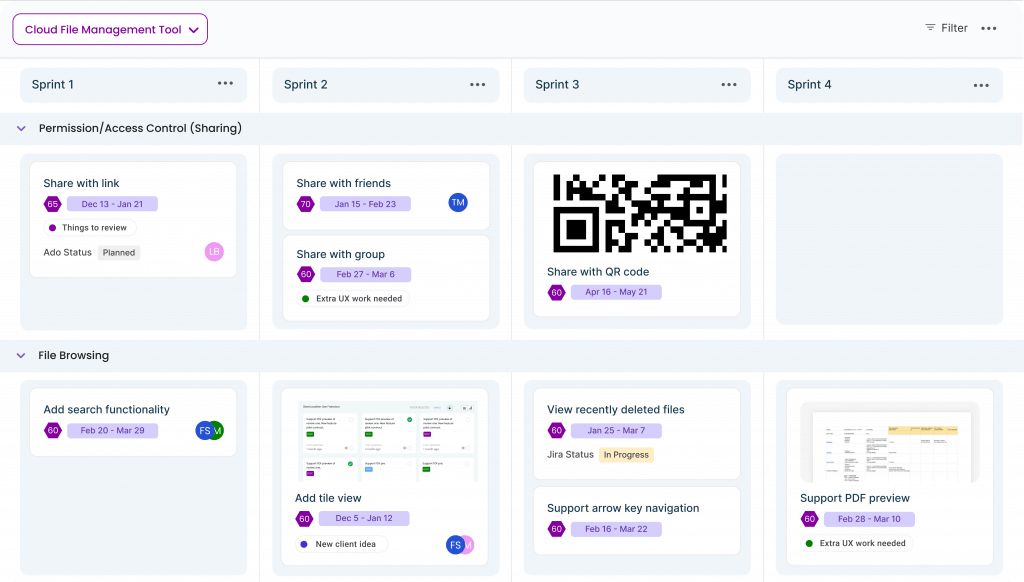 The "Timeline view" gives you a detailed view of the features worked on throughout time. It helps you get a high-level understanding of how time gets allocated.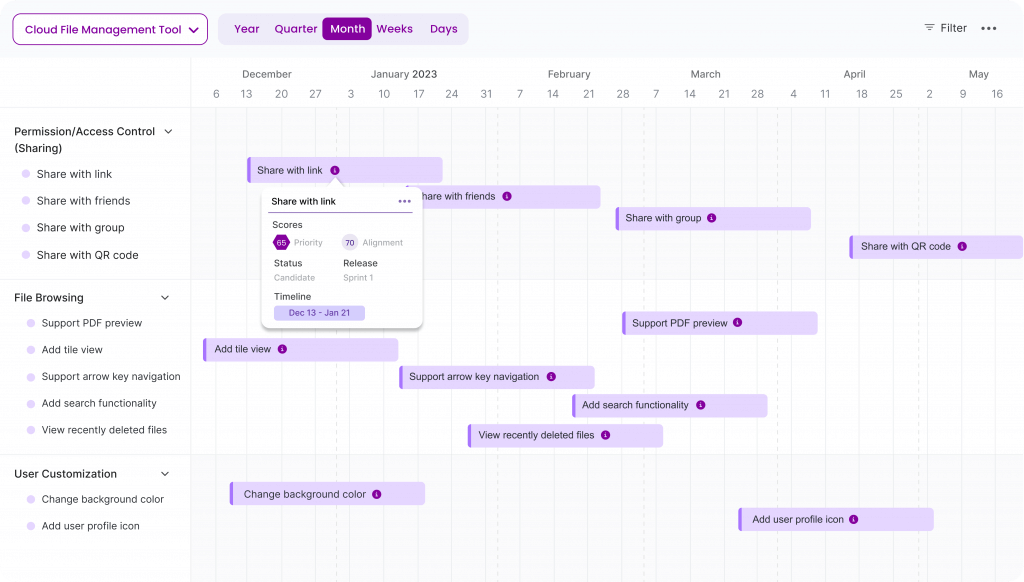 The Team Radar Chisel pillar is essential for ensuring that everyone in your organization is on the same page. The team alignment pillar has three key elements that make it easy for your team to keep track of their output, comments, and suggestions.

By keeping everyone informed and aligned, you can avoid costly mistakes and ensure that your team is always moving in the right direction.
Chisel's "User Research" pillar helps you learn what your clients' thoughts are. On the Survey tab, users can create questionnaires that they can then send out to customers to get feedback.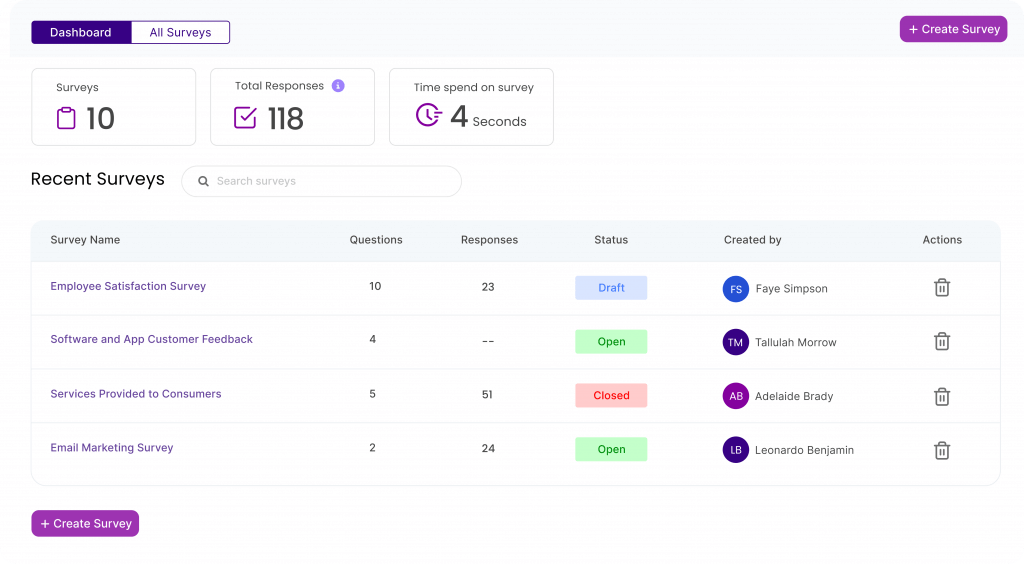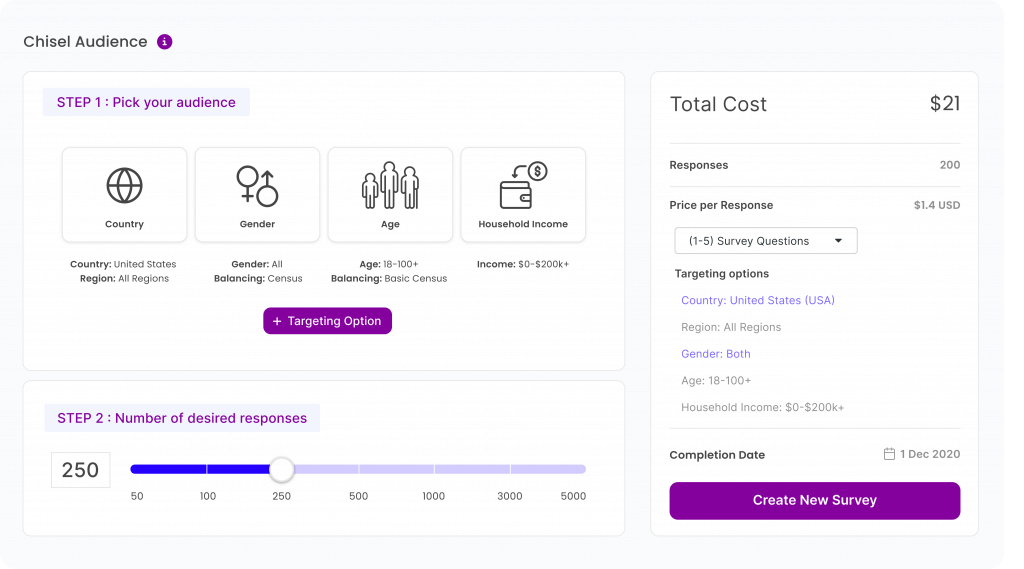 Using the audience view, you can design an audience panel specific to your target market. Ideabox is where you may keep all the tips, ideas, and other ways to improve the product that come from your customers and coworkers.
Your consumers may share, store, and prioritize their ideas using a feedback Portal.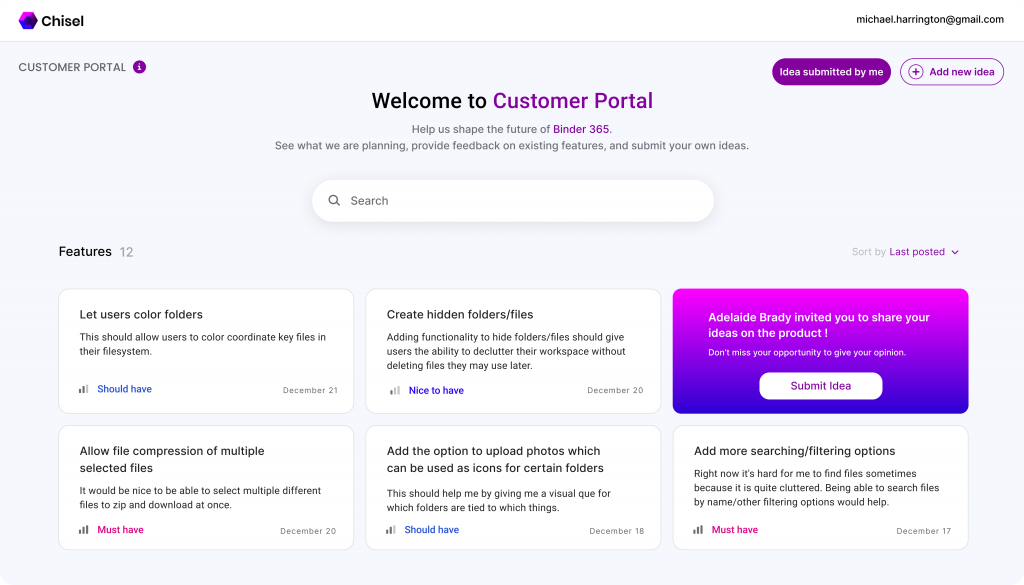 It is an integral part of the user research process, as it helps you constantly improve your product based on your feedback.

Why product leaders are saying Chisel is the best?
Miro is the collaborative whiteboard platform that enables teams to work together effectively in the same room or across the globe.
With Miro's digital sticky notes, brainstorming and planning are a breeze, and agile workflows are a snap to manage.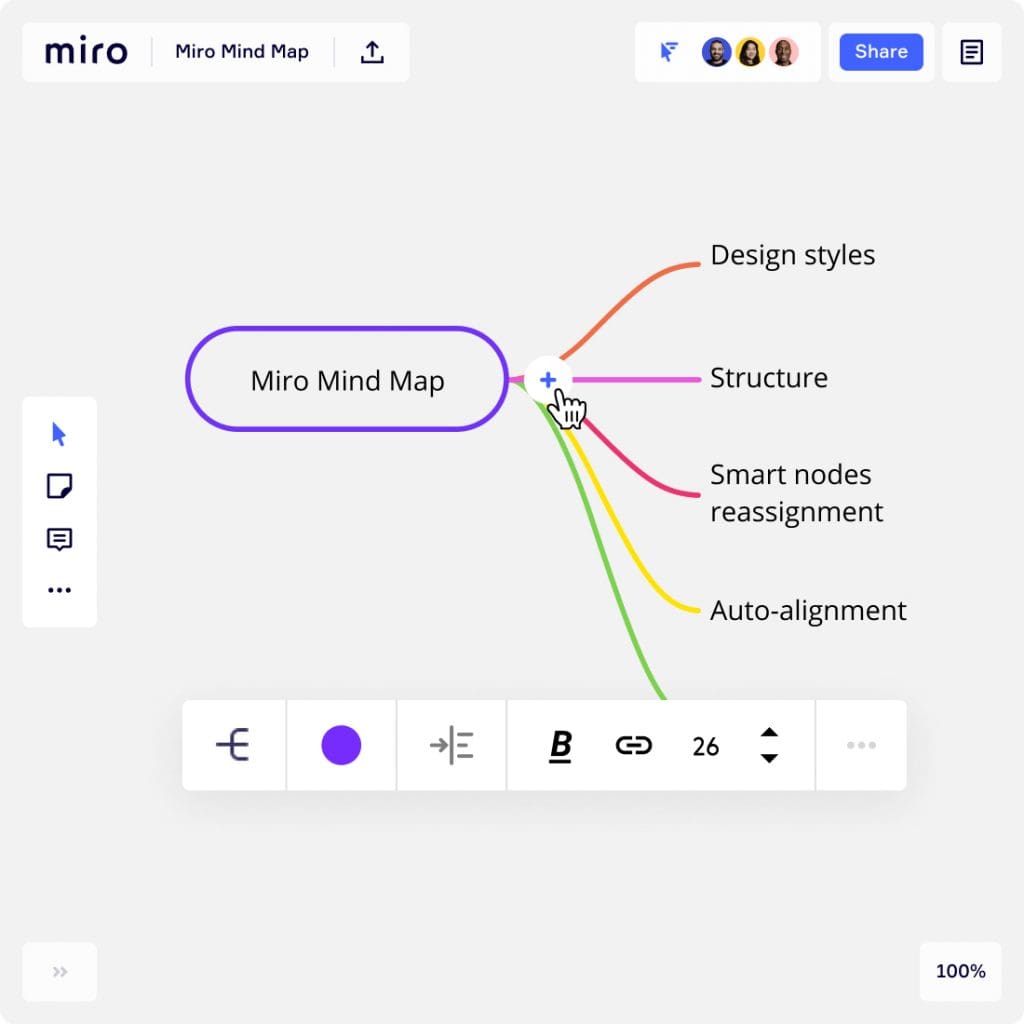 This free product management tool makes it simple for your team members to interact and complete work no matter where they are.
And with Miro's templates for pre-built product management, you can easily create the perfect roadmap, retrospective, daily standup, mind map, user story map, or Kanban board for your team.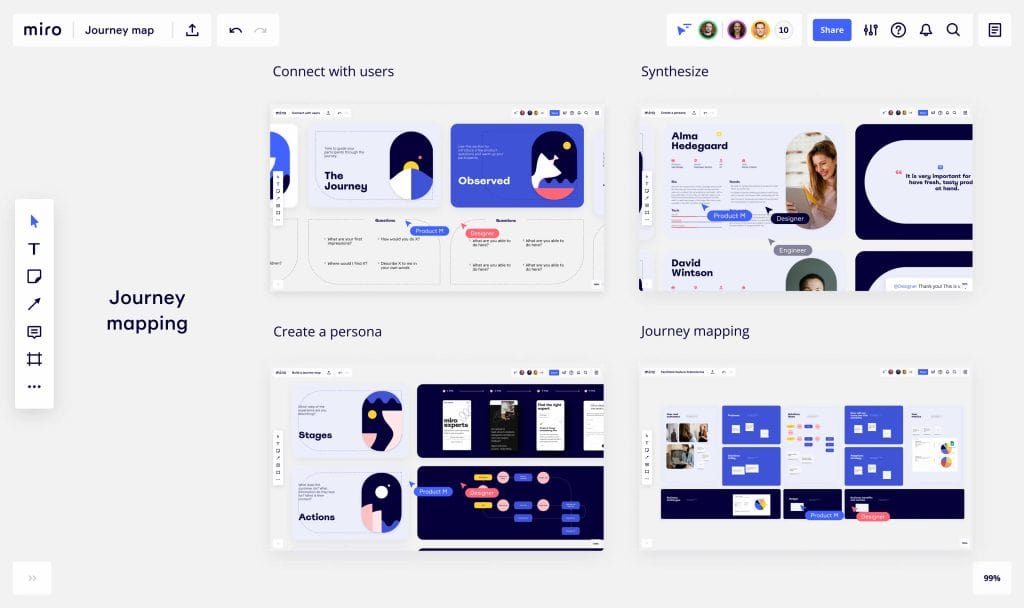 With Miro, you can use an online whiteboard to stay in sync with your team, regardless of where you are. Miro makes it easy to move quickly and efficiently, so you can get the most out of your review sessions.
With Miro, it's simple to present your overall plan and timeframes while keeping more intricate plans adaptable to deal with delays or shifting client demands.
Miro's infinite canvas is the perfect place for customers to collaborate and save all of their data in one place. You can discover more about your customers and competitors and identify opportunities and risks.
Combining information from different sources gives you a comprehensive view of your market and makes more informed decisions.
If you're looking for a comprehensive and cost-effective solution for product planning and roadmapping, Bitrix24 is the answer.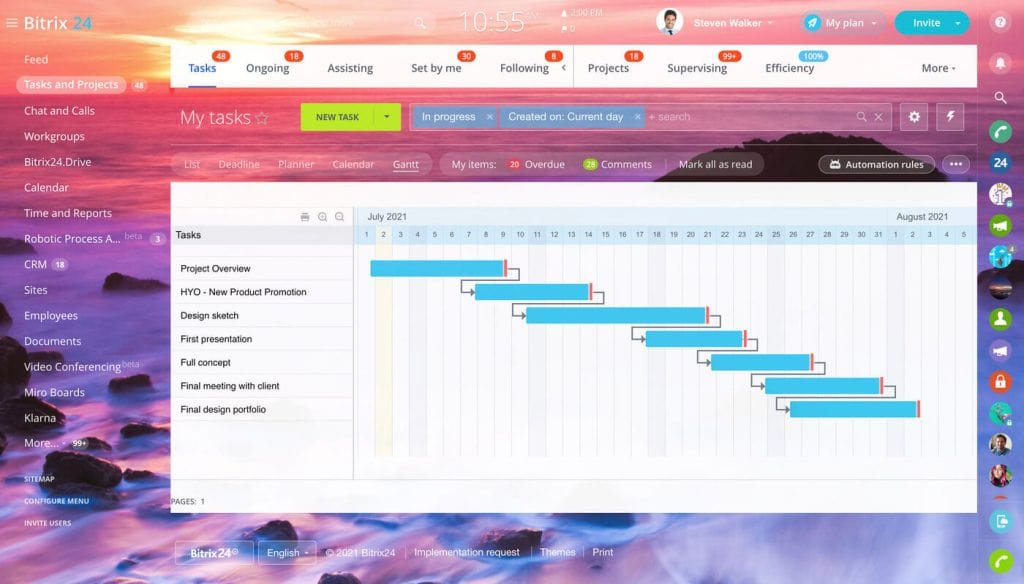 With various templates available, including a mind map, timeline, calendar, and Kanban board, you can easily plan and track your project from start to finish. Plus, with real-time monitoring and task management features, you can ensure that your project stays on track and within budget.
To assist you in finding and keeping the ideal talents, Bitrix24 offers many more free product management tools, workgroups, and group communication features.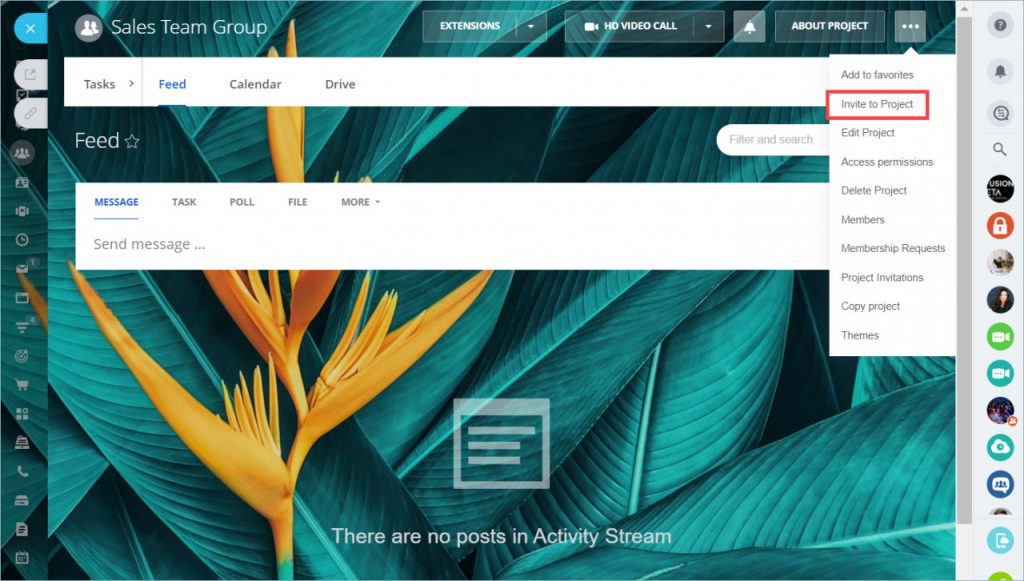 When your service or product is made available to the general public, it is crucial to gather feedback and assess it first. Website builder and feedback forms, two free Bitrix24 tools, will be beneficial.
After receiving input, you can poll your team to choose which features you should add next.
Continuous product development is key to keeping your product or service relevant and engaging for users. Bitrix24 offers various free tools to help you manage your product, team, and workload.
Jira is a popular software development tool for agile teams. It offers various features for user stories, issue tracking, task distribution, and data visualization.
Roadmapping software can help organizations coordinate their teams and release more predictably. It can also help teams track their progress and stay on course to meet their objectives.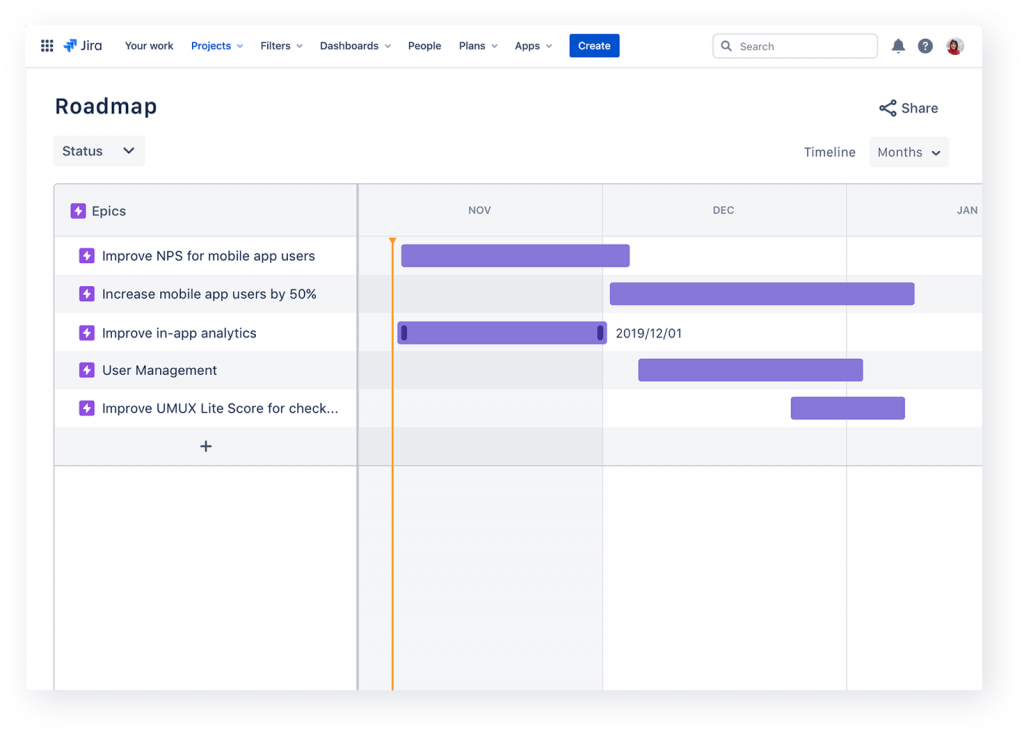 By using roadmaps, teams can ensure that everyone is on the same page and working towards the same goal. With complete visibility into what you need to do, teams can act quickly and confidently.
Jira scrum boards help agile teams focus on smaller, manageable tasks that are part of a larger project.

Teams can collaborate faster and more effectively while adhering to the project's overall objectives. Jira's pre-built reports and dashboards provide the necessary context-specific insights that help teams stay informed and prepared.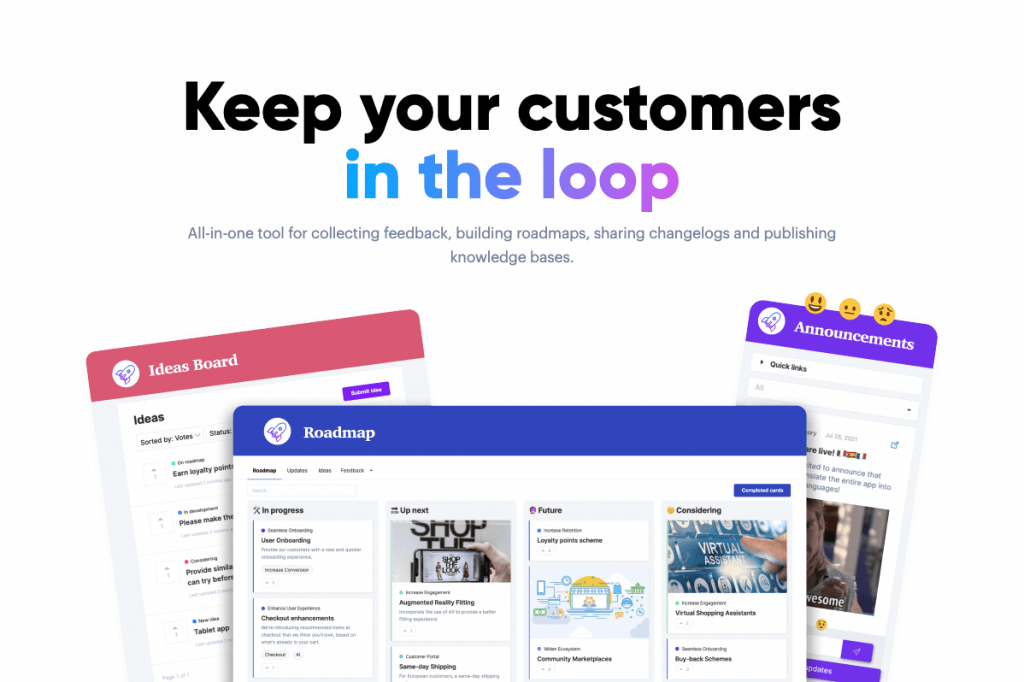 Productstash is an excellent tool for managers to create and personalize their product roadmaps.
They can share news and updates about their products and get feedback from actual customers using this roadmap. It is straightforward to create and embed product roadmaps using Productstash.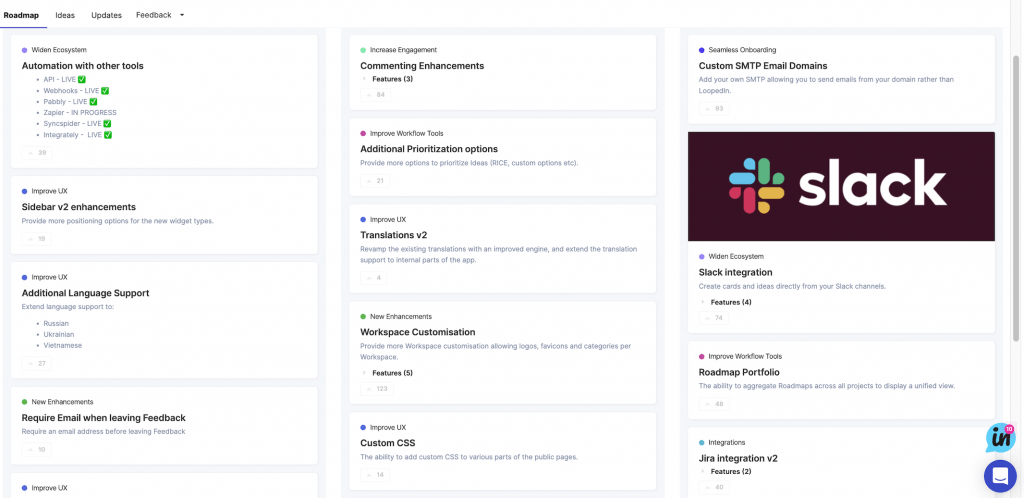 It will help you quickly inform your stakeholders and consumers about what you're working on and what you have in the works.
With its interactive widget, you can inform your users about news, announcements, or any other information you want to share.
Plus, you can use Productstash to compile and organize product ideas and get feedback from the community through voting.
You can control what parts of your product the public can see and even edit the titles and descriptions to your advantage. Sharing your progress can help you get the feedback you need while keeping some aspects of your product secret.
With Backlog, you can track bugs, manage versions, and create Gantt charts, burndown charts, and other project management visuals. Plus, you can share files, wikis, and comments with your team.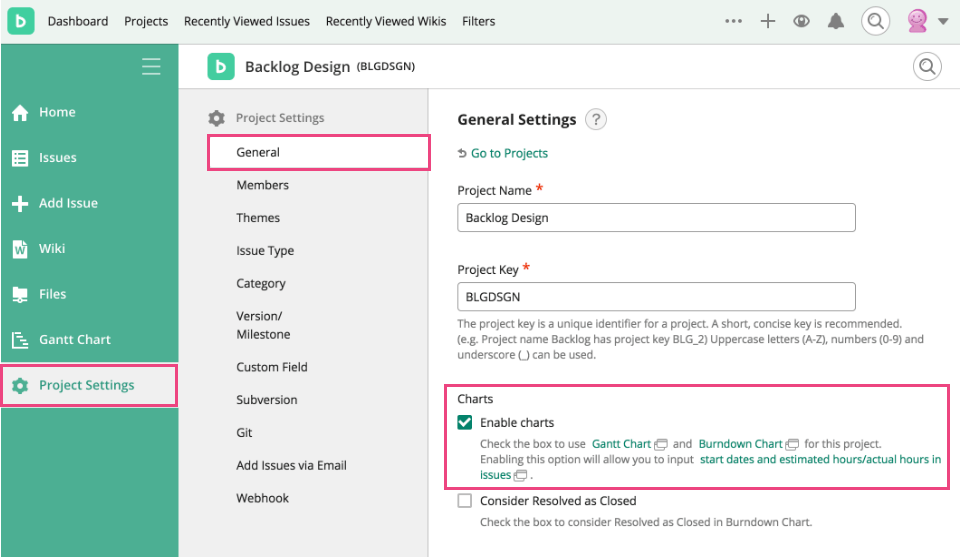 Backlog makes it easy to see what your team members are working on, who's working on it, and where the project is.
Backlogs help teams work more productively, visibly, and with less effort. Design, marketing, IT, and other departments can collaborate with development teams to quickly release high-quality projects.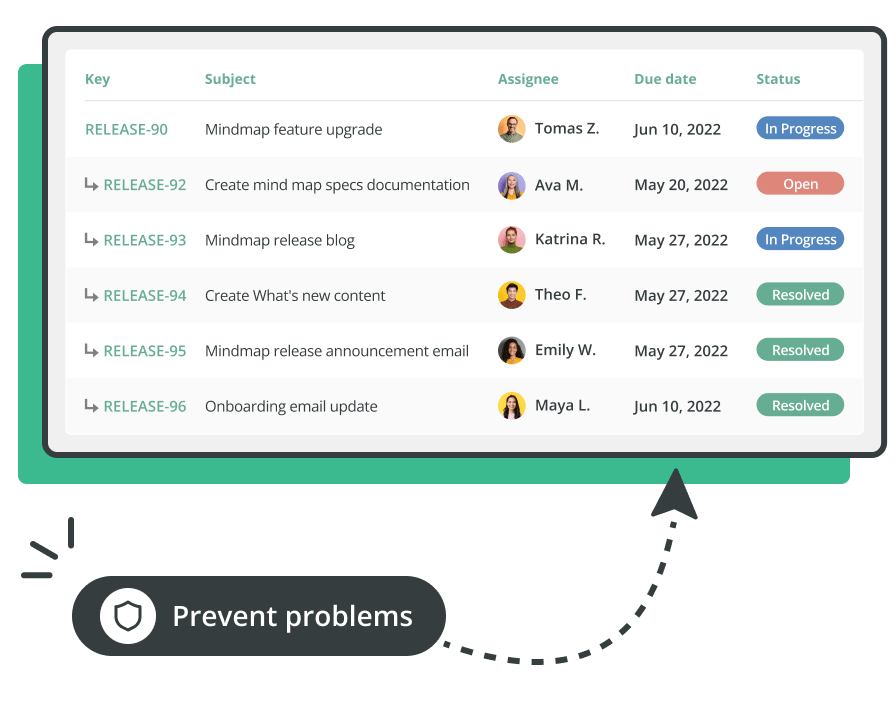 With Backlog, you can easily track and manage your projects, Gantt charts, burndown charts, issues, subtasks, watchlists, comment threads, and version control.
Plus, you can use the iOS and Android apps to update your projects while you're on the go. Whether in design, marketing, IT, or another department, Backlog can help you release high-quality projects more quickly.
As your company expands, gathering and managing consumer feedback becomes extremely difficult. With Canny, you can work all client feedback in one location while keeping your customers informed and saving time.
Allow users of your website or mobile app to publish and vote on feedback. You'll get a well-organized list of priorities that will help your staff make educated decisions about the direction of your company.
Canny is an excellent tool for keeping track of product updates and displaying logs.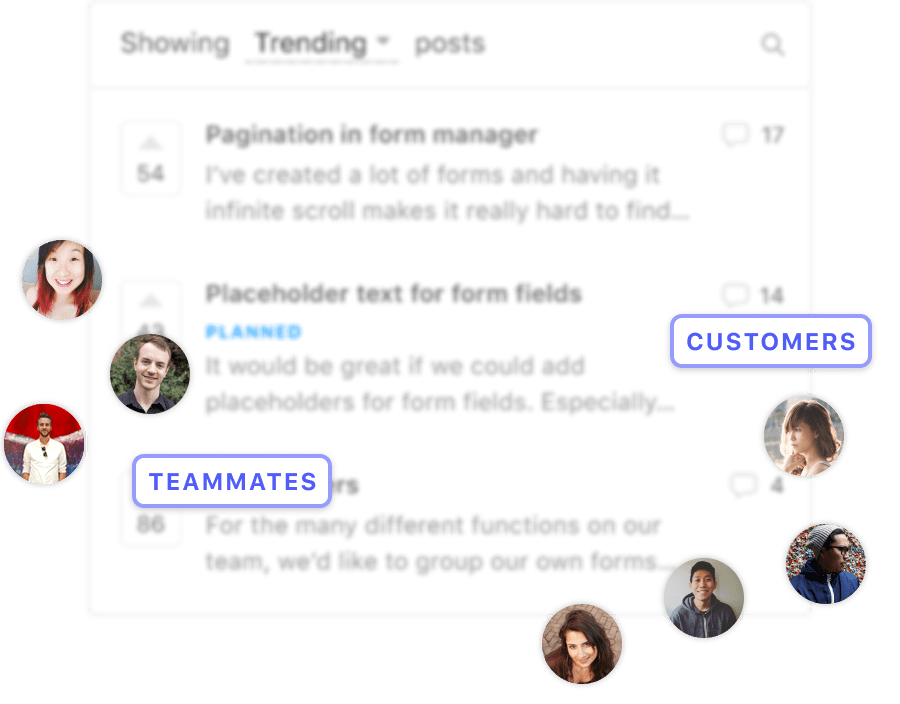 It has many features that allow teams to alert clients about impending features, synchronize project updates, and track product statuses. It is also customizable, allowing users to set up their branding, API, webhooks, reporting, and idea management.
GoodDay is a work management tool that offers a variety of features to assist companies in managing their work. The platform provides an interactive interface that allows users to view, plan, schedule, and carry out tasks.
GoodDay offers a variety of features that make it a valuable tool for companies of all sizes.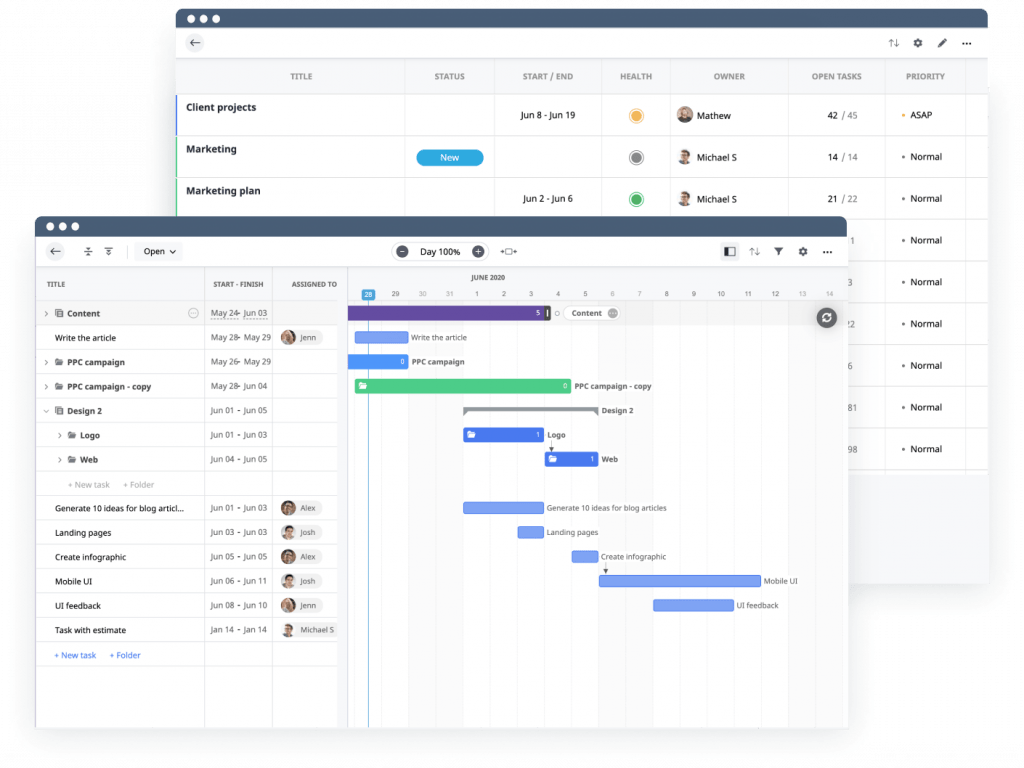 With its task/process manager, adaptable workflows, data import/export, reporting, analytics, and kanban board, GoodDay offers users a complete overview of all their work, projects, and team assignments. Users can also create personalized and shareable request forms to streamline team collaboration.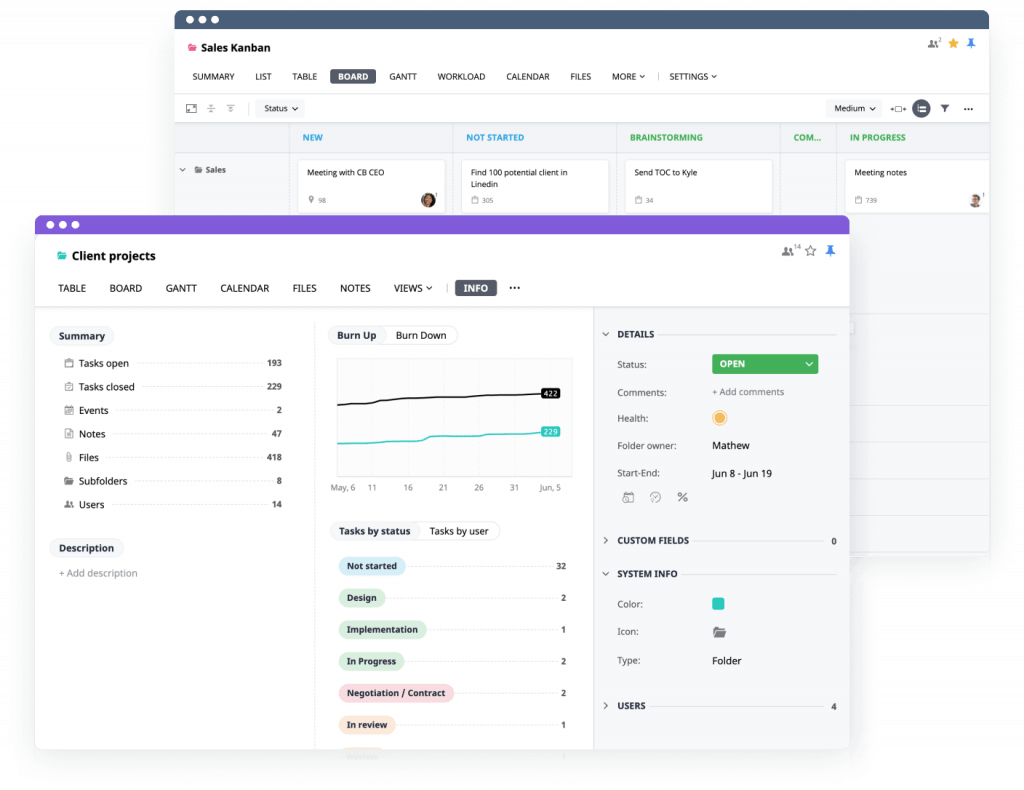 A time and task tracker can be a great way to stay on top of your work and progress. GoodDay offers a variety of features to help you do just that. Daily timesheets allow you to track your progress on tasks and projects efficiently.
You can also export your data in different formats, including CSV and PDF, to keep track of your work even if you're not at your desk. And with integrations with popular third-party software like Google Drive, Dropbox, G Suite, Slack, Gmail, and Google Calendar, you can always have your work data at your fingertips.
Taskade is an online task management and team communication software that offers a user-friendly yet adaptable productivity solution.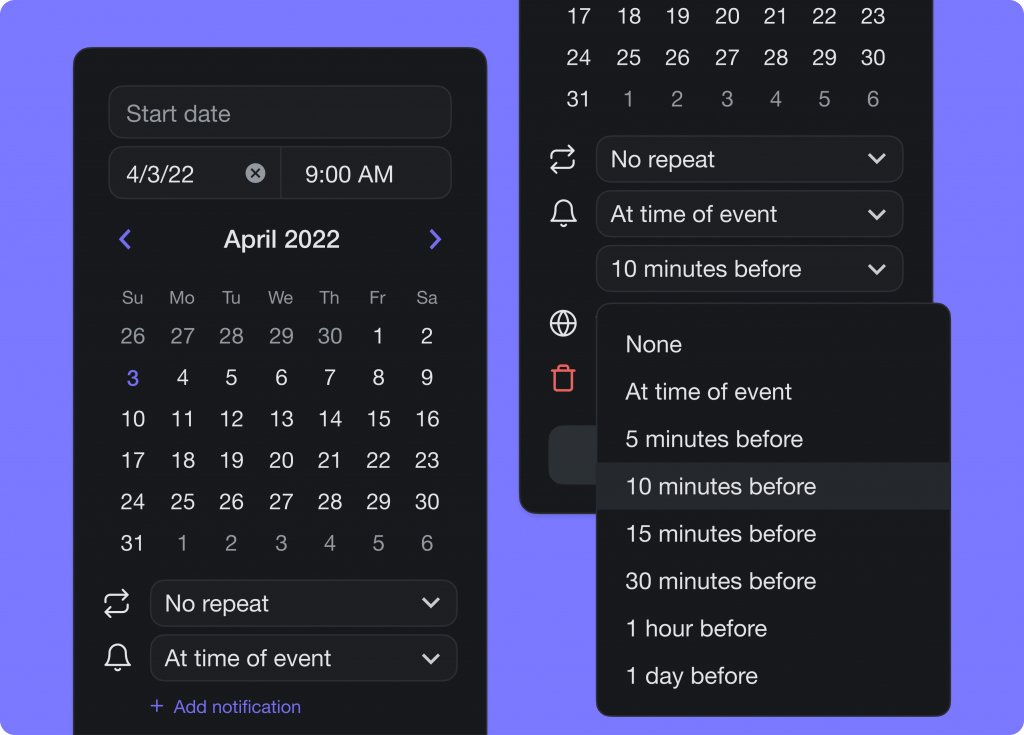 Users of Taskade have access to a task tool that promotes structured work, a smooth workflow, and desired results across the web, desktops, mobile devices, and Chrome.
With its due dates and automated reminders, users can stay on top of their tasks and ensure they get completed on time.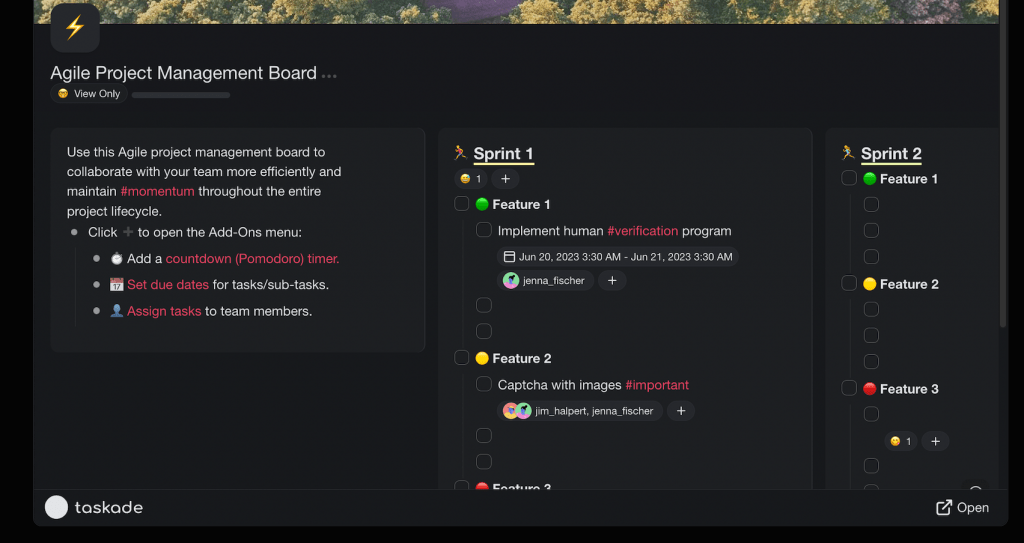 Taskade's flexible views allow users to customize their experience and view their tasks in the way that best suits their needs.
The Taskade calendar is a great way to keep track of team progress. With its assistance, users can easily organize multiple projects and workspaces. Additionally, users can access over 300 Taskade templates for different workflows.
Taskade supports different languages, logo uploads, personalized backdrops, content embedding from other applications, quick previews, calendar feed integration, data encryption, routine backups, and more.
Taskade is an excellent choice for a reliable and comprehensive task management solution.
Whether you need accounting, CRM, sales, ERP, or project management software, Odoo has you covered.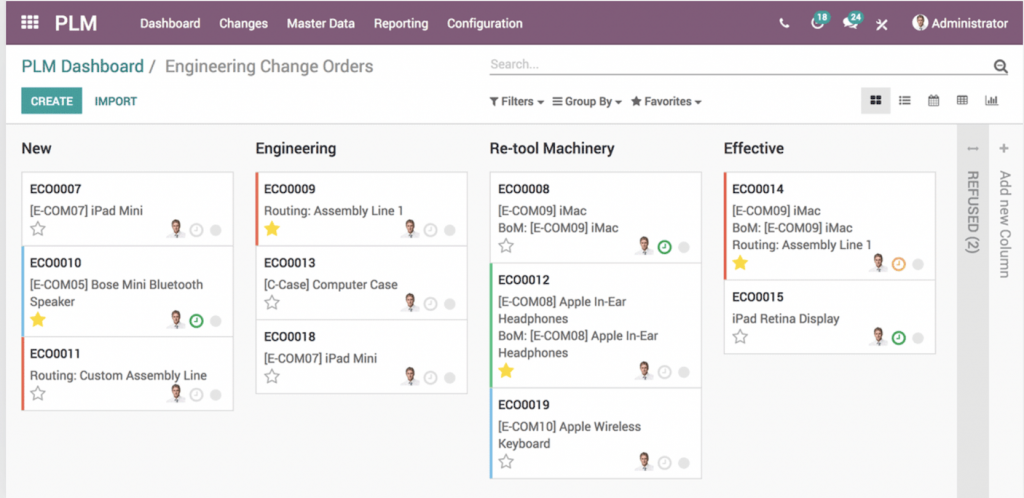 Not to mention, Odoo is highly customizable, so you can tailor it to fit your specific business needs. Best of all, Odoo can be deployed locally or hosted in the cloud, making it an excellent solution for businesses of all sizes.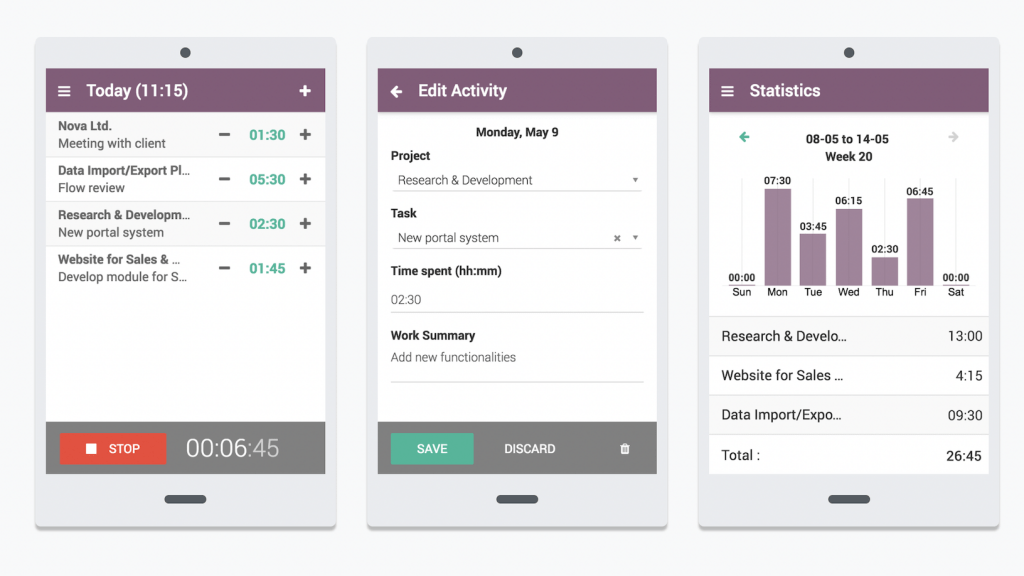 Odoo is a powerful website builder that allows users to create unique websites using a drag-and-drop editor.
With Odoo, you can add features like calls to action, company blogs, customer portals, and more to your website. Additionally, sales teams can keep track of their best leads and opportunities using the Odoo CRM.
With this app, you can customize your sales cycle, manage your statistics and projections, and automate marketing campaigns to improve your sales effectiveness.
If you manage a product team, you'll be glad to know that Odoo offers some great free tools. That is for barcode scanning, form development, exporting product stock to Excel, and professional reporting templates.
You can also add free and paid third-party modules to the free Odoo Community platform to further extend its functionality.
Confluence is a collaborative workplace solution that helps teams manage all of their work in one place. It is open and collaborative, unlike document and file-sharing solutions, which enables teams to work together more effectively.
Confluence is an excellent tool for managing data and keeping track of information. You can quickly locate and group relevant pages by designating an area for your work, team, or project.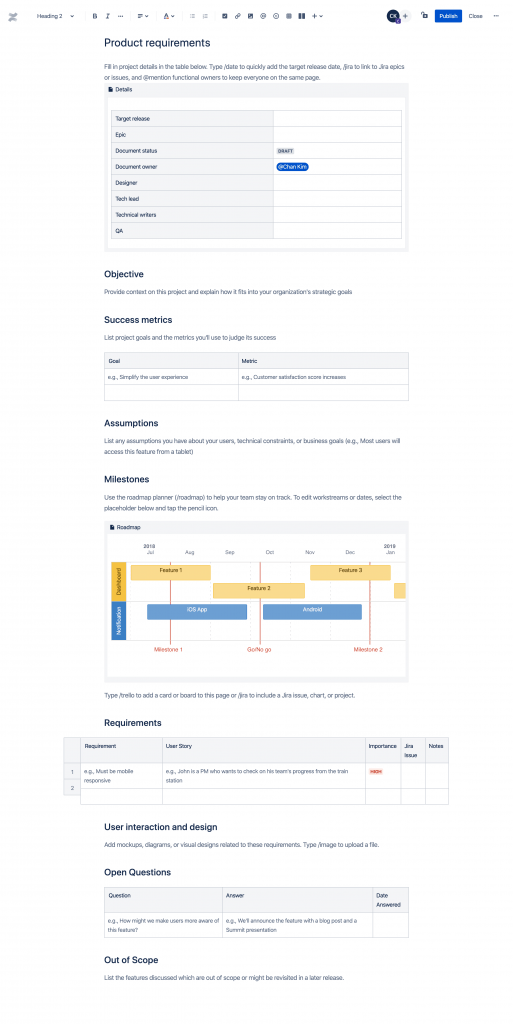 This free product management tool makes it simple to find the information you need when you need it.
You may also manage who gets access to your pages, ensuring that only the people who need to see your data can do so.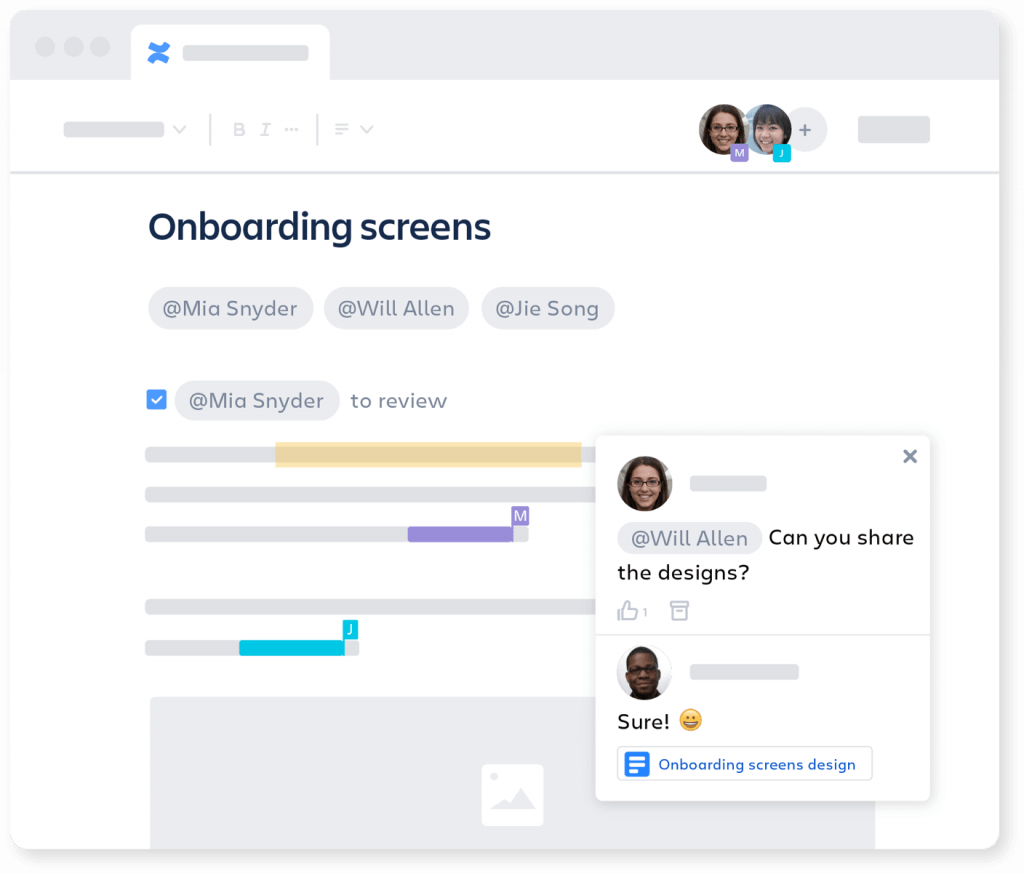 You can customize Confluence to fit your team's unique working style, which makes it a comfortable space for everyone to connect. Plus, with Confluence's open workspace, you can keep work flowing smoothly.
If you want to boost the efficiency of your Confluence pages, the Atlassian Marketplace offers hundreds of apps. With Marketplace apps, you can easily add spreadsheet, diagram, and design prototype functionality to your pages. You can also integrate with other popular software like Google Drive and Salesforce.
3 Best-Picked Free Product Management Software:
Other Free Product Management Software You can consider
Monday.com's Individual plan is perfect for lone workers who need only a list of their duties. There can only be two people involved, making it ideal for small teams or businesses.
If you're a solopreneur, freelancer, or small business owner, then ClickUp's free edition is worth considering. It offers many features and doesn't limit the number of people you can add to a project.
Wrike's free plan offers many features for enterprises just starting. With Wrike, enterprises can manage tasks and subtasks and have internal and external partnerships.
Indicative software provides extensive customer analytics that is incredibly useful for understanding customer behavior. What's even better is that these features are free of charge.
With 25M events per month and six-month data history, you can get a powerful insight into what your customers are doing.
However, access to essential analytics tools is restricted, and you'll only be able to have three user chairs.
It allows up to 10 users and is perfect for small software teams. With Shortcut, you can manage all your active tasks in one place, organize sprints and iterations, and get personalized reports. You can even use our VCS, Figma, and Slack connectors.
So, Which Free Product Management Software You Should Pick?
We will present to you three editors' picks of free product management software below:
The reason why Chisel is at the top list of our editor picks is that it is not just the primary app product managers rely on but also a whole package that comes with all things product management. Not to forget, some of the essential features are also included in the free tools.
The best solution for the best price is the exact phrase that aptly fits here for Chisel.
The free essential package comes with some of the best features, such as feature roadmaps and advanced prioritization; every team member can provide a prioritization score, team alignment matrix, Kanban and Release roadmap, and much more.
This software is effective and best suits a small team of a small business perfectly. You get 10 users per site, along with scrum and kanban boards, roadmaps, seamless integrations for every team, backlog for projects, and so much more, all at free sign-up.
Therefore, Jira software is the best way to manage your work using powerful agile boards and other tools.
We picked up Backlog for its all-in-one collaboration tool for creators feature.
Tracking projects daily, adding new items to the list, and quickly finding them are the plus point of Backlog.
Their free version is ideal for small projects and teams. It allows for 10 users and comes with features such as team and issue management and storage of 100 MB.
Conclusion:
Product management is a complex and ever-changing field. The best product managers always look for new tools to help them do their jobs more effectively.
There are a lot of great product management tools out there, but which ones are the best?
We've put up the list of the top free product management tools above to guide you in finding the answer to that question.
Each tool has unique features and capabilities, but they all have one thing in common: they can help you take your product management game to the next level.