The 9 Best Kanban Board Software in 2023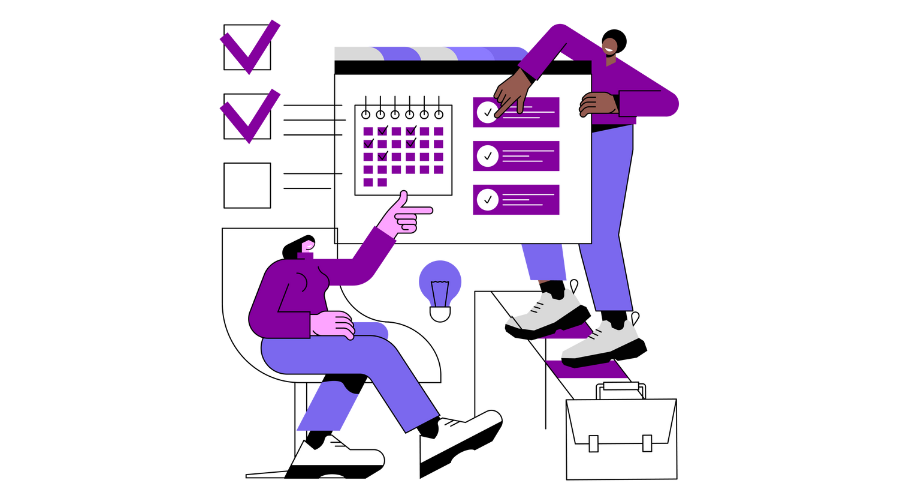 Are you looking for the best kanban board software? Do you want to know what kanban is and how it can help you be more productive? Then keep reading..
Kanban is a Japanese phrase for signboard or billboard. In the business world, kanban is a system that helps businesses track their work and improve their efficiency.
Toyota originally developed the kanban system to help improve its manufacturing process. However, you can use it in any business.
There are many benefits to using kanban, including:
Increased productivity
Reduced waste
Improved quality
Better communication
If you are looking for an approach to improve your business, you should consider kanban. Kanban board software can help you track your work, communicate with your team, and improve overall efficiency.
Are you ready to explore the top kanban software available in 2023?
What Is the Kanban Board Software?
Kanban board software is a tool that helps organizations visualize and manage their workflow. It is based on the Kanban methodology, optimizing and streamlining work processes.
You can use kanban board software for various purposes, such as project management, task management, software development, and more.
Kanban board software can be beneficial in reducing waste and increasing productivity. It can help organizations to understand their workflow better, identify bottlenecks, and make necessary changes.
There is no better software to improve your workflow than kanban board software.
Why Do Projects Need Kanban Board Software?
One of the benefits of using a Kanban board is that it helps you stay organized. With all the tasks and subtasks that need to get completed, It's easy to lose sight of what you actually need to focus on. But with a Kanban board, everything is laid out in an easy-to-understand way.
Another benefit of using a Kanban board is that it can help you manage your time more effectively. You can prioritize and plan your time accordingly by seeing all the tasks that need to get completed.
The most crucial benefit of using a Kanban board is that it can help you improve your project's overall quality. By seeing all the tasks you need to complete, you can ensure that everything gets noticed. And by having all the tasks laid out in an easy-to-understand way, you can spot errors and potential problems more efficiently.
How To Choose the Right Kanban Board Software?
There are many excellent kanban software products on the market these days. So, how do you pick the best kanban software for you and your team?
Here are a few things to remember when choosing kanban software.
1. Anyone on Your Team Can Manage the Kanban Board Software
It would help if you had kanban board software that anyone on your team can manage, whether they're an expert or a newbie. You have to give your team members access to the tool, so they can use it in their own time and learn how to use it as they go along.
2. The Kanban Board Software Is Easy to Use
The best kanban board software should be easy to use, whether a small business owner, no matter who you are, whether a small business owner or a large corporation. You don't want someone who knows nothing about kanban having to spend hours trying to figure things out before they could get started using the tool effectively.
3. The Kanban Board Software Has A Great User Interface (UI)
The best kanban board software has an intuitive user interface. The UI makes it easy for people new at using kanban tools to pick up where they left off last week or even last month.
The UI needs to be simple enough that anyone from entry-level employees to executive management levels can understand what needs to get done without any trouble.
4. Kanban Board Software Should Be Easy To Integrate
Kanban software frequently collaborates with other workforce tools because they might not handle all aspects of a team's daily operations. Is it simple to integrate the tool through an API to other tools? Does it function with prominent PM applications?
Key Features a Kanban Board tool should have
WIP Limits:
Kanban board software should include WIP limits so you can limit the amount of work in progress. It will help you manage your workflow and prevent bottlenecks.
Automatic Dependency Management:
The best kanban board software will also allow for automation of dependencies so that you can automatically link tasks together without having to create them manually. It will save time and make your workflow more efficient.
Addressing Bottlenecks:
The best kanban board software will allow you to identify bottlenecks in your process by showing where the most work is getting done and where it is not. This way, you can address any issues quickly and easily!
Backlog Indicators:
The best kanban software will allow you to track how many tasks are on each backlog to check how many opportunities there are for growth within your company.
Templates for Organizing Workflows:
It is an essential tool for a kanban board. You will need to be able to set up your workflow management templates and then use these templates as a basis for your company's processes.
Ability to Track Time:
You need a time-tracking feature in your kanban software to track how much time employees spend on different tasks and projects.
Seamless Work Dependence:
It is essential if you want your team to see how much work they need to do for another task or project to be completed.
Recurrent Responsibilities:
Some tasks are constantly recurring in nature. Therefore, it can be helpful in these kinds of tasks if you have a recurring task type available on your kanban board software.
9 Best Kanban Board Software for Product Managers
If you're a product manager, you know that one of the most critical aspects of your job is creating and managing a product roadmap.
But what if there was a tool that could help you create a roadmap but also help you align your team and connect with customers? Enter the best product management software available in the market today: Chisel.
Chisel is a product management tool combining all three pillars into one easy-to-use platform.
With Chisel, you can:
Manage it on a kanban board,
Ensure there is team alignment on the prioritization of specific features. Survey your potential customers on the features you are working on.
Key Features: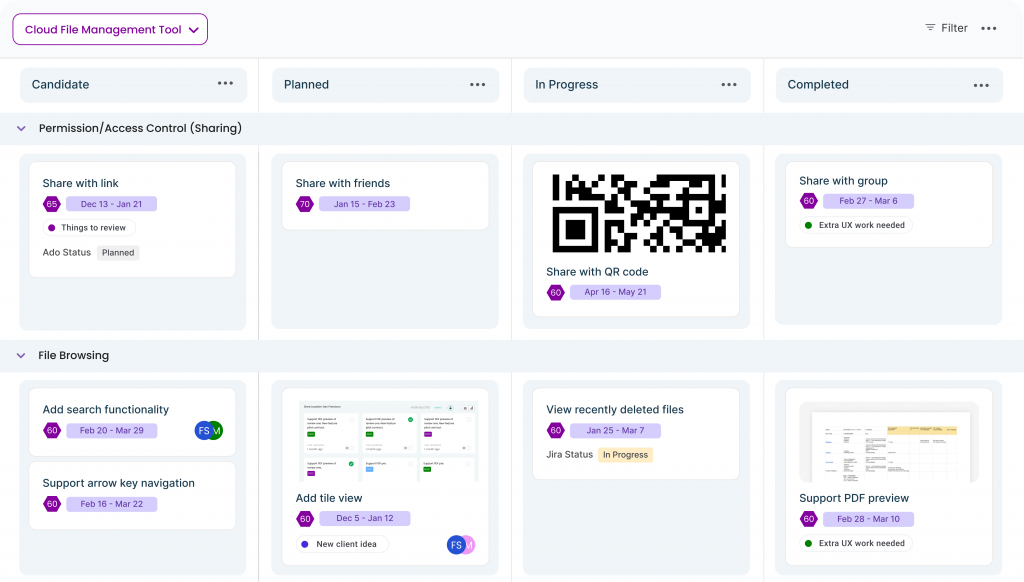 Chisel's Kanban Tool makes your task management easier than ever.
When planning your product, a kanban board is a great way to keep everyone on the same page. By organizing your product development status, you can track what's going on and how much progress you're making. An ideal way to do this is with a Chisel kanban board.
Teams can plan out which features are being worked on in an agile manner using the kanban board provided by Chisel. Working on new features and components in the kanban view is easy once you've added them using the treeview.
Creating a Status:
You can add status to any of the current releases. Adding a status to your kanban board can help you visualize the progress of your project or your current position in the process.
Adding a new status is just a click away.
Updating a Status:
Once you've added them to your kanban board, you can reorganize your kanban statuses. Regularly updating the status can also help you identify areas, where there are bottlenecks or teams may need extra resources.
Kanban Status:
The kanban status provides a visual depiction of the product's current state. It may reflect your current situation or the state of a project. Using the kanban status, you can locate bottlenecks and areas where teams require additional resources.
A quick look at how simple it is to add kanban status.
It is also a fantastic tool for teamwork since it enables everyone to see how much work each team member currently has. It also helps you to see how much they have achieved thus far.
Pricing:
Free forever plan.
Premium Plan: $49 per month billed yearly.
Enterprise Plan: Contact sales.
Most businesses understand the importance of tracking their budget, inventory, and strategies.
Spreadsheets are a popular way to do this. However, kanban board software from Smartsheet provides a more efficient and effective way to manage projects and processes.
Smartsheet successfully combines the best of spreadsheet usability with visual timeline management and group file sharing. Plus, it encourages collaboration, which is essential for making decisions.
Key Features:
Drag-and-drop capabilities make it simple to move tasks around.
Many visual customization options highlight important task information.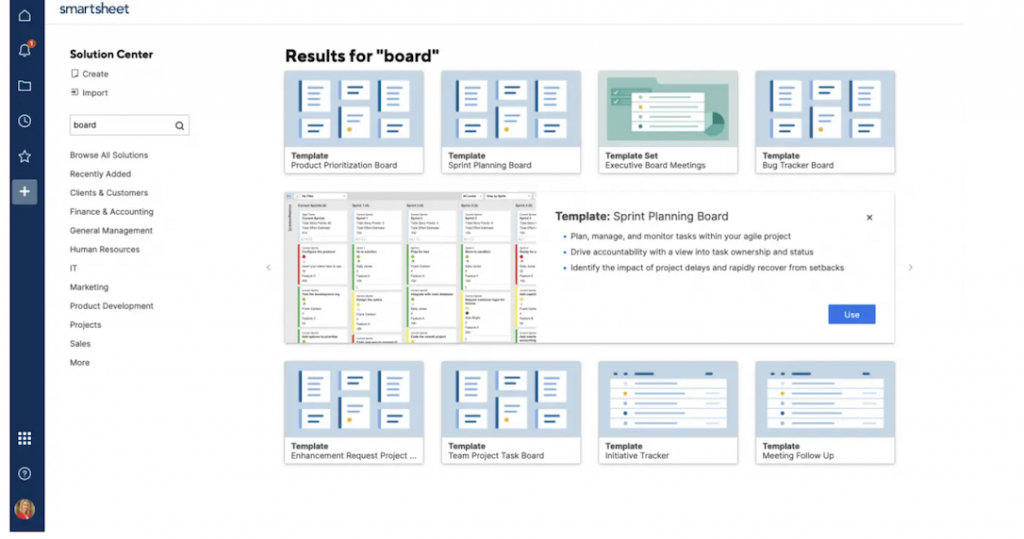 Access data from all of your sheets in one location.
Smartsheet is an automation tool that interfaces with various additional tools software development teams use. You can set up alerts or generate reports using the tool's automation features.
The Smartsheet kanban feature uses the software's excellent teamwork capabilities.
Kanban boards help manage work in real-time and enhance workflows across all departments and industries.
Examine how your team may use kanban boards to enhance task requests, product roadmaps, workflow management, goal tracking, and project planning.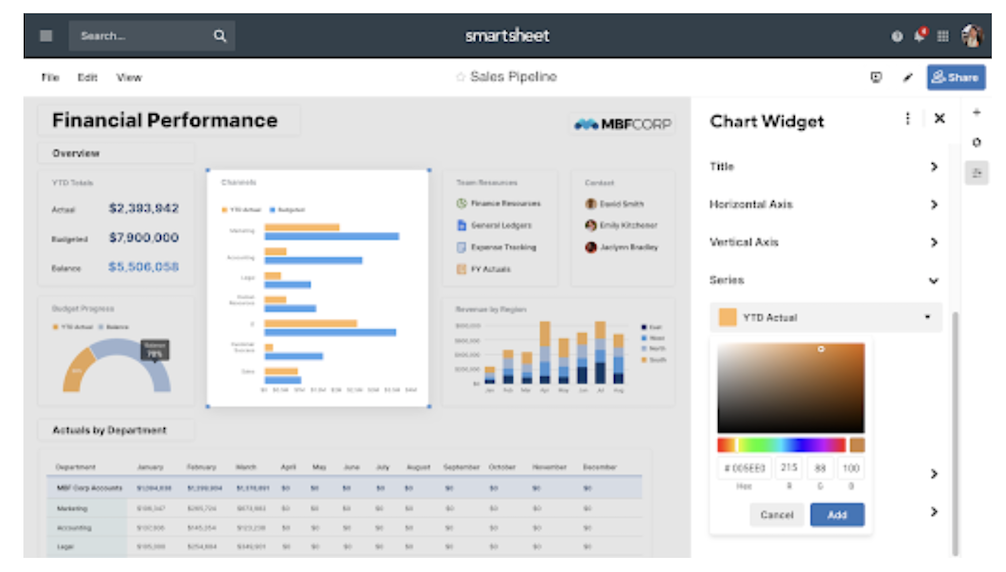 Smartsheet reports and dashboards can get customized entirely to combine important data from several projects.
Pricing:
Pro Plan: $7 per month if billed annually.
Business Plan: $25 per month if billed annually.
Enterprise Plan: Contact sales.
Kanbanize is a project management tool that uses the kanban method. It is perfect for businesses that require a long-term perspective, thanks mainly to its project forecasting capabilities.
This tool allows you to create a clear and concise project plan that you can easily follow and implement. In addition, it provides you with the ability to monitor and control the progress of your project at every stage.
Key Features:
Kanbanize is an intuitive and user-friendly software that can build simple or intricate boards to track work progress in your company.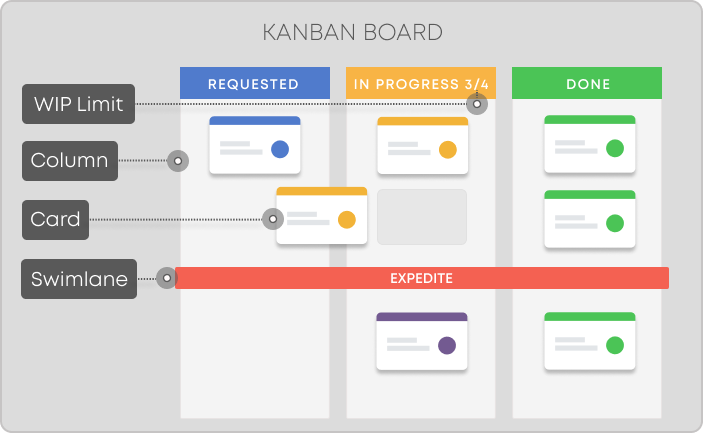 Building interconnected boards that grow vertically across management levels or teams give businesses a clear view of how work is developing.
Establishing processes across each level makes handling tasks interdependent. It also helps in stopping inefficiencies simple.
Sub-columns are a great way to divide each section of your kanban board into distinct stages.
The tool integrates with BI tools like Tableau and Data Studio and online storage solutions like Google Drive.
Kanbanize is a user-friendly tool. This kanban board software lets you create user accounts. It also grants specific employees the right to create tasks, manage workflows, see reports, and more.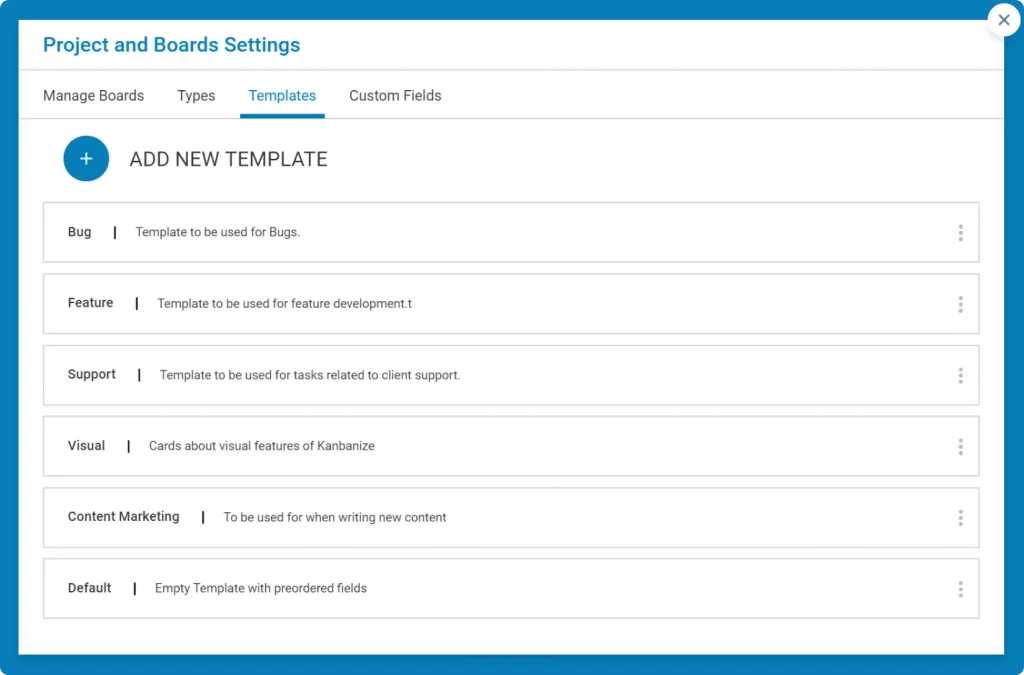 You have complete control over the workflow in your company because you can add more than 100 employees based on your Kanbanize license.
Create several kanban projects and boards, Unlimited rows, columns, and horizontal swim lanes, copy, move and remove kanban boards from projects, and WIP Limits per the main column and sub-column.
Pricing:
If billed yearly:
$149 per month for 15 users.
$249 per month for 25 users.
$449 per month for 50 users.
Users 100 – $799 per month.
$1879 per month for 250 users.
500+ users: get in touch with sales.
If you're looking for a kanban tool that can help optimize your process, regardless of sector or size, Teamhood is an excellent option. Although you're not required to use the framework with Teamhood, kanban boards are the inspiration behind its design.
It gives you access to features like task prioritization, kanban metrics, reports, and a customized task board that you can tailor to fit your process.
Key Features:
Teamhood offers an advanced kanban board that gives you complete control over the appearance of your kanban board.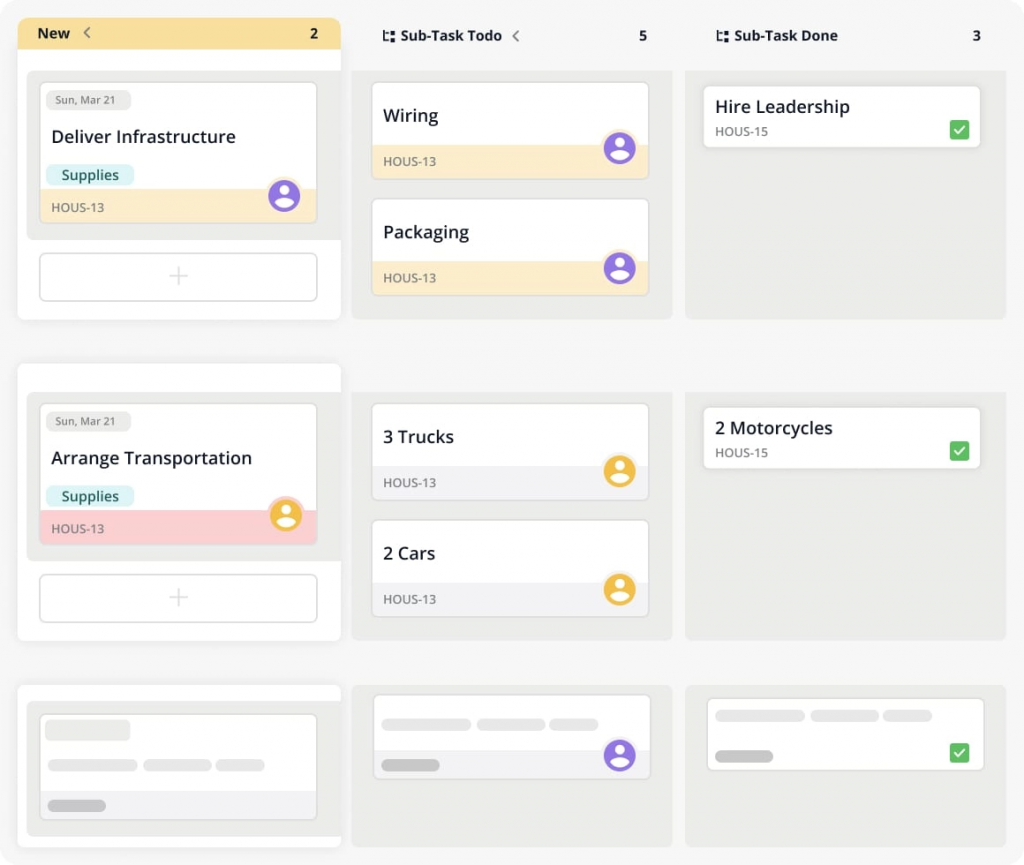 You can add secondary workflows to as many progress columns as necessary, making it simple to construct a comprehensive picture of everything in your project.
Teamhood kanban boards aim to show complexity, which is crucial for managers of challenging projects and effective teams.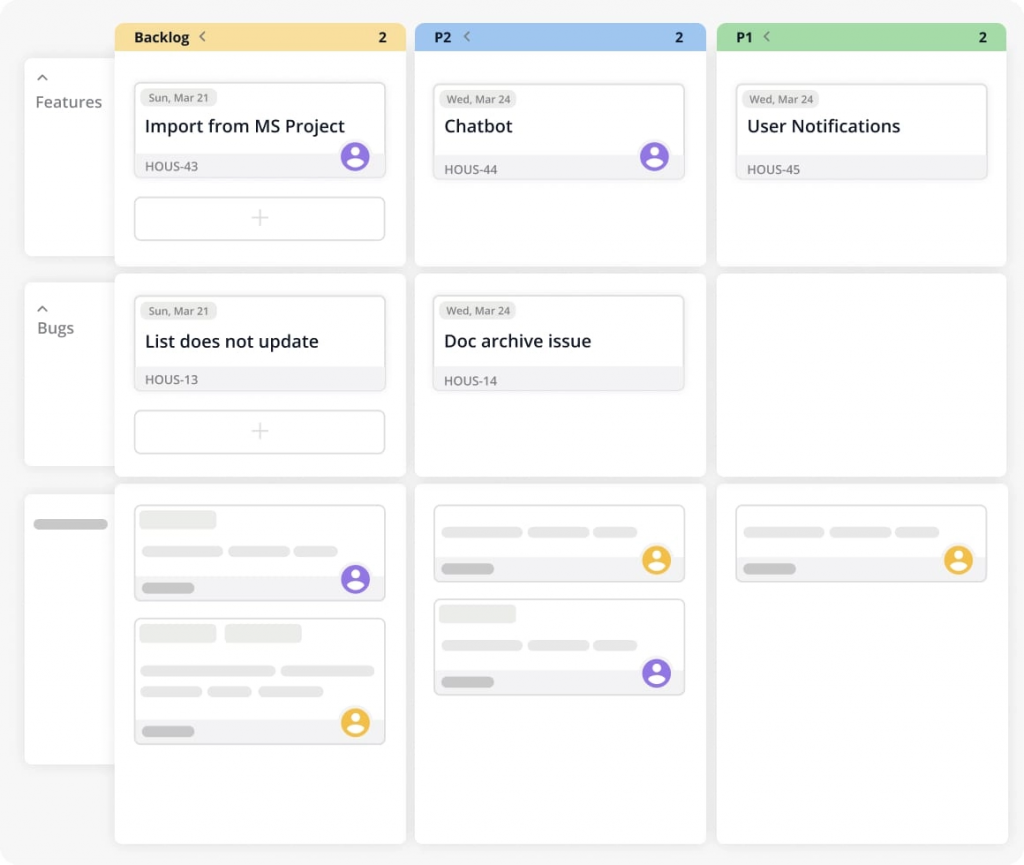 You may follow the progress of subtasks by using Teamhood kanban boards, which you can customize with custom columns, column groups, rows, and secondary workflows.
The tool has different features that make it versatile and easy to use, including task dependencies, timelines, and time tracking.
The Gantt chart feature makes it easy to map project objectives and track progress.
Pricing:
Free plan available.
Professional Plan: $9.5 per user per month if billed annually.
Premium Plan: $15 per user per month if billed annually.
Enterprise Plan: Contact sales.
ClickUp aims to replace all the other productivity apps you use, consolidating everything into one convenient location. For the most part, ClickUp has been successful in this goal.
The platform offers a variety of features to help you get work done, including task lists, kanban boards, Gantt charts, and more. Plus, it's constantly adding new features and improving existing ones.
Key Features:
ClickUp is a versatile office tool that you can use for various use cases.
You can create workflows and dashboards.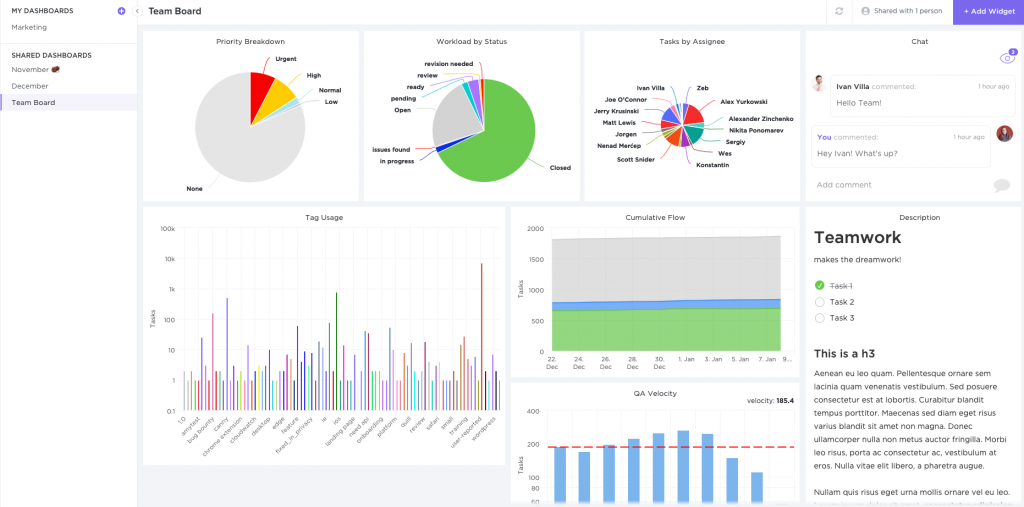 The column can display jobs according to their stage, or you can arrange it so that the columns display the work by task assignee, due date, or any tags you've given.
You can set out your work in a Gantt chart, calendar view, mind map, and kanban board view.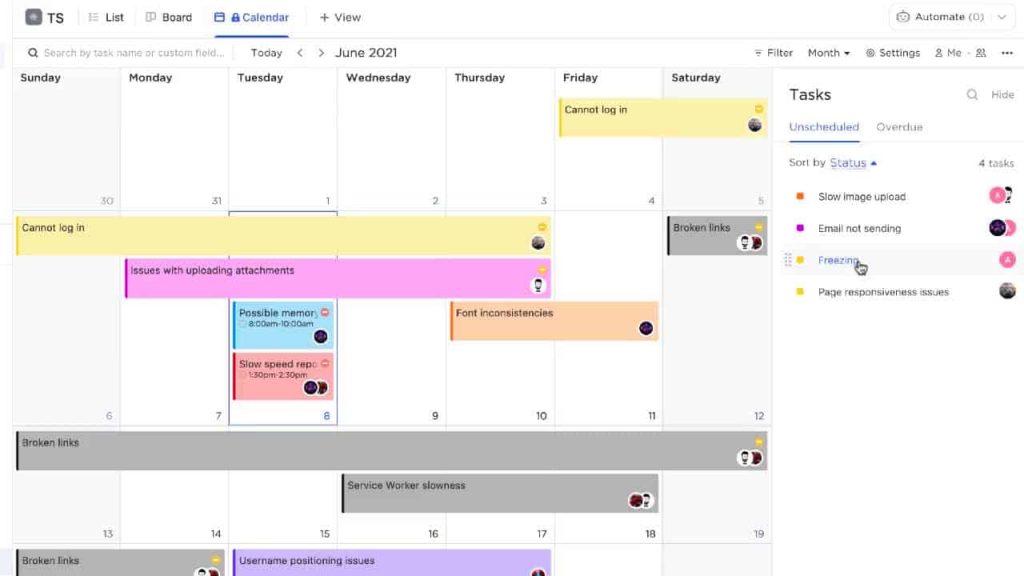 Eliminates the need to toggle between multiple boards to get a holistic view of your project.
Gives you a single view of all the data related to your project, regardless of which board it is on.
Enables you to see all the data associated with your project in one place, making it easier to track and manage.
Pricing:
Free forever plan is available.
Unlimited plan: $5 per member per month if billed annually.
Business Plan: $12 per member per month if billed annually.
Business Plus Plan: $19 per member per month if billed annually.
Enterprise Plan: Contact sales.
Wrike is a project management application that supports kanban. It focuses on helping businesses get work done efficiently and effectively.
Wrike's services range from those supporting HR to those supporting web design departments.
Key Features:
Wrike is a project management tool that lets you make dashboards for various purposes.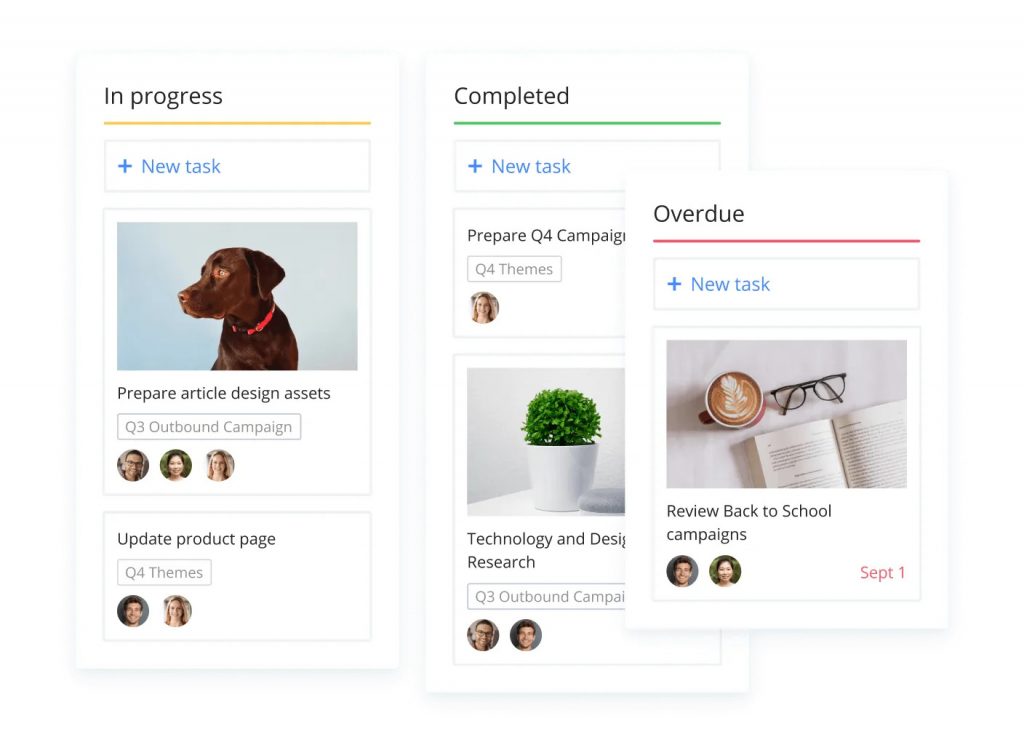 It contains robust kanban features that function in unison with all of its other capabilities.
You can manage task progress, add deadlines, create boards, and assign team members to different work items.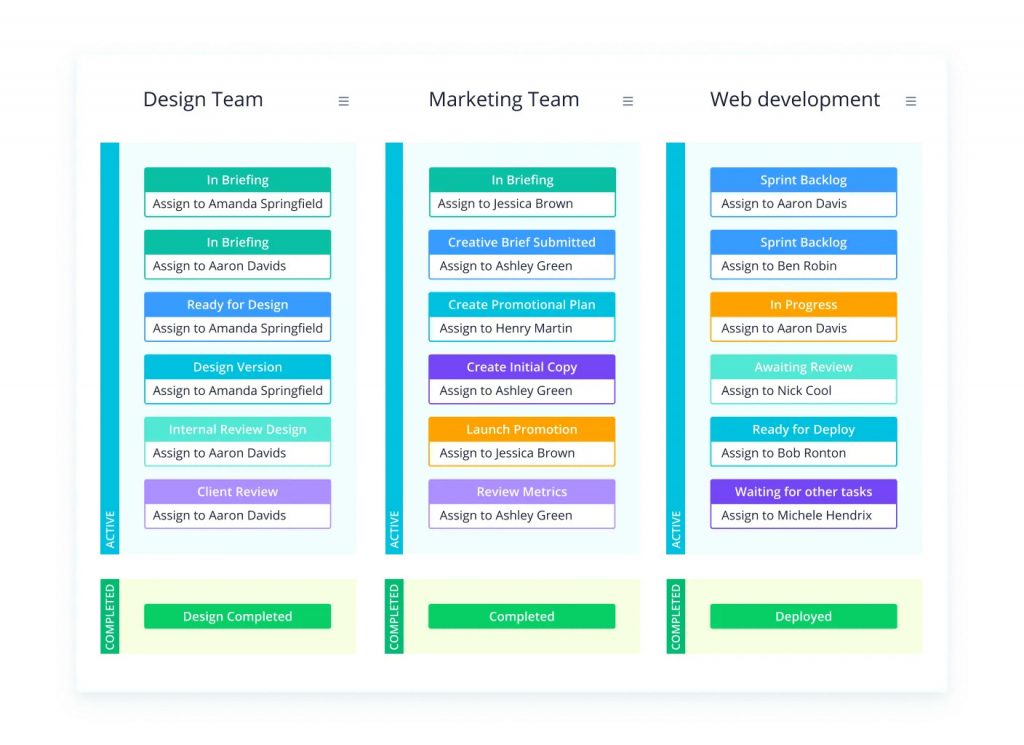 Custom workflows
Wrike helps keep everyone updated by allowing anyone on your team to annex new information to tasks.
The kanban boards can communicate with other Wrike functionalities, such as the team calendar.
Wrike's time-tracking software can help you see how long someone spends on a specific job.
Wrike is a task management tool that helps you to communicate with your team and keep everyone informed of deadlines and progress.
The tool integrates with various other software, including CRM, communication, and BI tools, making it easy to get data about your projects and tasks.
Pricing:
Free forever plan is available.
Professional Plan: $9.80 per user per month.
Business Plan: $24.80 per user per month.
Enterprise Plan: Contact sales.
SwiftKanban provides a visual representation of your project, making it easy to see what's going on and identify potential risks. It also integrates with other popular project management tools like kanban and Scrum, giving you a complete solution for managing your projects.
Key Features:
SwiftKanban's SmartLanes Swim Lane design offers strong workflow mapping capabilities, spanning numerous work items, service classes, and many other properties. It makes it easy for customers to map even the most complex processes on the kanban Board.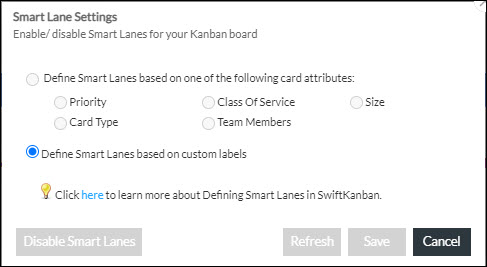 Swimlane settings
In addition to statistical analysis, Monte Carlo simulation, flow analysis, and process control, several Lean/Kanban-based analytics are available.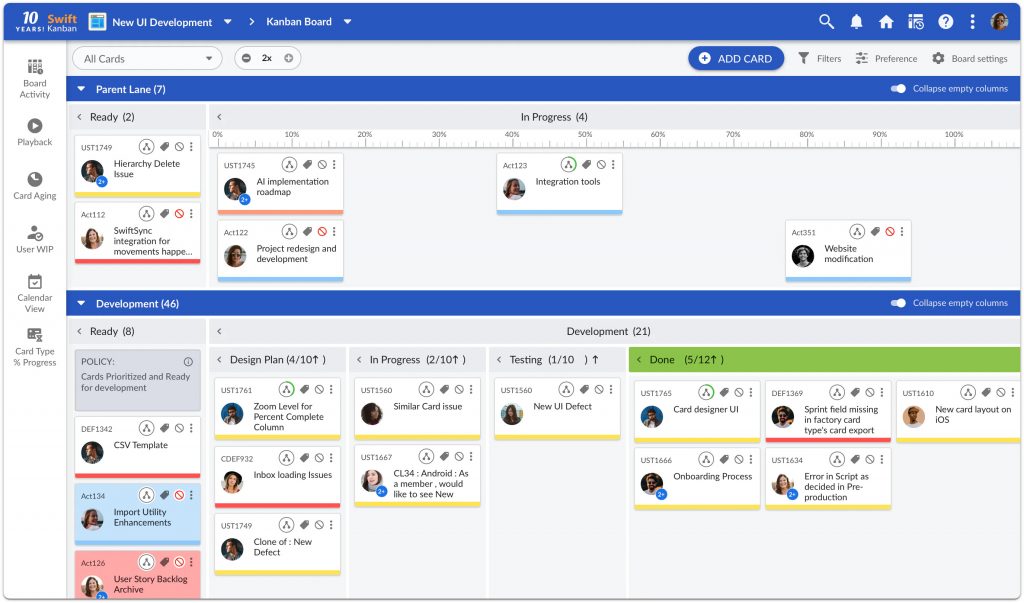 SwiftKanban Kanban board
It connects you to your team via the most well-liked office and productivity apps, like MS Teams, Slack, GSuite, Outlook, and thousands more via Zapier.
More than 60 well-known enterprise-class solutions, including TFS/Azure DevOps, JIRA, CA Agile Central, and many others, are supported by SwiftKanban.
Teams can examine their "Kanban Movie" to see how their board and process performed over the previous week, month, quarter, or any other review timeframe.
Pricing:
Team Plan: Free of cost.
Group Plan: $7 per user per month.
Enterprise Plan: Contact sales.
Jira is an effective task management tool for IT companies. It provides various features that simplify managing and tracking work for development teams.
Most functions are designed with the IT process in mind and enable users to plan, execute, release code, register, and resolve any concerns.
To keep track of work, Jira uses kanban boards. In addition to visualizing work to be done, this system ensures a fair distribution of tasks within the team. Additionally, it allows team members to track a project's progress.
Key Features:
Jira offers various reports that let you see the issue more clearly. These reports also provide project statistics for every stage of the project's life.
The Burndown chart shows the actual and expected quantity of work that needs to get completed during the sprint.
Easy use of all the capabilities of scrum boards and kanban boards prompts you to choose between the kanban and scrum types.
Jira is a digital variation of kanban with the fundamental board-and-paper interface but also combines some additional capabilities.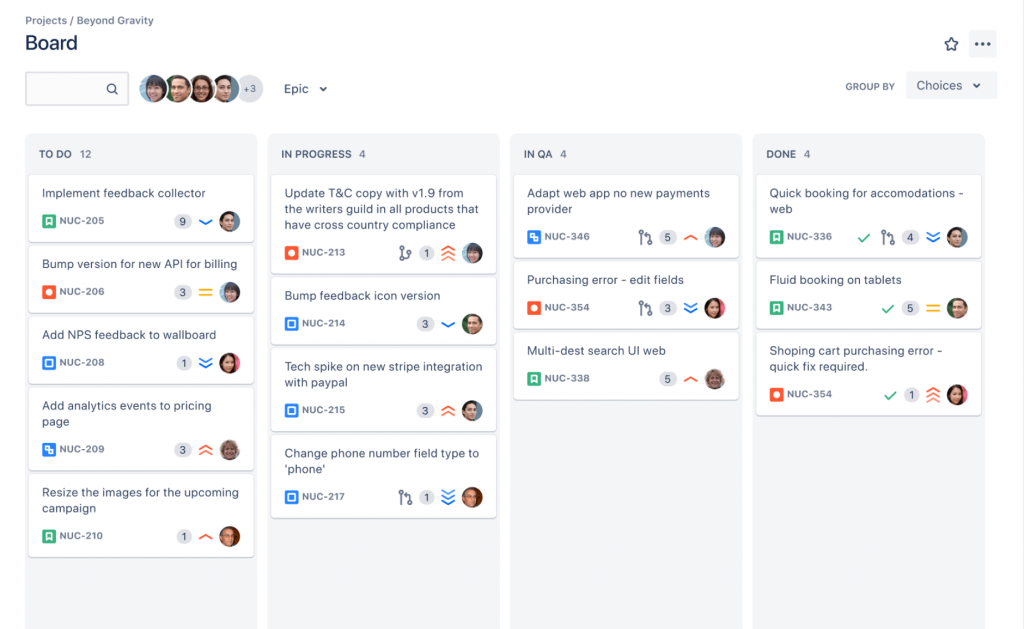 If you still have work items written on cards, you can still use the drag-and-drop method to shuffle them. You are, however, allowed to add further details to your needs, such as source code, links, attachments, screenshots, and more.
Jira makes it seamless for team members and clients to post project-related ideas. The commitment point is the team's decision to start working on a particular concept.
Pricing:
They offer a free version.
Standard plan: $75 per month ($7.50 per user on average).
Premium Plan: $145 per month ($14.50 per user on average).
Enterprise Plan: Connect with the sales team.
With its kanban board capability, Teamwork makes it easy to keep track of your projects, whether you're using a table, list, or Gantt chart format. Plus, Teamwork makes it easy to collaborate with clients and freelancers, making it an excellent option for managing all your projects in one place.
Key Features:
You can create boards, assign team members, and drag-and-drop cards to manage projects efficiently.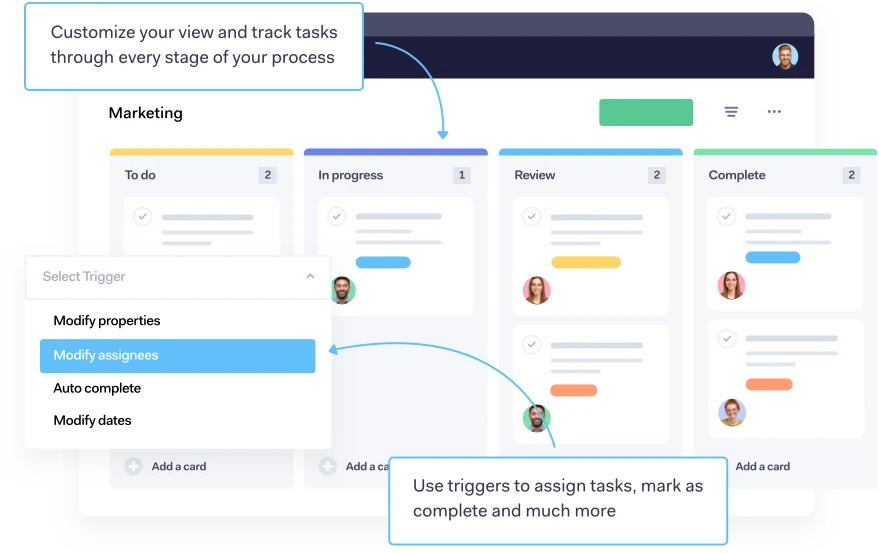 Kanban board
The tool includes features specifically for agencies, like granting clients free access to the message board or utilizing templates to enroll new customers.
It also includes tools for invoicing and time tracking.
Teamwork is a platform tightly integrated with the Teamwork chat software, which is available for desktop and mobile devices.
Numerous tools, such as Slack and Hubspot, integrate with Teamwork.
Teamwork enables you to create Gantt charts and manage the progress of your projects in real-time.

Teamwork's Gantt chart
You can get visual updates on the status of every task, see who is doing what, and identify possible bottlenecks before they arise.
Teamwork provides deeper insights into the effectiveness of your workflow and spots any roadblocks. If your kanban board accurately describes each stage of your process, it can also offer adjustments.
Boards in Teamwork are entirely customizable, so you can work in the way that best suits your project management style.
The software includes triggers that automate administrative activities, such as reassigning tasks when they move between columns. You can use it to obtain a deeper understanding of the efficiency of your workflow and make any necessary improvements.
Pricing:
Free version is available.
Deliver plan: $9.99 per month if billed yearly.
Grow plan: $17.99 per month if billed yearly.
Scale Plan: Contact sales.
Other Worth Watching Kanban Board Software
Microsoft Project is one of the most established project management tools available. It was designed initially for Gantt charts and conventional project management methods. However, it has continued to develop and allows teams to build a simple Kanban board view. It is a fantastic approach for teams using the tool to test the framework or visually represent their activities.
If you require complete data control for your team's task board, Eylean Board is an excellent on-premises Kanban system. With 18 different reports available, you can track your team's progress and ensure that tasks get completed efficiently. The Lead & Cycle time report and Burndown chart are handy for teams that need to stay on track.
Redmine is a project management tool that combines traditional and Agile methods. This feature-rich software offers everything you might need for project management. It is a fantastic alternative for those looking to integrate kanban into their existing workflow. Teams can alter their views of the Kanban board using custom columns. However, additional swimlanes cannot be added to the board to create divisions.
It's a great tool that combines the best of both scrum and kanban techniques and is perfect for agile project management. Plus, the integrations it offers with other popular applications make it an even more powerful tool.
3 Best Editor's Pick Kanban Board Software
Chisel provides an intuitive interface that makes it easy to start with kanban. You can create kanban boards for any process or project and invite team members to collaborate.
Chisel also offers a range of features to help you optimize your workflow. For example, you can set due dates and priorities for tasks, add comments and attachments, and more.
What's more, Chisel integrates with several popular tools, such as Jira, Slack, and Google Drive. The integration capabilities make it easy to share information and keep everyone up to date on the latest developments.
With the ability to scale naturally in both directions – horizontally and vertically – Kanbanize is perfect for businesses of all sizes. Not to mention, it's enterprise-ready, so you can be confident that it will meet your team's needs. Plus, with Kanbanize, you can speed up team delivery and better understand how your projects are progressing.
SwiftKanban uses Kanban Method principles to help you manage your work more efficiently and improve productivity. With its visual workflow modeling and configurable settings, SwiftKanban is the ideal tool for Scrum, Scrumban, or Kanban projects.
Conclusion
The right kanban software for you depends on your specific needs and your team's work.
Nevertheless, all the options on this list are remarkable for their users. You're sure to find the kanban software that fits your purpose, company structure, or industry. And with the right kanban software in place, your team will be able to work more efficiently and effectively.