7 Best Scrumban Tools To Manage Implementation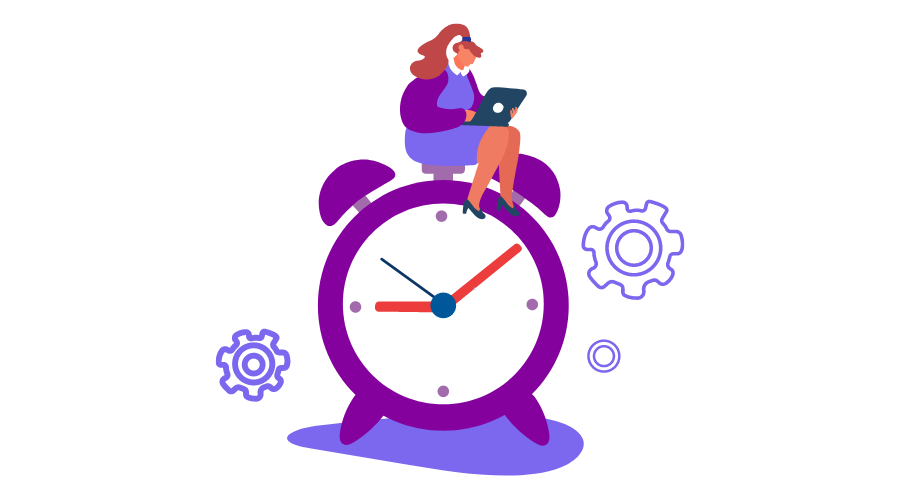 If you're in the software development business, you've probably heard of scrum and kanban. But what is scrumban? Scrumban combines the two approaches to provide the best of both worlds.
With scrumban, you can take advantage of the flexibility and agility of scrum while still benefiting from the predictability and stability of kanban. In other words, scrumban helps you to achieve better results by streamlining your processes and making them more efficient.
But why do you need scrumban tools? Well, because they can help you to implement scrumban more effectively. Using scrumban tools, you can visualize your process, identify bottlenecks, and track progress more efficiently.
Several different scrumban tools are available, so it's essential to choose the right one that does the trick for you. And that is why we have come up with this list of the best scrumban tools.
Criteria To Pick Best Scrumban Tools
Here are four critical criteria to help you choose the best scrumban tool for your team:
1. Does the Tool Support the Scrum Process?
The first and most important criterion is whether or not the tool you are considering supports the scrum process. If it does not, it is not a scrumban tool, and you should move on to another option.
2. Is the Tool Easy To Use?
The best scrumban tools are easy to use and intuitive. If you have to spend a lot of time training your team on how to use the tool, it is not the right tool for you.
3. Does the Tool Provide Visibility Into the Scrum Process?
One of the strong points of using a scrumban tool is that it provides visibility into the scrum process. It means you can see how your team is progressing and identify any areas of improvement.
4. Is the Tool Affordable?
Lastly, it would be beneficial if you considered the cost of the scrumban tool. It serves no purpose to pay for a tool your team will not use.
Considering these four criteria, you can choose the best scrumban tool for your team.
Critical features in Scrumban Tools
1. Task Prioritization
One of the essential features of the best scrumban tools is the ability to prioritize tasks. This feature ensures that the most critical tasks always get completed first. Look for a scrum tool that allows you to easily prioritize tasks and drag and drop them to re-order them as needed.
2. Scrumban Board
A scrumban board aims to visualize the progress of a project. It should be easy to use and allow you to add, move, and delete tasks. The best scrumban tools offer a flexible and customizable scrum board.
3. Time Allocation
The tool should help you track and manage your work efficiently and effectively. It includes creating and tracking tasks, projects, and deadlines. It is essential to have a clear and up-to-date project backlog so that you can track progress and ensure that all tasks get accomplished. Look for a scrumban tool that offers an easy-to-use project backlog.
4. Collaboration:
You want a tool that facilitates collaboration between team members. It could include features like a shared kanban board or task management system.
7 Best Scrumban Tools To Manage Implementation
If you're looking for a complete agile platform that flawlessly balances team alignment, product roadmapping, and customer engagement, a top product management software like Chisel is a perfect choice.
With Chisel, product teams can interact with their consumers, prioritize what to produce next, and communicate with one another effectively. This remarkable capability makes Chisel an essential tool for any product team in search of making the most of their agile process.
Key Features: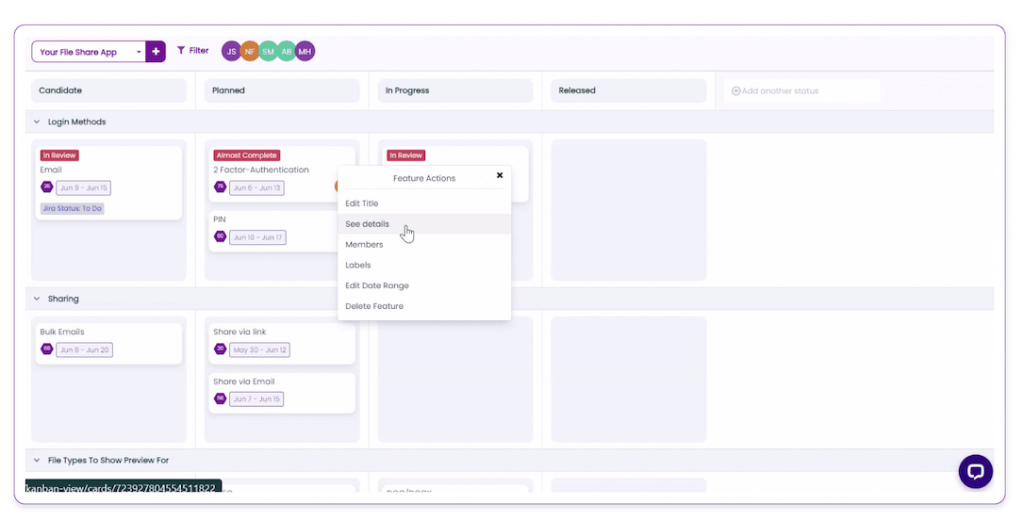 One of the critical features of Chisel is the "Kanban View." This feature allows you to see at a glance which features you are currently working on, which are in progress, and which are still in the planning stages. "Kanban view" can be beneficial in keeping your project on track and ensuring that you are making progress.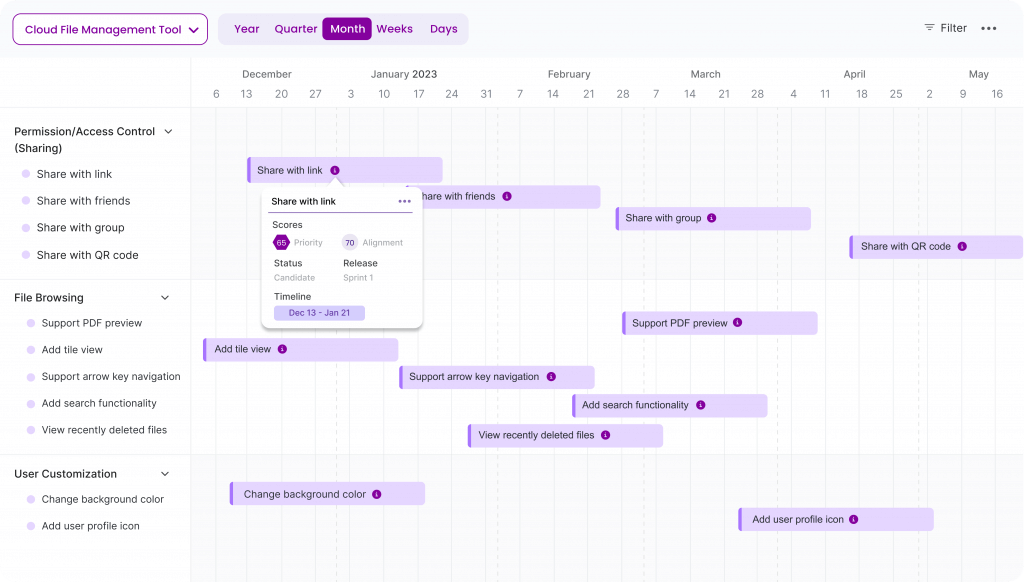 The "Timeline View" is beneficial for seeing how time gets allocated. By glancing at which features you and your team have worked on during specific periods, you can get a high-level insight into how your team uses its time.
The "Treeview" tool in Chisel can help you quickly identify and rank the various features and parts that go into creating your product.
This tool can be beneficial in deciding which components or features in your product should get priority. In addition, the "Treeview" tool can also help you quickly identify the tasks that must get completed.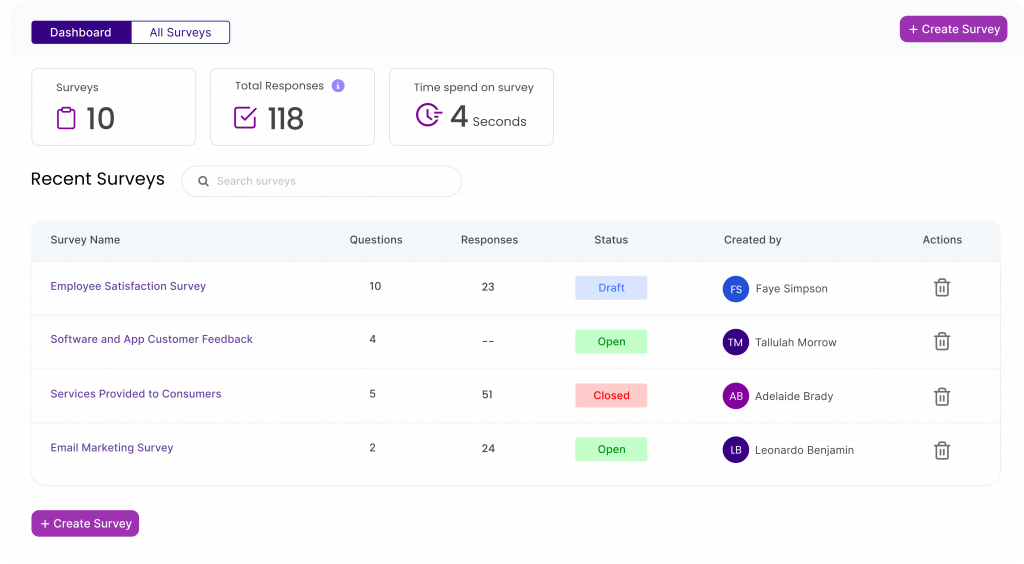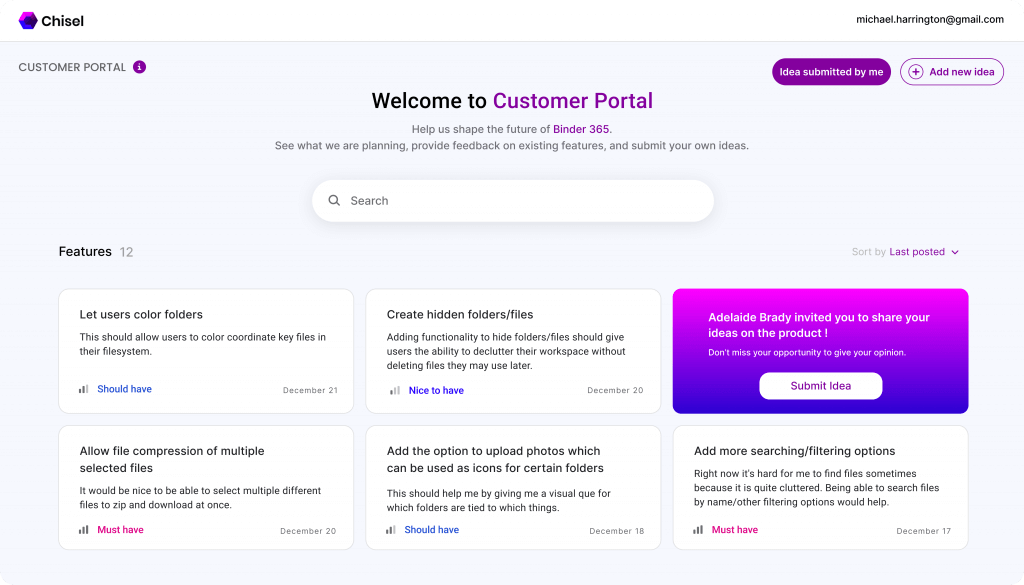 You can create fine and dandy user stories by collecting customer feedback using Chisel's "Survey Tool" and "Feedback Portal."
Pricing:
Free forever plan.
Premium Plan: $49 per month billed yearly.
Enterprise Plan: Contact sales.
SwiftKanban is a visual project management tool that helps businesses and teams collaborate on various activities. It depends on the latest methods of visual management and kanban, which makes it an excellent solution for companies and teams that are centralized and dispersed.
Key Features:
SwiftKanban is among the best scrumban tools for visualizing workflows and identifying bottlenecks. It offers many features to help with daily standups, retrospectives, and other meetings. Its actionable analytics can also help you improve your overall process and flow.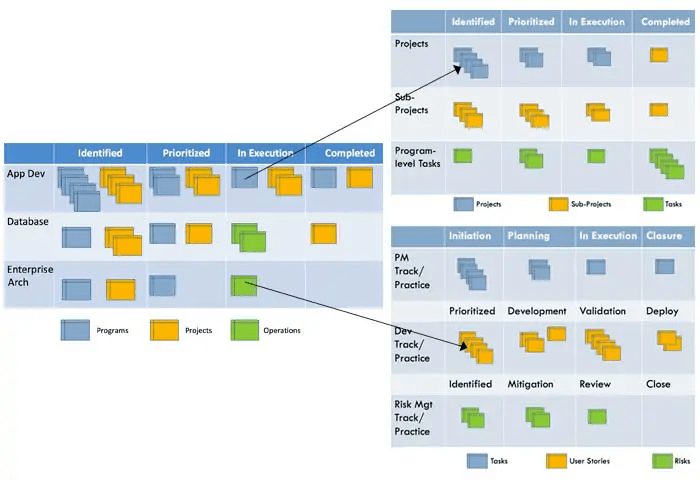 SwiftKanban's Portfolio Lane and multi-board Card Hierarchy capabilities work together to provide your company with a highly effective solution.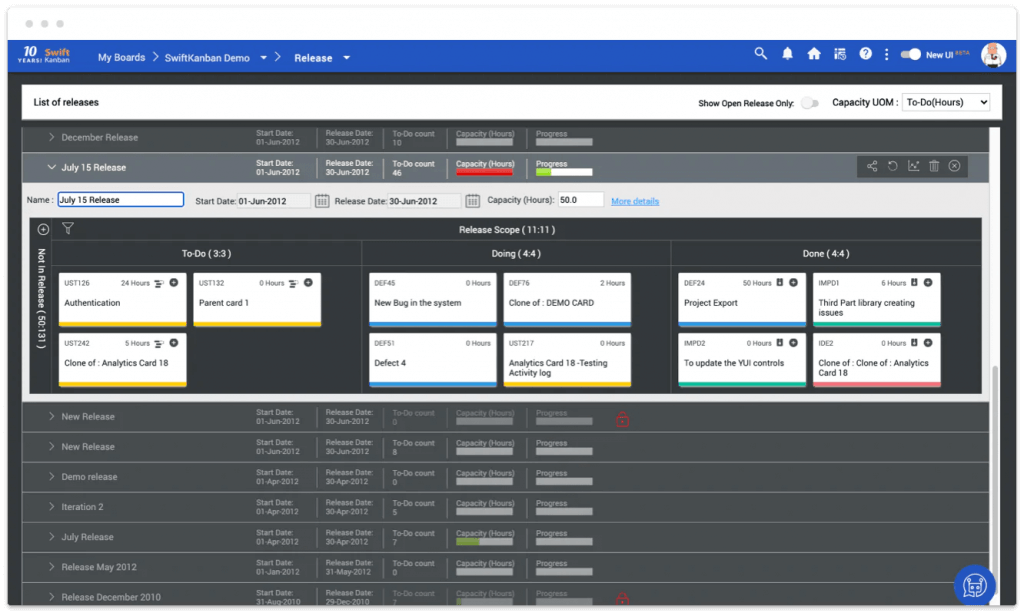 In addition, SwiftKanban's scrum/scrumban capabilities are perfect for agile teams looking for a scrum tool or for scrum teams assessing kanban to improve their process.
And suppose you're looking for a tool with strong lean or flow metrics to aid the team and organizational improvement. In that case, you'll be impressed with what SwiftKanban offers.
SwiftKanban is an excellent tool for visualizing your workflow and identifying bottlenecks. It has a host of features to help you keep your work organized and efficient. SwiftKanban is also great for supporting frequent meetings, such as daily standups and retrospectives.
Pricing:
Team Plan: Free forever.
Group Plan: $7 per user per month.
Enterprise Plan: $15 per user per month.
SwiftESP Plan: $15 per user per month.
Story Mapping Plan: $15 per user per month.
Taiga is a free and open-source project management platform that is simple and intuitive. It is feature-rich and has an easy-to-use user interface. Taiga is an ideal solution for agile teams that need to collaborate effectively. Taiga is a robust project management tool that is perfect for agile teams. It is simple to use and helps teams to collaborate effectively.
Key Features:
Taiga is a project management platform that helps teams plan and track their work. The platform is brimming with features that keep teams coordinated and on pace.
Some features include intuitive backlog and sprint planning, a sprint board with swim lanes for each user story, and a sprint dashboard with a burn-down chart.
Taiga also has customizable Kanban boards with WIP limits, Epics, subtasks, and issue tracking. Plus, a Wiki feature helps teams share information and collaborate.
With Taiga, team members can specify various responsibilities, estimate roles' story points, and move incomplete user stories to different sprints.
The sprint and team performance dashboards focus on closed tasks, points from completed user stories, and specific aspects like bugs reported and Wiki pages modified.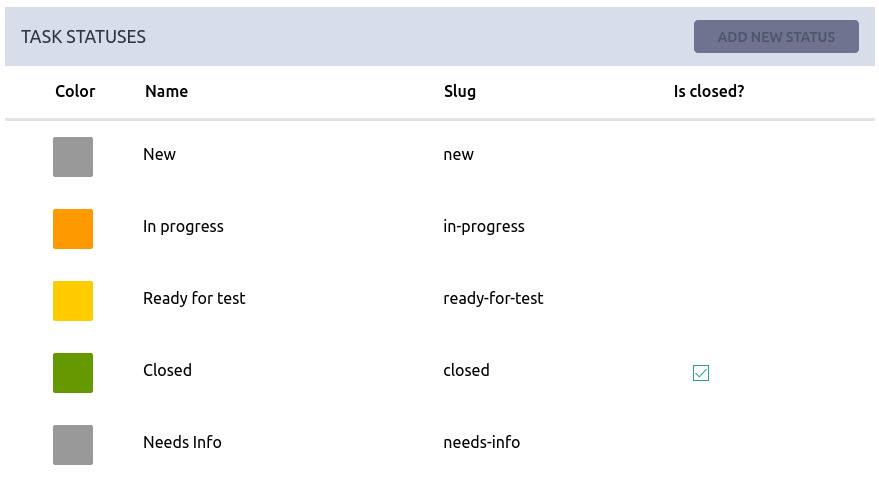 Plus, the project timeline and dashboard clearly show what's happening. And if you want to get a sense of the relative sizes of various user stories, the estimating game is a fun way to do it.
Pricing:
Basic Plan: Free forever.
Premium Plan: $5 per user per month if billed annually.
On Premise Plan: Self- manager plan is free, and the 'Managed for you' plan is customizable, you need to contact the company.
Draft.io is the perfect platform for managing your workflows for an agile project and product teams. From ideation and design to roadmapping, this adaptable and dynamic platform covers all aspects of agile project and product management.
With its collaborative and visual interface, Draft.io makes it easy to track progress and keep everyone on the same page.
Key Features:
By bringing together the power of a shared visual workspace and the team's creativity, you can inspire new ways of thinking and come up with solutions quickly. With the ability to connect different ideas and bits of information, you can turn knowledge into a participatory and open experience that can help your team solve problems quickly.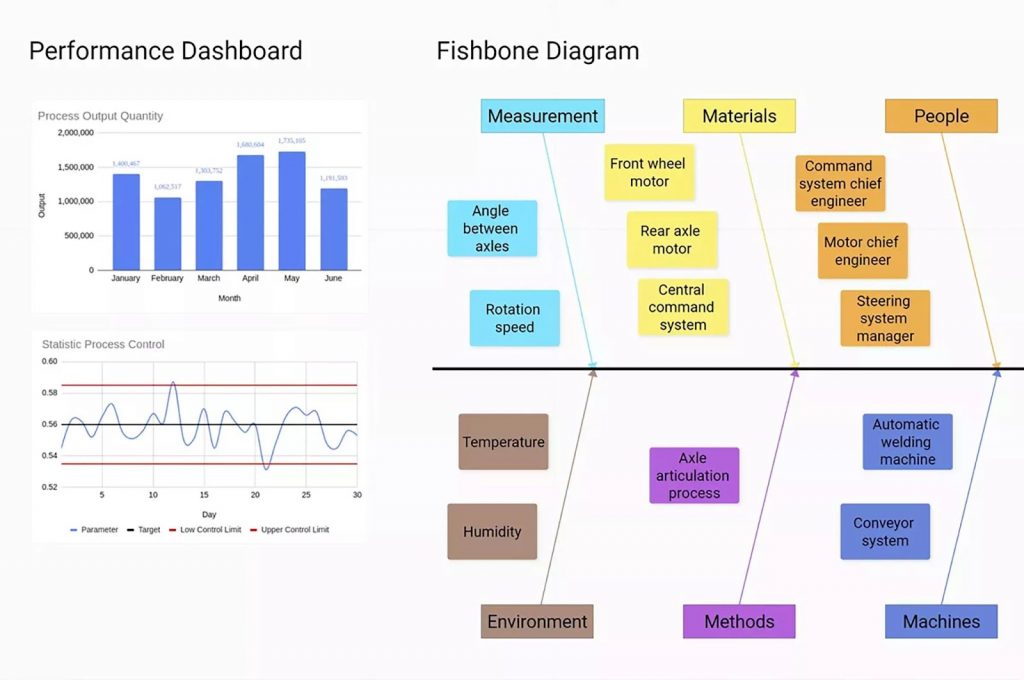 Draft.io allows you to create personalized artifacts that outline your plans and tasks in an easy-to-understand way.
Plus, with its card system, you can keep track of your project's details. Hence, you always know what's finished and what still needs to get done.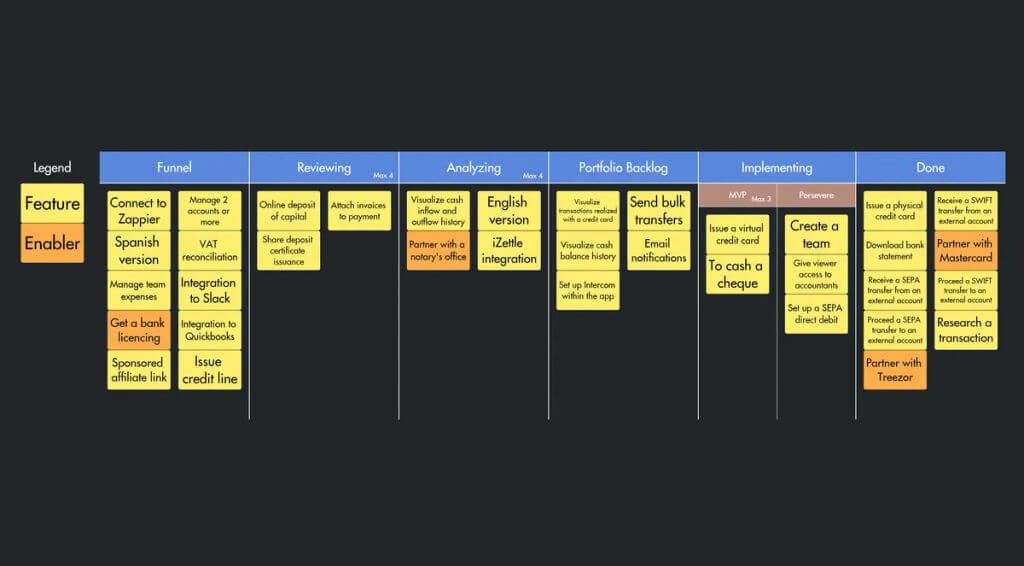 The Portfolio Kanban is a methodology for visualizing, evaluating, prioritizing, and monitoring an organization's strategic opportunities and objectives, called Epics in SAFe. The highest level of the organization may trace decisions made using this method, which promotes transparency in decision-making.
The program board feature is also great for coordinating activities among cross-functional teams. You can see your project's dependencies in real-time, so you can avoid bottlenecks and keep your project moving forward.
Pricing:
Free forever version is available.
Pro Plan: €10 per month.
Team Plan: Starts from €10 per user.
Suppose you're looking for a project management tool that offers a fresh, graphical perspective on your work. In that case, Rally Software is worth checking out.
Rally Software is among the best scrumban tools that enable you to view and interact with your projects visually, which can help keep track of what's going on.
Key Features: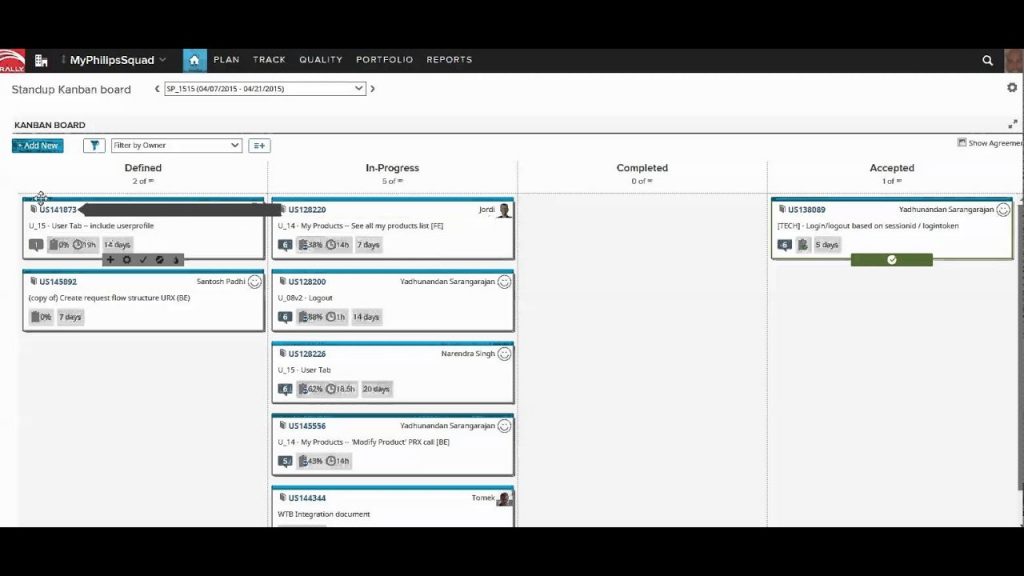 Suppose your team is looking for a centralized hub to help with planning, prioritizing, and tracking development work. In that case, Rally may be the right platform for you.
With its ability to arrange activities into boards, lists, or timeline views, Rally can help teams see how daily goal work compares to overall company goals.
An end-to-end summary of project progress, dependencies, iterations, and more can help businesses achieve the desired results.
Rally can help teams by providing a central hub for planning, prioritizing, and tracking work. With Rally, teams can see their work from various views. More importantly, they can understand how their daily tasks fit into the company's bigger picture.
Rally also offers detailed summaries of progress, dependencies, and alignment so that teams and organizations can make informed decisions and maintain a laser-like focus on value.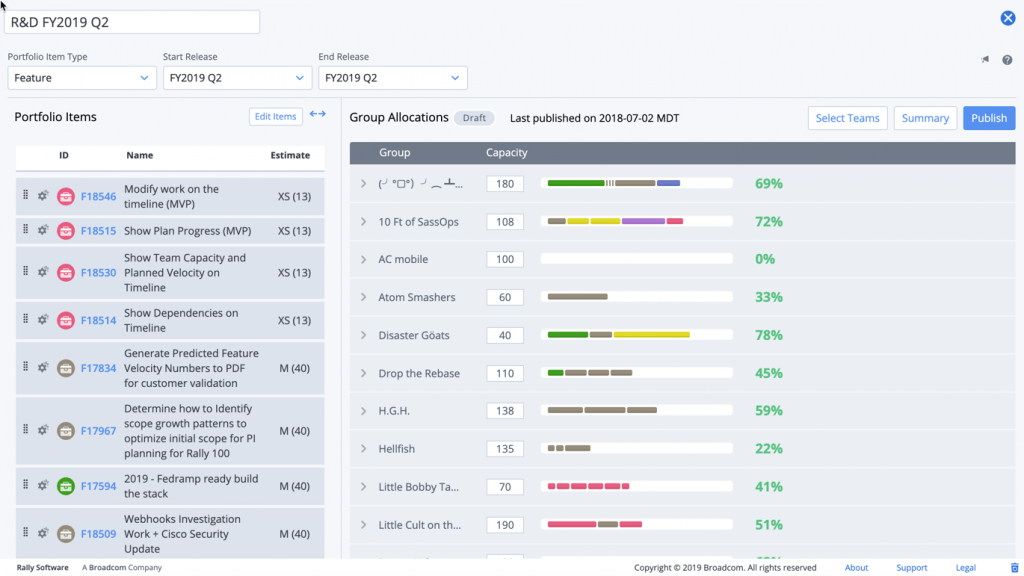 The Capacity Planning page in Rally is an essential tool for keeping track of the work schedule and ensuring that the team has enough capacity to complete its tasks on time. By designing and following custom metrics, you can ensure that exemplary work is getting done and that your team is staying on track.
The cycle time diagrams, cumulative flow diagrams, throughput, and velocity for program increment give you a clear picture of what's happening. It also helps you make necessary changes in the present.
Pricing:
You need to reach out to the Broadcom sales team to know their pricing plans.
Teamhood helps professionals from various backgrounds, including engineers, accountants, marketers, salespeople, and developers. It is also suitable for Agile practitioners who use frameworks such as Scrum and Kanban.
Key Features:
If you manage projects, you know how noteworthy it is to have a clear overview of all the tasks, plans, and dependencies. Teamhood Gantt Chart comes in handy here. It allows you to visualize all the project phases or all projects at once, so you can easily see what you need to do and when.
Teamhood is flexible and easy to use, so everyone on your team can contribute. You can also set WIP limits for each status and column or limit the scope of swimlanes. This way, you can control scope and throughput at your desired scale.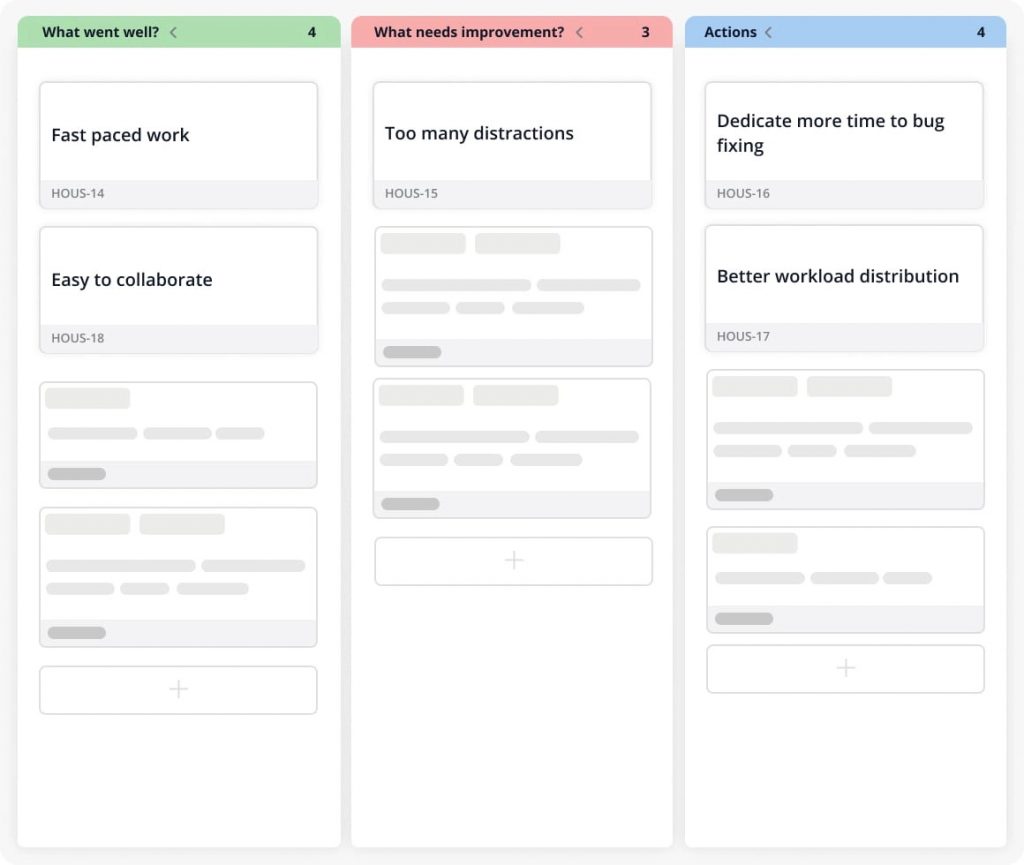 Plus, with the unique board feature, you can turn your retrospectives into actionable items. It is a great way to identify areas for improvement and track progress over time.
With its visual Kanban board, you can see all the details of your product scope, sprints, and operation flow in one place. This feature makes it easy for all scrum roles to collaborate and stay on track. The advanced kanban features allow you to categorize items in many ways, making it easy to keep organized.
Its visual interface makes it easy to see what you need to do and when. This feature makes it perfect for coordinating team members and keeping everyone on track.
Teamhood's boards are flexible and can be adapted to any process, whether it's long-term or short-term. So whatever your development process looks like, Teamhood can probably handle it.
And to top it all off, Teamhood's standup feature makes it quick and easy to get everyone up to speed on what's happening.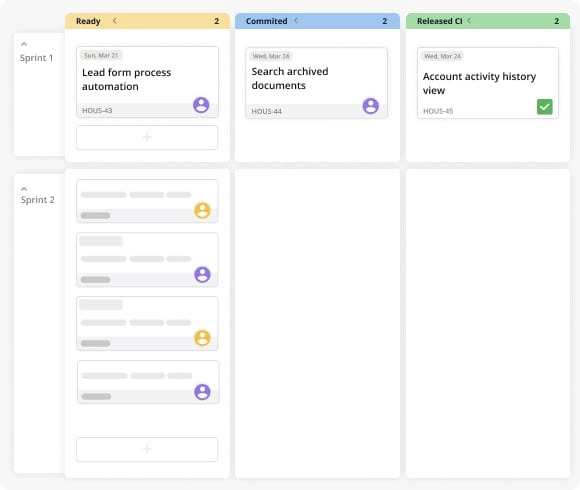 You can plan sprints, monitor their progress, and evaluate your team's performance metrics. This way, you can transform into a better-functioning team after each sprint.
Pricing:
Free plan available.
Professional Plan: $9.5 per user per month if billed annually.
Premium Plan: $15 per user per month if billed annually.
Enterprise Plan: Contact sales.
If you're looking for a straightforward but all-encompassing agile solution, Yodiz is an excellent option. It helps you manage agile projects of various degrees of complexity by providing explanations of the best and most effective ways to carry out story-related agile chores. This functionality makes it much easier to keep your agile project on track and avoid potential problems.
Key Features:
Yodiz offers a variety of features to help you stay on top of your team's progress. With comprehensive dashboards, you can see what everyone is working on and how well they're doing. You can also use in-depth analytics to see where there may be issues and address them quickly.
Real-time notifications ensure you're always up-to-date on what's going on with your team. And with the ability to quickly prioritize and organize customer requirements, you can be sure that everyone is working on the most critical tasks.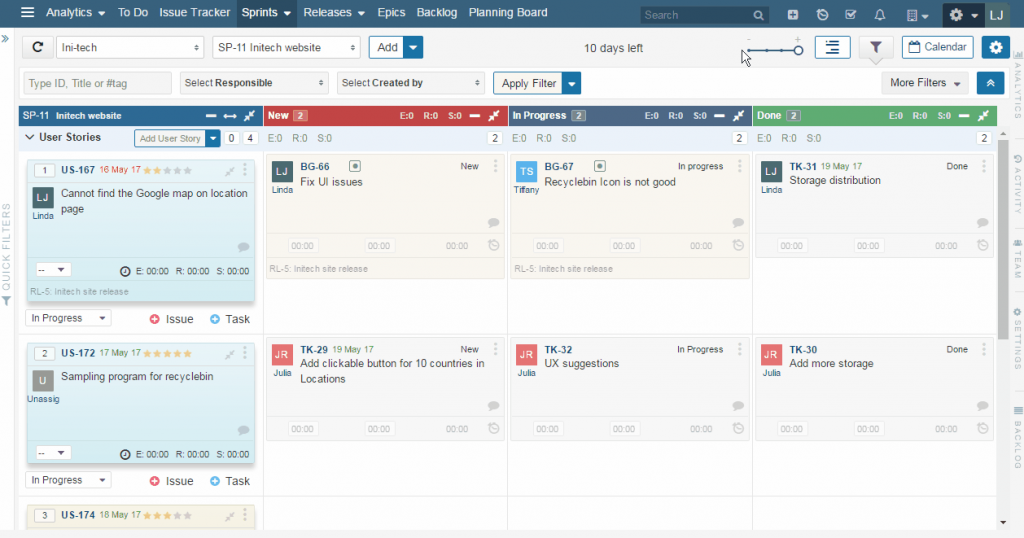 It offers a customizable workflow, strong filtering, immediate analytics, and more. Plus, you can examine multiple projects' data side by side, which helps keep an eye on sprint lengths and avoid overplanning. And the swimlanes feature is excellent for viewing stories by Epics, Releases, size, and more.
Plus, you can visually identify the sprints associated with a release and see how each sprint will contribute to the overall release management experience.
Pricing:
Starter Plan: Free forever.
Issue Tracker: $3 per user per month.
Agile Tool Plan: $5 per user per month.
Self Hosted Plan: Need to contact sales.
Conclusion:
As a project manager, you always look for ways to improve efficiency and quality.
As discussed, scrumban is a popular methodology for agile software development that combines aspects of both scrum and kanban. It's a great way to boost team productivity and get things done more efficiently.
Several scrumban tools are available, each with unique features and benefits. This blog post has put together a list of the best scrumban tools to guide you in identifying the finest scrumban tool for your team.
Each scrumban tool has its unique features and benefits. Hence, choosing the option that passes muster for your team is essential.