The Product Manager Career Path: A Step-by-Step Guide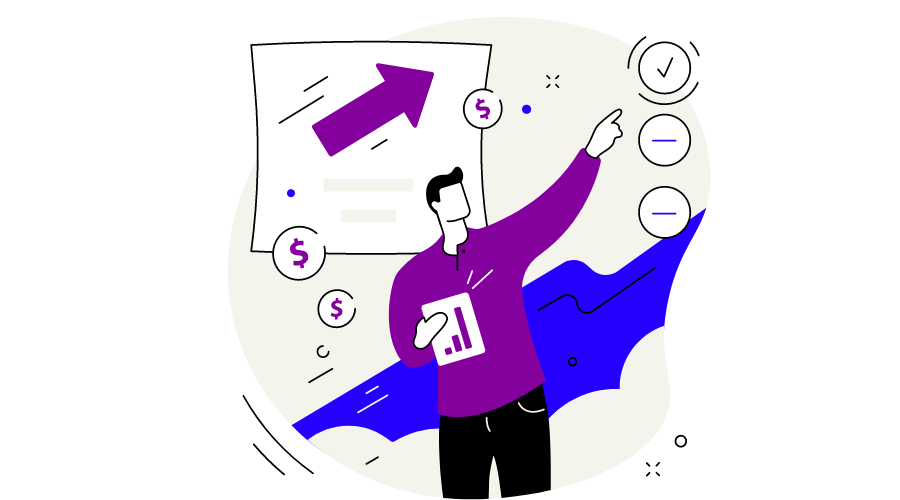 Product managers are like the bridge between new ideas and the things we use every day. They need to be adaptable and good at planning. They take exciting ideas and make them into products that people want to buy.
But how do you do well in this role? What skills and experience do you need to move up the ladder and be a great Product Manager?
In this guide, we'll break down the product manager career path.
Understanding how product management works is really important in a world where things are always moving forward.
Whether you're someone full of new ideas or an experienced worker looking to try something different, this guide is for you. Let's explore how creativity, planning, and leadership unite in this exciting field, where your ideas can shape the future.
Associate/Junior Product Manager
The first position in the product manager career path is becoming an associate product manager.
Aspiring to stand out as an Associate Product Manager (APM) requires a unique blend of skillsets and traits that set you apart in the competitive field of product management. Here are key aspects to focus on.
Becoming an Outstanding APM
Becoming an outstanding Associate Product Manager (APM) involves cultivating various skills. Here are some key attributes:
Communication Skills: APMs must effectively convey ideas and updates to cross-functional teams, stakeholders, and customers. Clear communication fosters collaboration and ensures everyone is aligned.
Problem-Solving: APMs should excel at identifying issues and devising creative solutions. It involves critical thinking, data analysis, and a deep understanding of user needs.
Adaptability: The tech landscape is constantly evolving. APMs who embrace change, stay curious, and swiftly adapt to new trends can navigate challenges successfully.
Leadership: Even as a junior member, displaying leadership by taking initiative, motivating others, and driving projects forward is crucial.
Empathy: Understanding user pain points and compassion for their needs helps create products that truly resonate with customers.
Time Management: APM juggles multiple tasks and priorities. Effective time management ensures that deadlines are met, and projects progress smoothly.
Learning Agility: Being open to learning and staying updated with industry advancements is vital for personal growth and contributing to your team's success.
Strategies for gaining relevant experience and showcasing potential:
Work on personal projects or contribute to open-source initiatives. It shows your passion for product management and your ability to execute your ideas. It can also help you build your skills and network with other product managers.
Attend industry events, connect with professionals, and participate in online forums. It is a great way to learn about product management trends and meet people who can help you advance your career.
Collaborate with different teams like engineering, design, and marketing. It will give you a holistic view of the product development process and help you to develop your communication and interpersonal skills.
Seek mentors who can provide guidance and insights from their experience in the field. A mentor can help you to navigate the challenges of a product management career and to develop your skills and knowledge.
Responsibilities
As an APM, you will have a set of responsibilities that contribute to the product's success:
Product Lifecycle: Learn about the entire product development lifecycle from ideation to launch, ensuring products meet customer needs and business goals.
Requirements Gathering: Collaborate with stakeholders and users to understand requirements, translating them into actionable plans for the development team.
Supporting the Team: Assist Product Managers with various tasks, from market research to documentation, to keep projects on track.
Transitioning from Associate Product Manager to Full Product Manager
Transitioning from an Associate Product Manager (APM) role to a Full Product Manager position is a big step. It requires several skills and abilities, as well as a willingness to learn and grow.
Here are some signs that you are ready to make the transition:
You can work independently and make informed decisions.
You have a strategic mindset and can align your product direction with broader business objectives.
You can influence others and build consensus.
You are willing to take ownership of projects and see them through to completion.
You can mentor others and share your knowledge.
You are data-driven and make decisions based on evidence.
You are an effective communicator who can clearly explain complex ideas to technical and non-technical audiences.
You are always learning and growing, both professionally and personally.
If you are ready to make the transition to full Product Manager, here are some things you can do to prepare:
Take on more responsibility in your current role.
Get involved in mentorship programs.
Attend industry conferences and workshops.
Read books and articles about product management.
Stay up-to-date on the latest trends in technology and business.
Product Manager
As a Product Manager (PM), your role revolves around creating and executing a product vision. It involves:
Market Research: Gather insights about market trends, competitors, and customer behavior to identify opportunities and challenges.
Customer Needs: Understand user pain points, preferences, and behaviors through surveys, interviews, and data analysis. Translate these needs into features and improvements.
Business Goals: Align product strategy with overall business objectives, considering factors like revenue targets, growth goals, and market positioning.
Balancing Act
Prioritization: Juggle multiple demands by prioritizing features based on user impact, feasibility, and alignment with strategic goals.
Trade-offs: Recognize that not all features can get pursued simultaneously. Make informed trade-offs by weighing potential benefits against development efforts.
Communication: Effectively communicate your product strategy to cross-functional teams, ensuring everyone is aligned and understands the "why" behind decisions.
Every day, Product Managers are forced to use inadequate tools that waste time and resources, and delay revenue potential and customer adoption. Instead of driving innovation, you spend 60+ hours a month in busy work to fill the gaps. We can stop this today.
Chisel is built for PMs, by PMs. It's the first unified platform to create roadmaps, collect customer feedback, and build internal team alignment – all within one app. Chisel pays for itself within a month by letting Product Managers focus on feature prioritization, customer adoption, and revenue.
Sign up for Chisel's Free Forever version here!
Progression to Senior PM
Strategic Vision: Demonstrate a clear understanding of how your product fits into the broader company strategy and the industry landscape.
Autonomy: Exhibit the ability to lead projects and make decisions independently, taking ownership of the product's success.
Stakeholder Management: Successfully manage relationships with various stakeholders, including executives, engineers, designers, and customers.
Impactful Results: Highlight achievements that showcase your ability to drive significant positive outcomes for the product and the business.
Decision-Making and Leadership
Informed Decisions: Become adept at making decisions based on data-driven insights, user feedback, and strategic goals.
Risk Management: Develop the skill to assess and manage risks associated with product decisions, considering potential impact on users and the business.
Team Collaboration: Lead cross-functional teams effectively, fostering collaboration, communication, and a shared sense of purpose.
Influence: Master the art of influencing stakeholders by presenting a compelling case backed by data and customer insights.
Conflict Resolution: Handle conflicts within the team or regarding product direction with diplomacy and solutions-oriented approaches.
Mentorship: Begin mentoring junior team members and helping them navigate challenges in their roles.
Continued Growth
Transitioning to a Senior PM role is a significant step that requires continuous growth and learning.
Seek feedback from peers, mentors, and supervisors to identify areas for improvement. Stay updated on industry trends and best practices to maintain your effectiveness as a leader and decision-maker.
Senior Product Manager
The next up in line in your product manager career path is becoming a Senior Product Manager (Senior PM). Here you will have to take on more complex and strategic responsibilities than regular Product Managers.
Responsibilities of a Senior Product Manager
Let's examine the primary responsibilities of a Senior Project Manager:
Portfolio management: Overseeing a portfolio of related products, ensuring they align with the company strategy.
Long-term strategy: Developing multi-year product roadmaps contributing to the company's vision and growth objectives.
Market leadership: Identifying and capitalizing on emerging market trends and opportunities.
Cross-functional leadership: Collaborating closely with executive teams, engineering, design, marketing, and sales to ensure alignment and execution of the product strategy.
Resource allocation: Making strategic decisions about resource allocation across various products and projects.
Risk management: Anticipating potential risks and mitigations and proactively addressing challenges.
Mentorship, team leadership, and product innovation:

Mentorship: Providing guidance and mentorship to junior Product Managers and team members, helping them grow.

Product innovation: Driving innovation by identifying new product opportunities, fostering a culture of creativity, and encouraging novel solutions.

Team leadership: Leading and motivating cross-functional teams to execute product plans effectively and achieve goals.
Evolving into a Director of Product Role
Transitioning to a Director of Product role is a natural progression for many Senior PMs. To be successful in this role, it is essential to develop key competencies in the following areas:
Strategic Thinking: An ability to see the bigger picture, aligning product efforts with the company's long-term strategy.
Leadership Skills: Developing and leading high-performing teams as a direct manager and a cross-functional influencer.
Business Acumen: Understanding how product decisions impact the company's financials, growth, and market position.
Communication and Influence: Expertise in presenting strategic plans, gaining buy-in from stakeholders, and advocating for resource allocation.
Change Management: Skill in managing transitions, whether implementing new processes or pivoting product direction.
Recognizing the Right Time
The decision to transition to a Director of Product role is a personal one. However, there are some signs that you may be ready for this next step in your career:
You find yourself naturally mentoring and guiding other product managers.
You've successfully led multiple products or product lines to substantial growth and impact.
You're seeking a role with more strategic decision-making authority and broader influence on company direction.
Director of Product
As a Director of Product, you are responsible for the overall vision and strategy of a company's product portfolio. You work with cross-functional teams to develop and launch new products and oversee the ongoing development and improvement of existing products.
Responsibilities
Define the long-term product vision and strategy: You work with stakeholders to understand the company's overall goals, then develop a product roadmap aligning with those goals. You also need to be able to communicate the product vision to others clearly and concisely.
Manage and mentor product managers: You are responsible for the development and success of the product management team. It includes hiring and onboarding new product managers, providing them with ongoing feedback and coaching, and helping them to grow their careers.
Collaborate with cross-functional teams: You work closely with engineering, design, marketing, and other teams to bring products to market.
Make critical decisions about resource allocation: You need to be able to make tough decisions about where to allocate resources to maximize the impact of the product portfolio. It includes deciding which products to invest in, which features to prioritize, and how to staff the product team.
Foster a culture of innovation: You must create an environment where product teams feel empowered to take risks and experiment. It includes providing them with the necessary resources, celebrating successes, and learning from failures.
Manage risks: You need to anticipate and mitigate risks to the product portfolio. It includes identifying potential risks, developing contingency plans, and communicating risks to stakeholders.
Qualifications
8+ years of experience in product management: You should have a proven track record of leading successful product launches and cross-functional teams. It means that you should have experience in the following areas:

Defining product requirements
Conducting market research
Developing product roadmaps
Working with engineers, designers, and marketers to bring products to market
Measuring and analyzing product performance

Strong strategic vision: You should be able to develop and execute product strategies that contribute to the company's growth. It means that you should be able to:
Excellent leadership and communication skills: You should be able to motivate and inspire product teams, and you should be able to communicate the product vision to others clearly and concisely. This means that you should be able to:

Build relationships with team members.
Set clear expectations
Provide feedback in a constructive way.
Delegate tasks effectively
Communicate effectively with both technical and non-technical audiences.

Ability to manage risks: You should anticipate and mitigate risks to the product portfolio. It means that you should be able to:

Identify potential risks
Develop mitigation strategies
Monitor risks and make adjustments as needed.

Business acumen: You should understand how product decisions impact the company's financials, market positioning, and competitive advantage. It means that you should be able to:

Analyze financial data
Understand market trends
Assess competitive threats
Make decisions that are in the best interests of the company.
Path to VP of Product
Suppose you are interested in becoming a VP of Product. In that case, you should develop your strategic leadership, executive communication, business acumen, people leadership, and influential decision-making skills.
You should also seek opportunities to mentor others, expand your network, and take on stretch assignments.
Opportunities for Professional Growth and Network Expansion
Directors of Product have many opportunities for professional growth and network expansion. Here are a few ideas:
Continuous learning: Stay up-to-date on industry trends, emerging technologies, and leadership methodologies by taking courses, workshops, and conferences.
Mentorship and coaching: Seek mentors who have successfully navigated the path to VP or executive leadership positions. They can offer guidance and support as you develop your leadership skills.
Expand your network: Attend industry events, conferences, and networking opportunities to connect with peers, potential mentors, and industry influencers.
Seek stretch opportunities: Take on projects that allow you to demonstrate your leadership abilities and influence across departments.
Get executive exposure: Find opportunities to interact with company executives and leaders.
VP of Product
VP of Product is an executive-level position in the product manager career path that significantly impacts a company's product strategy.
Responsibilities
Strategic vision: Set the overarching product strategy that aligns with the company's mission and long-term goals.
Leadership: Manage and guide a team of Directors of Product and Product Managers, providing them with a clear vision and direction.
Cross-functional collaboration: Collaborate at an executive level, aligning product strategies with other business functions such as marketing, sales, and operations.
Innovation and market leadership: Drive innovation within the organization, identifying disruptive opportunities and ensuring the company remains competitive.
Effective communication and fostering innovation: Effectively communicate the product vision, strategy, and impact to the company's executive team and stakeholders. Instill a culture of innovation across all levels of the product organization, encouraging experimentation and creativity.
Qualifications
10+ years of product management experience, with a significant portion spent in leadership roles.
Demonstrated ability to create and execute comprehensive product strategies contributing to the company's growth and market leadership.
Proven track record of leading and inspiring a team of Product Managers and Directors.
Exceptional communication skills for managing relationships with C-level executives, clients, and partners.
A history of driving innovation within products, deep industry insights, and an ability to identify emerging trends.
Path to VP of Product
Strategic leadership: The ability to set a clear product vision, align it with the company's overall strategy, and drive execution.
Influence and executive presence: Proficiency in presenting complex ideas to C-level executives, garnering buy-in, and driving strategic decisions.
Business acumen: Understanding how product decisions impact the company's financials, market positioning, and overall success.
Global market awareness: An ability to identify and capitalize on international market trends, expanding the company's reach.
Team development: Building high-performing teams, mentoring leaders, and fostering a culture of innovation and excellence.
Strategic decision-making: Making impactful decisions that influence the direction of the entire organization.
Opportunities for Professional Growth and Network Expansion
Executive education: Invest in executive education programs to develop leadership, strategic thinking, and decision-making skills.
Board involvement: Participate in advisory boards, industry associations, and community events to broaden your influence.
Mentorship: Seek guidance from current or former VPs of Product to gain insights into the role's demands and nuances.
Thought leadership: Publish articles, speak at conferences, and share your insights to establish yourself as a thought leader in the industry.
Build a strong network: Strengthen relationships with industry peers, potential partners, and executives through networking events and conferences.
Transitioning to VP of Product
Transitioning to VP of Product requires extensive experience, strategic acumen, exceptional leadership skills, and the ability to drive substantial positive organizational change.
By continually honing your skills and expanding your network, you can pave the way for success at the executive level.
Chief Product Officer (CPO)
The Chief Product Officer (CPO) role represents a trajectory within the product manager career path, leading you to become a pivotal executive within contemporary enterprises. They oversee all product-related strategies and initiatives and play a pivotal role in shaping the company's direction, innovation, and overall success.
The Strategic Impact of a CPO
The CPO's impact on an organization is multifaceted and influential. They are responsible for:
Shaping the organization's product vision, culture, and innovation initiatives: The CPO defines and communicates a compelling product vision that aligns with the company's overall goals. They also cultivate an innovative culture within the company, encouraging cross-functional collaboration and continuous improvement.
Collaborating with other C-suite executives to drive overall company success: The CPO works closely with other C-suite executives, such as the CEO, CFO, and CMO, to ensure that the product strategy aligns with the broader business objectives. They integrate the product roadmap with sales, marketing, and financial plans to contribute to the company's holistic success.
The Skills of a CPO
The role of a CPO demands a comprehensive skillset encompassing leadership and domain-specific expertise. Here are some of the most essential skills for a CPO:
Strategic thinking: The CPO must be able to think strategically and anticipate industry trends, customer needs, and competitive challenges. This skill helps them formulate a robust product roadmap that aligns with the company's long-term goals.
Leadership and team management: Leading cross-functional teams is a central aspect of the CPO's role. Effective communication, team building, and inspiring creativity are essential to drive innovation and execute the product strategy.
Market understanding: A deep understanding of the market, including customer behaviors, preferences, and emerging technologies, is crucial for making informed product decisions that resonate with the target audience.
Adaptability: The technology and business landscapes are ever-evolving. A successful CPO should remain adaptable and open to adjusting strategies based on new data and changing market dynamics.
Alternative Paths for Product Veterans
Product managers have unique skills that they can apply to various roles beyond a tech company's traditional product management role. Here are a few examples of diverse opportunities that product managers can explore:
Entrepreneurship: Product managers are skilled at identifying opportunities, developing product strategies, and managing cross-functional teams. It can help
Consulting: Product managers have experience working with different types of organizations and understanding their needs. This experience can be valuable to consulting firms that help organizations improve their products and services.
Teaching: Product managers are skilled at clearly communicating complex ideas. You can apply this skill to teach in university product management courses or boot camps.
Investor: Product managers deeply understand the product development process and the factors contributing to product success. This knowledge can be valuable to investors investing in early-stage product companies.
Leveraging Product Management Expertise in Unconventional Ways
Product managers can also leverage their expertise in unconventional ways. For example, they can use their skills to:
Write about product management: Product managers have a wealth of knowledge about product management that they can share with others through writing. They can write blog posts, articles, or books about product management.
Speak at conferences: Product managers can share their expertise with others by speaking at conferences and events. They can talk about their experiences, share their insights, and answer questions from the audience.
Become a mentor: Product managers can help others develop their product management skills by becoming a mentor. They can provide guidance and support to aspiring product managers.
Start a podcast: Product managers can share their knowledge and experiences with others by starting a podcast. They can interview other product managers, discuss industry trends, and share their thoughts on product management.
Conclusion
The product manager career path offers a clear progression of roles with increasing responsibility. Starting as an Associate or Junior Product Manager, you will learn the basics of product management and gain experience.
As you progress to Product Manager, you will take on more strategic roles and manage teams. Senior Product Managers tackle more complex projects, while Directors of Product shape product portfolios aligned with business goals.
VPs of Product oversee multiple product lines, and Chief Product Officers (CPOs) drive high-level product organization.
For experienced Product professionals, there are sideways moves into fields like marketing or tech. In this dynamic field, staying adaptable and customer-focused is key, whether climbing the ladder or exploring new avenues.